BEST PLACES FOR A TEA PARTY IN SOUTHERN CALIFORNIA!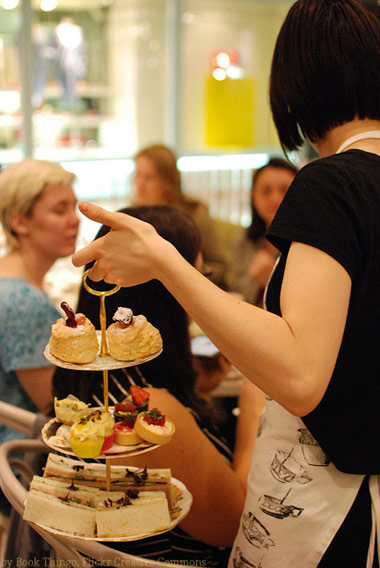 Mom, are you looking for a unique location to spend quality time with your daughter?  Or a fashionable venue to host your child's birthday party or a friend's baby or bridal shower?  Then this exhaustive list of teashops throughout Southern California, from Santa Barbara to San Diego, will tickle your fancy!
LONG BEACH
St. Luke's Episcopal Church http://www.stlukeslb.org/ministries/brass-rubbing/
Every fall, St. Luke's offers a high tea in their Tea Room during their annual brass rubbings event. The tea which includes traditional English teas, complete with sweets and savories to accompany your group reservation. Two public tea dates are available for groups of less than 10. Reservations are required in advance and includes a docent talk and brass rubbing.
Vintage Tea Leaf – www.vintagetealeaf.com
Elise's Tea Room - www.elisestearoom.com
The Tea Room @ The Queen Mary - www.queenmary.com/dining/tea-room.php
LOS ANGELES COUNTY
Two A Tea, Glendora – www.2atea.com
Nestled in the foothills on a quiet tree lined street, Two A Tea has been called 'Glendora's Best Kept Secret.' Old world Victorian charm in sunny Southern California. Since opening our doors in December 2004, Two A Tea has become a haven of rest and relaxation for family, friends, and tea lovers alike. We serve lunch and afternoon tea Wednesday through Saturday from 11am-5pm and Sunday from Noon – 5pm.
The High Tea Cottage, Woodland Hills www.highteacottage.com
Enchanted Rose Tea Parlour, San Dimas – www.enchantedrosetea.com
Chado Tea Room @ The Japanese American National Museum, Los Angeles – www.chadotea.com/tr_janm.php
ORANGE COUNTY
McKenna's Tea Cottage, Seal Beach – www.mckennasteacottage.com
McKenna's Tea Cottage is a quaint upscale tea room in the heart of Old Town Seal Beach, California. We serve tea sandwiches, delicious scones, salads, soups and more. Our McKenna's Special Blend tea is out of this world. We serve over 38 specialty tea. There is something for everyone's liking.
The Tea House On Los Rios, San Juan Capistrano – http://www.theteahouseonlosrios.com
Sussex Teapot, Garden Grove – www.sussexteapot.com/tearoom.htm
Tranquil Tea Lounge, Fullerton – www.tranquiltealounge.com
Paris In A Cup, Orange – www.parisinacup.com
Little Prince Kid's Café, Buena Park – www.littleprinceusa.com/home.html
The Spring Tea Garden, Fullerton – www.springfieldbanquet.com
Coffee, Tea & Tulips, Mission Viejo – www.mycoffeeteaandtulips.com
Tea & Teacups, Yorba Linda – www.teaandteacups.com
PASADENA

Flour & Tea – www.flourandtea.com
Flour + Tea is a bakery and tea house. We have Asian inspired Euro/American breads, as well as mixed teas and coffees. We also have cakes and desserts!
The Rose Garden Tea Room and Café @ The Huntington Library – www.huntington.org/WebAssets/Templates/content.aspx?id=310
Rose Tea Garden – http://www.rosetreecottage.com/RTC-Website-2011-V004/Welcome.html
Tea Rose Garden – www.tearosegarden.com
Scarlet Tea Room & Fine Dining – www.scarlettearoom.com/
RIVERSIDE / SAN BERNARDINO
Tea & Tiaras @ The Mission Inn, Riverside – www.missioninn.com/about-the-hotel/event-calendar/?eventId=EV_20130403192059358920
Aspiring princesses between the ages of 3 and 12 years old will feel like royalty for a day at The Mission Inn Hotel & Spa. Our regal offerings start with a sparkling Apple Cider welcome and a Princess Afternoon Tea. The lady-in-waiting can enjoy Afternoon Tea with a grand view of the beautiful Spanish Patio.  And what would a princess be without a Tiara? Delectable sandwiches, freshly baked scones with jam, hot cocoa, orange floats, and a range of princess-friendly delicate pastries and sweet confections from Casey's Cupcakes® are served.  Every Third Saturday of the Month until October 18, 2014.
Barbara's Tea House, Rancho Cucamonga – www.barbarasvictorianteahouse.com
British Emporium, Upland – www.yelp.com/biz/british-emporium-upland
SAN DIEGO
The Tea Pavilion @ The Japanese Friendship Garden, San Diego – www.cohnrestaurants.com/teapavilion
The Tea Pavilion at the Japanese Friendship Garden serves traditional Japanese green tea, herbal and specialty teas as well as sushi, Japanese noodles, rice bowls, miso soup, salads, and snacks. Unique imported food, beverages, and gifts, as well as imported bulk teas are available for purchase.
Cobblestone Cottage Teashoppe, Alpine – www.cobblestonecottageteashoppe.com
The Aubrey Rose Tea Room, La Mesa – www.theaubreyrosetearoom.com
My Cup of Tea Unique Gifts, Chula Vista –
www.thirdavenuevillage.com/my-cup-tea-unique-gifts
Tea Upon Chatsworth, Point Loma – www.theteahouseonlosrios.com
Coral Tree Tea House, Downtown San Diego – www.coraltreeteahouse.com/CoralTreeTeaHouse/Welcome.html
The San Diego House, San Diego – www.thesandiegohouse.com
Shakespeare's Corner Shoppe & Afternoon Tea, San Diego – www.ukcornershoppe.com
Julian Tea, Julian – www.juliantea.com
VENTURA COUNTY
All Things Tea, Camarillo – www.tea-liteful.com
Tranquility Tea Room, Thousand Oaks – http://www.tranquilitybaking.com/tea_room.html
MULTIPLE LOCATIONS
Olivia's Tea House in Lomita, Tustin, Santa Clarita, Thousand Oaks, Hollywood and Upland – www.oliviasdollhousetearoom.com
Happy Field Tripping,
Jilleen
© Jilleen Butler and SoCal Field Trips, 2013 – Current. Unauthorized use and/or duplication of this material without express and written permission from this blog's author and/or owner is strictly prohibited. Excerpts and links may be used, provided that full and clear credit is given to Jilleen Butler and SoCal Field Trips with appropriate and specific direction to the original content.