This post may contain an affiliate link.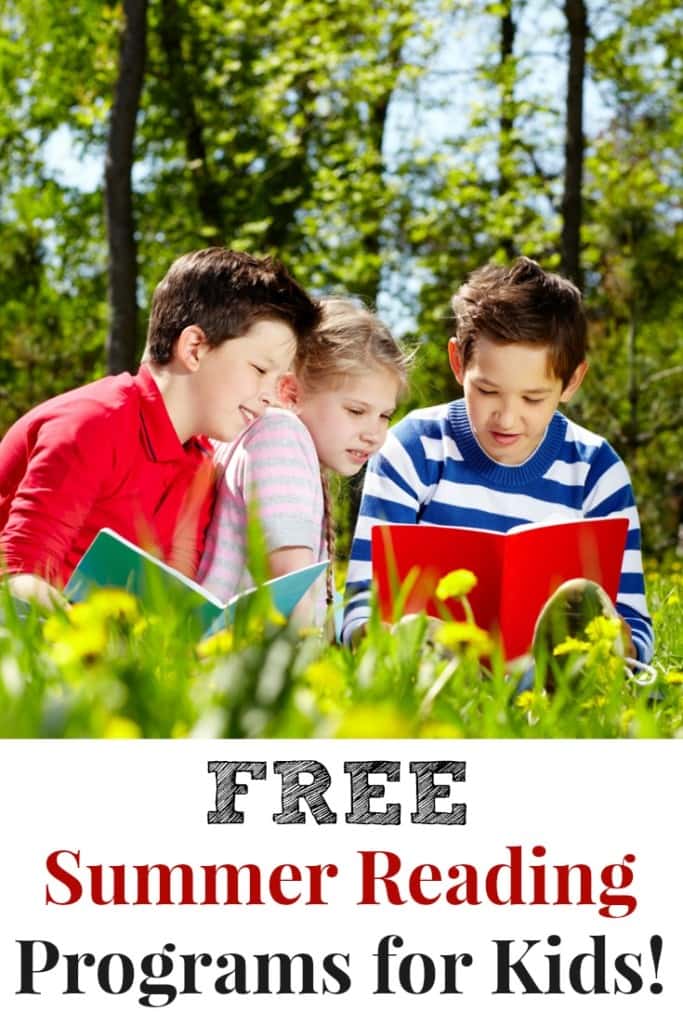 Reading every night before bedtime has been a tradition in our family since my children were born.  Every evening my children pick two books for mom and dad to read to them while we snuggle up together in bed.  However, in the summer, I like to up the ante and encourage my children participate in one or more Free Summer Reading Programs for Kids.  Some programs are local, while others are nationwide.
Free Summer Reading Programs for Kids
Did you know that on average students lose 2 months of reading skills over the summer?  So to combat this trend, there are several Free Summer Reading Programs for Kids that you can sign your children up for right now.
In addition to this list of 9 free summer reading programs, many local libraries also host summer reading programs for kids.  I encourage you to stop by and sign your children up.  In the past, my children have won prizes to such places as BarnesandNoble.com or Amazon.com.
Sylvan's Learning Book Adventure
Using Sylvan's Learning Book Adventure, readers in grades K-8 not only receive the satisfaction of reading a book from cover to cover, they also earn rewards for taking online quizzes to demonstrate their comprehension of the books they've read.  This motivational approach to learning is proven to help build a love of reading that lasts a lifetime!
To set up an account for your child, visit here.  Kids earn prizes online and then redeem them via snail mail for prizes from the Balloon HQ, Gripper Products, Highlights Magazine, IGOR™, Patch Products, Quiz Hub, The Reading Stage in concert with Playbooks, Inc., Rocky Mountain Chocolate Factory and Whitney Worldwide.
Barnes & Noble Summer Reading Program
Parents can visit the Barnes & Noble website and download the Summer Reading Triathlon Reading Journal for children to participate.  Throughout the summer, children read three books, fill out their reading journal and then take it to any Barnes & Noble Bookstore to receive a free book.   This year's Barnes & Noble's Summer Reading Program runs from May 15 – September 3, 2018.
Pizza Hut's Book It Summer Reading Challenge
With the Pizza Hut Summer Reading Challenge, children can beat the "summer slide" by downloading and printing Pizza Hut's summer activities that keep kids reading throughout the summer months.  Parents and teachers can choose from book lists to book reviews to story starters.  Pizza Hut also partnered with Candlewick Press to bring children a great list of summer reading activities.  Don't forget to also sign up for Pizza Hut's Book It Homeschooling Program too.
New York Times Summer Reading Contest
The 9th annual New York Times Summer Reading contest is just for students ages 13-19.  Students are able to tell the NYTimes why they loved or disliked a particular piece and each week they publish the best comments.  The NYTimes.com has a digital subscription system in which gives readers free access to 20 articles each month.
American Girl Summer Reading Bookmark Crafts
This summer select American Girl locations will feature in-store Summer Reading Bookmark crafts.  Girls can make and decorate a pretty bookmark inspired by American Girl activity books.  These events are free and open to the public for girls 8 and up.
Children create an account (per their parent's permission) on Scholastic's website and log their reading times into the system.  Prizes are awarded throughout the course of the program and kids get a chance to beat the world record.  The program runs from May 7 through September 7, 2018.
Chuck E. Cheese 's Reading Rewards Calendar
Chuck E. Cheese 's Reading Rewards Calendar is a program where kids can earn 10 free Chuck E. Cheese tokens for reading each day for 2 weeks.  Parents nees to download the printable rewards calendar.
Longer summer days give kids more time to stretch their imaginations!  Enrich the days away from school with reading fun and Dr. Seuss!
Camp Wonderopolis is a free online summer-learning destination that's full of fun, interactive STEM and literacy-building topics boosted by Maker experiments!  Keeping kids and their families learning together throughout the summer and out-of-school time, Camp Wonderopolis can help build vocabulary, background knowledge in science, reading comprehension, critical thinking, and other literacy skills along the way.  When you register as a Camper (kids of all ages) or Counselor (parents, community and library program staff, teachers), you'll enjoy free learning through wonder.
PBS Kids Summer Reading Program
PBS offers several free activities, printables and worksheets to help keep your little reader progressing all summer long.
Education.com Summer Reading Program
Escape into the wonderful world of books with these summer reading worksheets.  From fantastical dragons and amazing animals to wet 'n' wild fun, these summer printables offer endless ideas for incorporating reading into your child's break from school.  Print off a checklist, and get started on these awesome summer activities to create some fun in the sun.
Find free fun-in-the-sun activities, tips and resources to keep your kids reading and learning all summer long!
Sign up and get a free starter kit that includes a copy of Junie B Jones and the Stupid Smelly Bus, Activity sheets and a membership ID card while supplies last.
Sync Summer Reading Program for Teens
Sync has a summer reading program just for teens that will get them 2 free audio books each week this summer.  Each week there will be a current young adult book as well as a classic title that teens will be able to download for free through the OverDrive app.  The program runs form April 27 – August 16, 2017.
Happy Summer Reading!
Jilleen
More Summer Activities for Kids
Kids Bowl Free All Summer Long
20+ Water Parks in Southern California
75+ Splash Pads in Southern California
7 Free Summer Disney Movie Nights in Anaheim