A Field Trip To The Old Orange County Courthouse in Santa Ana!
Plus A New Exhibit – Seaweed, Salmon And Manzanita Cider: A California Indian Feast
Last winter I set up a field trip for a group of students to the Old Orange County Courthouse in Santa Ana.  It is Southern California's oldest courthouse.  The courthouse, formerly known as the Santa Ana County Courthouse, is a Romanesque Revival building that first opened in September 1901 and is located in Santa Ana's Historic Downtown District.  The building is also on the National Register of Historic places and is a State of California Historic Landmark.
Our tour guide named Brad, a Historic Resource Specialist, was very informative and wonderful with our kids.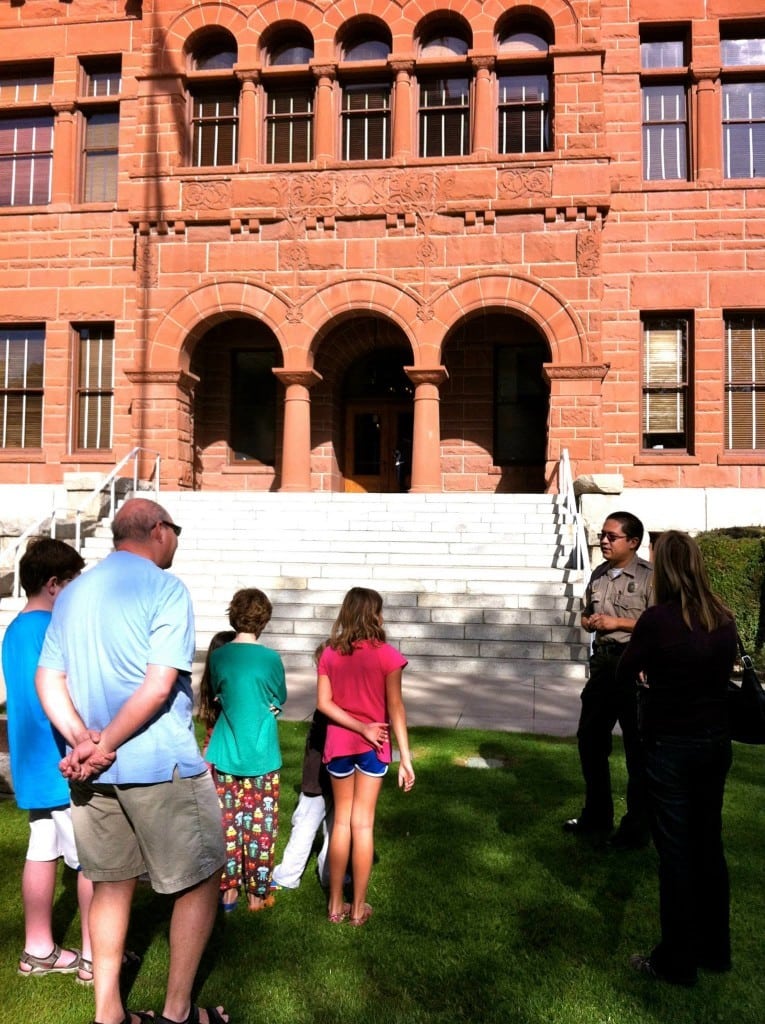 Here we are at the cannons on display out front of the courthouse.  They serve as a memorial for Orange County Veterans. The cannon on the left is from the Korean War and the cannon on the right is a German cannon that soldiers from Orange County captured during WWI.
Once inside we got a personal tour of the courthouse.
Brad gave us this handy-dandy guide about the different types of artifacts that are on display in the courthouse.
The court reporter's office and the equipment that they use to use to transcribe old court cases on was very impressive.
The judge's chambers.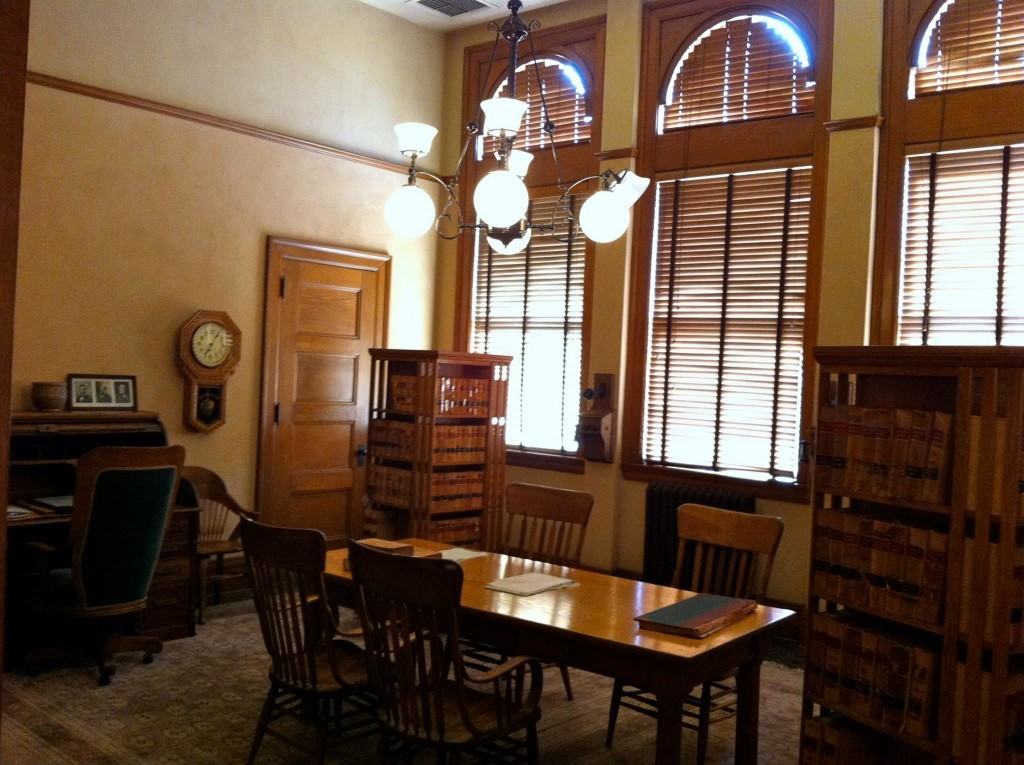 The jury room.
The historic courthouse hosts a variety of exhibitions throughout the year.  When we were there they had The Dairies of Orange County on display.
A new exhibit opens on October 27 at The Old Orange County Courthouse called Seaweed, Salmon, and Manzanita Cider: A California Indian Feast!
It is a statewide traveling exhibition from the Grace Hudson Museum and Exhibit Envoy filled with historic and contemporary photographs, food specimens, memoirs, and recipes.
The exhibit, which runs from Oct. 27 and through Dec. 20, 2014, features foods important in the lives of Native Californians including fish, shellfish, seaweed, meat, vegetables, berries, fruits, flowers, nuts, seeds and salt.   This delicious look at Native foods is based on the Heyday Books publication "Seaweed, Salmon, and Manzanita Cider: A California Indian Feast" by Margaret Dubin and Sara-Larus Tolley (2008), a delightful and sometimes startling compendium of Native American cuisine.
Sherrie Smith-Ferri, Director of the Grace Hudson Museum in Ukiah, curated this exhibition in consultation with her aunt, Kathleen Rose Smith, a California Indian artist and a member of the Coast Miwok and Dry Creek Pomo tribes.
The book and the exhibit contain harvesting instructions and recipes for many delicious foods, including Huckleberry Bread, Pine Nut Soup, Rose Hip or Elderberry Syrup, Peppernut Balls, and Ingeniously Roasted Barnacles.
The traveling exhibition includes historic and contemporary California Indian artifacts used to hunt, gather and process California Indian native foods; historic and contemporary framed photographs of California Indian peoples gathering, preparing, and enjoying traditional food; large format framed contemporary photographs of California Indian food resources; preserved or processed examples of types of California Indian foods; and informative text panels.
Tear-off recipe pads will also be available, allowing visitors to take home some ways to enjoy California Indian foods.
Here are a few tips when planning a visit to the Old Orange County Courthouse:
1. The field trip is FREE!
2. The courthouse can only accommodate a maximum of 30 people at a time.
3. Strollers are not allowed.
4. The courthouse's main parking lot out back only takes quarters, plus you can only put in an hour at a time.  Therefore, you have to go back out and refill the meter in the middle of the field trip.   But there is a parking structure on Broadway about two blocks from the courthouse in the art district and it only costs $1 an hour and caps at $7.  That's a much better deal!
Happy Field Tripping,
Jilleen
Disclosure:  This post is for informational purposes only and was facilitated with the help of Windi Eklund.  All opinions are our own.