This post contains affiliate links.
Here in Southern California, Halloween and fall fun abounds!  So let's get right to it and share with you 40+ family friendly Halloween events and fall festivals taking place across the southland this season.  Prices and dates vary.  Please visit individual websites for full details.  Happy Fall!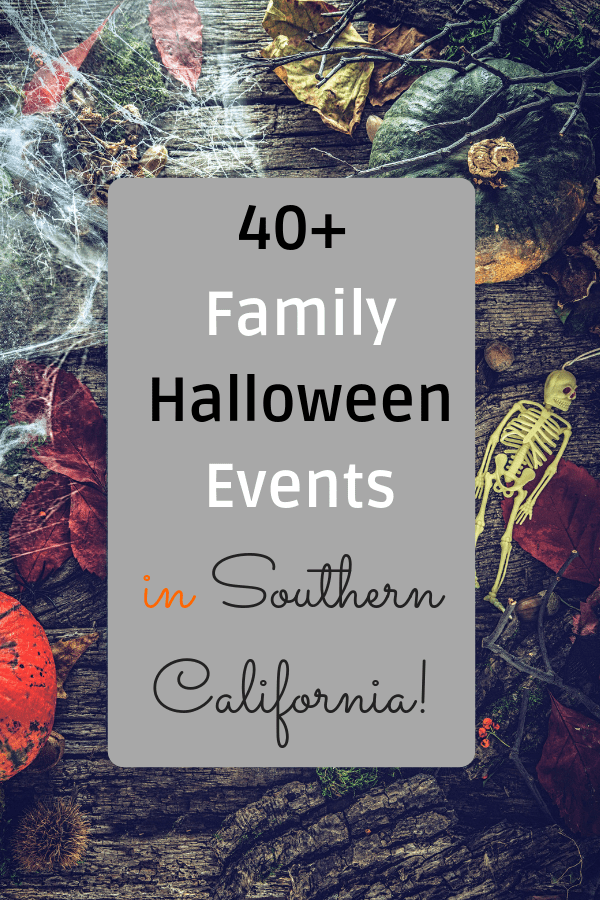 Family Halloween Events in Los Angeles
The Nightmare Before Christmas, El Capitan Theatre, Hollywood (9/12 – 9/25)
No October would be complete without settling in with a bag of popcorn to watch Tim Burton's stop-motion feature film The Nightmare Before Christmas. And there's only one way to see it that's worthy of this modern classic: at Hollywood's historic El Capitan Theatre and in 4-D! Bored with the same old scare-and-scream routine, Pumpkin King Jack Skellington longs to spread the joy of Christmas. But his merry mission puts Santa in jeopardy and creates a nightmare for good little boys and girls everywhere. Jack's adventures pop off the screen in Disney Digital 3-D, as Halloween Town comes alive with the help of special 4-D sensory effects, including lights, fog and scents, plus more wind and snow than ever before!
Autumn Leaf Crowns, The LA Arboretum, Arcadia (9/21)
Come welcome in autumn with your little ones!  Join in celebrating the beginning of the fall season as you use whimsical natural materials to make autumn-inspired leaf crowns while sipping on apple cider.   All ages and skill levels are welcome – all you need to bring is your imagination!
Haunted Little Tokyo 2019, Los Angeles (every weekend in October)
Ghouls, ghosts, and goblins of all ages are invited if they dare to experience Little Tokyo like never before for Haunted Little Tokyo 2019! Halloween festivities will be celebrated throughout the whole month of October with pumpkin patches, trick-or-treating, spooky sounds, ghostly games, free Halloween movie screenings, 'haunted' walking tours, themed drink specials, and more, ending with a frightfully-fun block party and costume contest on Saturday, October 26.
Halloween Rooftop Movies, The Montalbán, Hollywood! (all month long in October)
The cool night air won't be the only thing sending a chill down your spine at The Montalbán's Halloween Rooftop Movie Series.  From fun films like Hocus Pocus and Ghostbusters to creepier fare like Get Out and classics like The Mummy, these outdoor movie evenings will make your hair stand on end in the best way.
Fall Harvest Festival, Forneris Farms, Mission Hills (10/1 – 10/31)
An annual pumpkin patch and Harvest Festival.  There are gorgeous varieties of pumpkins grown and harvested by the local farmers.  Get lost in their 4 acre Super Farmer Corn Maze or take a narrated tracotor tour around the farm.
Boo At The Zoo, Los Angeles Zoo & Botanical Gardens, Los Angeles (10/1 – 10/27)
Treat the imagination at Boo at the L.A. Zoo, where you'll find spooktacular fun every day in October, and entertainment and activities – including live shows, special animal feedings, and themed photo ops – on weekends.  Costumes are encouraged. Don't miss trick-or-treating throughout the zoo on certain days.
Wacky Pumpkin Science, The LA Arboretum, Arcadia (10/5)
Come find your inner mad-scientist! Chemical reactions, cross-linking, non-Newtonian fluids, molecular strands, and states of matter are just a few of the science concepts you will explore in this wacky workshop!  While getting messy and having a gooey good time, we will make pumpkin volcanoes, pumpkin slime, and "pumpkin guts" sensory bags.  As a bonus, you will leave with supplies and recipes to do one more mystery pumpkin science experiment at home so the learning fun can continue!
Pumpkin Nights, Fairplex, Pomona (10/10 – 11/3)
At Pumpkin Nights, you'll discover the Forbidden Pumpkin City, a pirate's cove, and more fantastical lands built using over 3000 hand-carved pumpkins.  Tickets required.
Deal Alert: Get 25% off tickets when you use code SOCALFIELDTRIPS25 at check out.
Fall Festival, The Farmer's Market, Los Angeles, (10/ 12 & 10/13)
Kids can enjoy the wonders of a country fair in the middle of the city. The Original Farmers Market on Fairfax plays host to the Fall Festival, featuring such family-friendly attractions as a pumpkin patch and  a petting zoo.  Other highlights include a pie-eating contest, old-time artisans, and live performances throughout the weekend.
Creepy Critters, The LA Arboretum, Arcadia (10/12 & 10/19)
Come meet the creepy critters that call the Arboretum home! Just in time for Halloween, they will be introducing you to their resident tarantula, scorpion, millipede, hissing cockroaches, and worms in this fun and education program. You will learn about what makes these critters special, why people fear them, and gain a better understanding of and appreciation for these dynamic creatures we share the planet with. You will even get to touch some of them, with the guidance of our trained animal handler! After getting acquainted with their little friends, you will craft "creepy critters" of your own using natural materials collected from the Arboretum grounds.
A Faery Hunt, The LA Arboretum, Arcadia (10/13)
As children we believed in magic and knew in our hearts there was enchantment all around us, hidden, beautiful, and filled with goodness.  If you remember this, you too may have glimpsed Faeryland.  Join the faeries from A Faery Hunt in a delightful morning to celebrate the beauty of nature as they create Faeryland at the Los Angeles County Arboretum and Botanic Garden.   The performers will weave a delightful experience filled with dancing, singing, and stories of faery magic and fun.  Come in your favorite fairy, fantasy, or Halloween garb. Groups and parties are encouraged to join in the celebration.  With your admission, you may stay the entire day!  See the rest of the exquisite gardens, have your lunch at the Peacock Cafe, and enjoy a memorable day with family and friends.
A Fairy Fantastic Halloween Party, Griffith Park, Hollywood (10/19)
A Faery Hunt shows are interactive performances designed for young audiences & families to inspire creativity & fun. On this unique event at Griffith Park, join the faery folke on a fun and gentle quest for the Fairy Royalty with A Faery Hunt interactive, musical performance.  Following the show enjoy A Fairy Fun Halloween Party; the Fairies' gentler alternative to spooky frights, with storytelling, dancing, games, fairy unicorn readings, fairy face painting, one-on-one time with the fairies, food, frolic & fun!  Costumes welcome.
Pumpkin Festival, Kidspace Museum, Pasadena (10/19 & 10/20)
For the past 25 years, the Circle of Friends has proudly presented the Pumpkin Festival in Brookside Park, benefiting Kidspace Children's Museum. Started in 1994 as a safe alternative to trick-or-treating, this festival has grown into a two-day family event attended by nearly 20,000 people each year.  Families from all over Los Angeles come to enjoy carnival games, bouncers, a pumpkin patch, and free entertainment.
Calabasas Pumpkin Festival, Calabasas (10/19 & 10/20)
This festival takes place October 19 and 20, 2019.  Admission includes Inflatables & Giant Slide, Live Bands & DJ Zone, Contests & Saturday Morning Costume Parade, Reptile, Bugs & Nature shows, Youth Halloween Carnival, Business Expo, Car Show and Exhibits.  Pumpkins, pumpkin treats and halloween decorations are an additional price.
Carved, Descanso Gardens, La Mirada Flintridge (10/23 – 10/27)
For five nights only, a thousand professionally carved pumpkins – some as large as 100 pounds and all of them real – will line a 1-mile walk through the Camellia Forest and Oak Grove.  Carved is a family-friendly event for all ages.  Advance tickets required.