This shop has been compensated by Collective Bias, Inc. and its advertiser.   All opinions are mine alone. #PawsToSavor #CollectiveBias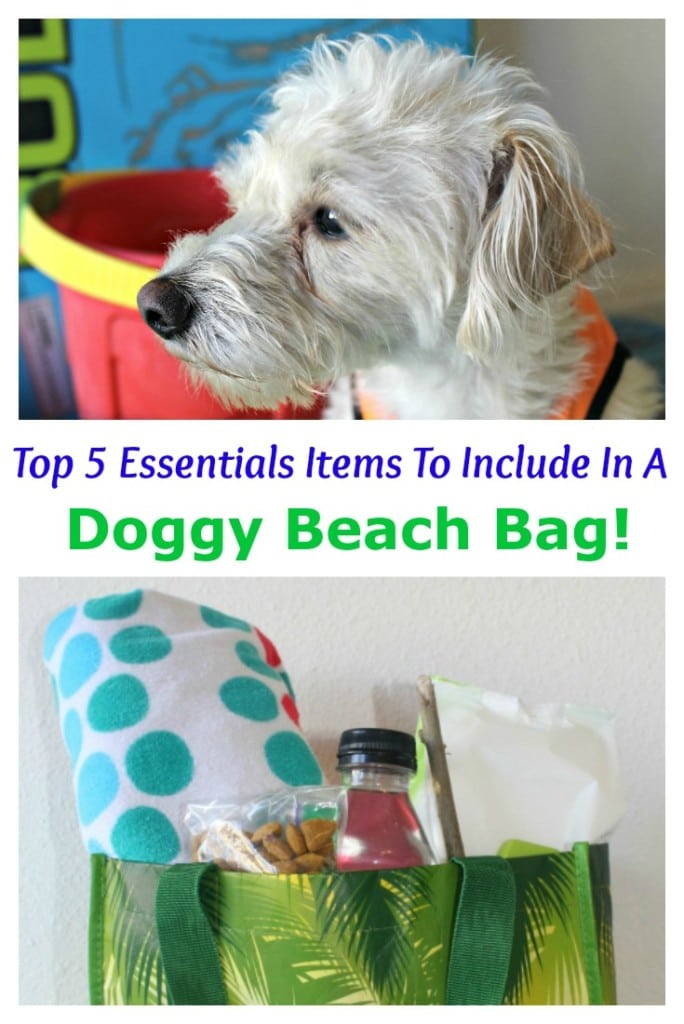 On any given day in Southern California, you will find my family spending quality time together with Field Trip Dog at one our favorite local spots – The Huntington Dog Beach.  At this canine-friendly beach, dog owners can bring their best friends to splash in the water without having to be on a leash.  So anytime we take Field Trip Dog to the Huntington Dog Beach, I like to pack him a doggy beach bag of his very own.  I figure, why not!  If Field Trip Girl and Field Trip Boy get to bring all their goodies to the beach, Field Trip Dog deserves to as well.
Here are the Top 5 Items To Include in a Doggy Beach Bag!
Decorative Beach Bag – You want your dog decked out in the latest beach attire of the season, including a stylish beach bag.  I like to use this surf board bag that I found at my local grocery store to pack Field Trip Dog's supplies in.  We have yet to actually put Field Trip Dog on a surf board, but that's about to change this summer!
Next, after you've selected your decorative beach bag, add in variety of items that your dog will need for the day such as a beach towel, bottle of water, a fetching stick, a pack of baby wipes and quality dog food.
Dog Beach Towel & Baby Wipes – First, you want to purchase an appropriate size beach towel for your dog.  For example, if have a Great Dane, order an x-large beach towel.  If you have a teacup chihuahua, purchase an x-small.  You get the point.   Then after you dry your dog off, wipe his or her feet with baby wipes prior to getting in the car.
Fetch Toy – Next find a good old fashioned stick for playing fetch with your dog and add it to the bag.  Exercising with your dog on the beach can actually be a lot of fun.
Bottle of Water – Don't forget to include a fresh bottle of water for your dog too.  Animals get really tired after playing in the waves and running up and down the beach all day long.  So a few sips of water will help perk them right back up!
Dog Food – Add in a cup of high quality dog food in the bag for your pet.  Just make sure to follow the instructions on the serving label.  A little bit of food can a long way and provide your dog with much needed nutrition after a long day at the beach.
I personally like to serve Field Trip Dog the Purina® Pro Plan® Savor Shredded Blend that I purchase at my local PetSmart store.  It is easy to find in the dog food aisle.
You see, Field Trip Dog and I have a very special bond.  He follows me everywhere I go!  So when I feed him Purina® Pro Plan® Savor Shredded Blend, it is a nature extension of our relationship and makes life with him more rewarding.  Field Trip Dog is the best, I want to serve him the best!
Purina® Pro Plan®'s nutrition is backed by a team of over 400 scientists including pet nutritionists, veterinarians and behaviorists.  Every high-quality ingredient is carefully chosen for a specific purpose.  Furthermore, Savor® Shredded Blend Formulas are made with real poultry, meat or fish and is the #1 ingredient in all of their dry formulas.
Their prices are reasonable too.  Right now if you SPEND $15 on any Purina® Pro Plan® product between 5/31–7/5, you can SAVE $15 on your next purchase of 10.5-lbs. or larger Purina® Pro Plan® Dry Cat or Dog Food or Litter by 7/31.
Now that you know my plans with Field Trip Dog for the summer thanks to Purina® Pro Plan®, how do you plan to spend yours?
See you at the beach!
Jilleen