We attended a media event.
Last Saturday, I took Field Trip Girl on a holiday-inspired mother daughter date to Reindeer Romp at the Los Angeles Zoo & Botanical Gardens. This was my first time to the LA Zoo, so I was excited that Field Trip Girl could along.
During Reindeer Romp, the zoo presents a rare opportunity for visitors to see live reindeers up close and personal before Santa's big day. We visited with Noel, Belle, Velvet and Jingle in their wintry Reindeer Village home, the only place to view live reindeer in LA. The gals were quite puckered out just dreaming about Christmas Eve, so they mostly rested for us.
Of course, my daughter had to ask where Rudolph The Reindeer was! After all, he is the most popular reindeer of the all! A friendly Reindeer Keeper kindly told my daughter that Rudolph was at the North Pole helping to pack Santa's sleigh for the big day. I thought this was a clever explanation for Rudolph's absence!
LA Zoo Reindeer Romp Activities
In addition to seeing the reindeer, Reindeer Village hosts a flurry of other activities in and around the village including:
Holiday crafts for youngsters. Field Trip Girl made a pair of antlers compliments of the zoo volunteers. It was a very festive craft.
Ice Carving Demonstrations on Saturdays.
Swazzle Holiday Extravaganza puppet shows on Sunday mornings.
Entertainment by the Satin Dollz, Los Angeles' popular retro musical troupe on Sunday afternoons.
Animal docent talks.
After spending time in the Reindeer Village, Field Trip Girl wanted to visit with Santa Claus. This was the first time I heard her unveil her Christmas wish list this year! She told Santa that she wanted a heart-shaped locket, a Girl Scout Easy Bake Oven and a ukulele. So guess what I did when I got home? I ordered all of Field Trip Girl's presents on Amazon on behalf of Mr. Claus! Shopping, done!
Visits with Santa Claus in the zoo's all-new whimsical Santa Village and photo ops (for a nominal fee) take place every weekend through December 20, plus December 21, 22 and 23 from 11 am to 3 pm.
The biggest joy of the day was watching a 6,000 lb. Asian elephant unwrap a very present of his own! The zoo staff put different holiday presents in the elephant's cage that consisted mostly of fruits and vegetables. The mere force of watching the elephant stomp on the boxes was amazing!
LA Zoo Admission and Hours
The Reindeer Romp Holiday Celebration at the LA Zoo runs November 27 through January 3, 2016 (except Christmas Day) from 10 am to 4 pm.
All activities, except Santa photos, are free with paid Zoo admission, which is $20 for general admission (ages 13 to 61); $17 for seniors (ages 62+), and $15 for children (ages 2 to 12). No ticket is required for children under age two. Admission for Greater Los Angeles Zoo Association members is free.
The Los Angeles Zoo is located in Griffith Park at the junction of the Ventura (134) and Golden State (5) freeways. 5333 Zoo Drive, Los Angeles, CA 90027. Park is free. For additional information visit www.lazoo.org/reindeerromp.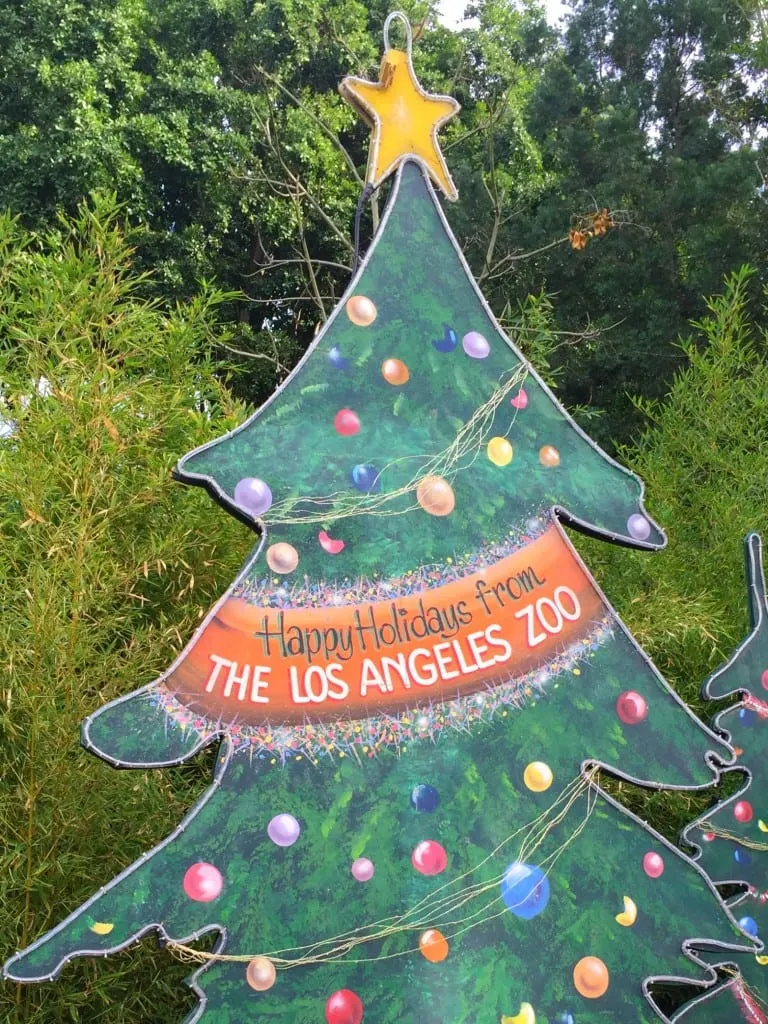 Happy Holiday Field Tripping!
Jilleen