This shop has been compensated by Collective Bias, Inc. and its advertiser.  All opinions are mine alone. #AvengersUnite #CollectiveBias
MARVEL's The Avengers: Age of Ultron opens in theaters on May 1st!  Are you ready for all the action?  The Avengers movies are all about the super heroes uniting together, and the new action packed movie with all of the Avengers will surely be a box office hit.  To get the party started check out this MARVEL's Avengers: Age of Ultron Sweeps – $4,500 Prize Value!
So over the weekend, my family and I decided to celebrate the awesomeness of The Avengers, and hosted a MARVEL's The Avengers: Age of Ultron role playing party of our own.
Earlier in the week, I went to my local Walmart store and picked up some necessary supplies for the party.  Walmart had a fantastic selection of Avengers products from party supplies to costumes to food.
Field Trip Boy enjoyed wandering the toy aisle where he found Captain America and Hulk costumes.  They also had a great selection of Avengers toys.
I especially enjoyed shopping for Avengers party decor in the party aisle.  I purchased an Avengers door banner, character masks, napkins and stickers for a specific craft.
However, no party is complete without snacks!  So on our way out, I swung by the food section and picked up Kellogg's Fruit Snacks and Cheez-It.  Both of these items were located on the end cap.
Saturday arrived and we were all super excited to host our MARVEL's The Avengers: Age of Ultron role playing party!  First, each family member decided what character they wanted to play.  Field Trip Boy opted to be Captain America.  But I like to call him Captain America Jr. when you compare him to his dad.
Since there were no Black Widow masks for girls, Field Trip Girl decided to play Thor.  Don't you like his dress?!!
After selecting our characters, our family did a variety of Avengers activities and games.  We played pin the tail on the Avengers!
We made an Avengers inspired popsicle stick craft.  It is super easy to make!  All you need are popsicle sticks, glue and Avengers stickers.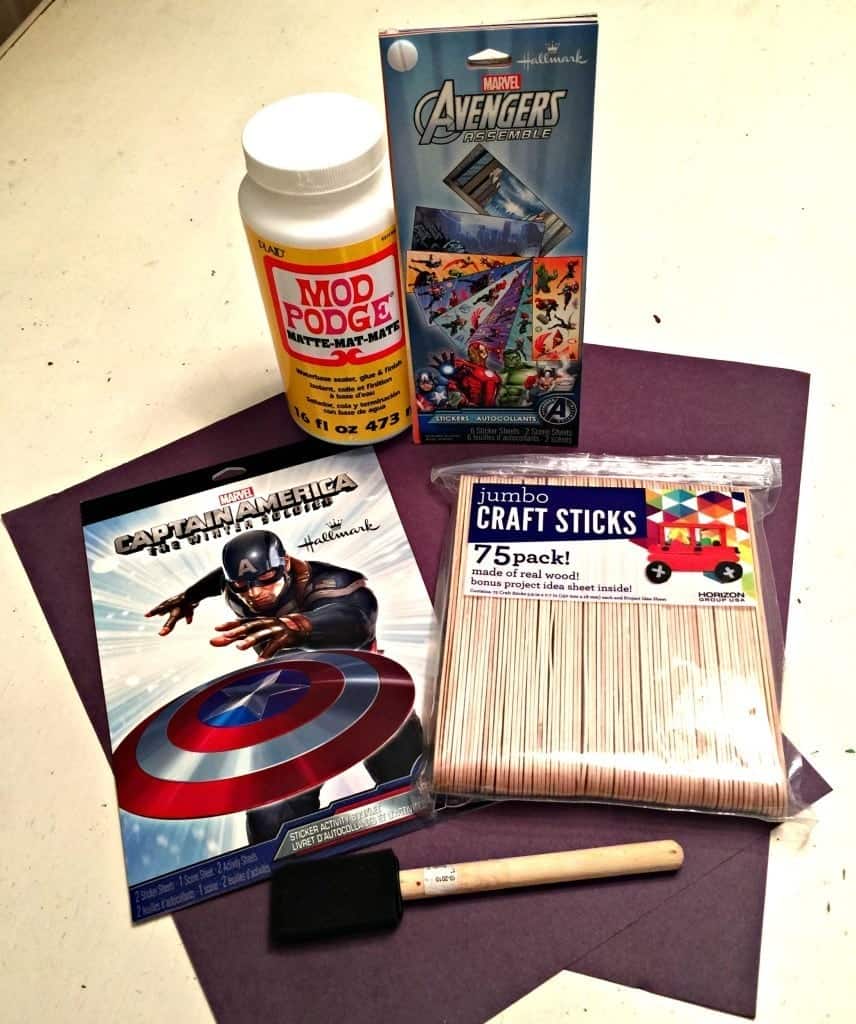 After we made our craft, we sat down and watched the original MARVEL The Avengers movie together.  There is nothing better than watching superheros try to save the world from evil.  Of course, they win every time!
Did you know that Avengers fans have something even more to look forward to?  The Super Heroes Assemble app is now available on iTunes and Google Play!
With Super Heroes Assemble, you can turn your phone into a portal to receive exclusive MARVEL's The Avengers: Age of Ultron content.  Keep up to date with the latest movie and behind-the-scenes action.  Plus, scan Avengers displays at Walmart and Walmart.com to become your favorite Avenger, explore a Hulkbuster training facility in a cool 360 degree interactive space and to bring MARVEL's The Avengers: Age of Ultron characters to life with augmented reality.  And if you scan any 12 pack of Dr. Peppers Avengers or in-store signage you can unlock a digital comic book.  This exciting new comic book is brought to you by Dr. Pepper.
So which MARVEL's The Avengers: Age of Ultron superhero is your favorite?  We look forward to hearing about your superpowers in the comment section below!