This post has been written by me on behalf of Kia.  All thoughts and opinions are my own.
Two weeks ago, my family and I went on a summer vacation to Seaside, Oregon.  Every year my extended family gathers together at some location throughout the country for a week long stay of family, fun and adventure.
During our vacation in Oregon, I had the opportunity to drive the new 2015 Kia Sedona SXL.  My first impression of the Kia Sedona is that it feels like you are driving a luxury RV on wheels!  It is a luxurious vehicle that is extremely sturdy and solid from to start to end.
First, let's talk about the body of the Kia Sedona.  It is gorgeous!
The exterior comes with front projection fog lights with LED positioning lamps, which I used quite often when we drove at 2:30 am in the morning from Seaside to the Portland airport.  It can get very foggy in Oregon at times.
Did you know that Oregon is also in the midst of a heating trend?  So when it was cool outside my family enjoyed the Kia Sedona's dual sunroofs.  But when it was warmer, the rear privacy glass helped to keep the vehicle cooler inside.
The Kia Sedona also comes with tri-zone automatic climate control, air conditioned front seats and rear air conditioning.  So whichever way the weather turned, the Kia Sedona was right there by our side!
I personally enjoyed being able to control the majority of the vehicle's features from the driver's seat including the:
Infinity Surround Sound Audio System
Adjustable Driver's Power Lumbar
Cruise Control
Dual Power Sliding Doors
I also liked having access to the UVO eservices with Premium Navigation and Back-Up Camera and the Front/Rear Parking Assist System.
In Oregon, there are many roads and side streets that I was unfamiliar with.  Yet whenever I turned, the Kia Sedona would warn me if there was either a car beside me, in front or in back of me.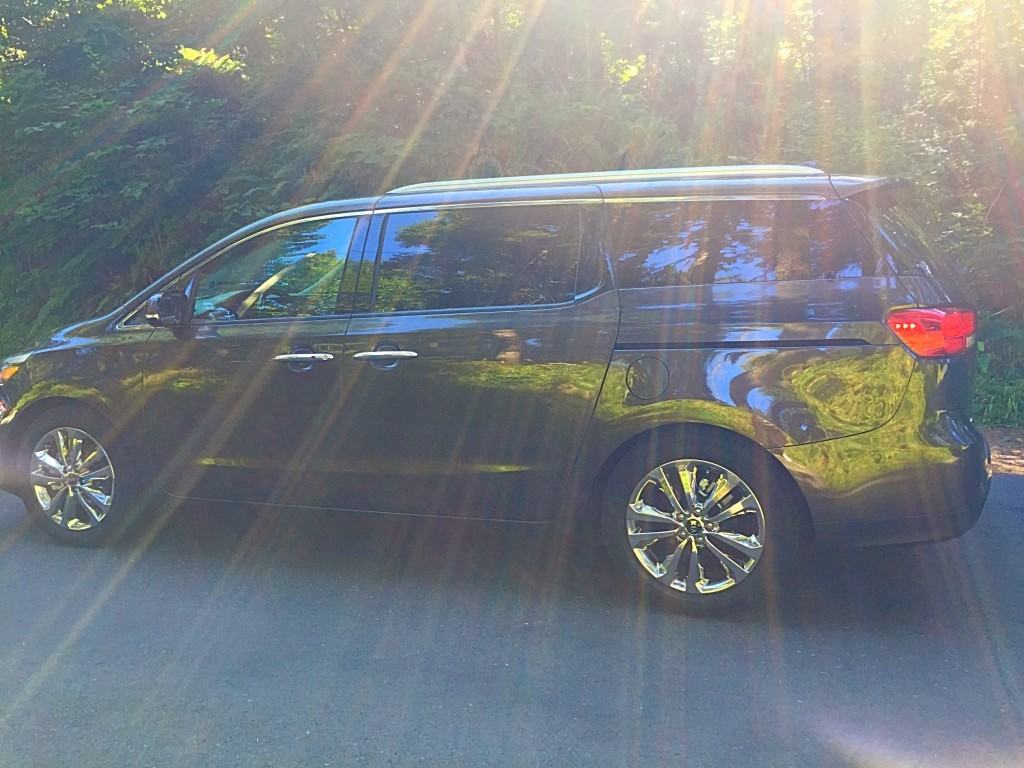 However, my kid's favorite part of the Kia Sedona was the first class lounge seating throughout the entire vehicle.  It reminded of sitting in first class on a luxury airplane!
The middle seats of the Kia Sedona fully recline and include footrests.
On numerous occasions while driving, I found my children passed out in the back of the vehicle enjoying their new-found seats.  The only thing missing was a stuffed pillow!
As a mom, I like the safety record of the Kia Sedona.  The Kia Sedona comes with dual front advanced airbags, front seat-mounted side airbags and full-length side curtain airbags for all 3 rows.  So if you are every in an accident, you are protected all the way around.
The advanced braking systems and traction and electronic stability controls are also nice features.
Finally, the Kia Sedona had ample storage space all of our luggage, plus some.
With a 10 year/100,000 mile limited powertrain warranty, sleek exterior and luxury interior, the 2015 Kia Sedona SXL makes for an excellent family vehicle.
Happy Field Tripping with the Kia Sedona!