Travel Partner
Hi! My name is Field Trip Dog and you often hear my mom talk about me on SoCal Field Trips.com. However, today I'm taking over as "dog and chief" and are going to share with you about a recent get away I took with my parents to Carlsbad, California.
It had been a stressful week back at home and we couldn't wait to get away. I looked forward to running through the lushish green grass at the dog park and strolling down PCH and smelling the fresh ocean breeze.
To be honest, it's hard to have a getaway weekend with my parents when I'm not accepted at most places. Don't get me wrong, normally when I see people they greet me warmly and give me a lot of affection. The unfortunate part though is that when my parents go on vacation, I usually have to stay home with a sitter. I wish most places would accept me, but the truth is they don't.
About Extended Stay America Carlsbad
But last weekend was different! I finally got to go on a fun getaway weekend with my parents to San Diego, where we stayed for two nights, three days at Extended Stay America San Diego – Carlsbad Village by the Sea. That's right, I was the welcome third wheel!
Immediately when we arrived, we were welcomed by the front desk attendant, who gave me a couple of pats on the head. I also met a fellow dog in the lobby who I hit it off with and we played together for awhile.
My parents also really liked the location, because it's right off the 5 freeway on Carlsbad Village Drive. Furthermore, Extended Stay America San Diego – Carlsbad Village by the Sea is not too far from downtown Carlsbad where there's a lof of amenities and restaurants to enjoy.
Once we checked in, we went to our room which was quite large for two people and a small dog like me. Therefore, we had a lot of extra room to play fetch! The public relations team also sent us this sweet welcome gift.
Our king size suite came fully furnished with a kitchenette stocked with pots and pans, cutlery and utensils that my parents used to cook with, while I searched for scraps on the ground.
The room also had a relaxing chair that my dad sat down in, while my mom enjoyed the complimentary Wi-Fi and working on her blog.
The standard size bathroom was clean and came with fresh towels and complimentary amenities such as shampoo and conditioner. These items are nice to have on hand just in case you forget them at home.
At bedtime it was wonderful to be able to jump in the bed with my parents and fall asleep wedged in between them. I heard them say that the bed was comfortable and I would have to agree, although normally I'm not a connoisseur of beds.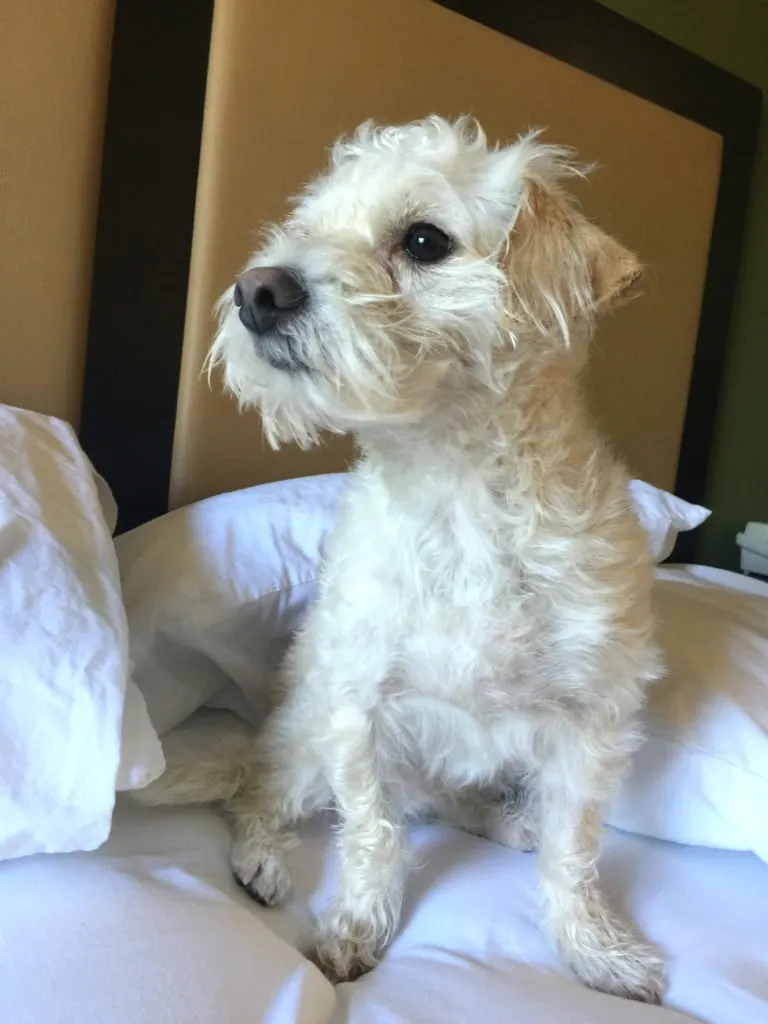 One night my dad even took me on a long walk around Carlsbad. It was beautiful outisde, but what I really enjoyed was the smell of the nearby pizza parlor. Mmm…delicious!
Overall, my weekend in Carlsbad was fantastic! I got to play at the dog park and take long walks with my owners on the beach.
Did you know that pets are always welcome at Extended Stay America? A maximum of two pets are allowed in each suite. Height and length restrictions apply. To book your next stay at this pet friendly hotel in San Diego, visit www.extendedstayamerica.com. I highly recommend it.
Happy Traveling!
Field Trip Dog
More Extended Stay America Discount Offers
Maximize your stay without maxing out your budget with Extended Stay America's affordable weekly, biweekly and monthly rates. Whether you're on assignment, between homes, relocating or just want to extend your vacation a wee bit more, they understand that night after night in a hotel can add up. With this discount, the longer you stay, the more you save off of your nightly rate.
If you're in the government or military and need lodging for a longer period of time due to relocation, reassignment, or BRAC, extended stay suites are the answer. Hundreds of their hotels offer both government TDY and PCS rates and give you the advantages of a studio apartment with none of the hassles. All hotels are registered with CCR as a U.S. government contractor and are FEMA-approved. Hundreds of hotel rates are available at or below per diem, with nightly, weekly, and monthly rates.
Seniors can enjoy the comfort and convenience of an Extended Stay America suite at a special rate. Guests 55 years of age and older qualify for our Seniors rates, available at all Extended Stay America locations in the United States and Canada. Just book through this page using the booking link above, and select Seniors from the rate menu.