Written by Windi Eklund, blog contributor.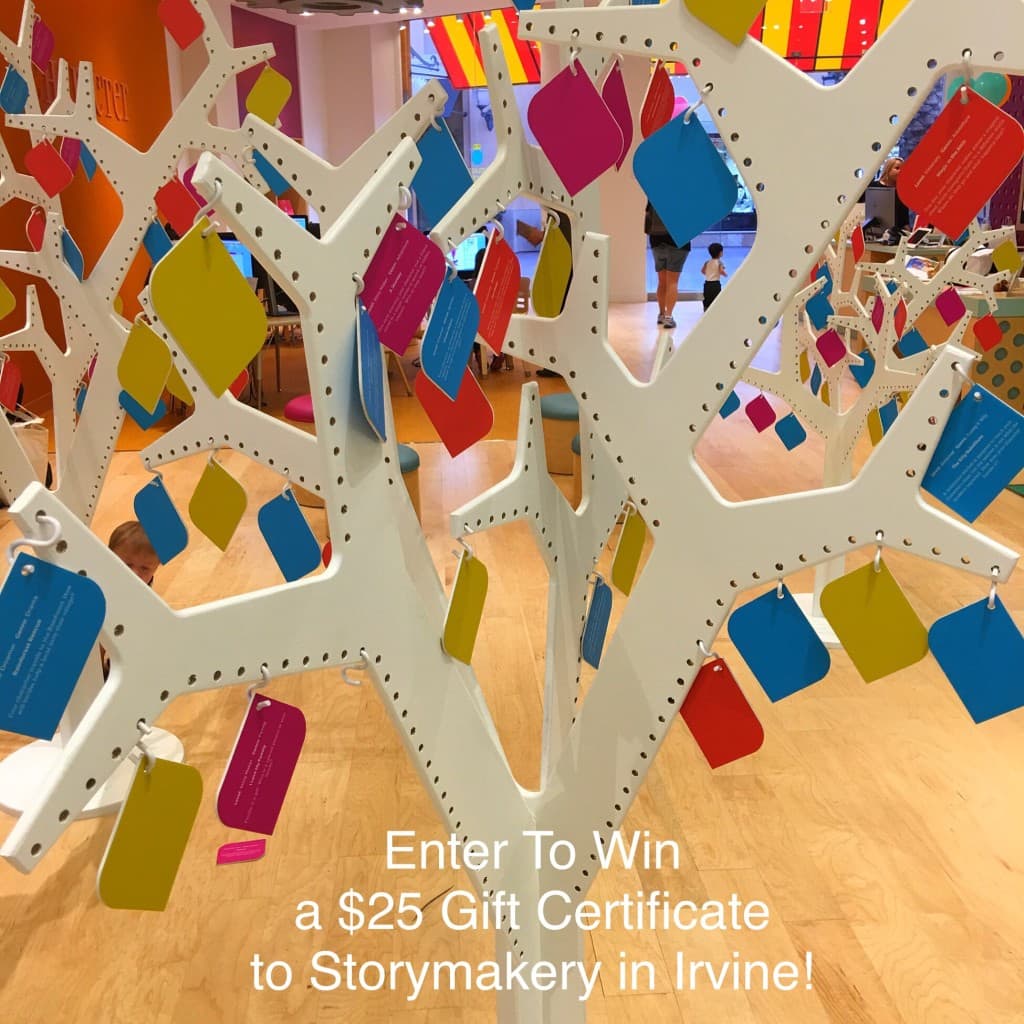 Last Tuesday, my kids and I had a chance to visit Storymakery, a new store at the Irvine Spectrum in Irvine. Storymakery™ is the first self-publishing experience designed for young children. They help kids create characters, write stories & publish their own books!
First, you start by creating a character on one of their computers at the Character Studio, or I should say customize a character. It is so simple, even my 3 year old did it!
You select a character from one of their 8 categories (Spooky, Superhero, Fantasy,etc.) and then begin customizing their features – mouth, eyes, hats, accessories and so on. You can also change the colors of your character, give them a name, select different character attributes and select a poster design featuring your new creation.
Next you move on to the Writing Studio, where you can either customize a story for your character or create one from scratch. The customization option has you make a few general selections about your story, such as if you want it to be about a superhero for example, and a few other small choices.
You are then presented with a story that is very reminiscent of Mad Libs, but rather than a blank area, you fill it in with a verb or a noun from a drop drown box with a half dozen choices you can select. For example, the story we started with had our character meet an animal in the woods and the drop down gave us a handful of different animals to choose from.
My kids started with the customized story, but quickly changed their minds and switched to creating a story from scratch, as the story options presented didn't match the ideas they had generated while they were creating their character back in the first step.
To create a story from scratch, the kids sat with one of the Storymakery staff and they discussed the story and wrote it together. When they finished that, they created 2 new characters (much like in step 1) that served as supporting characters for the story they had just written.
From there they moved on to the third and final step, the Publishing Studio. Here the kids see the characters they have created and the text they have written and they can drag and drop background artwork and their characters into the empty areas on the pages set aside for artwork. They also add in some "Author" information about themselves and a short bio.
From there, the on-site print shop quickly produced their finished book, along with their "promotional" poster.
Overall, this seems like a fun way to get kids interested in writing, and being able to take the book home with you, rather than wait for it to arrive in the mail is a nice addition. The estimated cost to make a book is $50.
Now enter for your chance to win a $25 Gift Certificate to Storymakery + A Children's Journal!
US Residents Only. No purchase necessary to enter. One winner will be randomly selected via RaffleCopter and notified via email. Winner must respond within 48 hours to claim the prize or a new winner will be chosen via RaffleCopter.
Storymakery is located at 825 Spectrum Center Dr, Irvine.
Happy Field Tripping to Storymakery!
Jilleen