Guess Who Likes The Guess Who Book Series
by Howard Eisenberg?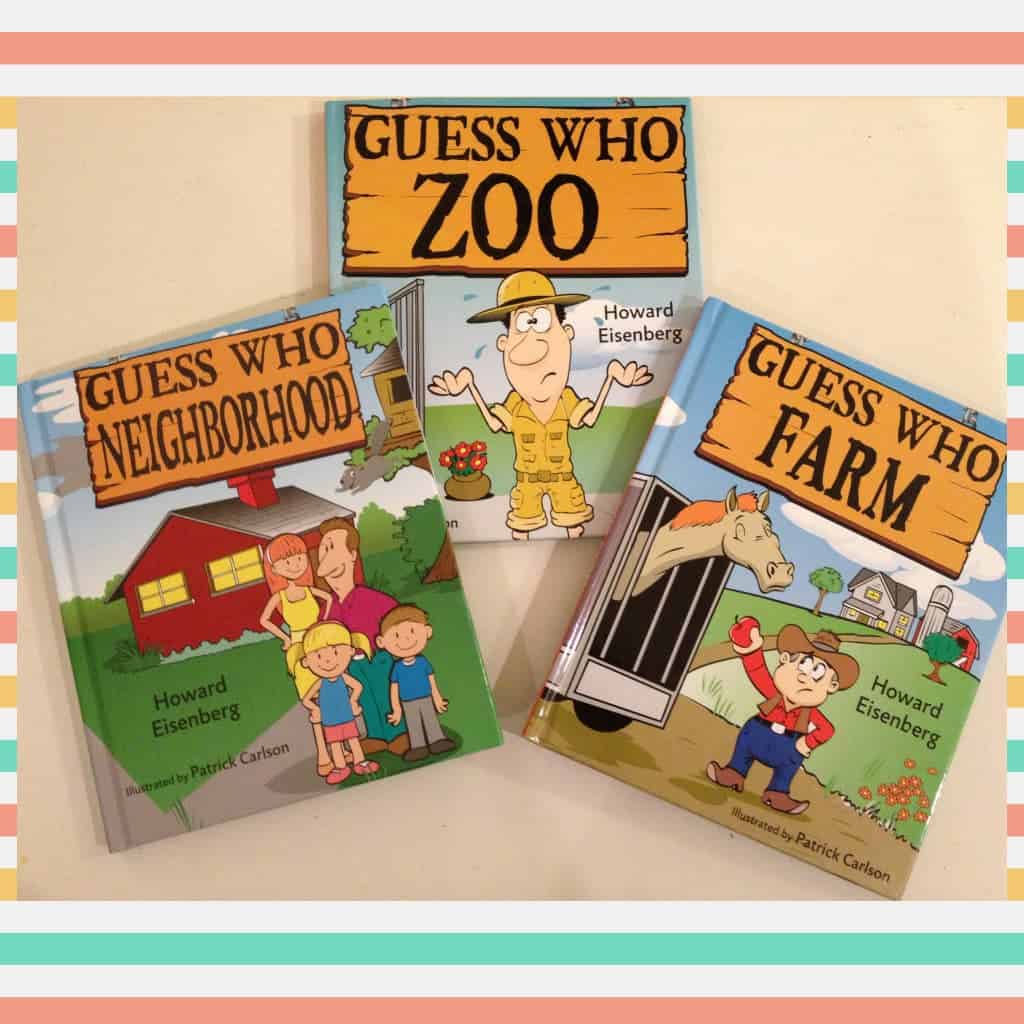 Recently we received the very entertaining and amusing Guess Who Book Series by Howard Eisenberg.  The Guess Who Book Series is based upon original poems that author Howard Eisenberg wrote to his grandchildren on postcards while traveling overseas in 1989.
Now, published 25 years later by Mascot Books, Guess Who Zoo has been released simultaneously with the more recently-written Guess Who Farm and Guess Who Neighborhood in a new interactive series for children.  The trio is designed for children 3-6 as "fun that educates" — encouraging vocabulary building and reading and writing skills as well as introductions to science, social studies, and the  arts.  The books begin with charming rhymed stories followed by whimsical interactive poems with clues in every line and the last word –  usually the animal's name – left blank.  Two of the books are augmented by a fascinating-facts section entitled If Animals Could Talk.
As a parent, I enjoyed reading the Guess Who Book Series, because I could easily adjust the reading level according to each of my children's abilities.  For example, Field Trip Girl is just starting to learn to read through the use of Bob Books and Readingeggs.com.  When I read Guess Who Zoo to her I picked out the sight words that she already knew and had her read them to me.  I also shortened each page a bit.
In Guess Who Zoo, Monkey steals the keys from a napping Zookeeper and releases all the animals.  The book expands a Guess Who Zoo CD that won a Parent's Choice Award and a Parenting Magazine Pick.
A Sample From the Guess Who Zoo:
MY COAT IS BRIGHT AND SPECKLED

MY FAVORITE LUNCH IS LEAVES

I DAINTILY NIBBLE DOWN BELOW

OR HIGH ON THE TALLEST TREES.
MY NECK IS AS LONG AS A LIGHT POLE
IT MAKES LITTLE CHILDREN LAUGH

WHEN I STRETCH IT OUT TO LICK YOUR HAND

YOU'LL KNOW I'M THE _________.
Guess Who Zoo is the perfect book to read over the course of a few days with a young child.  It also makes for a great addition to any preschool or lower elementary school library.
Now with Field Trip Boy it was a whole different story!  When the Guess Who Book Series arrived, Field Trip Boy sat down and read the entire Guess Who Zoo book in 15 minutes.  He is 7 years old and is a great reader.  He reads approximately at a 4th grade level.  Field Trip Boy liked Guess Who Zoo the best because it was a little bit harder to guess the animals than in the other books.
Personally, I enjoyed reading Guess Who Farm because the poetry was cute and catchy.  It reminded me of when I use to read Dr. Seuss books with my parents when I was a child.  In Guess Who Farm, Young Mac (Old MacDonald's son) longs for a farm of his own, but when a trailer load of animals arrives they refuse to leave the truck until he guess their names. Young Mac, a terrible guesser, implores young readers to help him start his farm.
In Guess Who Neighborhood, the fun begins for two totally bored children when their house-hunting parents discover a unique neighborhood in which the kids get to guess a Snowman, a Playground, a Nanny, and even a Skunk.  Guess Who Neighborhood goes well with any preschool or kindergarten community workers curriculum.
The next time you think about purchasing a new book for your little one, consider one of the Guess Who Series books by Howard Eisenberg.  It will definitely make your child chuckle and put a smile on their face.
Happy Field Tripping,
Jilleen
Disclosure: We received a complimentary set of Guess Who books to help facilitate this post.  All opinions are our own.