A field trip to visit
Hello! Exploring the Supercute World of Hello Kitty Exhibition
at The Japanese American National Museum in Los Angeles!
Last November, I attended the first ever Hello Kitty Convention in honor and celebration of Ms. Hello Kitty's 40th birthday!
Before the official media event, I decided to take a stroll through Little Tokyo and visited the new exhibition at the Japanese American National Museum called Hello! Exploring the Supercute World of Hello Kitty, the first ever large-scale Hello Kitty museum retrospective in the United States.
Hello! Exploring the Supercute World of Hello Kitty runs from October 11, 2014 through April 26, 2015.
"Organized as part of the global icon's 40th-anniversary celebrations, the exhibition examines the colorful history of Hello Kitty and her influence on popular culture. Hello! includes an extensive product survey, with rare and unique items from the Sanrio archives, alongside a selection of innovative contemporary artworks inspired by Hello Kitty and her world. Hello! is curated by Christine Yano, PhD, author of Pink Globalization: Hello Kitty's Trek Across the Pacific, and Jamie Rivadeneira, founder and owner of the Los Angeles pop culture boutique JapanLA. (source: www.janm.org)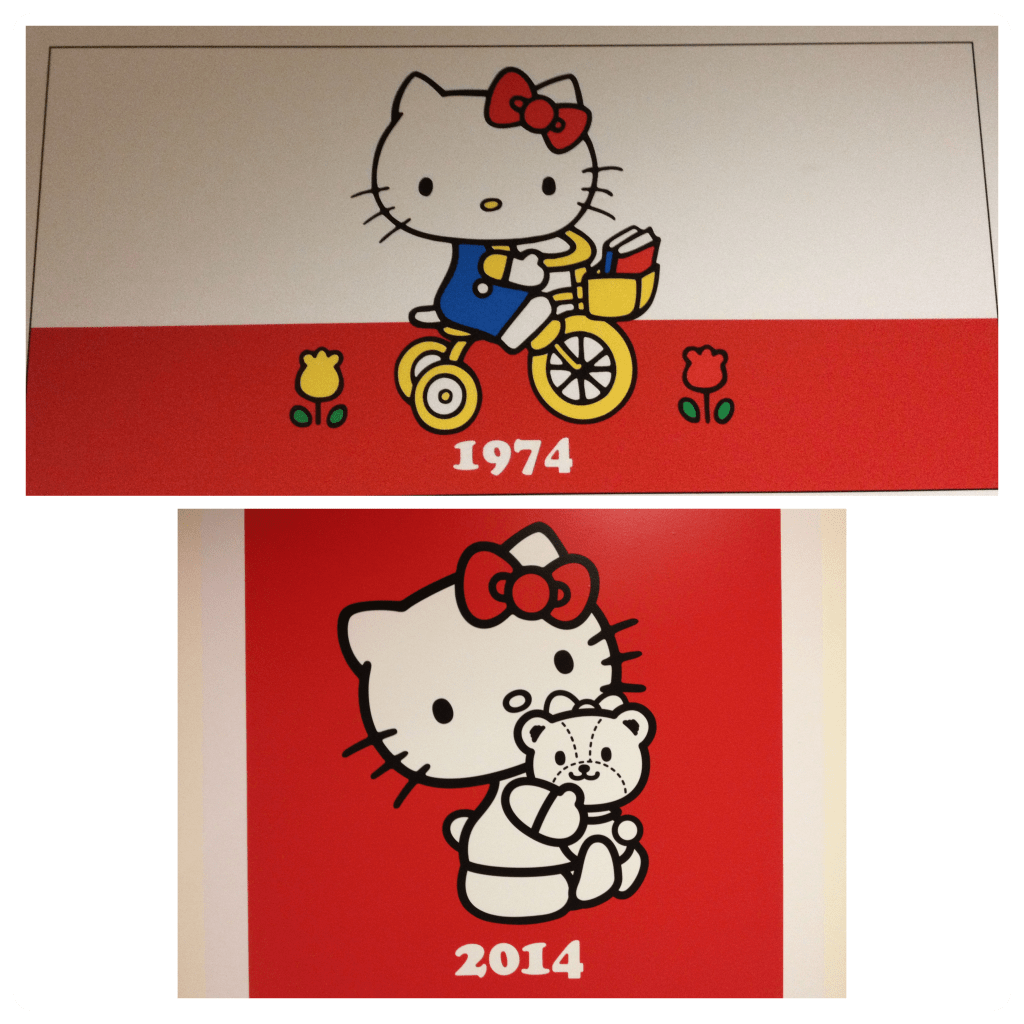 It is fascinating to observe how such a simple product idea as Hello Kitty has become an international icon. From fashion to technology to art to everyday living, Hello Kitty has made her mark on society.
First, let's talk about the vast array of Hello Kitty inspired products that were on display in the exhibition. The Hello Kitty character first appeared on a small, clear vinyl coin purse in 1975, which costs less than a dollar to purchase. Although many replicas have been made over the years, only one of the original purses is known to exist, and it is kept in a secure vault at Sanrio's headquarters in Japan. (source: www.janm.org)
As you walk throughout the exhibition you will find a Hello Kitty bowling ball, fresh toilet paper (they even had it inside the convention's restrooms!), a coffee maker and a skate board. However, I wonder if the skate board has ever been taken for a ride!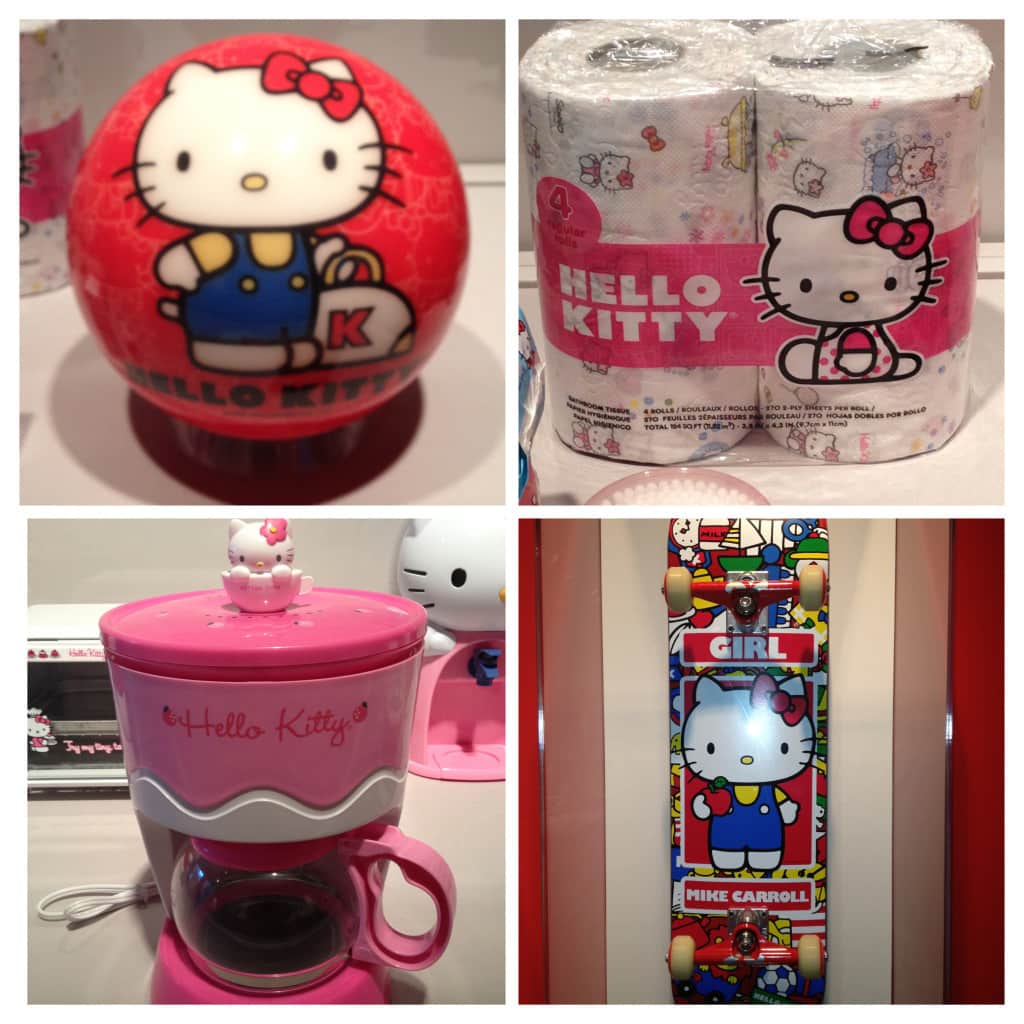 Need a lunch box, backpack or purse? Hello Kitty's got you covered!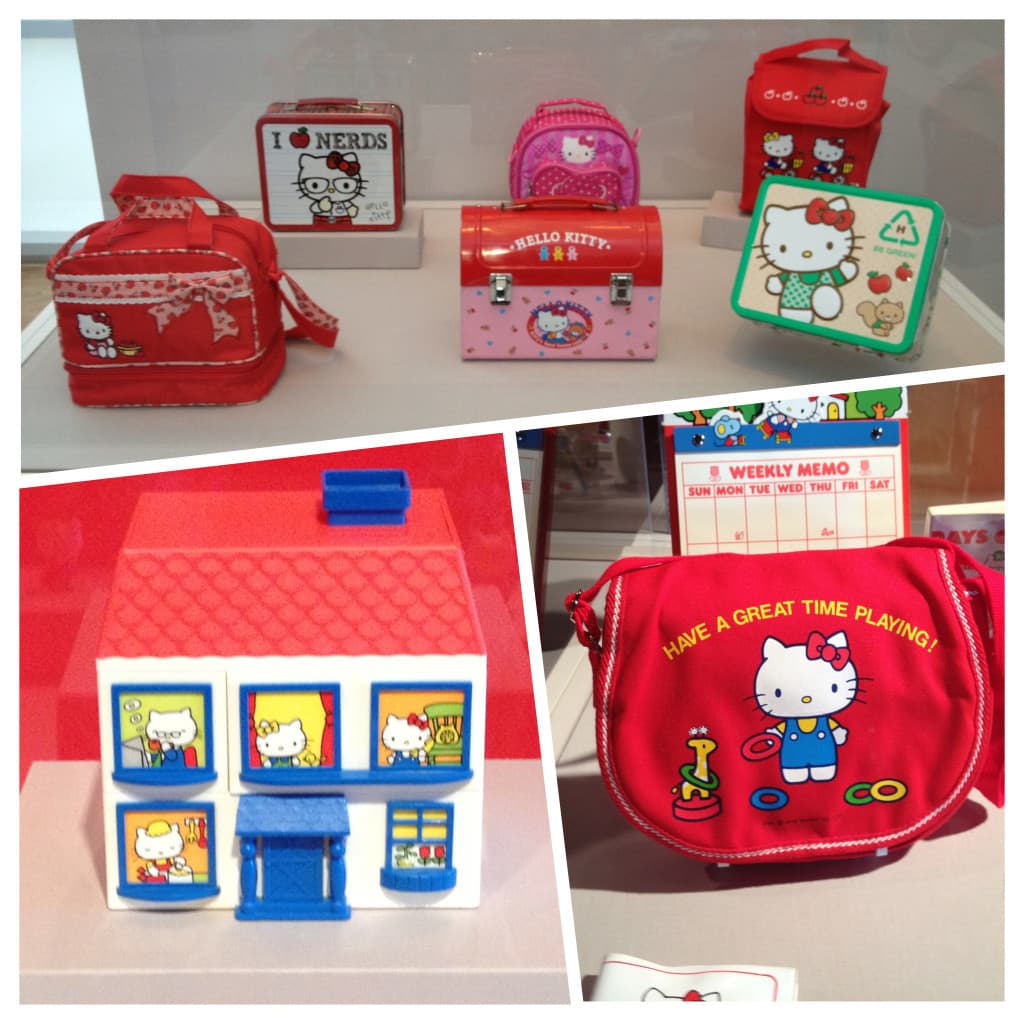 Want to make a phone call or calculate a math problem? Hello Kitty's got you covered there too.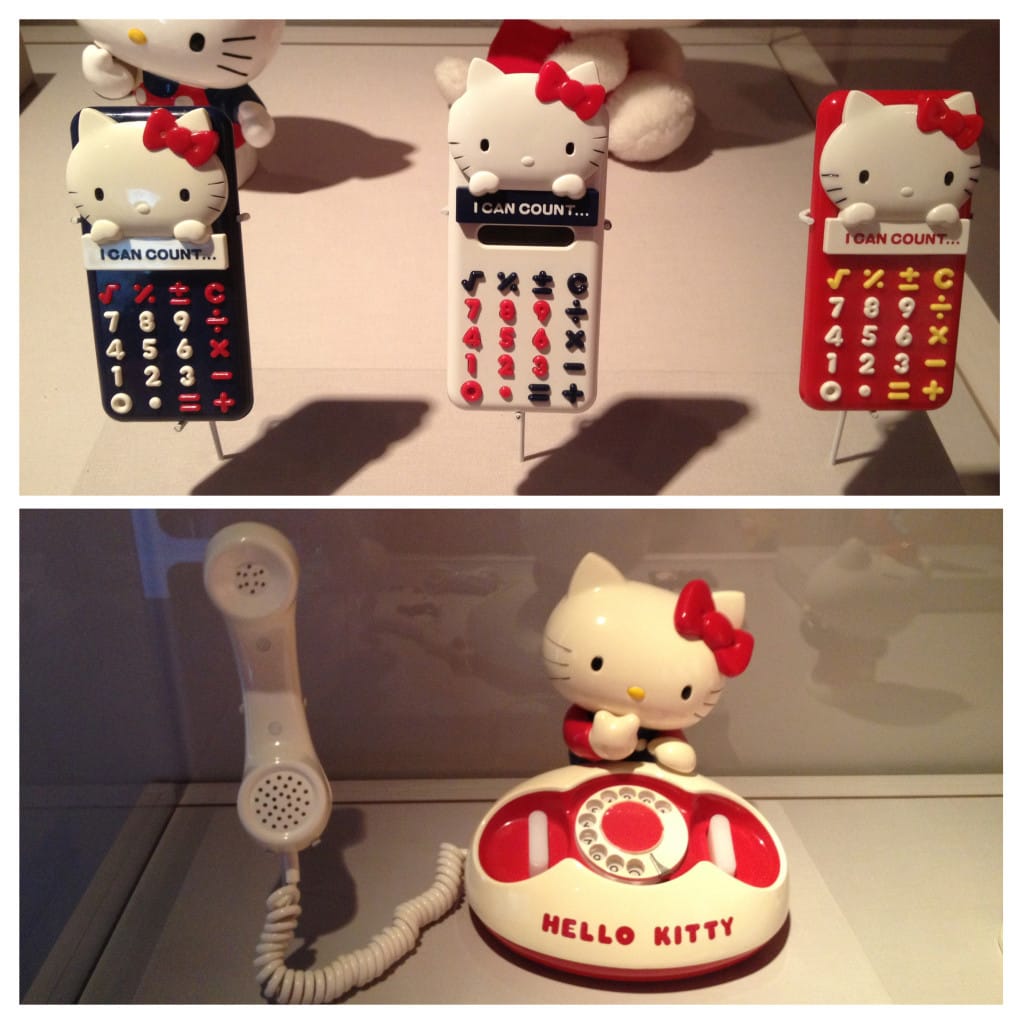 Hello Kitty even created a recent buzz in fashion industry when she appeared on America's Next Top Model Cycle 18 as contestants modeled couture Hello Kitty creations by designer Francis Libiran. Plus Hello Kitty is an adornment of choice for celebrities such as Lady Gaga, Paris Hilton and Katy Perry. Hello Kitty's got it going on!
For the Hello! Exploring the Supercute World of Hello Kitty exhibition, curators challenged well know artists from around the world to design Hello Kitty inspired works of art that were outside the norm. "Hello Kitty has the unique ability to act as a muse to artists with diverse styles, aesthetics, and viewpoints. She doesn't have a mouth, which gives each artist the opportunity to project any emotion onto her." (source: Hello! Exploring the Supercute World of Hello Kitty display markers)
In the end, I could not pass up the opportunity to take a selfie with President Abraham Lincoln who was decked out in his best Hello Kitty attire for the occasion!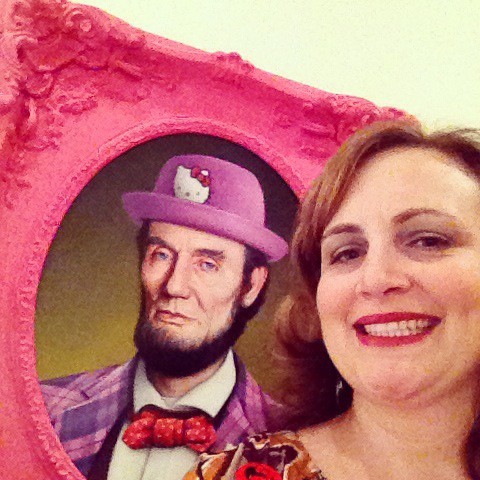 Here are a few tips when planning your visit to see Hello! Exploring the Supercute World of Hello Kitty exhibition:
1. Parking in downtown Little Tokyo can be rough, especially during the work week. I recommend visiting the exhibition after lunch time to avoid the morning rush hour. I was able to find parking near JANM in a private parking garage for only $10.
2. It took me approximately an hour to walk through entire exhibition. Pace yourself. There are a lot of cool things to see!
3. While in the gallery, you can enhance your experience of the multifaceted exhibition with their FREE Guide by Cell audio tours. The tours feature curator Christine Yano and several of the exhibiting artists offering their unique perspectives on the exhibition. Simply look for the cell phone logo on selected labels in the exhibition and dial 213.455.2924 to access the tours. Follow the prompts and enter the numbers given on the labels.
4. No flash photography is allowed inside.
5. In my opinion, the exhibition is appropriate for children ages 8 and up. Younger children will enjoy it as well, but just keep a close eye on them. It is tempting to want to touch the Hello Kitty decor.
6. This is a great field trip for high schoolers too to learn about business, advertising and marketing.
7. The JANM docents are some of the nicest people you will ever meet. I promise!
8. JANM has a small bookstore inside with Hello Kitty merchandise for sale.
PRICE: Tickets are $20 for adults, $10 for youth ages 6–17, free for children ages 5 and under. All admissions are based on timed entry and no re-entry is allowed. Obtaining tickets in advance is strongly encouraged.
LOCATION: Japanese American National Museum, 100 N. Central Avenue, Los Angeles, CA 90012
Happy Field Tripping!
Jilleen
Disclosure: This post is for informational purposes. We received complimentary admission to JANM to help facilitate this post. All opinions are our own.