I received compensation for my work on this post. This post was made possible by Mom Spark Media. Thoughts are my own.
As a resident of Southern California, earthquakes are always in the back of my mind.  Especially when you have a young family, it's important to plan ahead and prepare your household "just in case" an emergency happens.
But planning for a "just in case" scenario doesn't have to be cumbersome or scary.  Instead, imagine the confidence and peace of mind you will have, if and when an emergency happens, and you don't have to scramble around looking for supplies.  Now all you have to do is open up your closet and your emergency kit is ready to go!
How To Prepare A Family Emergency Kit
It is very easy to make an emergency kit and prepare for a variety of natural disasters.  In fact, most of the items you can either order online or pick up at your local general store.
Breathable Backpack
First, you need to purchase a high quality breathable backpack.  I recommend "breathable" because the supplies you are going put in the backpack have a long shelf life and will hopefully remain untouched.
5 x 7 Foot Plastic Tarp
If you are going to live modestly comfortable for a few days after a natural disaster, you are going to need protection from the elements and a warm dry place to sleep.  A ground tarp goes a long way in this situation.
Working Gloves
In the aftermath of a natural disaster, you may be required to pick up fallen branches, gather firewood, sift through broken glass and other heavy-duty chores that will require protection from your hands.
Waterproof Matches
Any time you need to build a fire, whether for emergency cooking or warmth, waterproof matches work even when wet.  However, if you don't want to buy waterproof matches, you can put a pack of regular matches in a sealed plastic bag.
Whistle
If you are caught in a natural disaster and end up trapped, an emergency whistle can save your life.  The sharp sound of a whistle is easier for rescue teams to hear over the noise of rescue machines and the general chaos.  I also recommend putting the whistle on a string so that you can hang it around your neck.
Pocket Knife
Pocket knives are great for everyday life, but their even better in the case of an emergency.  You can use a pocket knife to cut rope, build an emergency shelter, cut bandages and more.
Emergency Survival Blanket for each family member
An emergency survival blanket provides protection in all-weather conditions.  They are also reusable, waterproof and windproof.
Poncho for each family member
A poncho with a hood is ideal for providing cover during unexpected disasters and helps to protect you from wind and rain conditions.
Pack of Tissues for each family member
Tissues are good to have on hand for a variety of sanitary reasons.
One Toothbrush for each family member and 2 tubes of toothpaste
Sometimes the best thing we can do after an emergency is freshen ourselves up.  It makes us feel better and lifts our spirits.  Plus clean teeth are always nice to have!
First Aid Kit
You also need a first aid kit stocked with various items like band aids, antiseptic towelettes and scissors.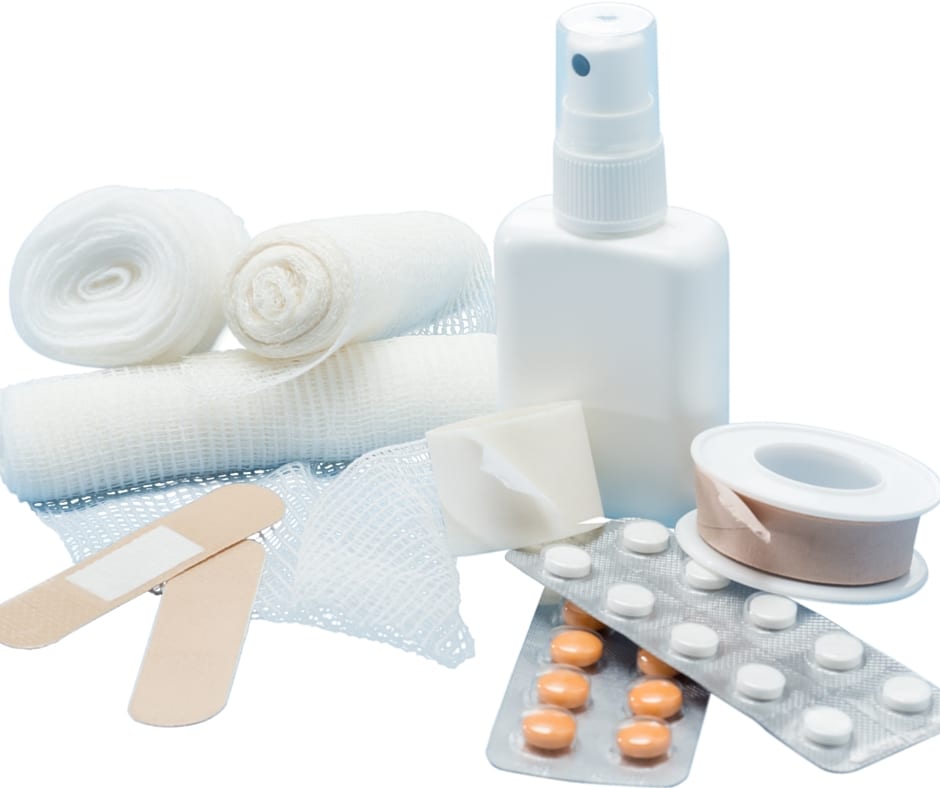 Lightsticks
After an earthquake the power goes out is some places.  Therefore, it's a good idea to keep a few lightsticks on hand until the power company can restore the power to your office or home.
Freeze Dried Food
The Los Angeles Emergency Management Department (LA EMD) recommends that you have enough food on hand for each family member for three days.  I actually prefer to have enough food on hand for 7 days.  With freeze dried food, all you have to do is add boiling water and open the packet.  Delicious..well, kind of!  You can also use canned food in place of freeze dried food.
Emergency Drinking Pouches
After a disaster, there may not be any safe drinking water available.  So, you need to be self-reliant by having emergency drinking water supplies on hand for at least 72 hours.  LA EMD recommends at least 1 gallon per person, per day.
2 Flashlights + 2 Sets of Batteries
If and when the lights go out, you need a flashlight to help aluminate your path and find your supplies.
Hand Crank or Solar Powered Waterproof Radio
With a portable radio you can listen to emergency broadcasts following a disaster.
Breathable Face Masks
In the aftermath of a natural disaster, face masks (preferably item number NIOSH-N95) can be used to prevent the inhalation of airborne particles.
A Coloring Book and Crayons
Children's activities allow for a tiny bit of normalcy and distraction during what could be long hours of waiting for resources or to be allowed to go back to your home.

LA EMD recommends adding even more items to your emergency kit including prescription medications and eyeglasses, important family documents, cash and travelers checks, a cell phone charger with batteries and eating utensils.  Their website, www.readyla.org, provides many resources for all types of natural disasters that could potentially affect Los Angelinos.  You can also sign up to receive regular text alerts from LA EMD at www.notifyla.org.
How does your family prepare for a natural disaster?  Please share with us in the comment section below.
Happy Preparing!
Jilleen
I received compensation for my work on this post. This post was made possible by Mom Spark Media. Thoughts are my own.