For a limited-time this fall Stacked, the innovative restaurant known for customizable dining, is featuring an array of special Skillet Desserts available only at their Huntington Beach location. Last Sunday, my family and I had the "sweet" pleasure of visiting the restaurant and trying out some of their new dessert creations, plus some.
Previously, I had been to Stacked for breakfast, which was wonderful, but had yet to try their lunch or dinner menu. So this time around I brought my entire family to enjoy the tastiness!
My husband is the traditional type of guy that knows a good burger when he sees one. He also doesn't like to stray too far from his favorite burger joint. Therefore, I was amazed when he decided to order Stacked's Jalapeno Burger made with a fresh, angus beef patty accompanied by a tomato, red onion, green leaf lettuce, and spiced jalapeno bacon, pepper jack cheese and chipotle mayo. This was way off course for him! After he finished his burger, along with some piping hot parmesan garlic fries and a pint of beer, I asked him what he thought. He was so full, he couldn't speak!
Surprise, surprise…my children decided to order their typical meal, good old fashioned mac and cheese. Field Trip Girl selected the children's dish while Field Trip Boy ordered an adult size portion. He customized his mac and cheese by adding bacon and sausage to his order. In fact, you can customize any dish that Stacked serves by using their convienant table top innovative ordering system.
Since I knew I would be eating a luscious desert afterwards, I decided to save my calories and ordered a Cow In The Garden salad off the menu. I too customized my salad and replaced the traditional blue cheese with cheddar cheese and the balsamic vinaigrette dressing with ranch instead. Stacked sure knows how to keep their customers preferences in mind when dining at their restaurant!
After we finished our main course, we ordered a total of 5 desserts (yes, 5!) from Stacked's dessert menu. Right now there are a total of 6 new craveable flavors to choose from – Butter Cake, Bread Pudding, Peanut Butter Brownie, Double Chocolate Brownie, Chocolate Chunk Brownie, Salted Carmel Brownie, and Gluten-Free Chocolate Chip. All of these baked fresh to order skillet desserts are warm, ooey-gooey treats that you can stack with a variety of toppings including ice cream, whipped cream, fresh fruit, chocolate chips, Reese's Peanut Butter Cups and more.
I delved right my Butter Cake that I requested to be served with vanilla ice cream and fresh raspberries. It tasted like pure heaven!
Here is my hubby's skillet desert with Chocolate Chunk Brownie topped with vanilla ice cream, blueberries and shaved almonds. After one bite, he was speechless again!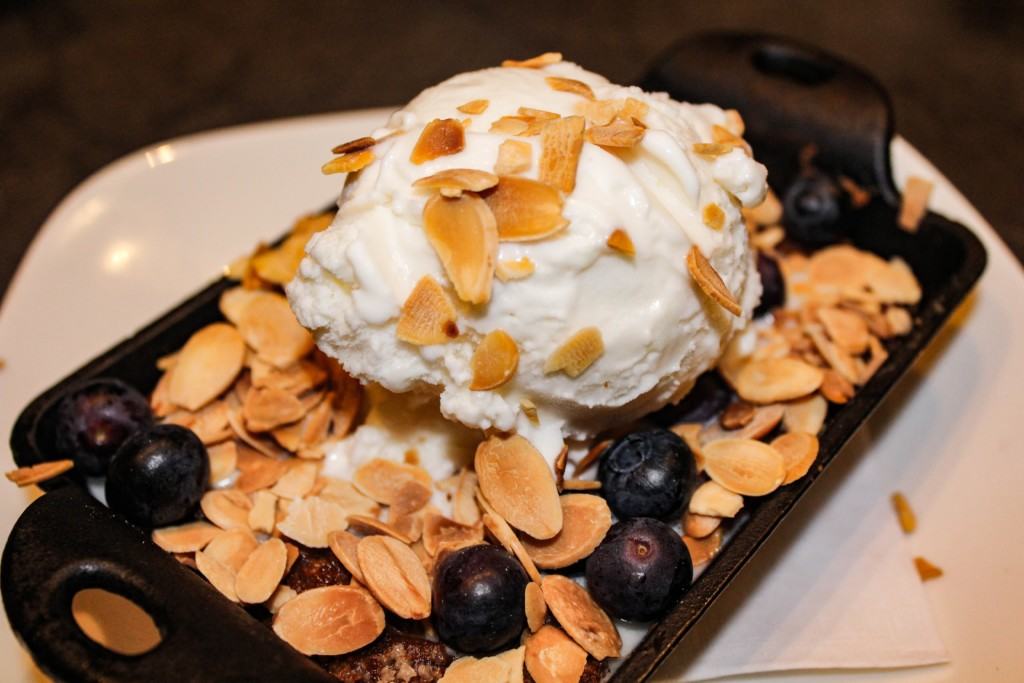 Field Trip Girl and Field Trip Boy both hopped right on the milk shake wagon and tried 3 shakes in all – Mint Chocolate Chip, Pumpkin (available only in the fall!) and Toasted Marshmallow. You can customize any of Stacked's milk shakes with a wide variety of ice cream flavors and toppings too.
To learn more about Stacked and explore their new fully customizable menu, visit http://www.stacked.com/
Happy Eating!
Jilleen