Several years ago, I set up a field trip for a group of students to the Old Orange County Courthouse in Santa Ana.  It is Southern California's oldest courthouse.  The courthouse, formerly known as the Santa Ana County Courthouse, is a Romanesque Revival building that first opened in September 1901 and is located in Santa Ana's Historic Downtown District.
Old Orange County Courthouse Public Tours
Today, the 30,000-square foot building originally made of granite and sandstone, has been restored to look much as it had at the turn of the last century.  The building is officially on the National Register of Historic places and is a State of California Historic Landmark.
The Old Orange County Courthouse also contains the Orange County History Center (which includes the Old Courthouse Museum, the Orange County Archives, and the library of the Pacific Coast Archaeological Society) as well as government offices.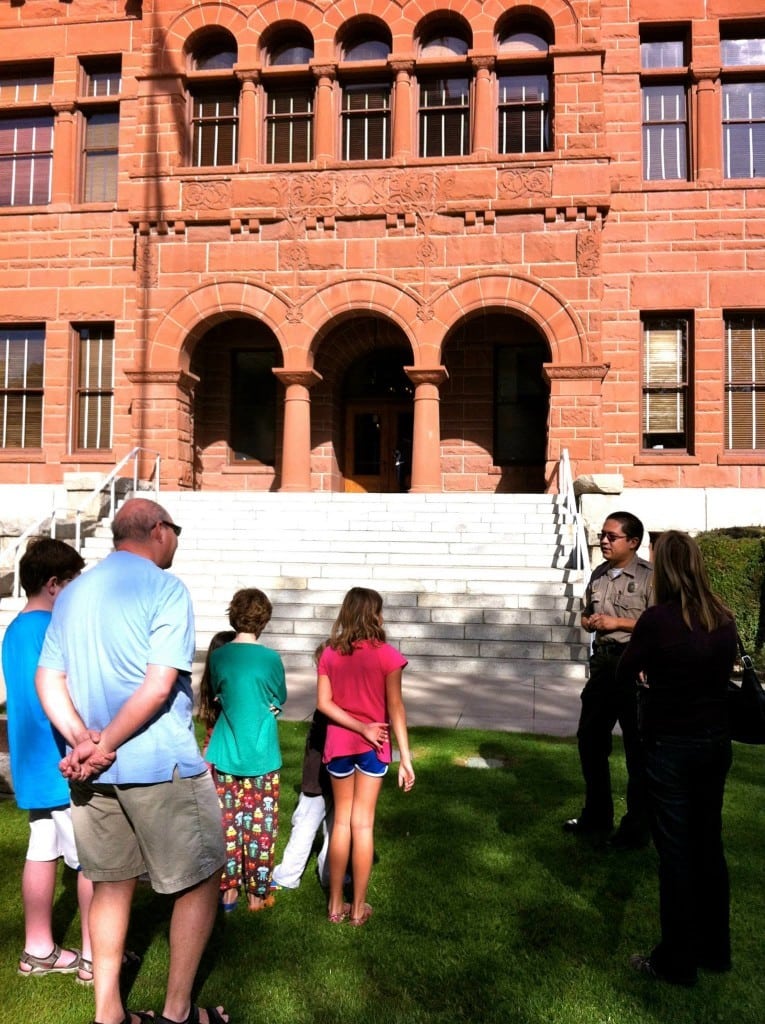 The cannons on display out front of the courthouse serve as a memorial for Orange County Veterans.  The cannon on the left is from the Korean War and the cannon on the right is a German cannon that soldiers from Orange County captured during WWI.
Once inside we got a personal tour of the courthouse.  Our tour guide named Brad, a Historic Resource Specialist, was very informative and wonderful with our kids.
Brad gave us this handy-dandy guide about the different types of artifacts that are on display in the courthouse.  The court reporter's office and the equipment that they use to use to transcribe old court cases on was very impressive.
In additional to providing public tours, The Old Orange County Courthouse also hosts a variety of exhibitions throughout the year.   The exhibition gallery displays both temporary and permanent exhibits relating to local and regional history.  When we were there they had The Dairies of Orange County on display.
Tips For Planning A Visit To The Old Orange County Courthouse
Here are a few tips when planning a visit to the Old Orange County Courthouse:
1. The field trip is free.
2. The courthouse can only accommodate a maximum of 30 people at a time.
3. Strollers are not allowed.
4. The courthouse's main parking lot out back only takes quarters, plus you can only put in an hour at a time.  Therefore, you have to go back out and refill the meter in the middle of the field trip.  But there is a parking structure on Broadway about two blocks from the courthouse in the art district and it costs a few dollars to park.  It's a much better deal!
Happy Field Tripping!
Jilleen