Affiliate link
Once a winter olympic village, Squaw Valley, has turned into an exhilarating family-friendly ski resort in the North Lake Tahoe region.   At the resort there are various amenities including skiing, sledding, lodging, and food.  When my family visited in February, we decided to check out the SnoVentures area, and it made for a winter experience of a lifetime!
SnoVentures at Squaw Valley Ski Resort in Tahoe
SnoVentures is Squaw Valley's family fun zone.  Gently sloped terrain serviced by an easy-to-ride beginner lift and two surface carpets means it's perfect for beginning skiers and snowboarders.  Plus, snow tubing, mini snowmobiles, a day lodge and a free shuttle from the Village circle means it's perfect for families looking for additional activities to round out their ski vacation.
Activities at SnoVentures at Squaw Valley Ski Resort
Upon arriving at SnoVentures, we laced up our skis and practiced with my sister on the bunny hills.  She taught my  two children and nieces how to control their speed and stop – all necessities to staying safe on the slopes.  It was exciting to see the smiles on my nieces faces as they zoomed down the hill!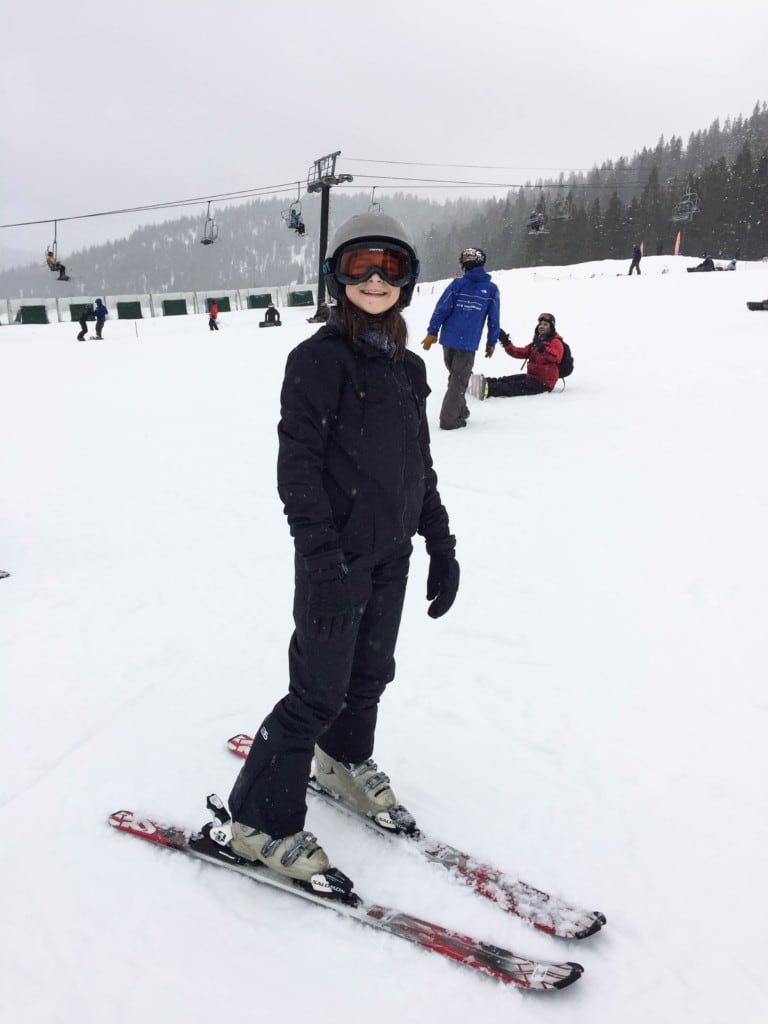 Once they got the basics down, they went on the carpet, a flat escalator that brings people up to a beginner slope.  My kids tried their absolute best not to fall, but in the end, I could see their rosy cheeks through their snow covered faces, as they had tripped when coming downhill.  However, they had a blast and my niece and Field Trip Boy even ended up going up the beginner ski lift for even more of a challenge.
Snowmobiling at Squaw Valley Ski Resort
Then Field Trip Girl, Field Trip Boy, and their cousin took a break from the skiing to go snowmobiling.  They received helmets that reminded me of drag racers, and sped down the powdery runway.  They drove the snowmobiles like pros!
Snow Sledding at Squaw Valley in Tahoe
After snowmobiling, they ventured over to the snow sledding area to go sledding.  Squaw Valley provides complimentary snow tubes to go down the hill, however no ski boots are allowed on the tubes.  You must wear snow boots instead.  Each snow tubing admission provides you one hour of fun on the mountain!
Skiing continued later in the day as my family, including my husband, decided to ski down some intermediate runs.   They were fairly easy and had great views of the entire snowy resort.  It was truly is a winter wonderland at the top of the mountain.
After our exciting day at SnoVentures at Squaw Valley Ski Resort, my family and I decided to relax in the lodge with some hot coco and crepes.  Unwinding was my favorite part of the day!  My family and I discussed our experiences with the snow and how we all felt we got a significant workout.
Squaw Valley Ski Resort Ticket Prices
Squaw Valley Ski Resort offers overnight stays or day lift tickets for the park with over 170 trails for the family to try out!  Types of passes include gold, silver, and college and are easily accessible on their website.
Wonderlands such as this resort are surely some of the best options for a memorable winter experience!  To learn more about SnoVentures at Squaw Valley, visit www.squawalpine.com.
Top 7 Things To Do With Families In Lake Tahoe
If you are planning a family-friendly vacation to Lake Tahoe, you might also enjoy these additional 7 activities great for families of any size.
Snowshoeing Through Lake Tahoe
Discover a new facet of South Lake Tahoe's beauty that can only be found on foot.  This snowshoeing adventure takes you through glittering forests and along pristine powder paths, revealing an ethereal and wintry wonderland.
Take a Family Photo with a Local Photographer
Team up with a professional photographer to capture your most memorable Lake Tahoe moments during this private photo shoot. Get insider tips on the city's best backdrops and enjoy checking out your high-resolution images in a convenient online gallery.
Dining at Hard Rock Cafe with Priority Seating
Dine like a rock star among pop, soul, and rock 'n' roll memorabilia like costumes and instruments from your favorite musicians at the Hard Rock Cafe. Skip the lines with priority seating and enjoy a classic meal and a dessert.
Cast a line into the deep blue waters of Lake Tahoe, crossing your fingers for a thrilling strike from a silver-sided salmon or speckled trout on this fishing excursion.  With trained anglers to help you get set up with bait and tackle, reel in big keepers and enjoy convenient cleaning services.
Guided Beginner Mountain Biking Trail Ride
Tackle the trails around Tahoe on a beginner-friendly mountain biking tour, picking up instruction and pointers to hone your skills and challenging yourself on a fun 6–12 mile (10–19 km) ride.  Feel the rush as you charge up and forested trails, and take in spectacular views of the alpine landscape.
Guided Intermediate Mountain Biking Trail Ride
Work up a sweat and breathe in the fresh mountain air as you pedal along mountain biking trails in the heart of Tahoe National Forest.  With an expert guide leading the way, tackle intermediate and advanced trails for a 18–30-mile (28–48-km) ride perfectly tailored to your interests.
South Lake Tahoe Snowboard Rental Package
Carve up the slopes around South Lake Tahoe with a high-quality snowboard rental complete with custom-fit boots and bindings.  Strap into name brand boards and the year's latest models to enjoy some wintry fun on groomed trails and powder-filled bowls around this stunning mountain resort.  Have your gear delivered straight to your accommodation, so you can get set up with the right size boots, board, and bindings the night before you hit the slopes.
Happy Field Tripping!
Jilleen