Updated for 2022
It's that time of year when the holidays are upon us and we tend to focus more on what's truly important in our lives – spending quality time with our family and friends. Halloween is over and Christmas is right around the corner. However, in the meantime, there's this little unsung holiday known as "Thanksgiving" that also deserves a shout out and little more than a passer-by.
Volunteer Thanksgiving Events in Southern California
Since Thanksgiving is a few short weeks away, it means it's time for our 10th Annual Southern California Thanksgiving Events Roundup. Throughout the month of November, there are many holiday inspired events that emphasize the importance of gratitude and thankfulness. Take a look through our list of upcoming events across the southland and enjoy the season with your family!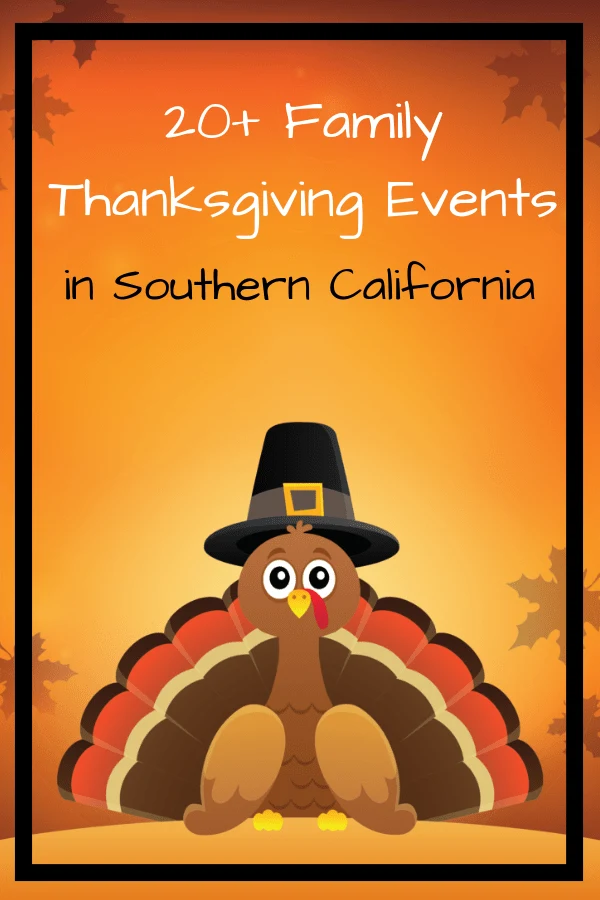 Thanksgiving Volunteer Opportunities in Los Angeles
72nd Annual Pilgrim Place Festival, Claremont (To Return in 2022!)
Pilgrim Place is a non-profit retirement community in Claremont and home to more than 350 people who have dedicated their lives to improving the lives of others. The Annual Pilgrim Place Festival normally offers two days of shopping, fun, children's games and food. You will find vintage clothing, precious and costume jewelry, baked goods, plants, crafting, household items and more. Handcrafted items include quilts, stained glass, knitted, sewn, woven and paper-made goods. Shoppers may meet artists and purchase paintings, sculpture and everyday items directly from the artists. Attractions include riding the Festival boat and train. Kids can learn how to reduce, reuse and recycle everyday items at their sustainability and "glue-in" booths.
Big Sunday's 10th Annual Thanksgiving Stuffing Event, Los Angeles (11/23) – IN PERSON
At Big Sunday, they operate under the belief that "everyone has some way that they can help somebody else." Each year they collect and pack big bags full of Thanksgiving dinner for thousands of people, including vets, homeless families, women in domestic violence shelters, group homes, low-income families with autistic children, food pantries, schools and more. They need people to donate food, as well as to pack everything up.
Big Sunday's Annual Thanksgiving Stuffing Event is happening this year on Wednesday, November 23 from 9:00 am to 12:00 pm. All volunteers 12 years old and over.
Los Angeles Mission, Los Angeles (11/24) – IN PERSON & DONATIONS NEEDED
Volunteers are the heartbeat of the Los Angeles Mission. Sign up to volunteer and serve Thanksgiving meals to those who would otherwise go without. An orientation is required to volunteer for any opportunity at the Los Angeles Mission, including their street events. Volunteers must be at least 13 years of age. If you are not able to attend in person, donations may be made online.
Thanksgiving Day Run & Food Drive, La Canada Flintridge (11/24) – IN PERSON
The Thanksgiving Day 5K Run/Walk has been a local tradition and a community favorite with families, athletes, and community supporters of all types for two decades. The race is professionally timed and normally meets at Memorial Park in La Cañada. The Kids' Mile Run is a family fun event geared for children 12 and under. Parents are encouraged to run alongside registered children at no additional cost. Kids will receive a t-shirt before the race and an award as they cross the finish line.
The Community Centers Thanksgiving Day Food Drive is the largest Food Drive in the Foothill communities. Canned and non-perishable food is collected during the month of November at locations in La Cañada, La Crescenta and Montrose. Non-perishable donations are distributed by the Crescenta Valley Sheriff's Station to local families in need.
Gobble Gobble Give, Santa Monica (11/24) – IN PERSON
Gobble Gobble Give delivers food, clothing and toiletries to the homeless in eighteen cities across the country on Thanksgiving morning. We've been doing it for 25 years, feeding more people in more cities every year.
On Nov. 24, help deliver over 30,000 meals to residents in need and across the country. The Santa Monica event takes place at the Airport Park, 3201 Airport Ave., Santa Monica beginning at 8:00 am.
Turkey Trot Los Angeles, Downtown LA (11/24) – IN PERSON
Join thousands of runners and walkers for the annual Turkey Trot Los Angeles on Thanksgiving morning. They have a Widdle Wobble, a half-mile kids and family run/walk.
In the spirit of Thanksgiving, this event supports The Midnight Mission – an amazing 4 Star Charity that offers a path to self sufficiency for those experiencing homelessness. Donate or create a fundraising team during registration and help us reach our goal of raising $50,000, which equals over 33,000 meals.
Burbank YMCA Turkey Trot, Burbank (11/24) – IN PERSON
Run, walk, or push a stroller through Downtown Burbank and participate in the Burbank YMCA Turkey Trot. 100% of the proceeds support the YMCA Financial Assistance Program benefitting community residents. Enjoy pre-race expo as well as a Kids Fun Zone.
The Midnight Mission, Los Angeles (11/24) – IN PERSON & DONATIONS NEEDED
Sign up to donate to give Thanksgiving meals to those who will come by for a Thanksgiving meal at The Midnight Mission. The Midnight Mission offers a path to self-sufficiency to men, women and children who have lost everything. Their emergency services, 12-step philosophy, job training, education and work programs offer a compassionate bridge to productive lives. They help remove obstacles to self-sufficiency and provide the accountability and structure that people who are experiencing homelessness need to rejoin their communities.
*If you are not able to volunteer this year, please consider making a donation instead.
Westside Thanksgiving Community Dinner & Celebration, Los Angeles (11/24) – DONATIONS NEEDED
This non-profit organization has over three decades of tradition serving the community a wonderful free sit-down Thanksgiving dinner. During the celebration, they also provide free haircuts, blankets, clothing, hygiene kits, medical, optical, and dental services, vaccination, a resource fair, and a children's carnival. The Celebration relies entirely on donations from the local community. Families can get involved by volunteering, donating food and/or clothing or making a financial donation.
Thanksgiving Dinner in the Park, Pasadena (All Month Long) – IN PERSON & DONATIONS NEEDED
Union Station Homeless Services is celebrating its Dinner in the Park in multiple ways and there are a lot of ways to volunteer including:
All The Fixings Meal Boxes
For clients who have access to a kitchen and want to cook their own meal at home, you can help us create Thanksgiving "All the Fixings" Meal Supply Boxes, filled with all the ingredients needed for a delicious meal. Boxes come complete with great tips and tricks from our amazing Food Services staff!
Prepared Dinners
For community members who want to enjoy a delicious Thanksgiving meal but don't have access to a kitchen or don't wish to cook, we'll have scrumptious portioned and prepared Thanksgiving dinners.
Thanksgiving Day Community Events
We will host small, private sit-down dinners for the 550 residents living at our interim housing locations including the Adult Center, Family Center, Centennial Place, Huntington Villas, Casa Luna, the Eagle Rock Tiny Village, and the M Motel in El Monte.
Food Drive
Help us prepare for the holiday by donating ingredients for Thanksgiving dinner. Drop off items during our Food Drive on September 30, or shop our Amazon Wishlist.
Volunteer
We have a variety of volunteer opportunities to make each of our Dinner in the Park programs possible, including food sorting, preparation, cooking, packaging, and serving!
Volunteer registration for Dinner inthe Park opens on November 1st at 9:00am through the Volunteer Portal. Only volunteers who have submitted proof of vaccination against COVID will be able to access the portal.
Donate or Sponsor
Corporate and community partners can help end hunger and homelessness in our community!
Drumstick Dash, North Hollywood (11/24) – IN PERSON
Move your feet so others can eat by participating in the Drumstick Dash! This annual 5K/10K running event to pay for nearly 200,000 hot meals for homeless men, women and children throughout the San Fernando Valley. This family event allows participants to run, walk, or even push a stroller.
Hope of the Valley, Sun Valley (Call for dates) – IN PERSON & DONATIONS NEEDED
Hope of the Valley Rescue Mission serves the largest Thanksgiving dinner in the Valley. In addition to serving meals, there is a street fair where guests can receive sleeping bags, fresh fruit and vegetables, hair cuts, and much more. Check their website for more volunteer opportunties.
8th Annual Palisades Funding Turkey Trot, Pacific Palisades, (11/24) – IN PERSON
Families are invited to participate in the 8th Annual 5K/10K Palisades Funding Turkey Trot happening Thanksgiving morning. This event benefits the Hearts with Hope charity that brings medical, dental, and administrative care to children living with congenital heart disease throughout the world.
One Incredible Family Inc., Culver City (Call for dates) – IN PERSON
For 2022, they will be putting together blessing bags in November. Call for further details.
42nd Annual Harry Sutter Memorial Turkey Trot Fun Run, Torrance (11/24) – IN PERSON
The City of Torrance Community Services Department invites the entire family to participate in our Annual Harry Sutter Memorial Turkey Trot Fun Run. This three-mile fun run will begin at 8:00 a.m. on Thanksgiving morning. After the fun run, there will be a spectacular post run prize drawing for mountain bikes, dinner vouchers, gym memberships and many other outstanding prizes. All registered participants will receive a commemorative Turkey Trot shirt. Please note, the Turkey Trot will take place rain or shine.
Hollywood Food Coalition, Hollywood (Year-Round)
Hollywood Food Coalition relies on energetic people like you who are interested in volunteering. They need volunteers primarily to serve their six-course nightly buffet meal (from 5:45-8:30pm), to help prepare the meal in their modern kitchen (from 1:30-6:00 pm), and to pick up donated food (two hours, at variable times).
They have another volunteer program called "The Pick-Up Artists". Great food is being tossed into the trash every day and Hollywood Food Coalition is trying their best to rescue at least some of it. If you are interested in helping them pick up food from television and film shoots around Los Angeles, please fill out the volunteer form on their websbite and someone will contact you with more information.
Thanksgiving Volunteer

Opportunities

in Orange County
Gobble Gobble Give, Garden Grove (11/24) – IN PERSON
Gobble Gobble Give delivers food, clothing and toiletries to the homeless in eighteen cities across the country on Thanksgiving morning. We've been doing it for 22 years, feeding more people in more cities every year.
On Nov. 24, help deliver over 30,000 meals to residents in need and across the country. The Garden Grove Event takes place at MoonGoat Coffee in Garden Grove beginning at 8:00 am – 12:00 pm.
Operation Warm Wishes, Tustin (11/24) – IN PERSON
With Thanksgiving right around the corner, preparations are in place for Operation Warm Wishes 15th Annual Unity in the Community Thanksgiving Spectacular. The free yearly event which runs from 11 a.m. to 3:00 p.m. on Thanksgiving Day at Peppertree Park at 230 West First St. in Tustin is expected to draw participants and volunteers from across Southern California.
The event features a free 3-course Thanksgiving dinner, with all the trimmings, for all members of the community. Once again, Operation Warm Wishes is taking the event to the next level.
Attendees will be able to enjoy an unlimited desserts & beverages, a spectacular kids craft area, live music, and a wide array of amenities including haircuts, clothing, food bags, doggy grooming, and much more!
South County Outreach, Irvine (all November long) – DONATIONS NEEDED
Donate turkeys or grocery store gift cards so people in need can have a good Thanksgiving together as a family.
Orange County Rescue Mission Turkey Trot, Tustin (11/24) – IN PERSON
This special event is normally held on Thanksgiving morning with the goal of raising enough support to provide over 30,000 meals for the hungry and homeless of Orange County. Enjoy a flat and fast USA Track & Field Certified 5k that starts and ends at the Village of Hope. Can register online or the day of event with cash or check. Children welcome!
Orange County Rescue Mission, Village of Hope Campus, Tustin (Call for date details) – IN PERSON
Donating food for our traditional Thanksgiving meal at the Rescue Mission is a wonderful way to show your thankfulness! With the help of volunteers and donors, homeless men, women, and children enjoy a warm, family style meal on Thanksgiving Day. They are so thankful to have this special meal!
The Orange County Rescue Mission is look for food donations,. All of your food donations will be put to good use throughout all of our Rescue Mission programs. Take a look here for a list of food item donations.
The mission also encourages individuals and families to organize a Thanksgiving Food Donation Drive.
Dana Point Turkey Trot, Dana Point (11/24) – IN PERSON
Located in the beautiful Dana Point Harbor, the Dana Point Turkey Trot is celebrating 44 years! Their flat, scenic race features a 10k, 5k and Kids Gobble Wobble.
Plymouth Rock 'N' Run, Yorba Linda – CANCELED
Held on Thanksgiving Day, the Plymouth Rock 'n' Run is held at the Yorba Regional Park and follows the perimeter of the park and the Santa Ana River Bike Trail. They offer 5k, 10k and 1k runs. At 9 a.m., it's about the kids! Kids will get dressed up for their 1k fun run.
Fun event highlights include free finish line photos, team/group discounts, finisher medals, free parking inside Yorba Regional Park, and much more! Proceeds from Plymouth Rock 'n' Run directly supports Reeve-Irvine Research Center (RIRC) at UC Irvine, America's largest and most progressive spinal-cord injury research facility.
RIRC is dedicated to advancing cures for spinal cord injuries, neuromuscular disease, and neurological disorders towards improving the lives of those who have experienced the debilitating effects of such injuries and illnesses.
Friendly Center, Costa Mesa (11/21) – DONATIONS NEEDED
Each Thanksgiving season, Friendly Center collects Turkey Baskets containing enough food for a family to prepare a traditional Thanksgiving dinner at home. Participating in the Turkey Drive is a wonderful way to ensure everyone in the community has the chance to fully experience this season of gratitude – and a delicious meal. Help us reach our goal of providing for 500 families during these challenging times.
Drop-off appointment sign-ups open November 1st. Drop-offs are by appointment only on Nov. 21. Here is a friendly flyer to print out.
Please put all items into a box or basket. Boxes are preferred. If using baskets, please wrap baskets in cellophane. Please keep gift cards and pies separate. Each box should have enough food to feed a family of five or more.
Each basket will have:
$25 grocery store gift card (to purchase turkey)
1 box of stuffing
1 can of cranberry sauce
1 box of dry potatoes
1 can of candied yams
2 cans of green beans
2 cans of corn
1 jar of turkey gravy
1 bag of rolls
1 pumpkin pie (no frozen and keep separate)
The mission of We Give Thanks is to enhance the well-being of the less fortunate in Southern California by making ongoing efforts and contributions to their well-being. In addition to providing a Thanksgiving Day feast to the homeless and less fortunate, the annual event has become a meeting point where anyone not wanting to spend this festive time of year alone can come and enjoy a great meal, entertainment and friendship. Volunteers can sign up to help prepare and serve meals to over 13,000 people in need on Thanksgiving Day.
Someone Cares Kitchen, Costa Mesa (Year Round) – IN PERSON
Someone Cares Soup Kitchen has served more than 300 meals per day for over 20 years to those who are in need. They are always looking for volunteers to help with serving, preparing, and clean-up. The Soup Kitchen can accommodate groups of up to 10 people with prior notice and there is a minimum 15 year age requirement.
OC Food Bank, Garden Grove (November & December) – DONATIONS NEEDED
Make a $20 donation to purchase a turkey for a hungry family or buy a "flock of turkeys" to feed more than one family.
They are also looking for individuals and families to:
"Adopt a family"

and help provide new clothes, toys, gifts or certificates to help a family's holiday shine a bit brighter this year.

"Sponsor a family" devastated by the economic effects that the recent health pandemic has caused. You support will help get them the basic necessities such as food, clothing, shelter and transportation. Your support will also help provide hope to families who are struggling to pay their rent and other basic needs to their families.

Provide a meal for a family in need this holiday season. Donate today or host a Virtual/ Physical Food Drive.
Share Ourselves, Costa Mesa – DONATIONS NEEDED
During the week of Thanksgiving, the SOS Food Pantry fills bags with Thanksgiving food items to distribute to our clients. Bags are stuffed with turkeys, chickens, and additional holiday fare.
Donations for SOS' Thanksgiving Food Drive are greatly appreciated and will help make the holidays a little brighter for the Orange County community in need. Items can be dropped off at Share Our Selves location at 1550 Superior Ave, Costa Mesa.
Thanksgiving Volunteer Opportunities in the Inland Empire
Drive Thru Thanksgiving Turkey Giveaway with Neighborhood Survants, Victory Chapel, San Bernardino (TBD – Call for details)
At Neighborhood Survants, our mission is to empower our local youth and community leaders with the tools necessary to become the difference-makers of tomorrow. Volunteer to help hand out Thanksgiving Turkeys to families in need. Call for volunteer details.
Eat & Be Well Event, Cypress Neighborhood Center, Cypress (11/23) – IN PERSON
Every Thanksgiving, Project Boon organizes a holiday event to provide for families in the Inland Empire, California who would normally not have the opportunity to enjoy a warm meal around the holidays. On the day before Thanksgiving, those in need can enjoy a free meal served by Project Boon volunteers.
Not only does Eat and Be Well meet the need of hunger, but volunteers also spend time connecting with the people in the community on a personal level. Additionally, our team coordinates much-needed health and social service providers who volunteer their time and assistance to this community to meet their physical and emotional needs. Sign up to volunteer as a family!
Bear Bear Turkey Trot, Big Bear (11/24) – IN PERSON
A family-friendly run to benefit local food pantries and Open Air Big Bear, a non-profit organization dedicated to promoting non-motorized athletic activity in the great outdoors.
Claremont Turkey Trot, Claremont (11/24) – IN PERSON
Welcome to the 14th annual Claremont Sunrise Rotary Turkey Trot. With a start/finish in the quaint Claremont Village, the scenic course winds its way through the tree-lined streets of the Claremont Colleges and into the adjacent historic neighborhoods. A slight downhill grade on the last leg provides a welcome boost into the finish.
This year's hybrid event allows runners to choose between the traditional in-person race on Thanksgiving morning or a virtual race on a course of your choosing. If health and safety concerns make it necessary to cancel the in-person race, all runners will be switched to the virtual option.
Upland Turkey Trot, Upland (11/24) – IN PERSON
Upland Recreation and Community Services, along with the Upland High School Boys and Girls Cross Country Team are proud to announce the 14th Annual Turkey Trot 5K & 1K Run! This is our 3rd and final race in our 2021 Upland 5K Trifecta Challenge, open to runners and walkers of all ages and abilities – the perfect way to kick off your Thanksgiving festivities! Funds generated through this great community event will help the Upland High School's Boys and Girls Cross Country Team.
Running Wild's Wild Turkey Trot 5K, Palm Springs (11/24) – IN PERSON
Make room for that extra piece of pie by completing the Palm Springs Wild Turkey Trot in iconic Palm Springs, California on Thanksgiving morning. This is a fast and flat certified course where world records are meant to be broken! Start and finish downtown, in perfect racing weather, on beautiful Palm Canyon.
All participants receive a long sleeved tech t-shirt, finisher medal, free finisher photo download and wild turkey hat! A portion of your entry supports the Mizell Center's Meals on Wheels Program, providing food for homebound seniors.
This race is brought to you by the Palm Springs Marathon Runners with a reputation of awesome themed races supporting local charities! Complete the Palm Springs Trifecta (Run for Ike 5K, P.S. Wild Turkey Trot 5K, Santa Paws 5K) and receive a BONUS medal!
Redlands Turkey Trot 5K, Redlands (11/24) – IN PERSON
Join the 8th annual Redlands Turkey Trot 5K run/walk and Kids 1K Fun Run around the University of Redlands. All participants receive a t-shirt and awards are given to the top male and female in each division. Proceeds benefit great local and international charities. It's the perfect start to your Thanksgiving morning.
Riverside Turkey Trot, Riverside (11/19) – IN PERSON

The 6th Annual Riverside Turkey Trot is a run/walk featuring a 15K, 5K and Mini-Trot Kids Race through the historic streets of downtown Riverside. The participatory run/walk for people of all fitness levels. This family friendly event inspires people to come together, get healthy and have fun before eating a Thanksgiving feast!
San Bernardino City Mission, San Bernardino (Year Round) – IN PERSON & DONATIONS ACCEPTED
Volunteers are needed at the Mission Tuesday through Saturday. Children are welcome to serve alongside their parents with guidance. Volunteer opportunities include:
Organize a food drive
Pack Family Food Box meals at the Admin Offices/Donation Center in Highland.
Deliver Family Food Box Meals to the Seniors, Shut-In's and recently unemployed in San Bernardino and Riverside.
Victor Valley Rescue Mission, Victor Valley (Year Round) – IN PERSON & DONATIONS NEEDED
Volunteers bring essential services to the Victor Valley Rescue Mission. Each year, thousands of people offer their time, talent, and goodness of heart to outreach projects, to help make a difference in the lives of the hurting and the homeless. Opportunities are on-going, year-round, and constantly changing. Call for more information.
Thanksgiving Volunteer Opportunities in San Diego
Gingerbread Lane Event, Old Town Artisan Studios, La Quinta (11/26, 12/3, 12/10, & 12/17)
Old Town Artisan Studios provides art experiences for all people despite age, disability, or financial condition. They believe art is healing and has an everlasting positive impact on each of us. They are looking for volunteers to help serve at their annual Gingerbread Lane event. Old Town Artisan Studios will be converting their 3-acre art campus into Gingerbread Lane – a winter wonderland with multiple trees, trimmed garland, twinkling lights, a marquee 17-foot tree next to Santa's workshop all wrapped in the music of the holidays! They will be offering gingerbread cookies and hot cider in the culinary area, cookie decorating tables and clay ornament painting.
25th Annual Father Joe's Villages Thanksgiving Day 5K Run, Balboa Park (11/24) IN PERSON
San Diego's original & longest-standing Thanksgiving Day turkey trot has returned in person, and we are so excited to welcome you back to Balboa Park! Help provide life-changing meals to feed hungry neighbors in need through Father Joe's Villages' Food Services Program.
Pre-event Packet Pick-up is highly encouraged. All participants can pick up their race packets on Wednesday, November 24th 11 am – 6 pm at Road Runner sports (5553 Copley Dr).
San Diego Run For The Hungry, San Diego – (TBD)
Run or walk for a great cause bright and early Thanksgiving morning to the support the San Diego Food Bank. Can't make it on Thanksgiving or just want to sleep in? You can also register as a "Sleep In" participant and still help feed local families in need. How cool is that?!!
Happy Thanksgiving!
Jilleen