Sponsored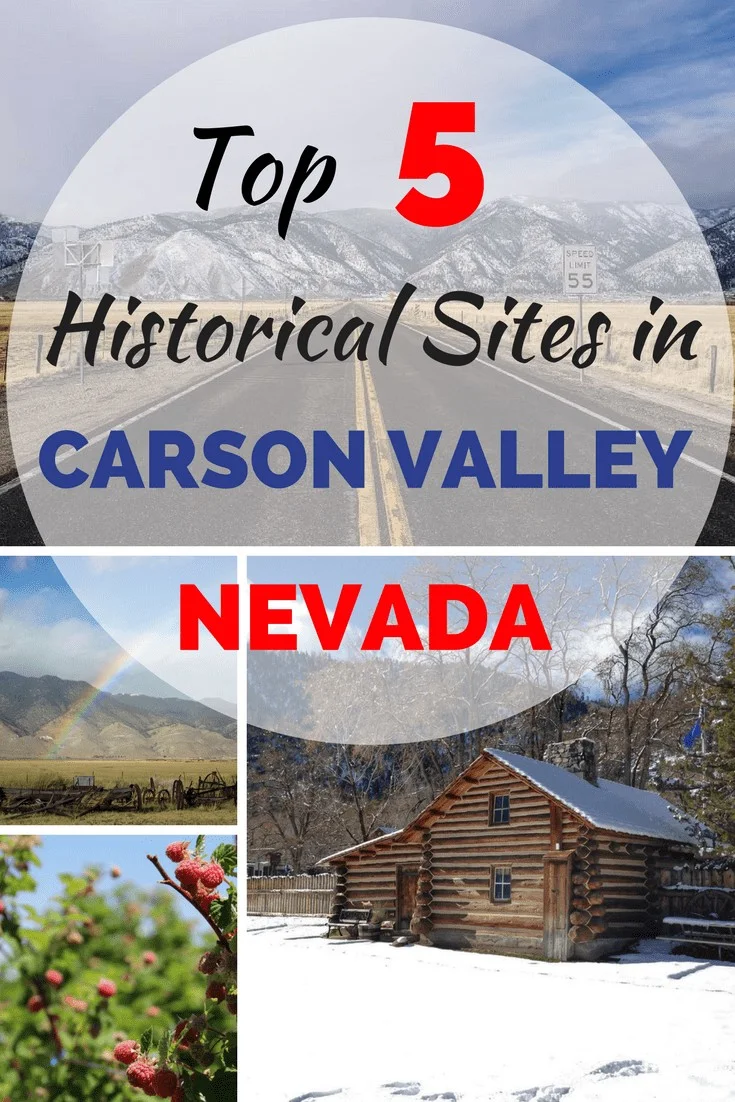 As a family that loves to travel and visit historical sites, Carson Valley, Nevada is a prime location for both endeavors. Located only 45 minutes south of Reno and 12 miles east of South Lake Tahoe, Carson Valley is no ordinarly place to visit. In addition to offering pristine mountain top views, charming restaurants, and legendary adventures for ages, the valley is home to more than ten historical sites and places of interest for families to explore together.
Take a look at this list of The Top 5 Historical Places To Visit in Carson Valley, Nevada to learn more.
Top 5 Historical Sites To Visit in Carson Valley
The Dangberg Home Ranch Historic Park was once the center of a 48,000-acre ranch and home of German immigrant Heinrich Friedrich Dangberg who founded the site in 1857. A local businessman, rancher and politician, Dangberg started his ranch with just a log cabin. The state has restored the original buildings, including a main house, a stone cellar, a laundry building, a carriage house, a garage and a bunkhouse. The history of the valley and the family is told in a guided tour through the historic ranch house full of artifacts from Nevada's past. Reservations are required for the tour available year-round on selected days, including weekends. The fee is $8 for 17 and older and free for students 16 years old and younger.
Located on the historic Lampe Homestead in the beautiful Carson Valley, Jacobs Family Berry Farm is less than 30 minutes from Carson City, Nevada. In 1887, a young Wilhelm Lampe from Germany saved enough money to buy the homestead and bring his sweetheart Maria Winkleman from Germany to be his wife. Over time, the ranch operation diversified to include various grains, pigs, chickens and a very profitable dairy operation.
In 2010, the homestead's name was changed to Jacobs Family Berry Farm, after being purchased by new owners. Since then, the farmers have planted nearly 1000 blackberry and raspberry plants around the property, which are available for sale in July through early October.
Mormon Station State Historic Park is the site of Nevada's first permanent nonnative settlement. It was originally a trading post established during the 1849 Gold Rush as a place for California-bound travelers to rest and purchase supplies before tackling the Sierra Nevada. A replica of the original trading post now houses a small museum with relics of pioneer days. Admission to the museum is $1.00, while children 12 years and younger are free. Upon request, special presentations can be arranged for groups.
Carson Valley Museum and Cultural Center in Gardnerville was built by Frederic J. DeLongchamps, one of Nevada's most prolific architects. The building first served as a high school and now features Basque and Native American exhibits, as well as an exhibit on Nevada's wild and free-roaming mustangs. A special highlight is "Main Street," depicting Main Street in Gardnerville as it was from 1870-1950, with its mercantile, dry goods, and drug stores, doctor's office, barbershop and newspaper office. The building is open year round, Monday through Friday, from 10 am to 4 pm. Admission is $5 for adults, $2 for youth ages 7-17 and free for kids 6 and under.
The Genoa Court House Museum is located in the heart of Genoa, Nevada's first permanent town, settled by John Reese in 1851. The courthouse building was used as a school from 1916 until 1956. In 1969, it was opened as a museum by the Carson Valley Historical Society. Exhibits highlight Native Americans, the Emigrant Trail through Nevada, the Pony Express, and Snowshoe Thompson, as well as an old-fashioned parlor, a post office, a school classroom, and the original courtroom and jail. Open May through October, 7 days a week. Admission is $5 for adults, $2 for youth ages 7-17 and free for kids 6 and under.
How To Plan Your Next Vacation to Carson Valley Nevada
To start planning your next vacation to Carson Valley, Nevada visit www.visitcarsonvalley.org and request a copy of their FREE TRAVEL GUIDE featuring helpful information, events, and attractions throughout Carson Valley.
Happy Field Tripping!
Jilleen