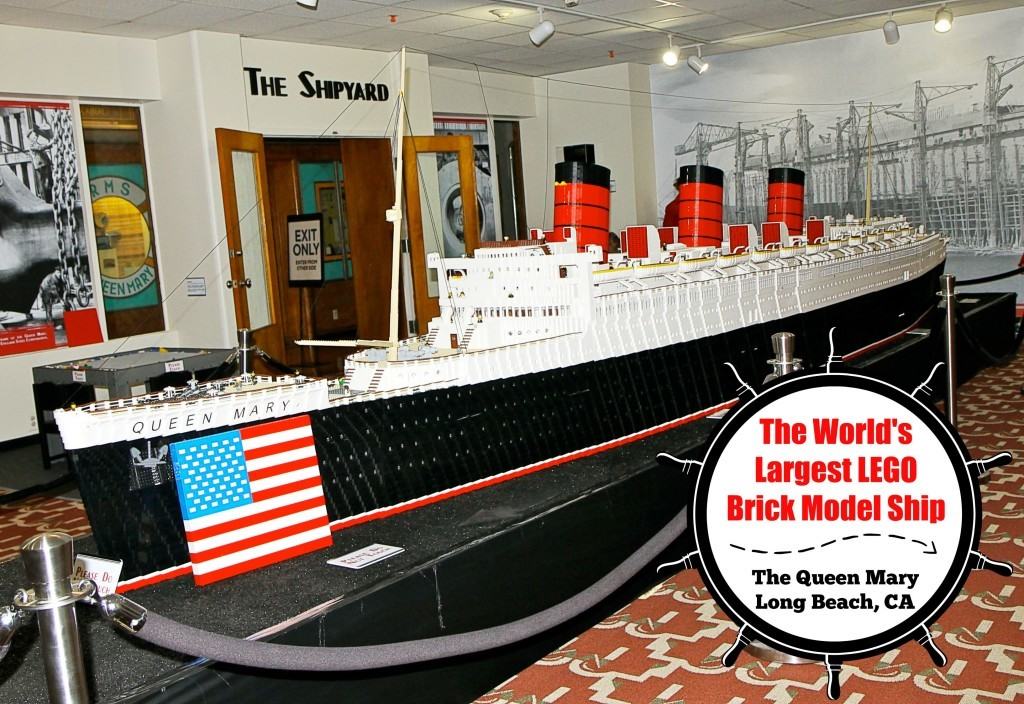 This post contains an affiliate link.
Earlier this summer, I took my family and some good friends to visit the World's Largest LEGO© Brick Model Ship on board the Queen Mary in Long Beach, California.
A few years back, when Britain's certified LEGO builders, Bright Bricks Inc. decided to commemorate the ship in LEGO Bricks – they never dreamed the huge model would someday come to Long Beach and be displayed on the actual Queen Mary.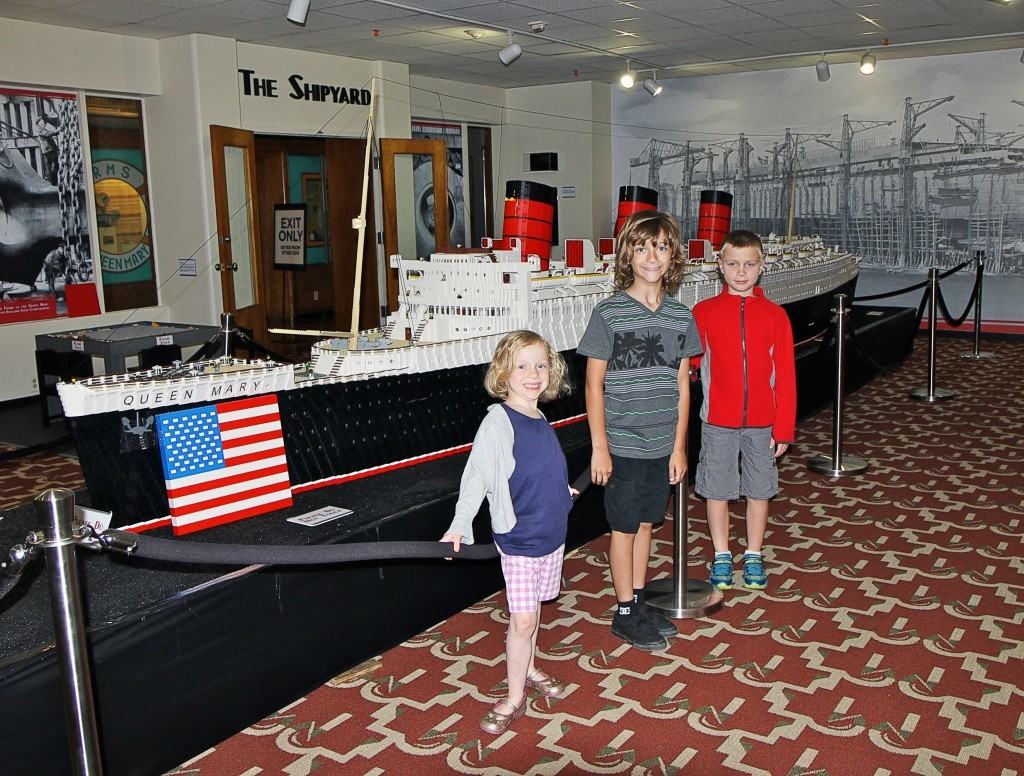 To better connect children and others with the historical persona of the Queen Mary, the decision was made to display the model in an exclusive room on board called The Shipyard and to surround it with Bright Brick building stations where children and LEGO-enthusiasts can make their own version of the ship or anything else that comes to mind.   Take a look for yourself!
The World's Largest LEGO© Brick Model Ship required four professional builders, over 250,000 individual LEGO bricks and took almost four months to complete.  The intricacies of the ship are simply amazing!
MODEL DETAILS:
Length: 25' 11"
Weight: 604 lbs.
Width: 3' 1"
Height: 4' 7"
LEGO Parts Used: Approximately 250,000
Number of Builder Hours: 600
The model room features 4 building tables for children to build their own LEGO creations and is supervised by the Queen Mary staff.  Field Trip Boy, Field Trip Girl and their friend Nigel had a great time creating different replicas of ships.
The Shipyard also features historical photography of children at play while sailing as passengers; archival photos of the Queen Mary's construction, antique tools and other items that capture the idea of building the world's greatest passenger ship complete the decor.
Located in the Port of Long Beach, the Queen Mary features a rich maritime history, authentic Art Deco decor, and stunning views of the Pacific Ocean and Long Beach city skyline.  At the time of her maiden voyage in May of 1936, she was considered the grandest ocean liner ever built.   The Queen Mary features award-winning restaurants, historical attractions, numerous special event salons and 346 staterooms.  With the world's largest LEGO brick ship model now on board, the Queen Mary has created a new visitor category to its already robust historical narrative.   
After our visit to the World's Largest LEGO© Brick Model Ship, we toured the rest of the ship in its entirety.  Here is only a small snippet of what we saw.
Right now the Queen Mary is offering a special discount on admission to see the World's Largest LEGO© Brick Model Ship!
For only $27 ($54 value) get 2 Queen Mary Passports, which includes entry to the Ship Model Gallery too.
The Queen Mary is open 10 am – 6 pm daily and parking is $18.  To learn more about the World's Largest LEGO© Brick Model Ship, visit http://www.queenmary.com/tours-exhibits/tours-exhibits-attractions/shipyard/
Happy Field Tripping!
Jilleen
Disclosure: We received complimentary admission to The Queen Mary to help facilitate this post.  All points of view are my own.  All photos copyrighted and used by permission by Alicia In Shutterland Photography.