Jurassic World – The Ride is now open at Universal Studios Hollywood!  Last weekend, SoCal Field Trips had the opportunity to be one of the first guests to take the plunge into this new land of mystery and discovery and lived to tell about it.  The original Jurassic Park – The Ride, which operated from 1996 t0 2018, has undergone some major rennovations and reopened as Jurassic World – The Ride this past July.
The creators have added several new effects to the already superb ride including new music, a whole new blue and gray color scheme and an enormous replica of a vast aquarium.  Jurassic World – The Ride also stars several actors from the "Jurassic World" films including Chris Pratt, Bryce Dallas Howard and BD Wong.
QUICK LINK —> Discount tickets to Universal Studios Hollywood
Jurassic World The Ride 2019
Once we stepped on board the life raft on Jurassic World – The Ride, my kids and I made our journey down a long stream into the abyss.  Along the route, there was a plethra of hanging vines and a dinosaur skeleton with the words "When dinosaurs ruled the earth" on it.
As the gigantic gates opened to Jurassic World, the movie's theme song swelled over the loud speakers, and a deep voice hailed "Welcome to Jurassic Park".  As I squealed in fear, my son tried to reassure me that everything would okay.  But if you know me, you know I'm a big chicken!  Once inside the gates, we caught our first glimpse of the dinosaurs.  The way the large, long-necked dinosaurs stared down at me made me feel quite small and vulnerable.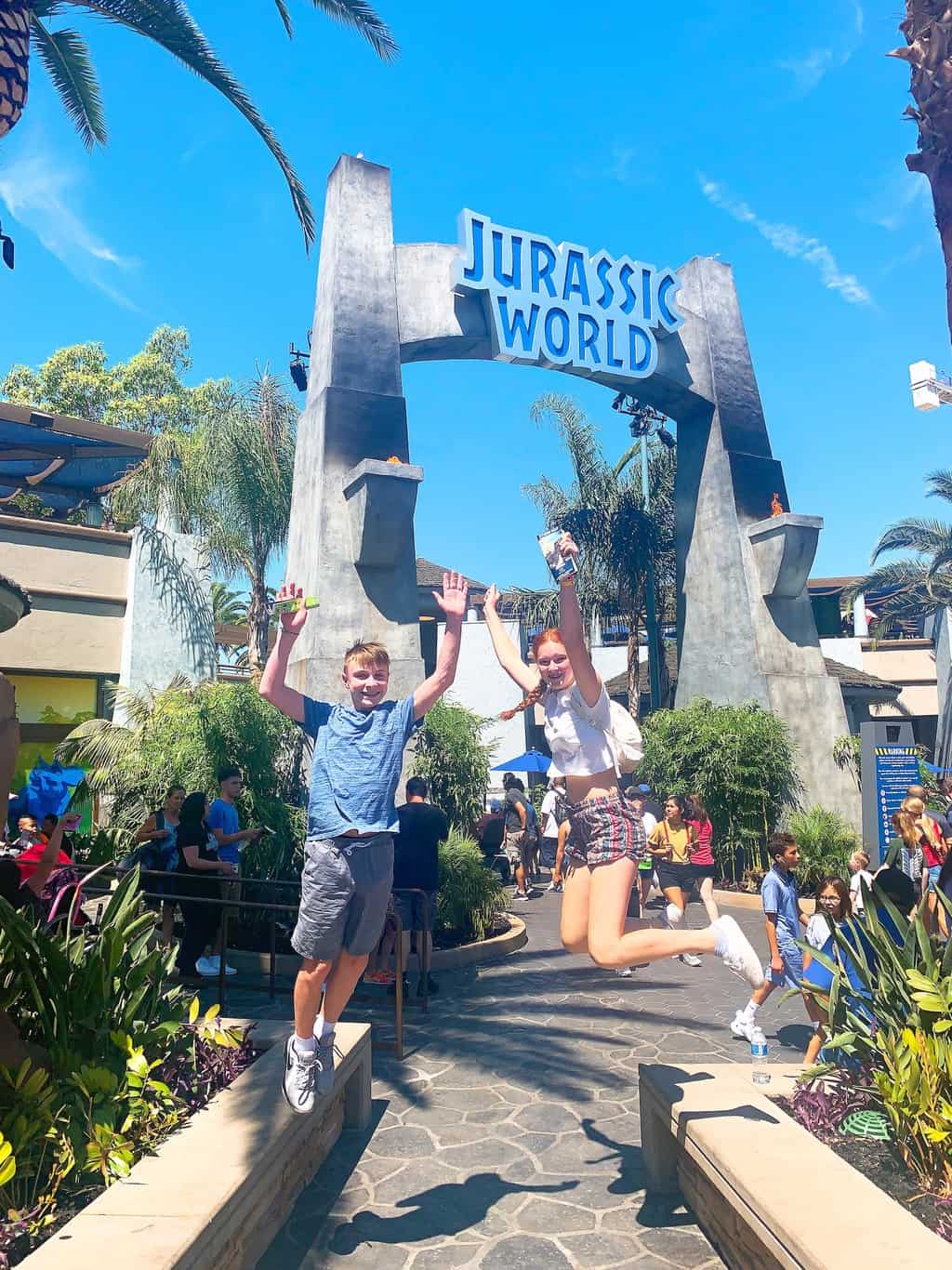 Then, as a second set of sturdy metal doors opened wide, we entered a virtual aquarium.  While we sat in the raft and glided along the water, a huge Mosasaurus suddenly came out of no where and swam underneath the boat and splashed everyone.  So, if you don't like to get wet, I highly recommend that you wear a poncho on this ride.
After the aquarium, we passed underneath a waterfall and went through a tunnel carved out of rock.  Various non-threatening dinosarus greeted us warmly as geysers exploded water into the air.  As we entered the heavily fortified Predator Cove, we saw the doors to the Indominus Rex pen exploded off and electric cables fizzling about.  That's when I heard a frantic voice calling out "danger ahead"!  Now I was really shaking in my boots!
As the voice continued to warn passengers not to enter, the boat ascended a steep ramp covered in cascading water.  A few short moments later the raft made a quick drop into a darkened corridor.  In all reality, the drop wasn't too bad.  Even a scaredy cat like me could handle it!