San Diego is a wildflower enthusiast's paradise! From the annual
to the beautiful backcountry roads on the way Julian, there are numerous places to stop and enjoy the sprauling wildflower fields in San Diego. There are also many opportunities to join other wildflower enthusiasts. Check out the ranger-led programs at the Anza-Borrego Desert State Park or stop by the visitor center at Torrey Pines State Natural Reserve.
When on a wildflower walk, plan to take your time because flower enthusiasts typically take it slow to examine plants. To prepare for a wildflower walk, bring along a map of the area, extra bottled water, a pair sunglasses, magnifying glass and a camera to capture some beautiful photos.
Be safe and happy field tripping!
Jilleen
Where To See Wildflowers in San Diego
The 600,000-acre Anza-Borrego State Park near San Diego can be a great place to see wildflowers. In particular, the Visitor Center Area has beautiful blooms like the Phacelia, Desert Dandelion, Desert Chicory and Pygmy Stonecrop, along with Filaree, Popcorn Flower, Poppies and Fiddlenecks. Look for the white-flowered Wishbone Bush in the island between the first and second parking lots. There is a wildflower hotline you can call at (760) 767-4684 to check and see if a wildflower bloom is happening.
Spring has sprung, and so have the wildflowers at Balboa Park. Walk around and explore some of the hidden wildflower groves all over the city park, including a secluded running trail that winds along the west side of highway 163.
Coyote Canyon, Anza-Borrego Desert State Park
Where the pavement ends at the north end of DiGiorgio Road, you may find Spectacle Pod, Brown-eyed Evening Primrose, Dune Evening Primrose and Sand Verbena. Walk out onto the flats for occasional Desert Lilies and Desert Sunflowers. 4WD vehicles are recommended beyond Desert Gardens.
Cuyamaca Rancho State Park has over 100 miles of trails which accommodate hikers, bikers, and equestrians. The peak of the wildflower season typically runs mid-March to early April, with flowers visible through June. The park also offers camping and hiking in an oak woodland forest, with a sprinkling of pines and lovely meadows with creeks.
The views at Torry Pines Gliderport are spectacular with high cliffs looking down on the beach and colorful wildflowers blooming everywhere. There's also a small cafe where you can have lunch.
The Flower Fields at Carlsbad Ranch are home to Tecolote Giant Ranunculus, also known as a Persian Buttercup or Ranunculus Asiatic. The typical blooming season is March 1 – May 8.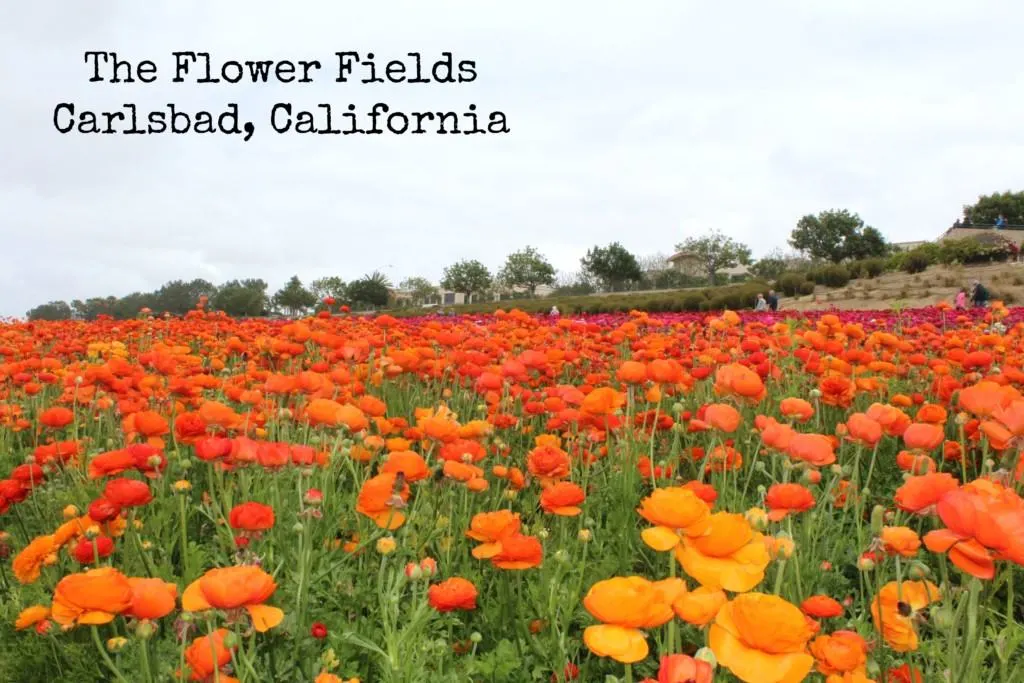 Visiting Laguna Mountain is almost like visiting another part of San Diego County as the terrain transitions from a desert environment to a mountain top conifer forest. Within the recreation area is the Big Laguna Mountain Meadows which has meadows that are truly beautiful and await your visit. Wildflowers are usually abundant in April and May on the Big Laguna Trail, which takes visitors past Big Laguna Lake.
In the spring, Julian, nestled high in the mountains above San Diego turns to "gold" with daffodils. The dazzling displays of daffodils are on roadsides, in the ancient cemetery and a myriad of other places in between.
Following the daffodils are the fragrant lilacs painting the hills and orchards with lavender hues. Next to bloom are the lily-of-the-valley, peonies and a multitude of other spring varieties. Late spring and summer promises apple and pear tree blossoms in the mountain town.
The "Sunflower Fields" on Henderson Canyon Road bloom in the spring with Desert Lilies and Sand Verbena.
Torrey Pines State Natural Reserve has a reserve of one of North America's rarest trees – the Torrey Pine – on a network of trails that meander through those badland cliffs. In particular, The Beach Trail has a lovely chaparral-lined descending path that in the spring may have wildflowers hiding in the brush.
Free public guided walks for families and small groups are offered on weekends and holidays at 10 am and 2 pm. As you walk back to the parking lot visit the historic lodge built in 1922 with Hopi and Mission Revival influences. The Lodge serves as the rangers' station and a cool visitor center.
Perched high above the urban sprawl of San Diego, this national park, located at the tip of Point Loma, features spectacular views of San Diego's harbor and skyline, as well as Coronado Island and its major Naval air base. On clear days you can survey a wide expanse of the Pacific Ocean.
A moderately steep bayside trail, which is two miles long, offers visitors a chance to see a wide variety of wildflowers, which are in full bloom in April and May. The major three found at the park are Sea Dahlia, Coast Monkey Flower and Encelia.
Descanso is a part of San Diego's backcountry. There are beautiful mountain foothills, oaks, wild grasses, big squirrels and seasonal streams. This small town, on the way to Julian, offers visitors a place to experience tranquility and the beauty of undisturbed nature.
Keys Creek Lavender Farm is nestled in a beautiful, serene valley in Northern San Diego County. The farm is a full production facility that offers more than 8 acres of Lavender fields. Farm tours are by reservations only.
More Places in Southern California To See Wildflowers
Best Places To See Wildflowers in The California Desert
Best Places To See Wildflowers in Los Angeles
Best Places To See Wildflowers in the Inland Empire