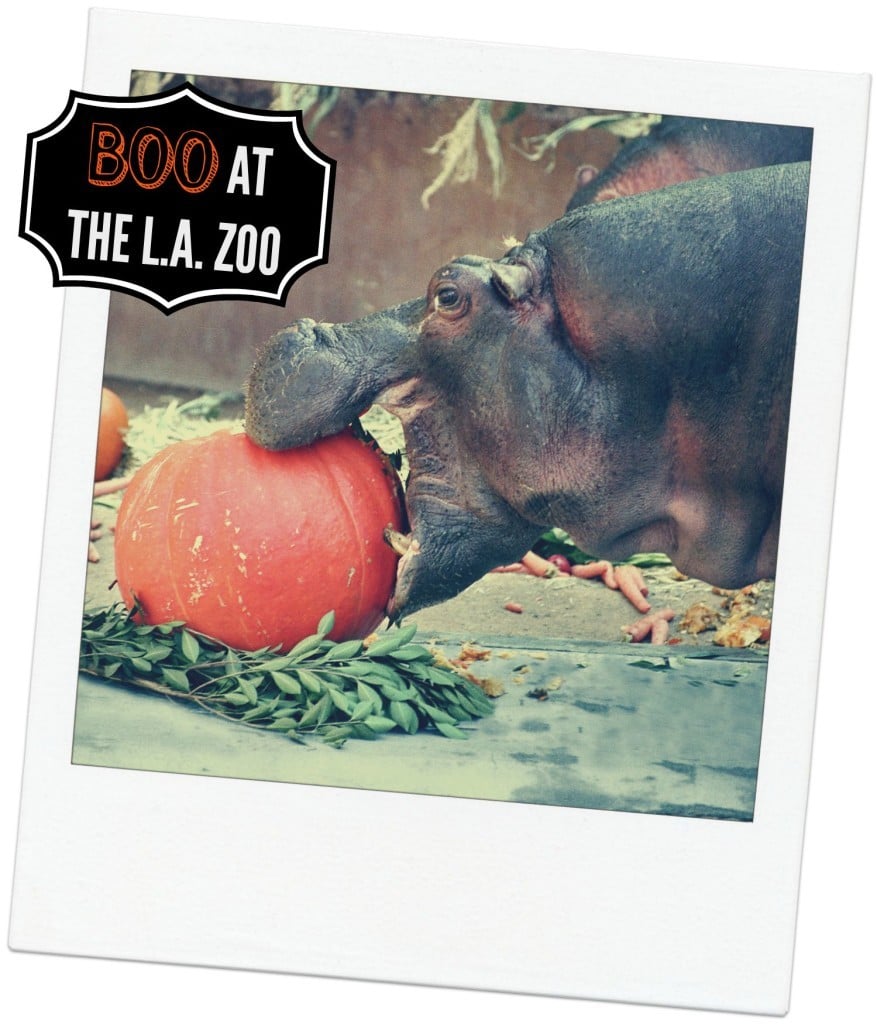 photo credit: Jamie Pham
This Halloween, the Los Angeles Zoo offers families and Halloween lovers of all ages a chance to feed their imaginations with treats at the all-new BOO AT THE L.A. ZOO! For 2015, the zoo has expanded BOO AT THE L.A. ZOO to an entire month of seasonal fun and learning beginning Thursday, October 1 and continuing through Saturday, October 31, 2015, 10 am to 4 pm.
BOO AT THE L.A. ZOO Activities
spooky caves spotlighting animals' "super" natural senses
"Graveyard Safari" adventure
"Boneyard" education station
themed crafts
storytelling
live music
strolling characters
pumpkin carving
animal feedings
Kids are invited to dress in costumes, and costume contests are presented throughout October. Traditional trick-or-treating at the Zoo takes place on Saturday and Sunday, October 24 and 25 and Saturday, October 31.
In a twist on a more traditional Halloween haunted house, the L.A. Zoo debuts spooky caves in the Winnick Family Children's Zoo, which are filled with shadows and projections of slithering snakes and crawling spiders and eerie sounds of nocturnal creatures and other special effects, as well as live tarantulas, scorpions and other critters. Visitors wandering through the spooky surroundings can expect to unearth shocking facts about animals' "super" powers such as heightened senses that help them survive in their environments. Other daily activities include fun photo ops in front of a "Haunted Barn" backdrop and up-close "Animals and You" encounters with some of the Zoo's smaller (and creepier) residents.
photo credit: Tad Motoyama
Zoo residents celebrate along with everyone, so guests are encouraged to keep their eyes peeled for seasonal feedings of pumpkins for plant eaters and carcasses for carnivores on select dates (parental discretion for the latter is advised).
Pumpkin Animal Feedings Schedule
lions on Saturday, October 3
Komodo dragons on Sunday, October 4
jaguars on Saturday, October 10
elephants on Sunday, October 11
black bear on Saturday, October 17
tiger on Sunday, October 18
snow leopards on Saturday, October 24
Komodo dragons on Sunday, October 25.
L.A. Zoo Admission
Activities at BOO AT THE L.A. ZOO are FREE with paid Zoo admission. Admission to the Los Angeles Zoo is $20 for general admission (ages 13 to 61); $17 for seniors (ages 62+), and $15 for children (ages 2 to 12). No ticket is required for children under 2. Check lazoo.org/BOO for details and daily schedules.
The Los Angeles Zoo is located in Griffith Park at the junction of the Ventura (134) and Golden State (5) freeways. 5333 Zoo Drive, Los Angeles, CA 90027. Parking is FREE.
Happy Field Tripping!
Jilleen
Disclosure: This post is for informational purposes only. All points of view and opinions are my own.