Some of the coolest creatures around…who aren't technically around anymore, are dinosaurs!  Kids love these large beasts with their distinct looks, loud roars, and somewhat mysterious background.  There's only so much we know about this in history, but what we do know, can be seen and experienced by visiting a local dinosaur museum or fossil site.
Dinosaur museums and fossil sites in Southern California not only celebrate these colossal creatures, but also entertain and educate the public on the importance of them in time and history.  Furthermore, museums help to raise awareness of the value of fossils—not just as collectibles but for the lessons we have yet to learn from the creatures that once walked this planet.
Dinosaur Museums and Fossil Sites in Southern California
So, grab your family and head out on a hunt – a fossil hunt that is – to your local Southern California dinosaur museum or dinosaur park.  SoCal Field Trips has found some of the coolest dinosaur and fossil sites across the Southland – from the popular roadside attraction Cabazon Dinoaurs in Palm Springs to the Dinosaur Store in Pasadena – there is a favorite site for everyone!
Best Places To See Dinosaurs and Fossils in Los Angeles
La Brea Tar Pits and Museum – Los Angeles, CA
The La Brea Tar Pits is the #1 fossil attraction in Southern California for a one reason.  They have hundreds of prehistoric fossils.  Their fossil collection showcases the history of several extinct mammals including saber-tooth tigers, mammoths and giant sloths.  Though technically they're not dinosaur fossils, they're just as impressive, perhaps even more.
While at the Page Museum, guests can see also an astonishing view of the large tar pits keeping the fossils intact, watch a 3D movie called Titans of the Ice Age and or take a Ice Age Encounters Tour.
Museum Free Days include the first Tuesday of every month except July and August.  Free admission is also offered to CA EBT cardholders, CA teachers, active/retired military and kids 2 and under.  Plus, the Museum offers 4 free Homeschool Days per school year so you can enjoy everything the Tar Pits have to offer without sharing the Museum with traditional school groups.
The Skirball Cultural Center – Los Angeles
Dig It!: The Skirball Cultural Center's Archaeology Adventures calls all aspiring archaeologists to the Skirball's dig site!  With the help of the archaeological staff in an outdoor field laboratory, discover what we have in common with people who lived centuries ago.
Slip on an archaeologist's vest, sift and sort to find ancient artifacts buried beneath the sand, weigh and examine your findings, and analyze clues to piece together the story of an ancient Iron Age town.  On Sundays, look out for the Hands on History touch-cart to get a real feel for the ancient world!


World of Dinosaurs – Redondo Beach
A new museum promoting Dinosaur fun, the Wonder of Dinosaurs has a variety of robotic and static dinosaurs on display.  Educational scientific information signs mean that kids will learn and enjoy the dinos.  Wonder of Dinosaurs also offers parties and special events.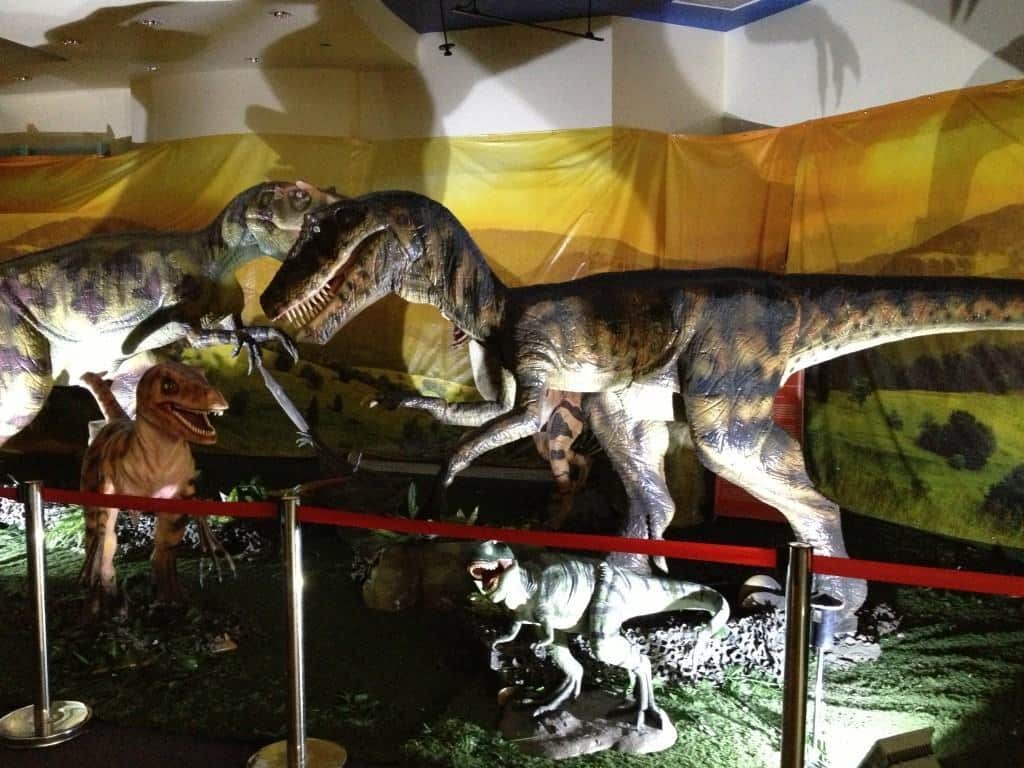 The Natural History Museum of Los Angeles County – Los Angeles
The Natural History Museum of Los Angeles County is the largest natural and historical museum in the western United States.  Their all-new, 14,000-square-foot Dinosaur Hall is twice the size of the Museum's old dinosaur galleries.  On display is over 300+ fossils and 20 complete dinosaurs and ancient sea creatures.  Guests also can watch footage of a real dinosaur hunting expedition and "excavate" specimans at multimedia stations.
On Thursdays and over the weekend, NHM hosts the Dinosaur Encounters Show!  Dinosaurs come to life as realistic T. rex and Triceratops large-scale puppets capture the imaginations of young audiences.  Families learn together about dinosaur anatomy, possible behavior and movement.  This show is free with the cost of admission.
Four times a year the Natural History Museum hosts Homeschool Days.  Homeschool Days are free for any homeschooler age 2 to 18 yrs. old and his/her educators.  They also offer additional education classes to enhance your child's visit.