This post contains affiliate links.
Here in Southern California, Halloween is not over and fall fun abounds! So let's get right to it and share with you The Best Family Friendly Halloween events and fall festivals taking place across the southland this season. Prices and dates vary. Please visit individual websites for full details. Happy Fall!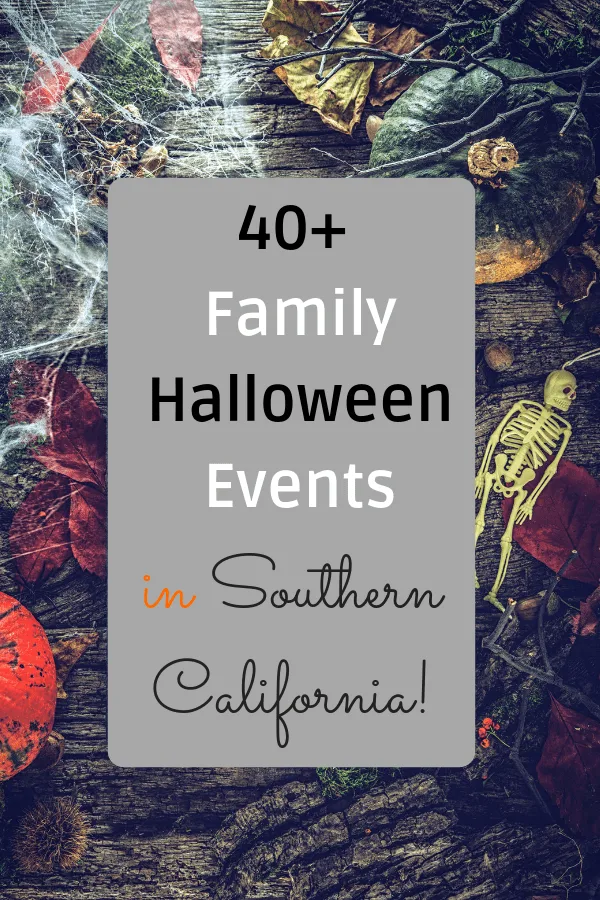 Family Halloween Events in Los Angeles
Halloween at Descanso Gardens, La Canada Flintridge (all month long in October)
Throughout the month of October, join us for Halloween at Descanso! Guests are invited to safely wind their way through socially-distanced, pumpkin-themed displays in the most popular sections of Descanso Gardens. Halloween activities includes a Pumpkin house and children's hay maze, wooden jack-o-lanterns, a pumpkin arch and and pumpkin mandalas.
Children 14 and under are invited to wear their costumes – and masks – as they explore and enjoy autumn in the Gardens. The Kitchen at Descanso will have a variety of warm, fall-inspired drinks and soups available, along with such seasonal favorites as caramel corn and churros.
Advance admission is required for non-members and can be purchased here.
Halloween at the Arboretum, The Arboretum, Arcadia (all month long in October)
Experience the spooky side of the LA Arboretum throughout the month of October by exploring our Ghoulish Gardens path! While engaging in a safe, self-guided tour of our creepier collections, guests are invited to learn about trees that strangle other plants, the ingredients in common witches potions, flowers that are pollinated by bats, and other fun, eerie plants while winding their way through the garden.
Fun for adults and children alike, guests exploring Ghoulish Gardens on October 31st are encouraged to wear costumes to the Arboretum.
Stranger Things: The Drive-Into Experience, Los Angeles (10/7 – 10/31)
This Stranger Things-themed experience will bring the Netflix series to life with an hourlong adventure that transports visitors to Hawkins and the Starcourt Mall circa 1985. And as the name implies, you'll be able to take it all in from the safety of your own car. The experience will take groups of 24 cars at a time through a world of tunes, mullets and monster hunts including sets complete with actors in costume and special effects. Not recommended for children under 13.
The Gentle Barn's Halloween Experience, Santa Clarita (9/21 – 10/11)
This is a whole new exciting way to experience The Gentle Barn, and be able to dress up, get candy from our safe cast members and see all of the Halloween themed decorations around The Gentle Barn.
This new drive-thru experience will take you behind the scene to areas of our California property that is normally not open to the public. Starting with a tour of our Sun Chlorella: Healing Center in Agua Dulce, just 10 miles up the road. Then down to the main Gentle Barn property, and ending with you casting a wish in our wishing well.
Nights of the Jack, King Gillette Ranch, Calabasas (10/1 – 11/1)
Their new extended driving trail will feature thousands of hand-carved and illuminated Jack O' Lanterns as attendees make their way around King Gillette Ranch. Immerse yourself in an instagrammable Halloween wonderland and experience what everyone is talking about! Ticketed event.
Freeform's 31 Nights of Halloween, Heritage Square Museum, Los Angeles (10/2 – 10/5)
Freeform's 31 Nights of Halloween returns! And this year we're taking our annual Halloween event on the road – literally! … Cause, even ghosts need to stay socially distant. It's an outdoor immersive experience all behind the wheel of your car! Drive-thru (if you dare) the worlds of "Tim Burton's The Nightmare Before Christmas", "Hocus Pocus", "Ghostbusters" and other spooktacular surprises filled with games, performances and prizes! And the best part is that it's free!
THE BITE LA: Halloween Food Crawl and Creature Safari, Legg Lake, Los Angeles (all month October long)
This unique twist on the drive-thru/drive-into haunted attraction offers a delectable Halloween food crawl that snakes its way around eerie Legg Lake, includes 8 Bites, campfire dessert, fall-favorite warm beverage and immersive entertainment that guests can enjoy from the safety of their own vehicle.
The BITE is open select dates throughout October. There is no age restriction for this event, but there will be a few frightening creatures lurking about.
FrightVision presents Carve-Con 2020, Virtual Event from Home (10/9, 10/16, 10/24 & 10/30)
A free, spooky, family-friendly virtual Halloween event for families. Join FrightVision as they take Freaky Fridays in October to another level with Carve-Con!
October 9th: Opening night will feature a spooky sketch night where artists teach kids how to draw spooky things as well as a science lab, where kids and other special guests can participate in Halloween experiments.
October 16th: Bring your competitive edge, it's Spooky Game Night! Spooky Game Night will feature a mystery game for the kids to solve and other games including scavenger hunts, would you rather and many other spooky thrills.
October 23rd: Settle in for Spooky Tales Around the Fire Night. Storytellers will tell their spookiest stories for everyone to listen to.
October 30th: The grand finale will have the top stories from the writing contest for kids, read by some amazing published authors, including Dan Poblocki, Lorien Lawrence, Lindsay Currie, Ronald L Smith, Michael Northrop and so on.
Haunt-o-ween LA, 6100 Topanga Canyon Blvd., Woodland Hills (10/9 – 10/31)
A large scale all-ages-friendly drive-thru experience. Keep the fun traditions and excitement of Halloween alive in a safe, engaging, interactive & immersive format. Windows down, masks on!
Pumpkin Picking (1 pumpkin per vehicle from our heavily themed patch)
Door to Door Trick or Treating in our 2 street 10-12 home neighborhood. Live costumed actors and other socially distanced delivery methods assist with candy giveaways.
Video & Photo Op from the 90' Jack-O-Lantern Tunnel plus prop and backdrop stop!
Immersive Installations & Heavily decorated vignettes
Costumes encouraged!
The Haunted Barnyard, The Gentle Barn, Santa Clarita (10/22, 10/23, 10/27 – 10/31 & 11/5-6)
Drive through our interactive terrifyingly haunted barnyard of nightmares! See if you can escape from the Funhouse, journey through our Zombie Infested Graveyard, take caution entering the Insane Asylum, find your way out of the Haunted Woods, navigate the Ghostly Maze, and a few surprises that will scare your socks off.
The Haunted Barnyard concept is an exciting immersive drive-thru experience in Santa Clarita curated by a team of designers including a film and themed park set designer, set dressers, costume designers and makeup artists from Universal Studios Horror Nights, Knott's Scary Farm and Six Flags Fright Fest!
Mr. Jack O'Lanterns Pumpkins, The Farmer's Market, Los Angeles (10/10 -10/11)
Grab your kiddos and stop by our pumpkin patch hosted by Mr. Jack O'Lanterns Pumpkins to find the plumpest pumpkins big or small, perfect for decorating or carving jack o'lanterns at home. There will be crowd control to allow 6ft physical distancing along with mask wearing guidelines.
Annual Pumpkin Patch, Forneris Farms, Mission Hills (10/10 – 11/1)
This annual pumpkin patch has a gorgeous varieties of pumpkins grown and harvested by the local farmers. Get lost in their 4 acre Super Farmer Corn Maze or take a narrated tractor tour around the farm.
Halloween in the Park, Camarillo Community Center, Camarillo (10/31)
Join us for a fun, drive-through, free trick-or-treat event. Staff will pass out candy as you drive through our lighted Trick-or-Treat Village in your car.
All candy distribution will be done while wearing PPE to ensure the safety of your family while also providing a convenient way for the kids to go Trick-or-Treating without having to go door to door. Please follow CDC guidance and wear a face mask when going through the line and when interacting with staff.
Halloween ComicFest, Los Angeles Comic Stores, Area Wide (10/31)
Comic stores throughout the LA area participate in Halloween ComicFest, distributing free Halloween themed comics and offering special events such as creator appearances. Parents can also purchase packs of mini-comics that can be distributed to trick-or-treaters.
Our Favorite Halloween Costumes of the Season
&
Morph Alien Pick Me Up Inflatable Blow Up Costume
Disney Fairies Tinker Bell The Pirate Fairy Girls' Costume
Marvel Spider-Man Toddler Costume
Disney Mary Poppins 2 Pc. Girls Costume, with Hat Size: Med
Star Wars: The Force Awakens Child's Stormtrooper Costume, Medium
Scarium of the Pacific, Aquarium of the Pacific, Long Beach (10/23)
Discover the creatures lurking in the depths at the Aquarium of the Pacific during its Scarium-themed weekend. Enjoy spooky décor and creepy creatures as you explore the Aquarium. Everyone is invited to wear family friendly costumes during this event. Islands is providing Kids Free Meal certificates each day of Scarium to the first 200 children in costume as they enter the Aquarium.
Haunted Ghost Tours, Heritage Square, Los Angeles (10/17)
After the sun goes down, follow a Haunted Ghost Tour guide on a small-group exploration of the families who once lived in the houses at Heritage Square Museum. Learn about family history, ghost sightings and hauntings, as well as successes and tragedies in this nighttime walk (wear comfortable shoes and are aware of uneven surfaces).
Be prepared for other ghost stories along the pathways, possible hauntings and examples of ghost hunting instruments. Tickets are $45 per person. All health and safety precaution guidelines provided by the Los Angeles County Public Health Department will be followed.
San Fernando Valley Halloween Drive-In, Sherman Oak's Westfield Fashion Square Mall, Los Angeles (10/16 – 10/24)
The San Fernando Valley Halloween Drive-In will feature the movies Edward Scissorhands and Pet Semetery. You'll be able to order takeout options from the mall's food court to eat in your car. Tickets start at $20 per person. No recommended for kids under 13 years old.
Ye Olde Hallow's Eve Treasure Quest, Santa Clarita (10/31 – 11/1)
Cortez' Carnival Games of chance and skill will challenge and entertain you. Costumes are highly encouraged as you can win a prize for the best costume. One lucky person will find the Olde World Emporium "Cortez' Gold Coin" in their Trick or Treat bag and win the Pirate's Booty! The Olde World Emporium adheres to the guidelines set by State and Local governments. Also, masks are mandatory.
Family Halloween Events in The Inland Empire
Action Zipline Pumpkin Smash Tours, Big Bear (Every Saturday in October)
Join Action Zipline's Pumpkin Smash Tours every Saturday in October! Starting at 1 pm participants will have the chance to throw a pumpkin at a target placed on the ground, while ziplining. Pumpkin smashing is included in the normal ticket price of the special tour times and if you hit a target you will win an awesome Action Tours prize!
Halloween at Southern California Railway Museum, Perris (10/31)
SCRM will be open for regular operations on October 31st, 2020. Admission to the grounds is free, train and trolley ride prices are $12 for adults and $8 for children. For Halloween SCRM will be featuring family friendly decorations on our trains and trolleys, and visitors can enjoy Halloween themed music on our mainline train rides.
Test out your spooky or creative costumes at the Museum as you participate in our special Halloween Themed Photo Scavenger Hunt or Chalk Art Contest for a chance to win some prizes.
Pumpkin in the Pines, SkyPark at Santa's Village, Crestline (10/10-/11, 10/17-18, 10/24-25, 10/30 & 11/1)
The (black) cat is out of the (trick-or-treat) bag! We're ready to welcome back those crisp, cool days, the changing colors of Fall and the return of Pumpkins in the Pines! Mark your calendars, grab the family and join us every Saturday and Sunday for the ultimate Fall celebration at SkyPark.
In alignment with social distancing guidelines, we have limited the number of guests to this year's festivities. Admission to Pumpkins in the Pines gives guests access to all of the attractions at SkyPark at Santa's Village as well! This means you can zipline, shoot arrows at the archery range, rock climb, ride the pedal cars, mountain bike, and more all for one low price.
SkyPark at Santa's Village is hosting Pumpkins in the Pines, a truly unique family fall festival in October. The event includes:
Pumpkin Patch
Pumpkin Painting
Scavenger Hunt & Pumpkin Hunt
Contactless Trick or Treating
Halloween Skate Night Saturdays
Fanton Forest Haunted Bike Trail
The Gingerbread House Bakery & Sweet Shoppe has some festive gingerbread men skeletons, mummies and caramel apples
Northwoods Characters Experiences
Come hear the tale of the Legend of Sleepy Hollow through our special Puppet Show and be wowed by Wacko the Magician.

And More!
Ghost Walk Riverside, Downtown Riverside Main Street Pedestrian Mall, Riverside (10/23 & 10/24)
California Riverside Ballet is excited to present the 29th annual Ghost Walk Riverside this October, although the event may look and feel very different. For the first time in the event's history, you can enjoy Ghost Walk Riverside from home. Each tour will still begin with a dazzling dance presentation from Danzanna Dance Productions and include a series of hauntingly spooky stories to get you in the Halloween spirit.
Tours are new each year and no two have ever been alike. This event has the esteemed reputation for attracting artists from various areas, making a truly exceptional collaboration. Writers, storytellers, actors, musicians, and vocalists all take part in a display of talent and craft.
Tours will be available on Friday, October 23 and Saturday, October 24 at 6pm, 7:30pm and 9:00pm for all tours. Tickets are $15 per household. As an encore this year, guests can choose to purchase spooky children's party packs to keep the fun going. Party packs start at $10 each.
Tour Options:
Dracula (Rated G)
Strange Case of Dr. Jekyll and Mr. Hyde (Rated PG
Haunting of Hill House (Rated PG)
Bat Week, The Living Desert Zoo & Gardens, Palm Springs (10/24-31) – Virtual Event
Mark your calendars to commemorate one of nighttime's most misunderstood creatures—the bat! Bat week is October 24 – 31, and throughout the week The Living Desert will be going batty for bats. We will debunk myths, make crafts, and film a special Facebook Live using bat detecting equipment. Don't snooze on the fun celebrating this fantastic flying mammal.
Howl-O-Ween, The Living Desert Zoo & Gardens, Palm Springs (10/31)
Come and safely celebrate Howl-O-Ween at The Living Desert Zoo and Gardens! Children are encouraged to dress up in their favorite costumes and explore the Zoo for a socially-distant and family-friendly adventure. We've adapted the day's activities to include a self-guided scavenger hunt, and be sure to grab a Scales, Claws, and Teeth, Oh My! program to see your favorite animal receive a special pumpkin enrichment experience during your visit. In place of trick-or-treating we will hand out pre-stuffed Boo in a Bag treat bags to children ages 12 and under, while supplies last.
Due to capacity limitations, advanced reservations are required through our online ticketing system. Free for members or with paid park admission. Limited number of tickets available, book early.
Not So Spooky Farms, SilverLakes Athletic Complex, Norco (10/24 – 11/29)
Not So Spooky Farms is an adventure that's fun for the whole family and will ensure that family fun will happen safely. Follow the adventure of Stingy Jack from the safety of your own car. After discovering a map in a forgotten temple, Stingy is now on a mission to uncover candy clues to reach the fabled treasure of the dreaded pirate, Bluebeard.
Drive along through treasure temples, candy cannibal safaris, prehistoric parties, hedge mazes, cornfields, and princess towers while collecting tricks and candy treats for everyone in your vehicle along the way.
Halloween Night of Destruction, Perris Auto Speedway, Perris (10/31)
LKQ Pick Your Part will Present the final Night of Destruction of 2019 on Halloween night, Saturday, October 31st. The show will feature Figure 8 Racing, a Figure 8 Trailer Race, Demo Cross, Double Deckers and Mini Stocks. Spectator gates will open at 5:00 PM and racing will begin at 7:00. At intermission, all kids in costume will be allowed onto the track to collect candy and treats from all of the drivers.
Saturday's show promises lots of smashin' & crashin' in the heat races and main events for all Night of Destruction classes. Be sure to bring the kids out early to meet racers at the on-track autograph and photo session beginning at 5:15.
Adult tickets for Saturday's show are $15.00. Active military with proper id, teens 13-18 with their school id and kids 6-12 are just $5.00. Children 5 and under are free.
Flick-or-Treat, Downtown Redlands, Redlands (10/31)
The all-ages family-friendly drive-thru experience will keep the fun traditions and excitement of Halloween alive in a safe and engaging way. Beginning at 4 p.m., Saturday, Oct. 31, the parking lot at the Redlands Sports Complex on Dearborn Street north of San Bernardino Avenue will be transformed into a drive-thru Halloween experience. Families will remain in their vehicles as they experience the sights and sounds of Halloween with vehicles and parking spaces decorated for the holiday.
Local residents, nonprofits and businesses are encouraged to create their own displays as part of this drive-thru Halloween experience. The event will be open to all ages, individuals, and families, each child in the vehicle will receive a candy bag while supplies last.
Following the drive-thru event, at 7 p.m. a block of San Bernardino Avenue, between Dearborn and Granite Street, will be transformed into a pop-up drive-in theater for a free screening of "The Nightmare Before Christmas" (PG).
Both events are free but registration is required to attend. For more information or to pre-register, please visit here.
Family Halloween Events in Orange County
A Pirate's Life For Me Halloween Boutique, Rogers Gardens, Corona Del Mar (9/4 – 10/31)
Take a wild adventure out to sea and enter into the World of Pirates. Explore the private corridors and cabins below the ships deck to find precious gems. Venture underwater as you search through caves and discover treasures, surprises and frights to decorate your home for Halloween.
Irvine Park Railroad Pumpkin Patch, Irvine (10/1 – 10/31)
This year's Pumpkin Patch will be much different than in years past. We are modifying and scaling this event down to ensure the safety of all visitors as well as our staff. When the Pumpkin Patch reaches capacity, as one family/group exits, another family/group will be allowed to enter.
To purchase a pumpkin, you will have several options shown to you by a staff member from behind a counter that you can choose from. In addition to the train and hay wagon ride, there will be a couple game booths that will be sanitized after every use and a few photo opportunity areas for you to take photos with your family or group.
We strongly recommend visiting us during the week or early morning weekend hours to avoid any lines.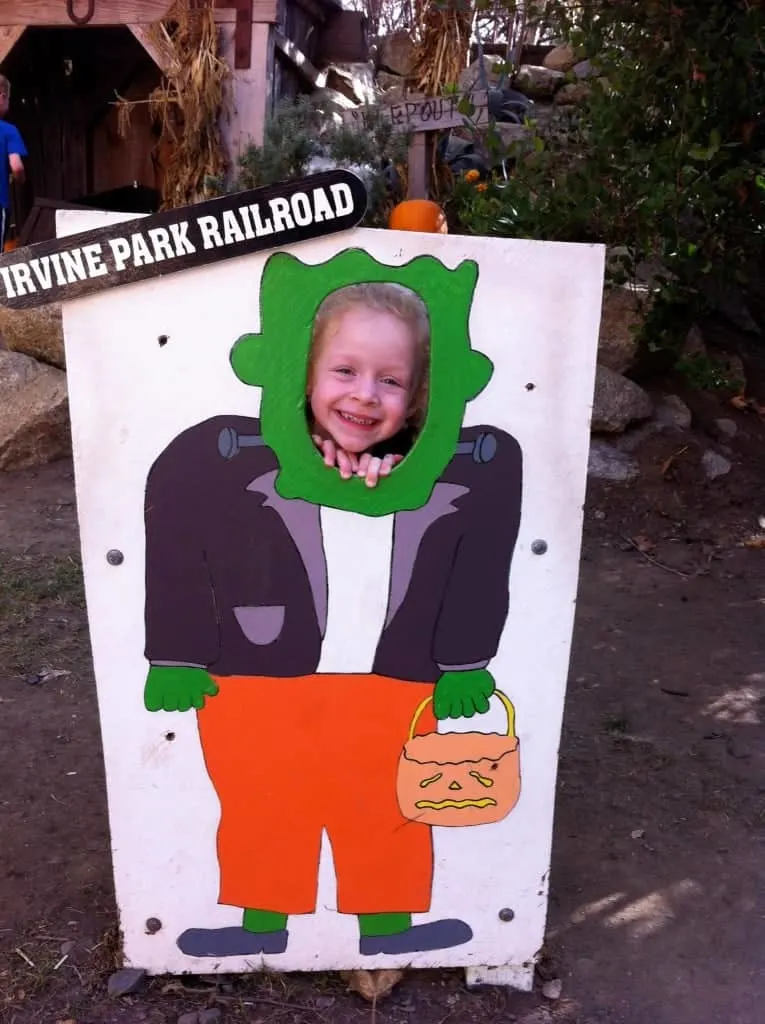 Tanaka Farms Pumpkin Tours, Irvine (9/21 – 10/30)
Have you ever picked your own pumpkin right off the vine? Tanaka Farms is one of the only farms in Orange County with a real pumpkin patch. There is a Drive-Thru Pumpkin Farm Experience and a U-Pick Pumpkin Experience with Wagon Ride option. Advanced registration is required.
Fall-O-Ween, Knott's Berry Farm, Buena Park (9/25 – 11/1)
Knott's Berry Farm introduces its newest family-friendly outdoor dining and retail experience celebrating the Halloween season and the flavors of Fall with Knott's Taste of Fall-O-Ween. Knott's pays tribute to the year's spookiest season with a Fall food event unlike any other. The spirit of Halloween comes to life with a cornucopia of Harvest and Halloween décor that will transform the park for the season.
Guests of all ages can dress up in their most festive costumes to experience one-of-a-kind themed food and treats, exclusive event merchandise including specialty items from local crafters, an all-new "Into the Fog" art show, and so much more. Plus included with a junior tasting card, young guests will have an opportunity to take a trip through the fully-themed Camp Snoopy Trick-or-Treat Trail presented by Hershey and Ralphs, loaded with multiple treat stations and special spooky decorations. All Knott's Taste of Fall-O-Ween activities will be conducted at a safe and socially distant space for families to enjoy.
Zoomar's at River Street Ranch, San Juan Capistrano (10/1 – 10/31)
A small petting zoo in San Juan Capistrano with a cute little pumpkin patch for kids. Great for toddlers and preschoolers.
Urban Legends Drive-thru Halloween Haunt, OC Event Center, Costa Mesa (10/1 – 11/1)
In the safety of your own car, you can enjoy a 45 minutes drive-thru where you will experience immersive story-telling and scary sets. You will be entertained by live performances through-out your drive, plus experience 3 interactive show zones and an immersive show of lights, sound, special effects with monsters coming alive. There are limited tickets and time slots. Advanced tickets required. Not recommended for children under 10.
Drive-in Movie on the Meadows, Vista Hermosa Sports Park, San Clemente (10/9)
The City of San Clemente is bringing MALEFICENT: MISTRESS OF EVIL to the meadows at Vista Hermosa Sports Park! Register your vehicle, for only $15. Each parking spot will be marked in advance with have 6ft of distance on both sides. Listen through your radio with an FM transmitter. Restrooms will be provided with continuous cleaning and monitoring.
Vehicle Pre-registration for your vehicle is required! Parking will open 90 minutes before the show and all vehicles must be in 15 minutes before showtime. Parking is first come, first served but will be checked in by time slots.
Spooky Halloween Train, Fullerton Train Museum (10/17)
Calling all ghosts and goblins! Come down to the Fullerton Train Museum between 9 a.m. & noon. Come in your best Halloween costumes and enjoy trick-or-treating, games, a coloring table, and photo opportunities. Beware, our very old rail conductor could be lurking behind a door or closet just ready to hand out treats!
Hocus Pocus Movie In Park, Bolsa Chica Park, Westminster (10/17)
Join us for a special movie in the park hosted by Neighborhood Real Estate Specialist Laura Rose Homes & Associates. They will be showing Hocus Pocus at 7 pm. Come in costume. Prizes for Scariest, Best Dressed Princess & Funniest. Contest will be 30 Minutes Prior to Movie Start
Enjoy complimentary popcorn and cotton candy while supplies last for attendees. Bring your own picnic and dine in the park before or during the movie. This is a free event.
Annual Fall Faire, Environmental Nature Center, Newport Beach (10/18) – Virtual
Join the fun at our 45th Annual Fall Faire! Embark on a virtual "Craft Crawl" and "Story Walk". Play virtual nature games, and watch performances around the virtual "Fire Circle Stage" by folks like Birdsong and the Eco-Wonders. Watch SavorOC cooking shows to learn how to prepare delicious, sustainable food from chefs at local restaurants. Decorate yourself in your best Fall Themed costume or face paint, post your photo on Instagram and tag it #2020ENCFallFaire for a chance to win awesome prizes!
Purchase a "Fall Faire To Go" bag and receive a pumpkin, goodies and recipes from the Savor OC Restaurant Showcase sponsors, an ENC bandana, native plant seeds, a nature tattoo, a children's nature book, materials to do a fun science experiment (the hidden colors in a leaf!), and to create a fall themed craft!
Drive-in Movie on the Meadows, Vista Hermosa Sports Park, San Clemente (10/23)
The City of San Clemente is bringing HOCUS POCUS to the meadows at Vista Hermosa Sports Park! Register your vehicle, for only $15. Each parking spot will be marked in advance with have 6ft of distance on both sides. Listen through your radio with an FM transmitter. Restrooms will be provided with continuous cleaning and monitoring.
Because it's Halloween weekend…we want to have a little fun! Dress up your cars in the best CARstume and enter the contest for a chance to win a prize! We can't wait to see how creative you will be!
Vehicle Pre-registration for your vehicle is required! Parking will open 90 minutes before the show and all vehicles must be in 15 minutes before showtime. Parking is first come, first served but will be checked in by time slots.
Boo At The Zoo, Santa Ana Zoo, Santa Ana (10/28 – 10/31)
Follow a fun Halloween trail through the Zoo during extended admission hours. You'll discover our "merry, not scary" decorations along the way, making this an activity the whole family can enjoy together, wearing family-friendly costumes and collecting goody bags for each child on the way out. Limited timed tickets must be purchased online only.
Festifall at City Hall, Old Town Orange Plaza Area, Orange (10/24)
During Festifall at City Hall households are invited to dress-up in your best Halloween costumes, bring along a decorated pumpkin, and help us turn our City Hall front lawn into a Pumpkin Patch. Then, everyone can "escape" the fun maze, grab a take-home craft (ssshhhh, it's a secret!), and take a spooktacular family picture at our Photobooth.
This all takes place on the front lawn at City Hall, 300 E. Chapman Avenue, with drop-in hours between Friday, October 23 and Thursday, October 29th.
Anaheim Fall Festival & Halloween Parade, The Promenade, Anaheim (10/24)
The Anaheim Fall Festival & Halloween Parade has moved to a drive thru event. There is also a home decorating contest, kiddie costume contest (even for pets!) and a pumpkin art contest.
Halloween Spooktacular Movie Night, Del Obispo Ball Field, Dana Point (10/24)
The City of Dana Point is hosting two showings of the movie the "Nightmare Before Christmas". One at 6:30 pm and one at 8:30 pm. Social distancing movie 12'x12' grass area for up to 8 people per household, with a 10' space between each area. Bring blankets, and beach chairs.
Come dressed in family friendly costumes. There will be Dana Point Sheriff's Trunk or Treat candy hand from 4:30pm – 9:30pm.
The Burger Monster Food Truck will be there from 4:30 pm to 9:30 pm, featuring delicious burgers, fries, and beverages for purchase. Free popcorn and candy for each child attending the movie and uutdoor walk through Halloween area.
Cops N' Goblins Spooktacular Halloween Drive-Thru Event, City Hall, City of Buena Park (10/30)
Bring your little goblins out for a drive-thru trick-or-treat experience! Decorated drive-thru, free candy, and social distanced fun to celebrate Halloween brought to you by your Buena Park Police Department and Community Services Department. RSVP required. This is a free event.
Drive-thru Trunk Or Treat, Saddleback Church, Lake Forest (10/31)
Saddleback Church invites you the their annual Fall Fest! This year we will have a safe, family friendly, drive thru only Trunk-or-Treat experience from 4 pm – 7 pm. This event is free to the community.
Family Halloween Events in San Diego
Haunted Aquarium Remix, Birch Aquarium (10/1 – 10/31)
Haunted Aquarium Remix takes the spooky science fun that the traditional Haunted Aquarium is known for and mixes things up outdoors with new animal encounters and activities geared for children ages 2 to 10, as well as fun decor for the whole family.
Upon entering, children – who are encouraged to wear costumes – receive a Discovery Booklet which includes self-guided explorations tied to Haunted Aquarium Remix activities. Young guests will have the opportunity to learn about and touch spooky creeps of the deep including slimy seaweed, several species of small sharks, and creepy, crawly critters like Sea Spiders. They will also enjoy the Haunted Kelp Maze, explore what happens when a whale "falls", and get up close with nautical nutrients, some of the tiniest critters at the aquarium.
Things That Go Bump In The Night Scavenger Hunt, California Botanic Garden, Claremont (10/3 – 10/31)
Put on your detective hat, and solve our Things that Go Bump scavenger hunt riddles to find the stations hidden throughout the Garden. The scavenger hunt will be up starting October 3 through October 31 during our regular operating hours, Tuesdays – Sundays from 8 AM – 6 PM. We are closed on Mondays. You can print a copy from our website, follow along with your smartphone, or pick up a copy at the admissions kiosk. Free with the cost of admission.
Drive-Thru Scream Zone: Road Kill, Del Mar Fairgrounds, San Diego (10/1-10/31)
San Diego's favorite fright fest, the Scream Zone, is taking the scares to the streets in Drive-Thru Scream Zone: Road Kill. The Scream Zone has been tempting terror-lovers for the past 23 years, but the 2020 event will take a whole new spin. To comply with COVID-19 health and safety protocols, guests will experience the frights from the dis-comfort of their own automobile. Vehicles will weave through a mile-long course transformed into scenes from classic horror films and the demented minds of the Scream Zone's imaginative creators.
At the Drive-Thru Scream Zone: Road Kill, the only roadside assistance coming to your aid is a triple threat of zombies, serial killers, and killer clowns.
SeaWorld Spooktacular, SeaWorld, San Diego (weekends, now thru 11/1)
Get your kids' costumes ready, because SeaWorld has spooky surprises and fall fun in store at SeaWorld Spooktacular! Playful characters and seasonal décor will catch your eye. Candy and other concoctions will treat your taste buds. And as always, the park will be alive with amazing animals to visit. It's all waiting for your family, with new safety procedures to put your mind at ease.
Halloween in Miniland, LEGOLAND California, (10/2-4, 9-11, 16-18, 23-25 & 30-31)
LEGOLAND® California Resort welcomes all families to join us for a Halloween-themed outdoor retail and dining experience every weekend in October! Enjoy festive LEGO® décor, distanced character meet-n-greets, and individual family activities that will be sure to get you into the not-so-spooky Halloween spirit.
Halloween Trail, Petco Park, San Diego (10/23 – 11/1)
Join us along the Halloween Trail at Petco Park, a socially distanced one-way Halloween-themed pumpkin patch in Gallagher Square where you will have the opportunity to visit various themed booths, collect candy and toys and partake in the spooky festivities
Upon entering the experience, families and their kids will navigate their way through the decorated pumpkin patch, stopping at booths along the way to collect their treats via contactless delivery. Trick-or-Treating can only be done with the Official Halloween Trail Trick-or-Treat Bag
Each booth will feature character favorites, special effects and themes including witches, pumpkins, superheroes, mermaids and more. Once guests have made their way through the pumpkin patch, they will be able to enjoy their candy, or other food and beverage available for purchase, while watching a Halloween movie from a socially distanced space.
Pumpkin Express, Pacific Southwest Railway Museum, Campo (weekends, 10/3 – 10/31)
Join the Pacific Southwest Railway Museum Association in their annual Pumpkin Express Halloween Celebration. Ride their decorated vintage railcars through the San Diego county mountains as fall descends upon Campo, CA. Walk through their themed Display Building complete with two haunted trains, a pumpkin patch, and our creepy cast of ghosts and ghouls.
Start your spooky day off right with a train ride. Trains depart from the Campo Depot at 11:00 AM, 1:15 PM, and 3:00 PM. The Pumpkin Express will wind down the hill through some of the most scenic parts of the historic San Diego and Arizona Railway. Keep your eyes open for the Grim Reaper who may be stowed away onboard.
After the train returns to the museum grounds, passengers will be let off at the Display Building where children and their parents will enjoy decorating pumpkins from their indoor pumpkin patch and a walk through one of their two haunted trains.
Julian Autumn Jubliee, Fort Cross Old Timey Adventures, San Ysabel (weekends, 9/19 – 10/25)
Fort Cross is a family owned and operated outdoor education center with a focus on hands-on activities. Every weekend beginning in September thru the end of October, they host the Julian Autumn Jubliee. Admission includes entry into their U-Pick Veggie & Pumpkin Garden.
Haunted Harvest, Fort Cross Old Timely Adventures, San Ysabel (10/2-3, 10/9-10, 10/16-17, 10/23-24 & 10/29)
Spooky evenings at Fort Cross will entail some seasonal spooky fun, if you dare including Jug Band Music, Ghost Stories, and Haunted Hayride. Prepaid group reservations are required. Event starts at 8:00 pm and costs $25 per person.
Happy Fall Field Tripping!
Jilleen
More Fall Events in Southern California
30+ Awesome Pumpkin Patches in Southern California
5 Tips for Apple Picking in Oak Glen
Where To See Fall Leaves in Southern California