This post contains affiliate links.
Here in Southern California, Halloween and fall fun abounds!  So let's get right to it and share with you 40+ family friendly Halloween events and fall festivals taking place across the southland this season.  Prices and dates vary.  Please visit individual websites for full details.  Happy Fall!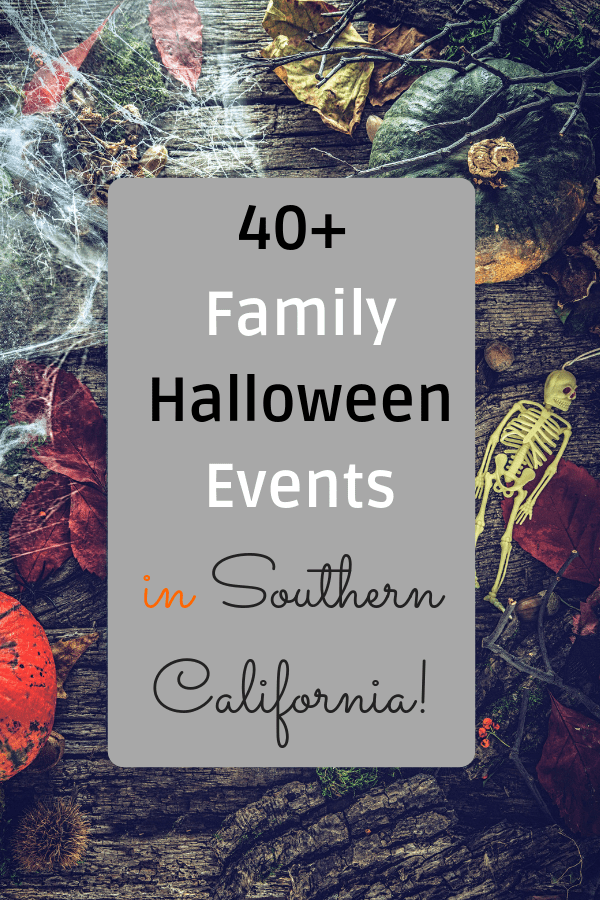 Family Halloween Events in Los Angeles
The Nightmare Before Christmas With 4-D Effects, El Capitan Theatre, Hollywood (10/23 – 10/31)
No October would be complete without settling in with a bag of popcorn to watch Tim Burton's stop-motion feature film The Nightmare Before Christmas. And there's only one way to see it that's worthy of this modern classic: at Hollywood's historic El Capitan Theatre and in 4-D! Bored with the same old scare-and-scream routine, Pumpkin King Jack Skellington longs to spread the joy of Christmas. But his merry mission puts Santa in jeopardy and creates a nightmare for good little boys and girls everywhere. Jack's adventures pop off the screen in Disney Digital 3-D, as Halloween Town comes alive with the help of special 4-D sensory effects, including lights, fog and scents, plus more wind and snow than ever before!
Happy Halloween House Family Show, Pico Playhouse, Los Angeles (10/6, 10/7, 10/13, 10/14, 10/20, 10/21 & 10/27)
A not-so-scary Halloween show, The Halloween House comes to Pico Playhouse. Come trick-or-treat and dance to the Halloween beat! Looking for something fun to do this October for the fall/Halloween season that leaves the scary element behind? Then bring the kids and come celebrate with a happy Halloween show experience! Join your favorite characters and some new ones in this fun, upbeat show! Bubble, bubble, toil, and trouble, what happens when you take one part not-haunted house, one part show and one part trick-or-treat and combine it all? The most fun family event of the season! Join your favorite characters and some new ones on a fall/Halloween adventure that will have you stomping your feet, dancing in your seat, feeling great and happy that it's pumpkin spice time! Kids are encouraged to wear their costumes!
Fall Harvest Festival, Forneris Farms, Mission Hills (9/29 – 10/31)
An annual pumpkin patch and Harvest Festival.  There are gorgeous varieties of pumpkins grown and harvested by the local farmers.  Get lost in their 4 acre Super Farmer Corn Maze or take a narrated tracotor tour around the farm.
Boo At The Zoo, Los Angeles Zoo & Botanical Gardens, Los Angeles (every day in October)
Treat the imagination at Boo at the L.A. Zoo, where you'll find spooktacular fun every day in October, and entertainment and activities – including live shows, special animal feedings, and themed photo ops – on weekends.  Costumes are encouraged. Don't miss trick-or-treating throughout the zoo on October 20/21 and 27/28.
Pumpkin Nights, Fairplex, Pomona (10/12 – 11/4)
At Pumpkin Nights, you'll discover the Forbidden Pumpkin City, a pirate's cove, and more fantastical lands built using over 3000 hand-carved pumpkins.  Tickets required.
A Faery Hunt's Musical The King of the Fairies, The LA Arboretum, Arcadia (10/13)
A Faery Hunt's Musical The King of the Fairies at the Arboretum Nickelodeon named A Faery Hunt – "Best Children's Theater in Los Angeles". Come and see why as they will be performing amongst the gardens and peacocks at the LA Arboretum! A Faery Hunt shows are interactive performances designed for young audiences and their families to inspire creativity, imaginations and fun. Fairy Godmother Careen will take the audience on a gentle adventure through the gorgeous gardens to help fairies find the true King of Fairyland!  With the help of the audience, the faeries and Daphne the seer, we will go on a musical quest filled with fun, laughs and surprises. Many children come in costume.
Slightly Spooky Stories, Descanso Gardens, La Mirada Flintridge (10/20, 10/21, 10/27 & 10/28)
Descanso favorite Ensemble Shakespeare Theater returns with a family-friendly retelling of your favorite Halloween stories. Enjoy a selection of stories that are funny, surprising, and slightly spooky.  Kids (and grown-ups) are encouraged to come in costume!
Calabasas Pumpkin Festival, Calabasas (10/20 & 10/21)
This festival takes place October 20 – 21, 2018.  Admission includes Inflatables & Giant Slide, Live Bands & DJ Zone, Contests & Saturday Morning Costume Parade, Reptile, Bugs & Nature shows, Youth Halloween Carnival, Business Expo, Car Show and Exhibits.  Pumpkins, pumpkin treats and halloween decorations are an additional price.
Halloween Family Night, Aquarium of the Pacific, Long Beach (10/26)
Dress up in your coolest costume and trick or treat through our exhibits with your family and friends. Our upcoming Halloween Family Night will offer a unique opportunity to explore the Aquarium, make a craft, learn about animal blood types, investigate touch pool animals, and venture into our famous Biofact Boneyard.
Halloween Fun, Leonis Adobe Museum, Calabasas (10/27)
Featuring Halloween family fun and crafts.  Costumes admired, not required!  Admission: $8 per person.
Sea Scare, Cabrillo Aquarium, San Pedro (10/27)
Sea Scare is washing ashore with lots of thrills and chills!  Sea Scare brings back all your favorite attractions like Trick-or-Treat Trail, Seaside Boardwalk, the Sea Scare Party Zone, and Skull Alley.  So come in costume and join in on the masquerade of ghosts and goblins, it's sure to be a frightfully good time for the whole family!
Harry Potter Escape Room, Camarillo Public Library, Camarillo (10/27 & 10/28)
Join the Camarillo Public Lirbary for a Harry Potter themed escape room experience in anticipation for the new Fantastic Beasts movie.  For teens ages 13-19.  Advance registration required.
Scarium of the Pacific, Aquarium of the Pacific, Long Beach (10/27 & 10/28)
Discover the creatures lurking in the depths at the Aquarium of the Pacific's nineteenth annual Scarium of the Pacific—a spooktacular, educational Halloween event for the whole family. Enjoy special Halloween programs, including the annual children's costume contest, creepy coloring contest, magic shows, underwater pumpkin carving, spooky storytelling, and kooky crafts, and meet eerie animals in the Great Hall.
Marina Spooktacular, Marina Del Rey (10/27 & 10/28)
Enjoy a scavenger hunt graveyard, a blackout maze of terror, trick-or-treating, Dia de los Muertos celebrations, DJ music, food trucks, and more all day.  Ongoing tours of the pirate ships will be less-scary in the daytime but haunted at night and recommended for ages 13 and up.
"Boo" Creature Camp Out, Los Angeles Zoo & Botanical Gardens, Los Angeles (10/27 & 10/28)
This Halloween, grab your sleeping bag and prepare to be spooked. Hear tales about various ghosts of the Zoo, make s'mores, and try not to scream… This creepy but fun program includes a guided nighttime tour of the Zoo that includes the colorful history of Griffith Park and its spectral inhabitants, plus interactive activities, early morning tour, and an animal presentation. Dinner, s'mores snack, and continental breakfast are included. This program is available to all families. If you love the natural and supernatural world, this is the perfect program for you! Apparitions not guaranteed.
The Nightmare Before Christmas Live Musical Performance, Hollywood Bowl, Hollywood (10/28)
Put on your most creative Tim Burton-inspired costume and head to the Hollywood Bowl, because composer-singer Danny Elfman is taking to the stage to perform the songs of his character Jack Skellington live during a special screening of Disney's timeless holiday classic, Tim Burton's The Nightmare Before Christmas, for the film's 25th anniversary. Elfman will be joined on the stage by original cast members Catherine O'Hara and Ken Page — reprising their roles as Sally and Oogie Boogie — and accompanied by a full orchestra and choir under the direction of Maestro John Mauceri. The iconic venue will be transformed into Halloween Town for the night, with special pre-show activities that include an audience costume contest and on-site trick-or-treating.
Halloween Tour, Heritage Square, Los Angeles (10/28)
Heritage Square welcome children ages 2-12 from 12 pm – 4 pm to play period games, make 19th century inspired crafts, choose a pumpkin for the pumpkin patch (while supplies last) and trick or treat at each of the museum's buildings.  Admission is $20 for adults, $15 for museum members and seniors over 65, $8 for children 6 to 12 years, and free for children under 6.
Family Halloween Events in The Inland Empire
Haunted Pirate Ship at Halloway's Marina, Big Bear (select dates, 9/15 – 10/31)
Ahoy mateys!  Board the Haunted Pirate Ship, sail Big Bear Lake and be prepared to be haunted by the real paranormal stories of Big Bear that will keep you looking over your shoulder for spirits, flying objects and more.  The 2 pm tour is great for families and rich in history.
Big Horse Corn Maze, Temecula, (9/29 – 10/28)
Every year Big Horse Feed & Mercantile holds an annual Harvest Festival for the month of October.  In addition to the ever-popular 11+ acre corn maze, they have a full slate of family-friendly attractions not seen anywhere in Southwestern Riverside County.  Weekend activities at the Big Horse Corn Maze includes their pumpkin patch, pony rides, hayride, pillow jump, animal sharing center, mini maze, pig races, high striker, rock wall, corn cannon, face painting, knockers balls, zip line, contests and much more.
Cal Poly Ponoma's Pumpkin Festival, Pomona (10/6 & 10/7)
Cal Polly Pomona's Pumpkin Patch is known as one of the largest in California.  Over 40,000 Cal Poly grown pumpkins fill the huge patch.  Best of all every pumpkin, big or small, is only $5!
This year's pumpkin festival is on October 6-7, 2018.   The popular Hay Wagon Ride is back for $3 out by the Corn Maze.  Take a fun Tractor-Pulled Wagon Ride around the Maze and Pumpkin Field with a College of Ag tour guide to answer your questions.  Keep an eye out for our local wildlife, rabbits and squirels, and learn about the new Apiary class at Cal Poly Pomona.  The Kid's Pumpkin Patch and Farm Kids Activity Zone have been expanded them with more Old-Time games and activities.  They've also added a mini Kids Corn Maze, perfect for the little ones!
Pumpkin Patch Express, Orange Empire Railway Museum, Perris (10/13, 10/14, 10/20, 10/21, 10/27 & 10/28)
Take a ride to adventure to the Pumpkin Patch – select and decorate your own pumpkin to take home, visit the petting zoo, enjoy Nick & Jan kids' concert and ventriloquist performing on stage, and Mister Twister the balloon guy. Go on a hayride, jump on a trolley for a ride around campus, Take part in kids crafts, the hay maze, visit the coloring station, temporary tattoos and stickers, bounce house, cookies and cider, scavenger hunt, and trick or treating! New this year – the SPOOKY CABOOSE. And kids, don't forget to wear your Halloween costumes for the Costume Contest!  Advanced Ticket Purchase is recommended to reserve your preferred departure dates and times.
Pumpkin in the Pines, SkyPark at Santa's Village, Crestline (10/20, 10/21, 10/27 & 10/28)
SkyPark at Santa's Village is hosting Pumpkins in the Pines, a truly unique family fall festival in October.  The event includes:
Pumpkin Patch
Pumpkin Painting
Scavenger Hunt & Pumpkin Hunt
Trick or Treating
Fall Face Painting
Northwoods Characters Experiences
Artisan Vendor Fair
Fall Flavors & Games

And More!
Admission to Pumpkins in the Pines gives guests access to all of the attractions at SkyPark at Santa's Village as well!  This means you can zipline, shoot arrows at the archery range, rock climb, ride the pedal cars, mountain bike, and more all for one low price.
Kids and Crafts Fall Fair, Lil' Miss Short Cakes, Temecula (10/27)
Lil' Miss Short Cakes is excited to be hosting their Second Annual Fall Fair!  There will be local food trucks and food vendors along with all of their yummy sweets to satisfy all of your cravings.  Come check out their 3000 square feet filled with artisan vendors to help you get a jump start on your holiday shopping.  Don't for get the kids!  There will also be a pumpkin patch where every pumpkin is $6 or under, a bounce house for their wiggles, crafts, games, and even a cake walk.  Be sure to encourage your little ones to come in their Halloween costumes so they can trick or treat with the vendor booths as you shop.
Boo In The Zoo, Big Bear Alpine Zoo, Big Bear (10/27)
Bring your children (and yourself) to the Big Bear Alpine Zoo's "Boo in the Zoo!" dressed in costumes for this special afternoon of Tricks 'n Treats.
Howl-O-Ween, The Living Desert Zoo & Gardens, Palm Springs (10/27 & 10/31)
Visitors are encouraged to dress up in their favorite costumes and enjoy the exciting activities planned.  Howl-O-Ween attendees under 12 are encouraged to bring a reusable bag to hit the trick-or-treat trail with a large variety of treat stations.  Howl-O-Ween visitor ghosts, goblins, and super-heroes can visit the park's African animals– trick or treat with the cheetahs and zebras, say boo to the warthogs, and wander through Village WaTuTu.
Additional activities include pumpkin bowling, pumpkin decorating, face painting, a monster maze, live entertainment and more. Zookeepers will provide special animal encounters and The Living Desert's zoo mascots will also be making appearances throughout.
Trick-or-Treating, Downtown Redlands, Redlands (10/31)
The City of Redlands will again provide safe trick-or-treating and storytelling in Historic Downtown Redlands this Halloween, Oct. 31, from 3 to 4 p.m.  City volunteers and Downtown storefronts will be distributing candy while supplies last.  Come join in on the fun festivities then walk to one of their delicious Downtown eateries for dinner.
Family Halloween Events in Orange County
Pageant of the Monsters: Raiders of the Lost Art, Laguna Beach (10/26-10/28 & 10/31)
Just when you thought it was safe to go backstage, the Festival of Arts and Pageant of the Masters brings a monster of a good time back to Laguna Beach! This only happens every five years, so you'll want to enjoy this latest experience while you can! Pageant of the Monsters is a frightfully fun time with ghoulish tricks and treats, and a haunted house with an artistic twist located within the Pageant's backstage area.  This year's theme is "Raiders of the Lost Art," and will send trick-or-treaters on a treasure "haunt" through the workshop labyrinths and behind-the-scenes catacombs.  The Festival of Arts grounds will be filled with Halloween-themed art activities, music and other "spook-tacular" surprises.
Mickey's Halloween Party, Disneyland Resort, Anaheim (9/19 – 10/31)
Spirit away for a frightfully delightful good time—from costumed Character encounters to themed attractions, creepy eats, bewitching entertainment and more!
Tanaka Farms Pumpkin Tours, Irvine (9/22 – 10/31)
The Tanaka Farms Pumpkin Patch is open every day, September 22 – October 31.  Monday thru Friday, they have a continuous wagon ride, petting zoo, corn maze, sunflower field, U-Pick vegetable patch and acres of traditional pumpkins to choose from.  Every Saturday and Sunday in October, they also have games, ATV rides, face painting, the Pumpkin Cannon, food and interactive activities for kids.
Knott's Spooky Farm, Buena Park (9/29 – 10/31)
Knott's Spooky Farm is a daytime non-scary celebration of cheer rather than fear with shows and activities geared for kids ages 3-11.  Families are invited to participate and join in the Halloween fun at 5 different areas within the park – Ghost Town, Calico Park, Fiesta Village, Boardwalk Ballroom and Camp Snoopy.   This special limited-time event serves up live entertainment, trick-or-treating, a costume contest and exclusive festivities tailored just for the little ones.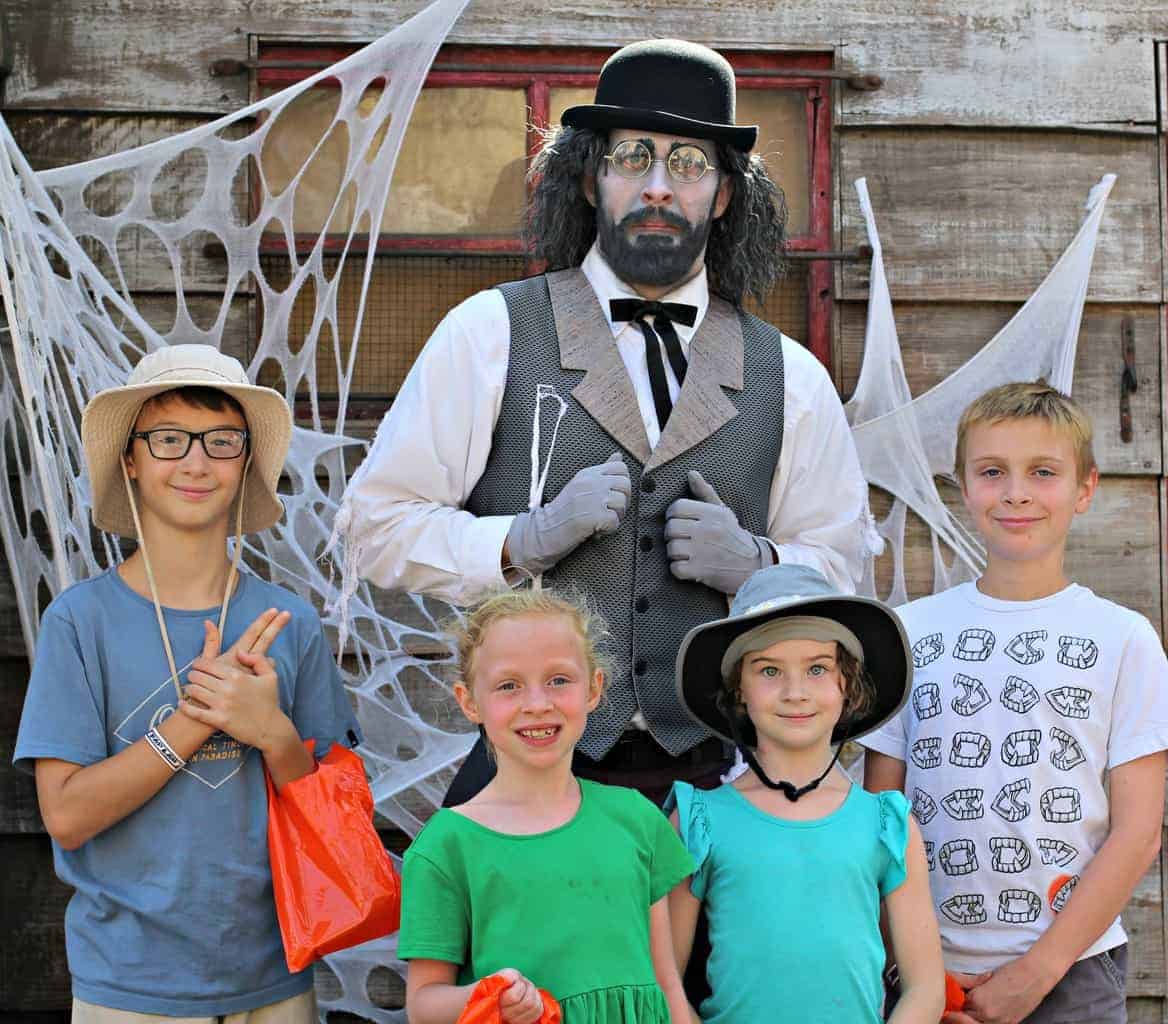 Zoomar's Petting Zoo, San Juan Capistrano (10/1 – 10/31)
A small petting zoo in San Juan Capistrano with a cute little pumpkin patch for kids.  Great for toddlers and preschoolers.
Annual Fall Faire and Pumpkin Patch, Environmental Nature Center, Newport Beach (10/14)
Come and join the fun at the Annual Fall Faire and Pumpkin Patch!  There will be face painting, a presentation by Birds of Prey, pony rides, crafts, games and more.
Irvine Park Railroad Pumpkin Patch, Irvine (10/1 – 10/31)
The Irvine Park Railroad Pumpkin Patch's activities include train rides, hay rides, panning for gold, a child-friendly haunted house, a hay maze, a moon bounce, pumpkin ring toss, carnival games, cookie decorating, John Deere tractor racers, face painting, picture stands, great food and a lot more.  The Pumpkin Patch also has thousands of pumpkins in all shapes and sizes to choose from.
Autumn Harvest Festival, Heritage Hill Historical Park, Lake Forest (10/6)
The Halloween adventure arrives early this year at the Autumn Harvest Festival. The park will once again be costumed and dressed as an adventure filled festival. Some of the attractions will include The Superhero Village, The Under the Sea Adventure Maze, "Harry Potter's School House", and Storytelling Adventures.  The adventure does not stop there because there will. be games, face painting, costume parade on stage, the ever popular "Lake Forest All-Stars Glow Party", Princess Pumpkin Patch and a movie screening of "The Great Pumpkin Charlie Brown." Don't forget to stop by all the trick or treat stations. So come ready in costume with trick or treat bag in hand as the adventure will take you places beyond your imagination. Fee: $5 Adults & Children 3 years and older. Children 2 years and under are free.
Pumpkin Express, Pacific Southwest Railway Museum, Campo (weekends, 10/6 – 10/28)
Join the Pacific Southwest Railway Museum Association in their annual Pumpkin Express Halloween Celebration.  Ride their decorated vintage railcars through the San Diego county mountains as fall descends upon Campo, CA.  Walk through their themed Display Building complete with two haunted trains, a pumpkin patch, and our creepy cast of ghosts and ghouls.
Start your spooky day off right with a train ride.  Trains depart from the Campo Depot at 11:00 AM, 1:15 PM, and 3:00 PM.  The Pumpkin Express will wind down the hill through some of the most scenic parts of the historic San Diego and Arizona Railway.  Keep your eyes open for the Grim Reaper who may be stowed away onboard.
After the train returns to the museum grounds, passengers will be let off at the Display Building where children and their parents will enjoy decorating pumpkins from their indoor pumpkin patch and a walk through one of their two haunted trains.
Orange County Great Park, Irvine (10/13 & 10/14)
Register in advance to attend Orange County Great Park's Spooktacular Fun Days 2018!  Enjoy traditional family-friendly fall activities such as a pumpkin patch, trick or treating, kids crafts, a petting zoo, carnival games, gourmet food trucks and much more.  Families are encouraged to come in costume.
Boo At The Zoo, Santa Ana Zoo, Santa Ana (10/20, 10/21, 10/27 & 10/28)
A "Merry not Scary" family friendly event where everyone is encouraged to come in costume.  One of the safest places for children (ages 2-12) to trick-or-treat for Halloween enjoying goodies from 10 different treat stations throughout the Zoo providing a variety of toys, books, snacks, and candy.  There will also be animal presentations, a costume parade, storytelling, ride the "Boofari" Express Train, "Teen Scream" Haunted House (a separate area, included in the price of admission).  Free parking.
Treats In The Streets Autumn Festival, Old Town Orange Plaza Area, Orange (10/25)
This free community event includes games, trick or treating with local merchants, a costume parade, and entertainment for participants of all ages.  Local non-profit groups also provide delicious food items and tasty treats for a nominal charge.
OC Zoo's Halloween Zoo-Tactular, Irvine Park, Orange (10/27)
Activities include trick-or-treating, spooky kids crafts, a scavenger hunt, and fun games!  The first 100 children (ages 12 & under) in costume will receive a free gift!  Come see the zoo animals receive treat-filled pumpkins throughout the day.  Activities are free with paid zoo admission ($2 per person, ages 2 & under free).
Hometown Halloween, Norman P. Murray Community and Senior Center, Mission Viejo (10/27)
Celebrate this fall holiday with themed carnival games, crafts, music and much more from 4 pm to 6 pm. Then from 6 pm to 7 pm, it's fun or fright as you travel through their glowing haunted maze.
Family Halloween Events in San Diego
Halloween Spooktacular, SeaWorld, San Diego (weekends, 9/22 – 10/28)
Halloween Spooktacular is one of San Diego's biggest fall festivals, with weekends brimming with family fun. Get in the spooky spirit and catch popular live shows like Clyde & Seamore's Big Halloween Bash and the all-new Sesame Street Halloween Parade, join delightful Halloween dance parties and let the little ones trick-or-treat throughout the park in a safe, family-friendly environment. Oh, and be on the lookout for singing pumpkins in the park.  Trick-or-Treat hours run from 12 p.m. to 6 p.m.  Over 2 million free treats!
Brick-or-Treat Party Nights, LEGOLAND California, Carlsbad (9/29, 10/6, 10/13, 10/20 & 10/27)
Brick-or-Treat Party Nights is filled with Live Entertainment, Character Meet and Greets, Costume Contest: Group, Heroes and Villians, and LEGO®, Treat stations with more than 1 million pieces of candy and Clif Kid Treats, Heartlake City Fall Festival with Pumpkin Patch Build and craft time with the LEGO Friends, The AstroBash Dance Party, Brick-or-Treat Party Nights Pop Badge Challenge and more!  Plus, don't miss candy, decorations and your fishy friends at SEA LIFE® Aquarium included with your Party Nights ticket.
Underwood Family Farms, Moorepark & Somas (9/29 & 9/30)
Underwood Farmily Farms' Fall Harvest Festival takes place on Saturday, September 29 and Sunday, September 30.  Weekend Festival admission includes tractor-drawn wagon ride, corn maze, corn stalk labyrinth, Pig Races, Animal Show, Pumpkin House, Pumpkin playhouse, live music and entertainment, access to Pick-Your-Own fields and Pumpkin Patch, Animal Center including Bee Barn, hay pyramids, Fun Hill, Kid's Corral, Farmer Craig's Chicken Show, Combine Slide and more!
Boomont & Fall Festival, Belmont Park, San Diego (every Friday & Saturday in October & on 10/31)
Returning for its 6th season, Boomont and Fall Festival rises from the dusk as Belmont Park transforms with festive fall thrills and chills throughout the beachfront amusement park, offering Halloween and fall-themed festivities for guests of all ages.
Fort Cross Old Timey Adventures, San Ysabel (select weekends in September thru the end of October)
Fort Cross is a family owned and operated outdoor education center with a focus on hands-on activities.   Every weekend beginning in September thru the end of October, they host the Julian Autumn Jubliee.  Admission includes entry into their U-Pick Veggie & Pumpkin Garden.
Suzie's Farm, Imperial Beach (10/18)
Join Suzie's Farm on Saturday, October 18 from 10am-4pm for Pumpkin Palooza, their annual Pumpkin u-pick event.  They have over 10 varieties of pumpkins planted in our pumpkin patch, so there's guaranteed to be a perfect pumpkin with your name on it. All pumpkins are priced at $2.00/lb.
Halloween Family Day, Balboa Park, San Diego (10/27)
The region's largest free Halloween carnival celebrates its 10th year of giving families a fun, safe, and culturally inspired kickoff to their Halloween activities. Over two dozen participating museums and cultural attractions will present free craft projects for kids, costume parades, and tons of spooky surprises while participating museums offer free admission to children 12 and under with paying adult.
Haunted Aquarium, Birch Aquarium, La Jolla (10/26 – 10/27)
Enjoy close encounters with Scripps Institution of Oceanography scientists and search the galleries for unusual underwater creatures rarely seen at Birch Aquarium..  Discover a sea of glowing beasts (big and small), get sticky with slime, and enjoy spooky stories, all while boo-gieing down to live music and having a monstrously good time.  Recommended for ages 2+.
Owl-O-Ween, The Living Coast Discovery Center, Chula Vista (10/31)

Nothing's as spooky as Owl-O-Ween at the Living Coast Discovery Center.  And by spooky, it means fun, hands-on, and sometimes gross!  Put on your Halloween best and explore the Sweetwater Marsh at night as you trick-or-treat on the trails.  With over 10 trick-or-treating stations, fun crafts, and lots of cool giveaways – your little pumpkin is sure to have a Halloween to remember.  And do not forget to check out the Sea Monster Mash for dancing, snacks, and costume contests with cool prizes.  Help the center celebrate everything October as you learn about cool, creepy critters and even get to meet a few!
Halloween at the Museum, The New Children's Museum, San Diego (10/31)
Come get spooky at the Museum and visit their "Haunted Home".  The Museum will feature tons of wicked Halloween activities for all ages.  Don't forget to wear your Halloween costume!
Happy Fall Field Tripping!
Jilleen
More Family Halloween Events in Southern California
30+ Awesome Pumpkin Patches in Southern California
5 Tips for Apple Picking in Oak Glen
Where To See Fall Leaves in Southern California