Two of my most favorite things are coming together just in time for summer, Candy Crush and Yogurtland Frozen Yogurt!
I have been addicted to frozen yogurt ever since I was a kid.  Frozen yogurt was all the rage back in 80's.  So very day after school like clock work, my mom would take my best friend Shawna and I to get some frozen yogurt at the local yogurt shop.  I especially loved eating all the chewy toppings on top!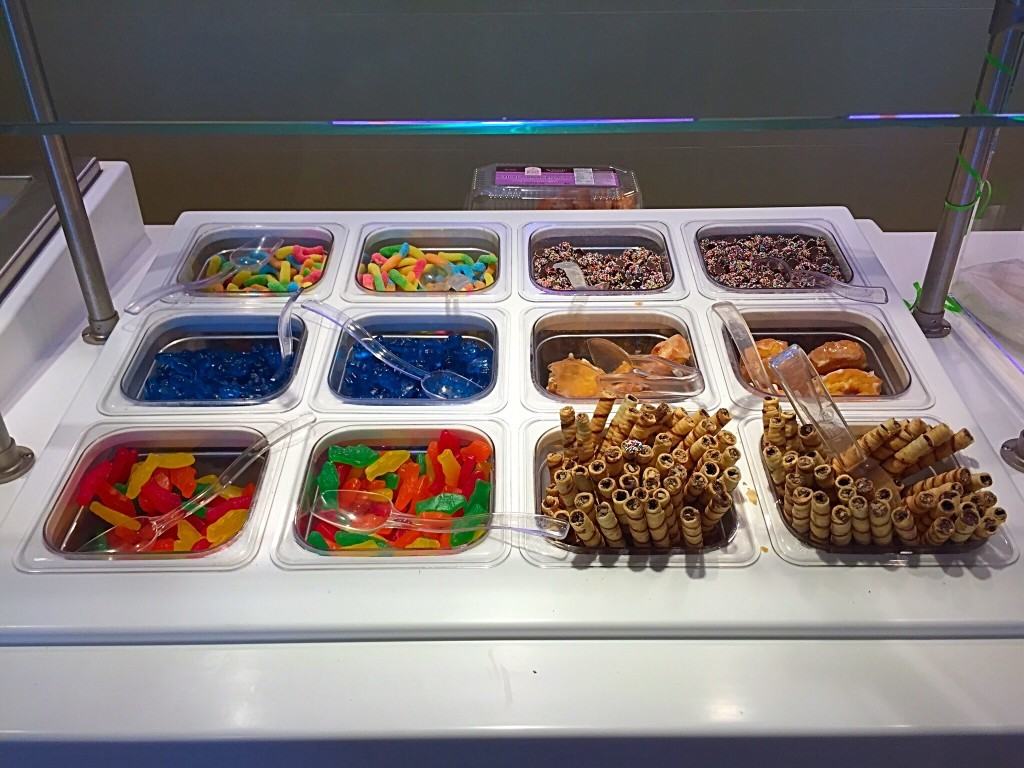 Through the years, my obsession with frozen yogurt continued, even when frozen yogurt was hard to come by!  So you can imagine how happy I was when it made a comeback in the 2000's!  So much so, that I passed along my obsession with frozen yogurt to my children!
You see, while I was pregnant with my youngest child Bailey I suffered from horrible morning sickness.  Frozen yogurt became my solace!  I often sought comfort in frozen yogurt and a good game of King's Candy Crush on my phone.
If you've never played Candy Crush, you should definitely join Tiffi and Mr. Toffee in their sweet adventure through the wonderful Candy Kingdom.  You can switch and match your way through what seems like endless levels in this delicious puzzle adventure.  Take on this deliciously sweet saga alone or play with friends to see who can get the highest score!
Last week, SoCal Field Trips was invited to Yogurtland's Candy Crush flavors summer kick off party at their corporate headquarters in Irvine, California.   My daughter Bailey and I were thrilled to try out all the new Candy Crush-inspired flavors and toppings that are being unveiled at Yogurtland locations starting this week!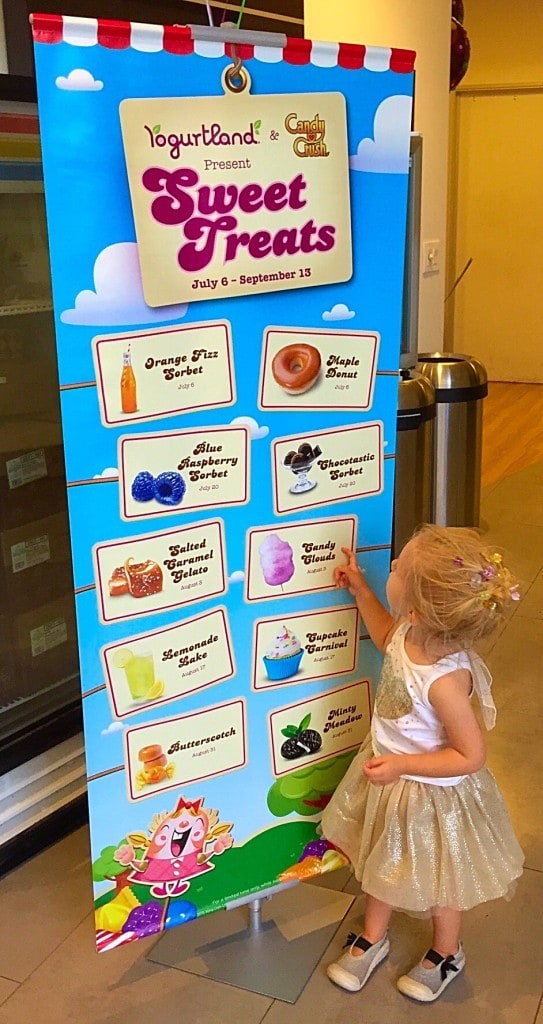 At the party we played games, took pictures in the photo booth and recived some great gifts.  We even got to meet Yogurtland's chief Flavorologist.  It is such a fun job, I wish I had become a chemist in college!
Bailey especially liked the new cotton candy flavored Candy Clouds covered with gummies!
I was in heaven with the new Maple Donut, Salted Caramel Gelato and Choctastic flavors!  Sorbet with cookies and served with a donut on top.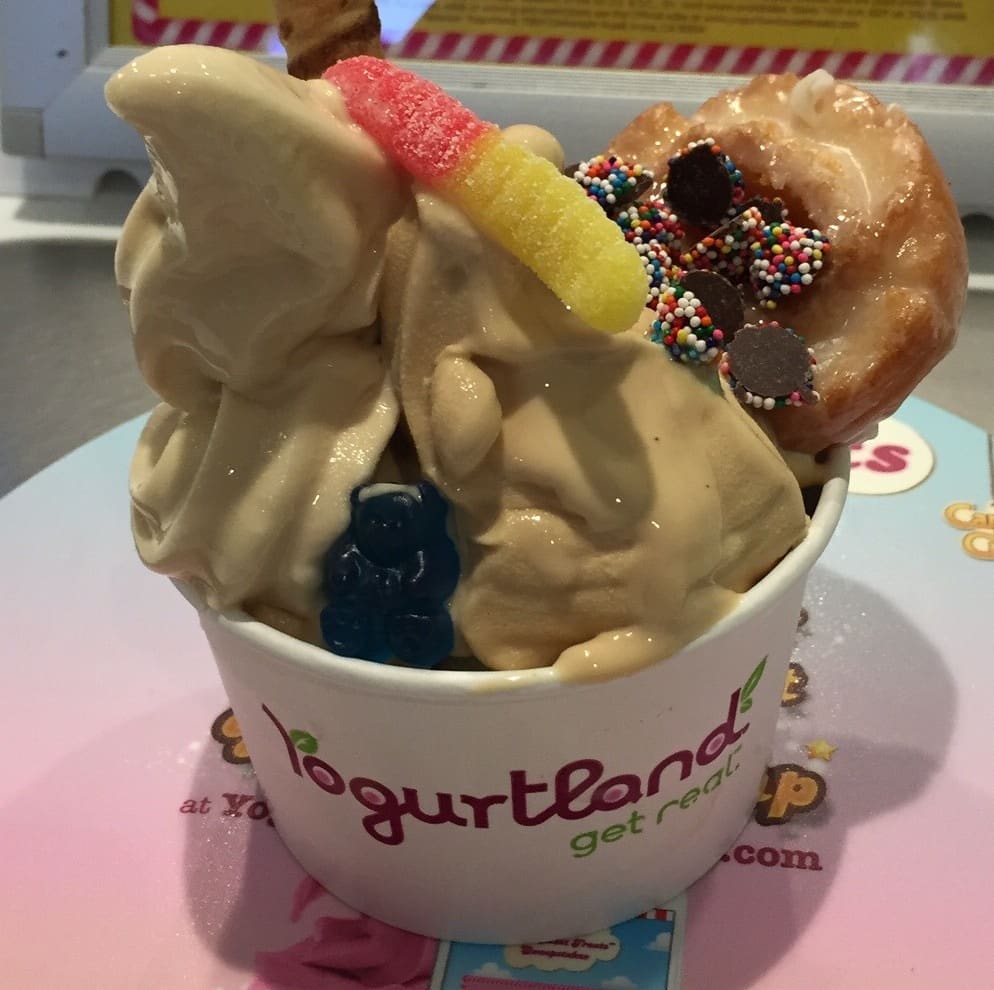 Check out Yogurtland's amazingly new flavors for yourself:
Orange Pop Soda: Swap your straw for a spoon and dip into this delicious flavor made with real oranges and packed with vitamin C for a Sugar Crush Flavor
Maple Donut: Combines the warm doughy magic of a maple donut into a creamy delicious treat
Blue Raspberry Sorbet: Found only in the Lollipop Meadow until now , Real Rasperries are swirled together for this flavorful gem.
Candy Clouds: Perfectly pink swirls of sweet and airy goodness blend to make this delicious cotton candy flavor
Lemonade Lake: A flavor so fresh and thirst quenching, you'll want to dive into it. A delicious summertime mix of sweet and tart that goes swimmingly together
Cupcake Carnival: Bask in the creamy sweet goodness of the cupcake circus! This smooth, yellow cupcake batter flavor will make you crave the Big Top.
Butterscotch: Straight from the candy dish comes a flavor that combines real caramel and real butterscotch for a Stickylicious taste you can't beat.
Minty Meadow: Real peppermint mixed with real cocoa will whisk you away to a refreshing jaunt past the Peppermint Palace down to the mint meadow.
Salted Caramel Gelato: The Caramel Cove is the birthplace of this richly perfect gelato made with real caramel
Chocotastic! Sorbet: We climbed the cliffs of the exotic Chocolate Mountains to find rich, real chocolate for our Chocotastic Sorbet
Yogurtland's Candy Crush flavors kick off on July 6th and goes through September 13th.  Be sure to look for their adorable Candy Crush collectible spoons and cups too!   They are also featuring an instant win sweepstakes as part of this promotion.
Now enter for a chance to win a $30 Yogurtland Gift Certificate to try out the new flavors!
US Residents Only.  No purchase necessary to enter.  One winner will be randomly selected via RaffleCopter and notified via email.  Winner must respond within 48 hours to claim the prize or a new winner will be chosen via RaffleCopter.  The prize will be fulfilled by the sponsor and arrive within one week after being selected.
Don't miss the fun-filled celebration with Candy Crush at Yogurtland!
Disclosure:  SoCal Field Trips was invited to a media event to help facilitate this post.  All points of view are my own.  This post has been written by Windi Eklund on behalf of SoCal Field Trips. #YogurtlandSweetTreats #YogurtlandCandyCrush