See's Candies Grand Opening at Fashion Island in Newport Beach!
written by SoCal Field Trips Contributor Windi
Last night, my mom and I got a sneak peek behind the scenes of the new See's Candies store opening on Friday, November 14 at Fashion Island in Newport Beach. 
We were anxiously awaiting for the event to start with dreams of creamy chocolate goodness in our minds.  See's Candies sells over 26 million candies per year, and after attending the grand opening at Fashion Island, my mom and I may make it 27 million!
See's Candies are American made from the finest, freshest ingredients since 1921.  With over 100 choices and free samples for every guest who visit the store, you are deemed to find something sweet to savor.  See's Candies features five of Mary See's original chocolate recipes including the Bon Bon, Maple Walnut Cream, Chocolate Walnut Fudge, or Victoria Toffee.
See's Candies top five best sellers are Bordeaux, Scotchmallow, Almond buds, Pecan buds and California Brittle.  However, my favorite candy is their Milk Patties because you get two in every cup.  I am always up for a good deal!
See's Candies have been a long standing tradition in my family.  We thoroughly enjoy a Bordeaux Egg on Easter, a foil wrapped Turkey on Thanksgiving, and pass around their two-pound box of assorted chocolates on Christmas.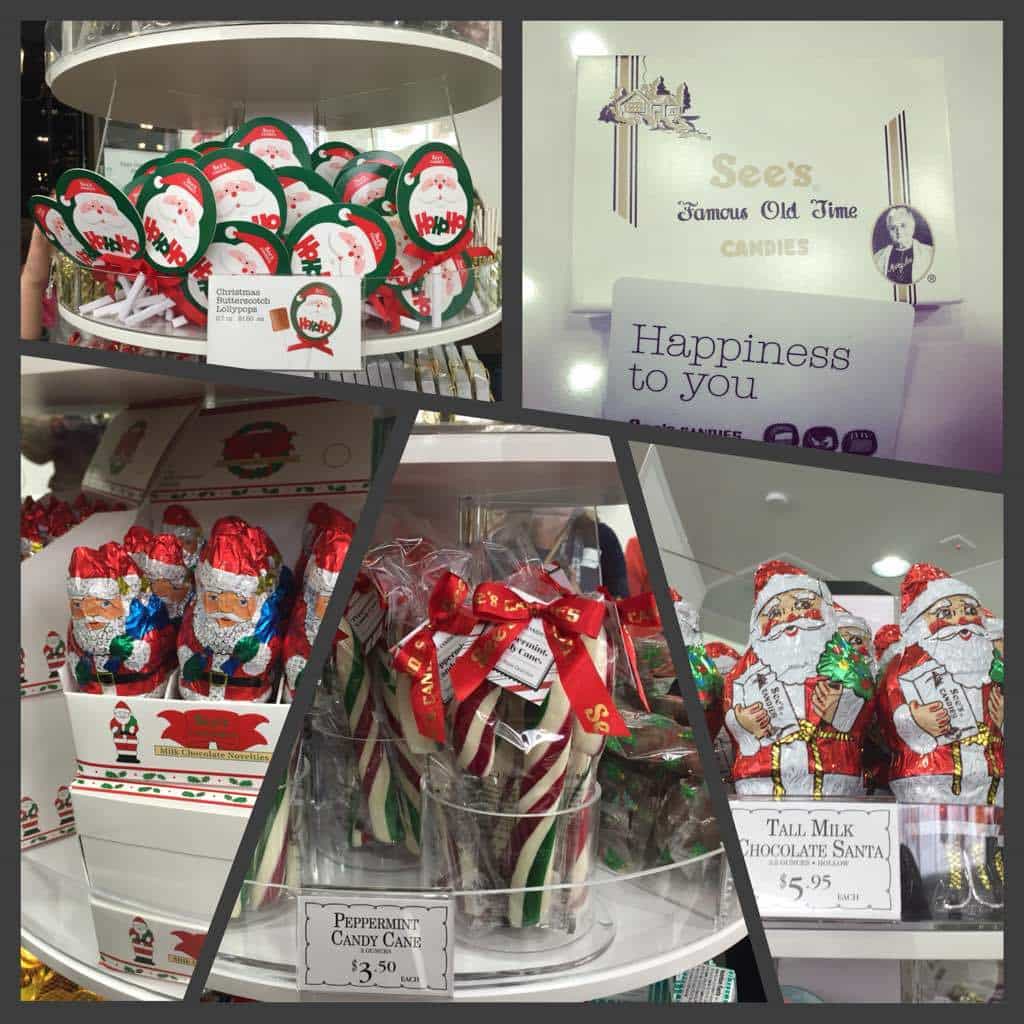 See's Candies has a variety of pre packaged and cute gifts for the holidays for everyone on your list.  They even have a miniature See's Candies Box that is included in your gift card purchase.  Do you have family out of state?  See's Candies is currently offering a $5 flat rate shipping or FREE Shipping on all orders over $65 this holiday season.
One of my favorite I Love Lucy episodes titled Job Switching was filmed at the See's Candies factory right here in Southern California.  It is fun to watch Lucy and Ethel make a disaster of the candy production line!  Plus I have always wanted to take a tour of the See's Candies Factory, but it is no longer open to the public.
Therefore, attending the See's Candies grand opening and watching the I Love Lucy episode and Huell Howeser's, California's Gold episode #908- See's Candy, will have to do for now!
Join See's Candies for their Grand Opening Celebration this Friday, November 14th at the new See's Candies store located by Macy's between XCVI and Letarte in Fashion Island.
The new store is located at 401 Newport Center Drive, Suite 135, Newport Beach, CA 92660.
Happy Field Tripping!
Windi
Disclosure:  SoCal Field Trips was invited to a media event by See's Candies.  All opinions are our own.