Updated for 2021
If you're looking for something safe to do with your family this holiday season that has proper social distancing in place, then this list of The Best Drive Thru Holiday Light Displays in Southern California is for you. There's a new way to do the slow-roll-by-lights tradition, and it involves the same pop-up drive-thru that concluded the 2021 Halloween season.
From drive thru Christmas light displays to drive thru Nativity scenes, SoCal Field Trips has the best events of the season right here. One piece of advise though; order your tickets now because these drive thru holiday events in Southern California will sell out fast.
Best Christmas and Holiday Drive Thru Light Displays in Southern California
Light of the World, Saddlebacks Church, Lake Forest (Walk Thru)
It's almost time! Feel the magic that comes with being together during Saddleback's annual Christmas lights experience! During this walk-through event, share the joy of community while strolling through Christmas-themed lands, like Candy Can Lane, Carol of the Bells and Starry Night.
Spread some early Christmas cheer and let your friends and know about this free evening of Christmas music, bright lights, and endless fun!
Light of the World will be happening from December 2-19 at Saddleback Lake Forest. Great ready, reservations open on November at saddleback.com/lights.
Magic of Lights, Angels Stadium, Anaheim (Drive Thru)
Magic of Lights at Angels Stadium in Anaheim is a vibrant drive-thru, holiday themed light display coming this holiday season, beginning on Friday, November 19 through Sunday, December 26.
Produced by FunGuys Events, "Magic of Lights" will make its Southern California debut at Angel Stadium, featuring dozens of displays, illuminated canopies, and digital animation, all constructed with thousands of individual LED lights.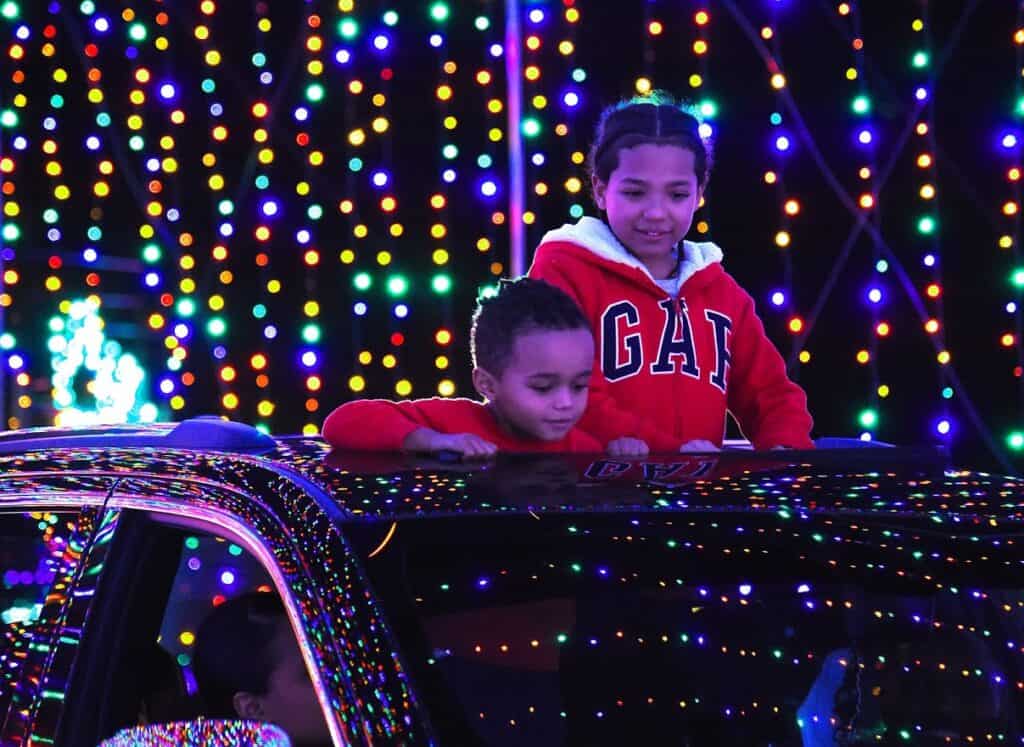 Holiday Road, King Gillette Ranch, Calabasas (Walk Thru)
Holiday Road at King Gillette Ranch in Calabasas is the premiere holiday attraction. Expansive grounds filled with eye-catching, twinkling lights and festive installations will welcome visitors as they meander through the winding trail in each city. Guests will be transported into a winter wonderland complete with everything from the North Pole, Elf Village, Gingerbread Lane, light tunnels, Christmas tree forests, and much more!
Holiday Road takes place from Dec. 3-31, and is open daily from 5:00 pm to 10:00 pm.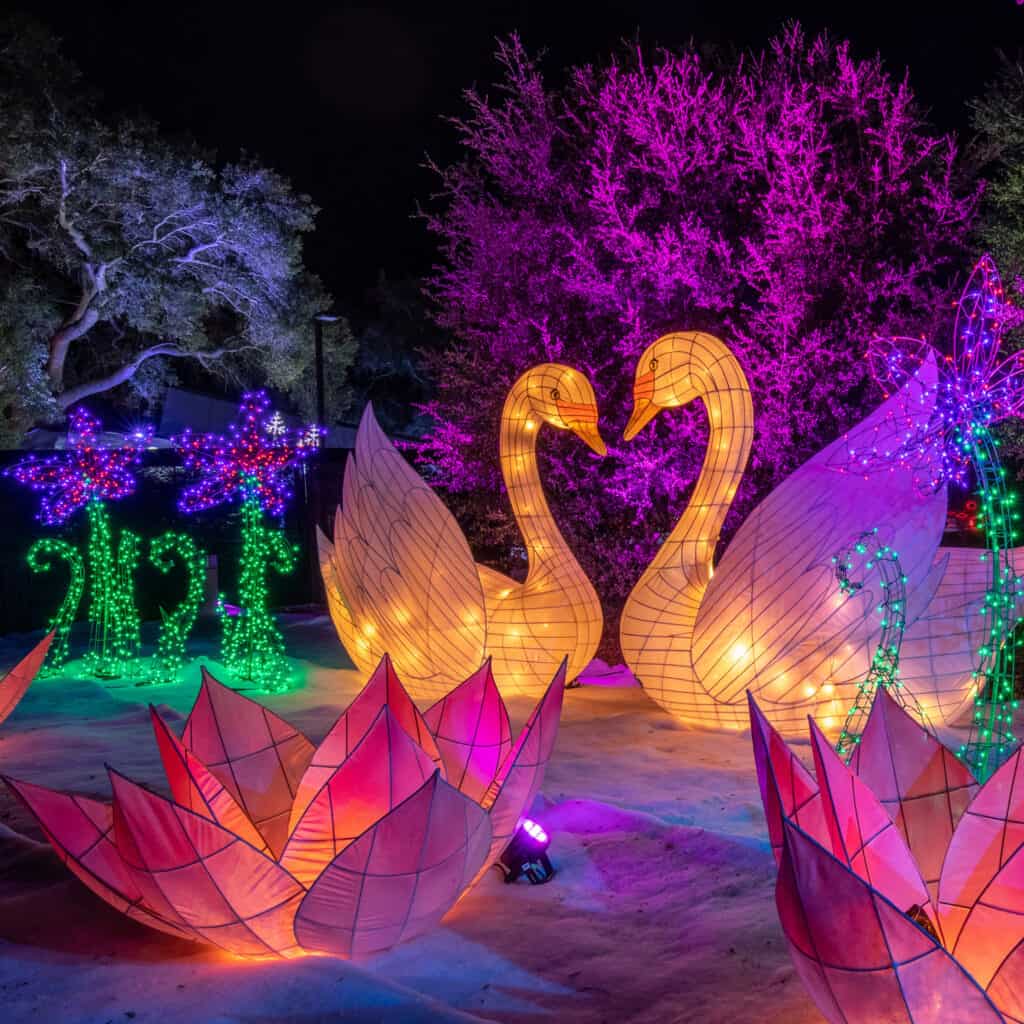 Christmas in Color, San Dimas (Drive Thru)
Load up your friends and family into the van (or car, or truck) and experience Christmas like never before at Christmas in Color in San Dimas! Drive through acres of more than 1.5 million lights perfectly synchronized to holiday music you'll hear right through your radio.
You'll drive by giant candy canes, snowmen, arched pathways and more. With so many incredible attractions and acres of land to view, you'll want to take your time driving through this Winter Wonderland. And starting at $30 per car, this is sure to become an instant family Christmas tradition. The price does not increase by the number of people in your car, so the more the merrier!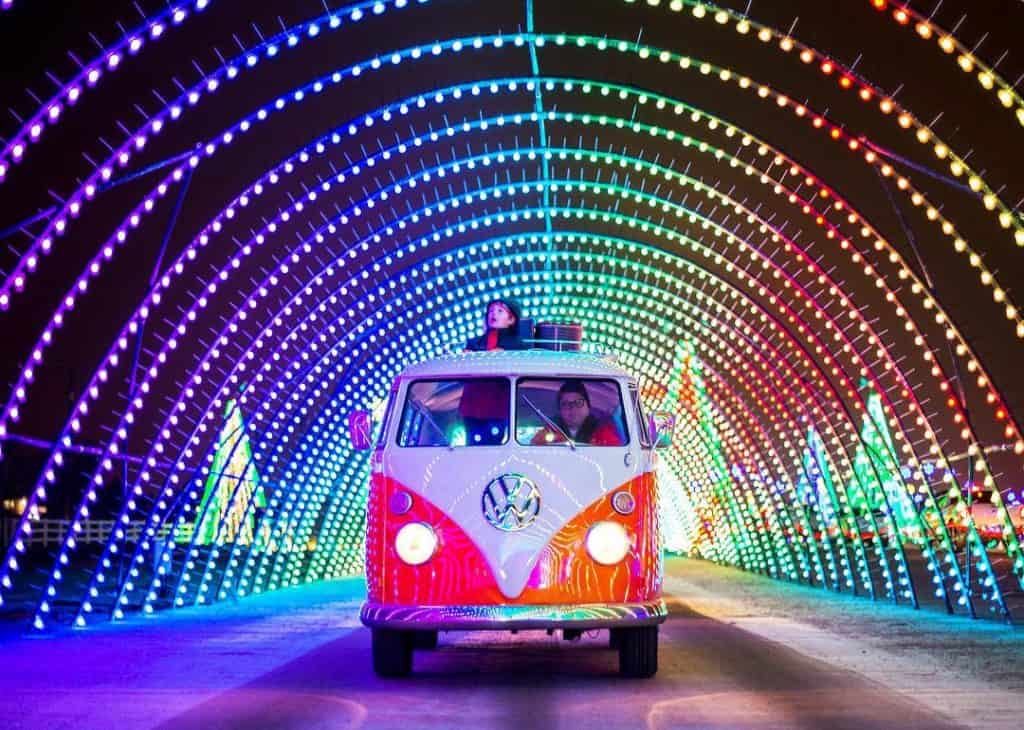 Reindeer Road, Arcadia (Drive Thru)
World of Illumination's wintery drive-through attraction, Reindeer Road, takes visitors on an adventure through "environments" themed as mountainous terrain, chilly ice caves, and magnificent forests as they make their way toward the mystical North Pole.
Located in Santa Anita Park, Calif. and covering more than a million square feet, the experience is fully synchronized to popular holiday music as visitors drive past hundreds of light-up displays, all while listening to the soundtrack on their car radio. Among the displays are the world's largest animated toy shop, shimmering with more than 250,000 lights.
This Elf on The Shelf experience opens on November 11 and runs for eight weeks at the Fairplex in Pomona. After last year's sold-out event, Scout Elf Tiny Tinkerman is back with a bigger and better outdoor theatrical holiday journey! With Christmas Spirit running low, Santa's sleigh had to make an emergency landing. Now, Scout Elf Tiny Tinkerman and his friends need your help!
Join them on a quest to build more Christmas Spirit, as you and your elf-loving crew magically shrink down to elf size and embark on a fun expedition through a dazzling open-air winter wonderland to help repair Santa's sleigh.
The majority of the experience takes place outdoors as a walk-through and in our open-air holly jolly trolleys. Masks are required for all indoor areas, including bathrooms and a brief indoor section of the experience. Masks are also required on the trolley portion of the experience.
Quick Link: Discount Ticket To Elf on the Shelf
Dodgers Holiday Festival, Dodger's Stadium, Los Angeles (Walk Thru)
The L.A. Dodgers are hosting a Holiday Festival in the beautiful, newly-renovated Centerfield Plaza, the warning track, and both bullpens complete with nightly entertainment, an ice skating rink, scenic and light displays, holiday-themed food and beverage, and an opportunity to take photos with Santa.
Hikari Light Festival, Tanaka Farms, Irvine (Walk Thru)
Attend a new holiday celebration called Hikari Festival of Lights at Tanaka Farms in Irvine! Literally translated, Hikari means shine in Japanese, and this holiday season Tanaka Farms will shine with over a mile of twinkling lights! As you drive through their 30-acre farm, you will be dazzled by farm-themed lighting from trees, to scarecrows, tractors…even their sugarcane got the holiday light treatment. Plus, every Friday, Saturday, and Sunday you can have a very special visit from Santa, himself!
The 2021 season begins on Black Friday! Open daily from 4:30 pm – 10:00 pm. This year has two options for your enjoyment:
A cozy Holiday Wagon Ride around the festively lit farm that will take you to the "Land of a Thousand Lanterns" and once off the wagon, you will have the opportunity to wander through the light displays, with photo opportunities throughout. After the wagon ride, make your way down to the "Gingerbread Forest!"
Welcome to the "Gingerbread Forest!" Live music, food, photo ops, Arts & Crafts, Barnyard, Animals, and, of course…holiday lights! Meet Santa for a photo! (all activities priced individually)
Light It Up MoVal, Moreno Valley (Drive Thru)
Returning for 2021, Light It Up MoVal has collaborated with Josh Barnett Productions to showcase Lightasmic a top Light Show Company in Southern California. Offering guests of all ages the chance to enjoy a drive through show in a safe and fun-filled environment. Early bird tickets cost $35 per car (up to 8 people) or $40 for drive up entrance at the gate. Event runs from Nov. 19 – Jan. 1, 2022.
Santa's Speedway Christmas Lights Drive-Thru, Irwindale
Opening on Thanksgiving Day, Santa's Speedway is a 30-45 minute safe yet, riveting experience designed to transport families of all ages into the magical world of Christmas as they witness first-hand a series of jaw dropping Christmas scenes and holiday themed vignettes from Mobile Illuminations (the company responsible for The Grove, Universal Studios and Warner Brothers' Christmas Extravaganzas).
As families enter Santa's Speedway between a pathway of California's largest color changing display of palm trees, they will experience the exhilaration of driving on an actual NASCAR racetrack as they come across Santa's Village with at elves hard at work, a land filled with Christmas sweets including 20ft tall illuminated lollipops, Rudolph's Enchanted garage filled with Racecar Reindeers, a 100 ft long lit Christmas bow and light display, plus a scene worthy of grabbing Santa's attention – the world's largest free standing light tree, measuring 110ft and made up of over 100,000 LED lights.
New this year is 5 new displays, twice as many lights and three full light tunnels. The show concludes this year with a visit to Santa and his 40' long train!
Night of Lights OC, Costa Mesa (Drive Thru)
Night of Lights OC is a magical interactive drive through a winter wonderland of lights! This one mile drive includes over one million lights, including animated lights to music, Christmas tree lighting spectacular, plus a winter wonderland drive-thru. The event opens on Nov. 26 and runs through January 2, 2022 at the OC Fair and Event Center in Costa Mesa.
Quick Link: Discount Tickets to Night of Lights OC
Insomniac's Electric Mile Drive-Thru, Arcadia (Drive Thru)
A brand new, fully immersive, audiovisual drive-thru experience, Insomniac's Electric Mile, is coming to Santa Anita Park in Arcadia on January 1, 2022.
At this drive-thru experience, a curated soundtrack of fun, uplifting dance music hits will accompany you as you travel through a stunning array of synchronized light installations and visual effects from the comfort of your own car.
Explore and experience a special journey through light and sound as portals transport your vehicle to seven unique worlds of Insomniac's most iconic festivals and brands, including EDC, beyond wonderland, nocturnal wonderland, escape, and countdown, complete with music, lights, lasers, smoke machines, and more.
Snow N Glow, Ventura County Fairgrounds and Event Center, Ventura & Del Mar Fairgrounds, San Diego (Walk Thru)
Snow N Glow is the perfect winter playground: you can build a snowman, enjoy s'mores, drink hot chocolate, and so much more. Gather your friends and family and celebrate the holidays in Southern California's very own Winter Wonderland.
Make your holidays bright! Take a stroll through a beautiful and immersive light trail with over 1 million twinkling lights. You and your loved ones will be surrounded by the sparkle and glow that makes the holiday season so special.
You're never too young or too old for snow tubing! All you have to do is sit down, hang on, and experience the exhilaration of pure winter fun. The whole family will have a blast!
Happy Holiday Field Tripping!
Jilleen