This review was made possible by iConnect and EyeCons. I was provided compensation to facilitate this post, but all opinions stated are 100% mine.
Have you ever wanted to sit down and relax, but weren't sure what to do? I was recently introduced to a new game called EyeCons – a classically addictive "distract and relax" match-two puzzle mobile game that offers real, offline rewards and prizes as players advance from level to level. As a fan of the original mega-hit board games TABOO and OUTBURST, I was thrilled to learn that EyeCons was also developed by Hersch Games.
To get started, I downloaded the EyeCons app on my Apple iPhone and poked around to see how it worked. I was actually surprised at how easy it was to play!
A surprising difference between EyeCons and other online games, is that you get real rewards you can use as you play. The first time I played, I got a coupon. The second time as well. Another nice feature is that you can decline the coupon or have it sent directly to your email.
Generally speaking, I'm not much of a gaming person, because I simply don't have the time. But playing the EyeCons app was different. The game did not require me to think too much, yet was challenging. As the game went on and I reached different levels, it got harder and harder.
I also discovered that the EyeCons app offers numerous playing tips along the way. It even has a timer, which helps the game feel more competitive. So if you like to relax, but don't like to watch too much TV like me, EyeCons is a good alternative.
EyeCons Gaming Party Event
On Thursday, October 13 you can win special prizes and a chance for a $1,000 grand prize by simply playing along during EyeCons 30-minute EyeCons Party Gaming Event at 9 p.m. ET / 6 p.m. PT. It's true – playing EyeCons really is rewarding!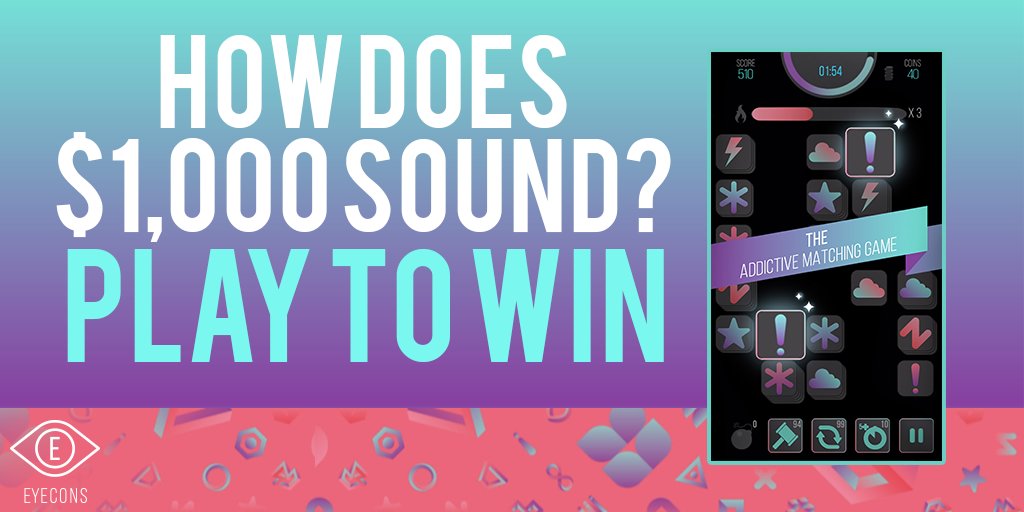 Here's how you play:
Follow @eyeconsthegame on Instagram – this is a critical first step, as only people who like and follow EyeCons will qualify for the $1,000 grand prize.
Download the EyeCons app on either the iTunes App Store or Google Play
Register your EyeCons account using your Instagram handle as your USERNAME. Do NOT login to the game using a Facebook account. You must register in order to verify a winner after game play ends.
At exactly 9 p.m. ET / 6 p.m. PT on Thursday, October 13, game play will begin. Make sure you are set and ready to go BEFORE this time slot!
After 30 minutes, the players at the top of the level 3 leaderboard (i.e. those with the highest scores on level 3) who've also followed @eyeconsthegame on Instagram will win.
It's important to note that while players can technically continue advancing past level 3, winners for this 30-minute gaming event will be those with the highest level 3 score, so it's in your best interests to stay on level 3 and aim to achieve the highest possible score. Of course after our gaming event, you're encouraged to keep advancing to higher levels!
EyeCons Gaming Party Prizes
First Place: $1,000 AMEX gift card
Second Place: The ultimate Taboo package – one "Taboo" board game and one Taboo Buzz'd
Third Place: One copy each of Platinum Taboo, Platinum Outburst, Platinum Scattergories
Fourth Place: One copy each of Platinum Taboo, Platinum Outburst, Platinum Scattergories
The EyeCons team will post the Official Winners at Noon on October 14, 2016 on the @eyeconsthegame Instagram feed. Winners also will be contacted directly via email.
Happy Gaming!
Jilleen