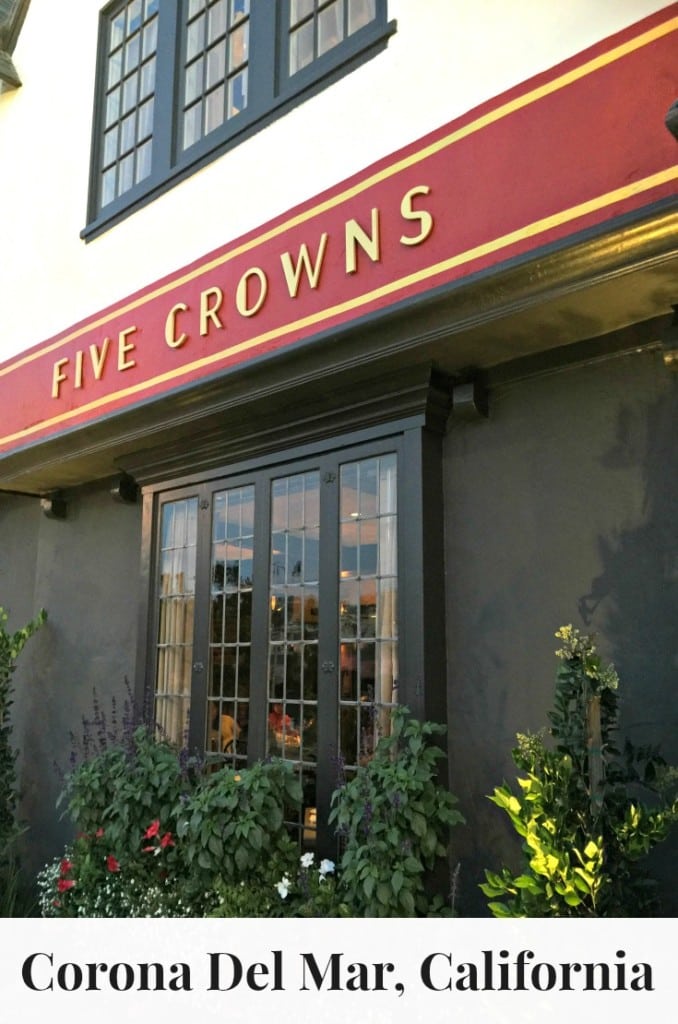 Five Crowns is known as one of the greatest culinary treasures Orange County has to offer. Five Crowns is located in Corona Del Mar and situated in the historic "Hurley Bell" building, which was built in the 1930's. The building, inside and out, is its own attraction which reveals an Old English County Inn aesthetic. This, and their award winning menu, has attracted a very loyal following throughout the decades.
Though Five Crown has an "Old World" charm, it hasn't lost it's hold on the pulse of a new generation. Re-imagined and updated, the Five Crowns of today is as vibrant and as exciting as ever! SoCal Field Trips was recently invited to experience Five Crown's new vision through a sampling of new tastes and the opportunity to meet the "artists" behind this gem of Orange County.
We arrived at the renowned Five Crowns on a warm, almost summer evening, just as the moon was rising over the beautifully re-designed Five Crowns sign. The bright red front door is always so inviting – bringing you into the warmly lit waiting area. We waited with several other people to be ushered to the patio area of the restaurant. As we enter the patio, we passed an open air bar that is a new addition to the restaurant. We were greeted by the hostess and everyone mingled as the servers passed out their newest delicacies.
We looked around at the beautiful seating and tables and contemporary chandeliers. Candles were glowing in all of the windows that surround the patio. There was a small band playing on the lawn area – where patrons stood and enjoyed their drinks and hors d'oeuvres at the standing stables.
We found our little table in the corner and enjoyed the sights and sounds and, of course, tastes of the evening.
The General Manager, Jim Colombo introduced himself to us and we spent a few minutes getting to know a little bit of his history and how he became involved in the world of Five Crowns.
After the cocktail and wine tasting, our waitress brought out the following tidbits of goodness! Steak tartare on toast points with vinaigrette and Kusshi Oysters mignonette.
Then they served us Big eye tuna, shoyu, sesame oil and scallion chilled black tiger prawn with horseradish mayo heirloom and melon gazpacho in apple cider sorbet Cannelloni with yellow corn puree, pesto and heirloom tomato – which was my favorite of the night.
Our lasting tasting of the evening was Wild California Salmon with matchstick beets, arugula, and lemon orzo and Mishima Reserve Beef with baby leeks and red shiso. Then Executive Chef, Steven Kling, topped off our savory delights with Strawberry shortcake with whipped cream.
After dinner we said our goodbyes and made our way out of the restaurant. While we were leaving, we had a chance to chat with the Marketing Director, Richard Cope, who seemed very interested in getting everyone's take on the evening to see if it was a success.
We told him how beautiful everything was and that we thoroughly enjoyed the innovative tastes that are being added to the menu. There was a slight concern that the modern take on the food and decor would cause the faithful, long-term customers to lose interest in returning for that special meal and surroundings that they've been so accustomed to all these years. We were promised that the Dicken's charm would not be lost in all of the changes and rest assured that when we come back in December, we will feel that Old English warmth as in years passed.
Five Crowns is located at 3801 East Coast Hwy, Corona Del Mar, CA 92625.
A good night was had by all!
Sally Berkson
SoCal Field Trips Blog Contributor