Sponsored
Are you looking for a fun family outdoor activity or a place to take your significant other on a unique date? This was exactly my dilemma a week ago when my family came to visit me from Northern California. I wanted to find an outdoor activity for us to do, but something different besides the beach. That's when I came upon The Gondola Getaway in Long Beach.
The Gondola Getaway in Long Beach
Founded in 1982, The Gondola Getaway brings the old world charm of the "Gondola" into the canals of Naples Island. As we strolled through the canals, and enjoyed the breathtaking views of Naples Islands, our two Gondoliers shared with us the history of this hidden gem located within Belmont Shores.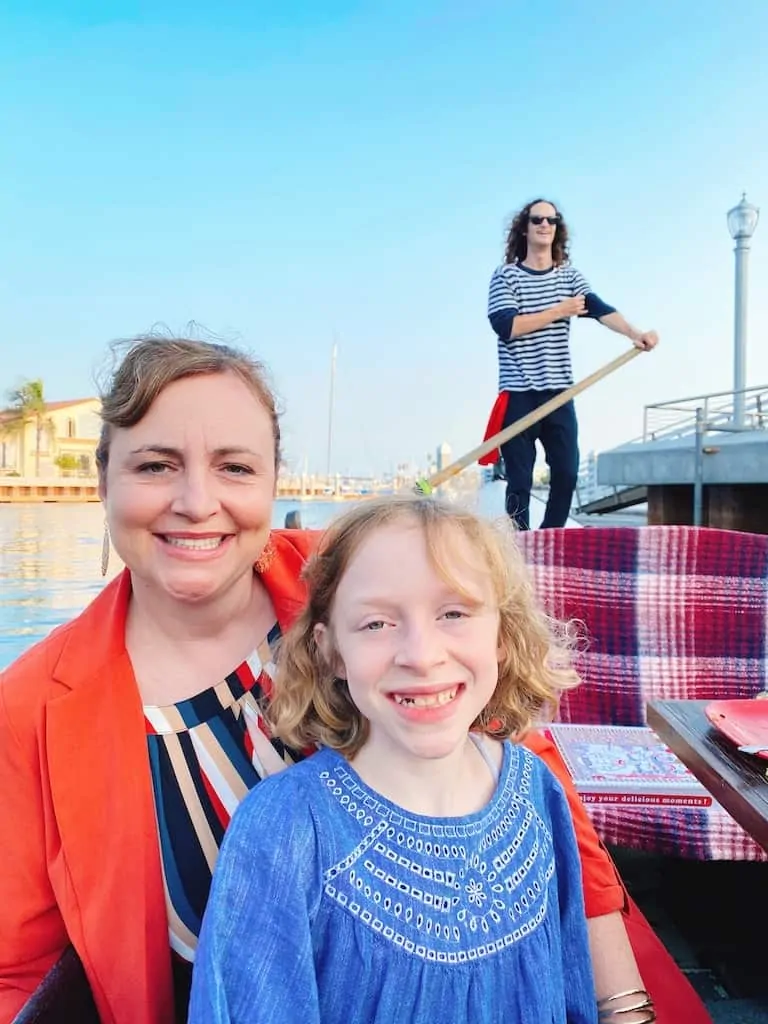 The Venetian style neighborhood is replete with grand canals and romantic bridges. The beauty and calmness of the bay and the enchanting meandering canals of the Rivo Alto and Napoli afforded us the opportunity to pass underneath bridge after bridge while being rowed by our expertly trained Gondoliers.
As we traveled past the Accademia, to the Ravenna, to the Toledo and the Neapolitan East and then the famous "Treasure Island" bridge, our Gondolier explained that the Islands bridges are the stitches that connect the fabric of this unique Island community of unique waterfront homes and their environs.
Domenico's Italian Restaurant
While listening to the history of the island, we ate dinner on board the gondola compliments of Domenico's Italian Restaurant in Long Beach. Honestly, it was one of the best Italian meals we have very had! My husband, who spent many summers on the East Coast as a child, commented that he never tasted pizza so good outside of New Jersey.
For starters, we tried Domenico's Classic Italian Salad made with iceberg lettuce, cucumbers, tomatoes, black olives, radishes, pepperoncini's, scallions, and their very own Italian dressing. Next, we ate their Antipasto mixed with iceberg lettuce and garnished with meats, cheese, tomatoes, black olives, pepperoncinis, green peppers, scallions, and pimentos, with Italian dressing. Both hefty salads tasted delicious and eaten alone could be considered a full meal.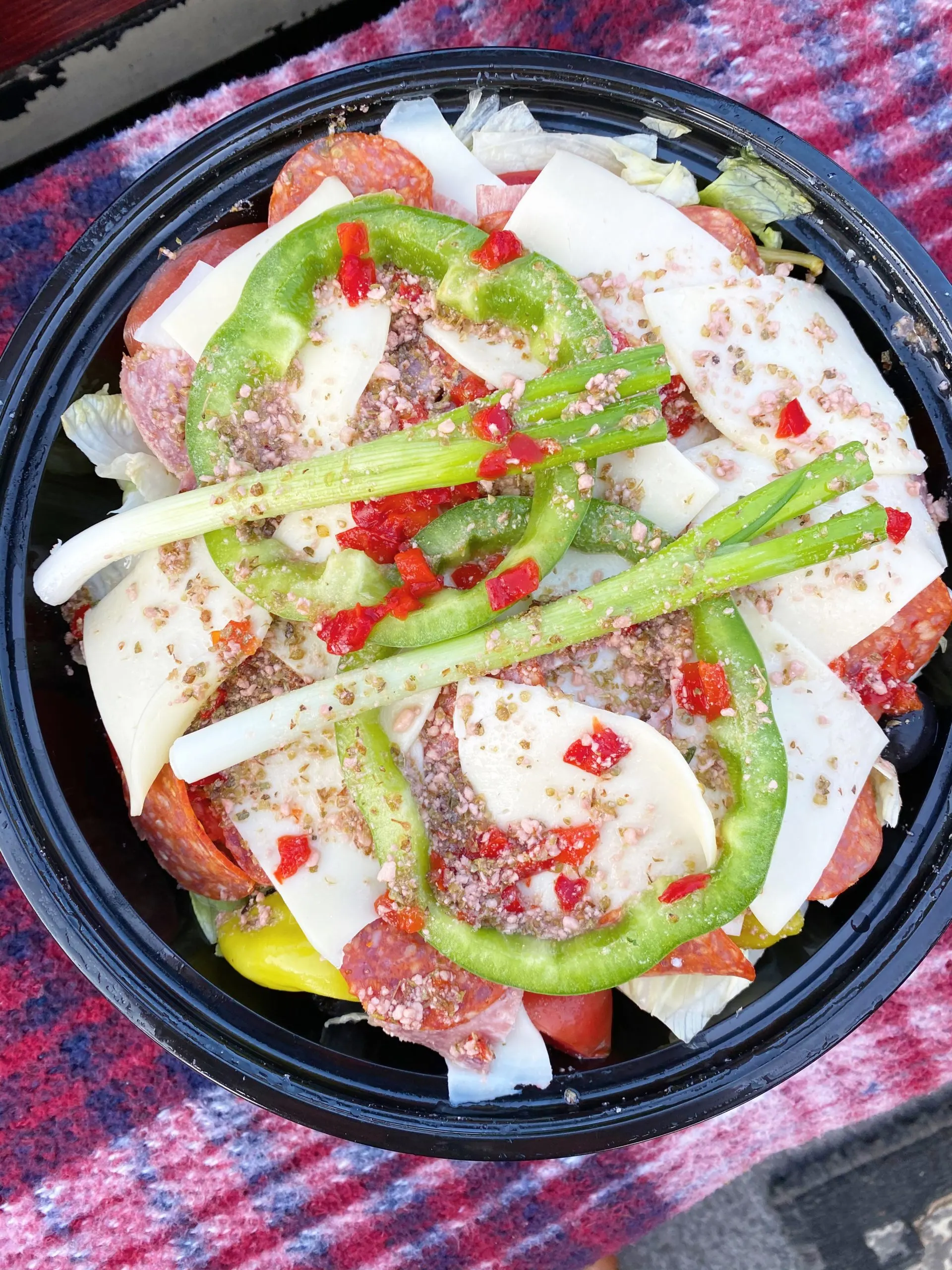 After eating the salads, we ventured into the pasta. Oh my, what a spread! The classic Stuffed Portabello Mushroom Ravioli was made with a tasty cream sauce, while the tantalizing Sausage Tomato Cream Rigatoni had pasta smothered in a delicious tomato cream sauce with generous chunks of link sausage, a Domenico's favorite. I highly recommend that you order family style so that you can have leftovers for days. We sure did!
Then came the pizza! Loads of pizza! Since it was my dad's birthday I ordered him his favorite; Domenico's Supreme with pepperoni, sliced salami, sliced capicola, ground sausage, mushrooms, black olives, onions, oregano and green peppers. He even wanted to put anchovies on his pizza which is available upon request. What a brave man!
For the kids, I ordered them a classic sliced pepperoni pizza. They gobbled it down like it was their last meal! That's how good it was in their book.
After we ate dinner, our Gondolier asked us if we wanted to hear some music and of course we said yes! My dad requested the song The Prayer by Andrea Bocelli. The Gondolier proceeded to belt out the most beautiful tune. It was enchanting! Then he surprised my dad by singing him Happy Birthday with his melodic voice. If we could, we would have stood up and given him a round of applause. His voice was majestic!
By the end of our 50-minute gondola ride, we felt like we had drifted to Venice and back. With the soothing feel of the water and the sweet tunes of the Gondolier, we had come to the end of of tour. I can't wait to book another trip around Naples Canal with Gondola Getaway the next time I have family in town.
How To Book A Gondola Getaway in Long Beach
Gondola Getaway offers a wide variety of tours starting with their Traditional Gondola Ride which holds two people up to their Large "Caorlina" Cruise which seats fourteen. They also offer plenty of special add-ons for guests including message in a bottle, roses and appetizers. To learn how to book your next adventure on the water in Long Beach, visit GondolaGetaway.com.
Happy Field Tripping!
Jilleen