We attended as a member of the media.
Pick a day, hire a babysitter and head over to Knott's Berry Farm to capture, collect and share memories of your special date night with the new FunPix card! FunPix is a great way to preserve professional-quality photos of your memories from any mobile device or computer.
Two weeks ago, Mr. SoCal Field Trips and I, went on a double date to Knott's Berry Farm to try out the new photo card. It was the final weekend of the Knott's Boysenberry Festival and the perfect reason to ditch the kids (safely, of course!) and spend quality time with our good friends.
The FunPix card helped us capture these cute memories throughout the day!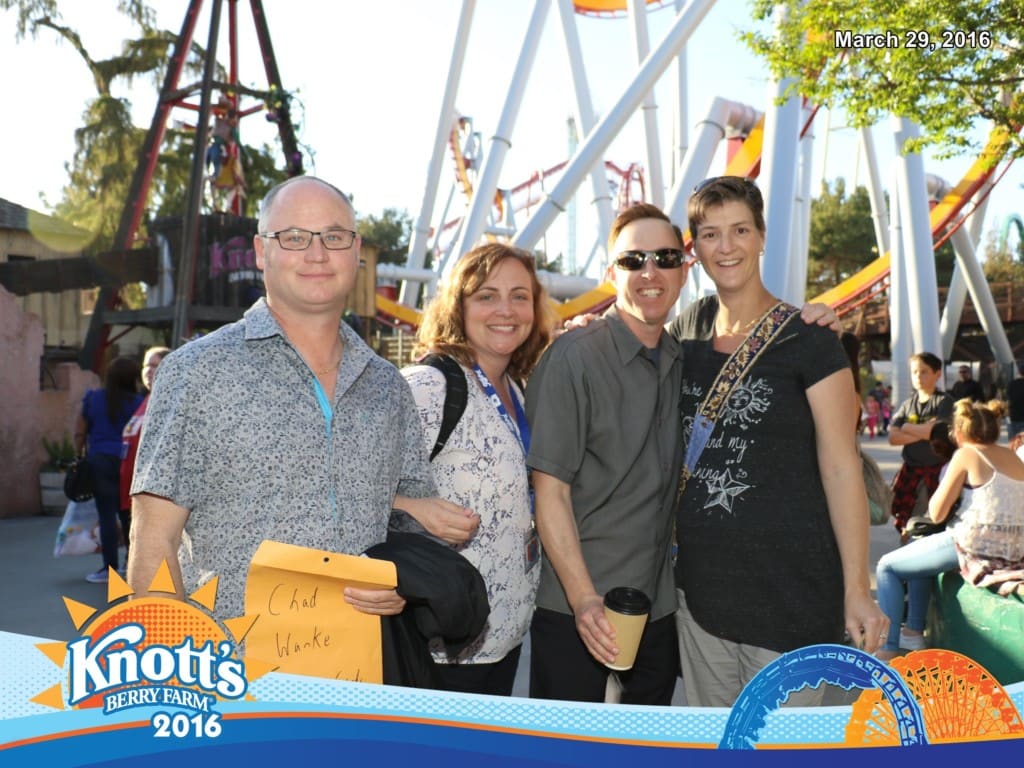 My friend Leo is due with her fourth baby in July. I, on the other hand, just wanted to point it out to the world! Leo is such a good sport!
Mr. Socal Field Trips posed to take a picture with his best friend Chad. They have been best buds since they met in the sixth grade. Now our own boys are best friends too! We actually laughed when we saw this picture on FunPix.com, because my husband and his friend look like a little old married couple!
How To Use A FunPix Card
Is is easy to use a FunPix card! Simply purchase a FunPix photo card at the front gate, online or at a FunPix location inside the theme park. Anytime your picture is taken, just scan your FunPix card at the photo spots and the digital picture will be added to your FunPix account. This means that you can instantly share the memory with friends and family via social media or text message. Plus, get high quality photo prints at the Park for only $5.00 + tax each.
Where To Take FunPix Photos
Photos can be taken at numerous places throughout the park including:
meet & greet in Camp Snoopy with Snoopy and his PEANUTS pals
on some of the most popular rides – Pony Express, Silver Bullet, Xcelerator & Timber Mountain Log Ride
at the front gate
How To View Your FunPix Pictures
Your professional-quality images are available for download at myfunpix.com using the number on the back of your FunPix card or through the FunPix mobile app. After you've registered, you will receive a confirmation email with your user name and password. Login to myfunpix.com to activate your account and now you're ready to access the photos linked to your FunPix account from your visit.
Use the buttons below your images to download your photos and share them your friends like we did this with picture from the Timber Mountain Log Ride.
STOP! Remember to download your photos before they expire. With a FunPix Day Pass, your photos will be available for 30 days from the date of your visit OR with a FunPix Season Pass, your photos will be available until the end of the Knott's Berry Farm 2016 operating season.
How To Order FunPix Souvenirs
A FunPix card provides you the ability to create and order customizable souvenirs from your time at the park. From photobooks to customize t-shirts to mugs and more there is bound to be at least one souvenir you will want to order. Maybe even more!
How Much Does FunPix Cost?
The FunPix card is an incredible value! With FunPix, you get unlimited digital downloads of all your FunPix photos and great savings on prints and souvenirs for only $29.99 + applicable taxes and fees for a SINGLE DAY or $39.99 + applicable taxes and fees for Knott's Berry Farm SEASON PASSHOLDERS. That's another great reason to purchase a Knott's Berry Farm Season Pass.
Happy Field Tripping with FunPix! See you at the park!
Jilleen