This post may contain an affiliate link.
On Sunday, my kids and I had the privilege of attending the Knott's Boysenberry Festival in Buena Park, California.  Knott's Berry Farm was completely decked out in 100% boysenberry fashion!  From endless boysenberry food pairings to boysenberry photo ops to a highly contentious boysenberry pie-eating contest, there was something for every boysenberry fan!
The boysenberry is Knott's founding fruit.  The Boysenberry Festival celebrates this precious fruit, which is a cross between a blackberry, raspberry, and loganberry.  It was originally created by Walter Knott and Rudolph Boysen.  At the festival, the highly acclaimed purple berry is put up on a pedestal and showcased in unimaginable ways.
Knott's Boysenberry Festival Food Bites
First, let's talk about the amazing boysenberry food tastings.  During the Boysenberry Festival over 70 unique boysenberry inspired food and drinks selections are offered throughout Ghost Town.  Most of the selections are sweet and savory including the boysenberry chicken wings, delectable spare ribs and other BBQ dishes flavored with Knott's very own Boysenberry BBQ Sauce.
Knott's Boysenberry Bites Tasting Card
To make choosing what to taste easier, I highly recommend that you purchase a Boysenberry Bites Tasting Card for only $30.  The tasting card allows guests to sample generous portions of eight boysenberry inspired treats.
Slow Cooked Boysenberry Short Rib  
(Location: Inside Spurs Chophouse)
Boysenberry hoisin sauce, buttery basmati rice, chopped green onions
Boysenberry Pierogies
(Location: Inside Spurs Chophouse)
Boysenberries, sautéed onions, Applewood smoked bacon, boysenberry sour cream
Boysenberry Chicken Wings
(Location: Outside Spurs Chophouse)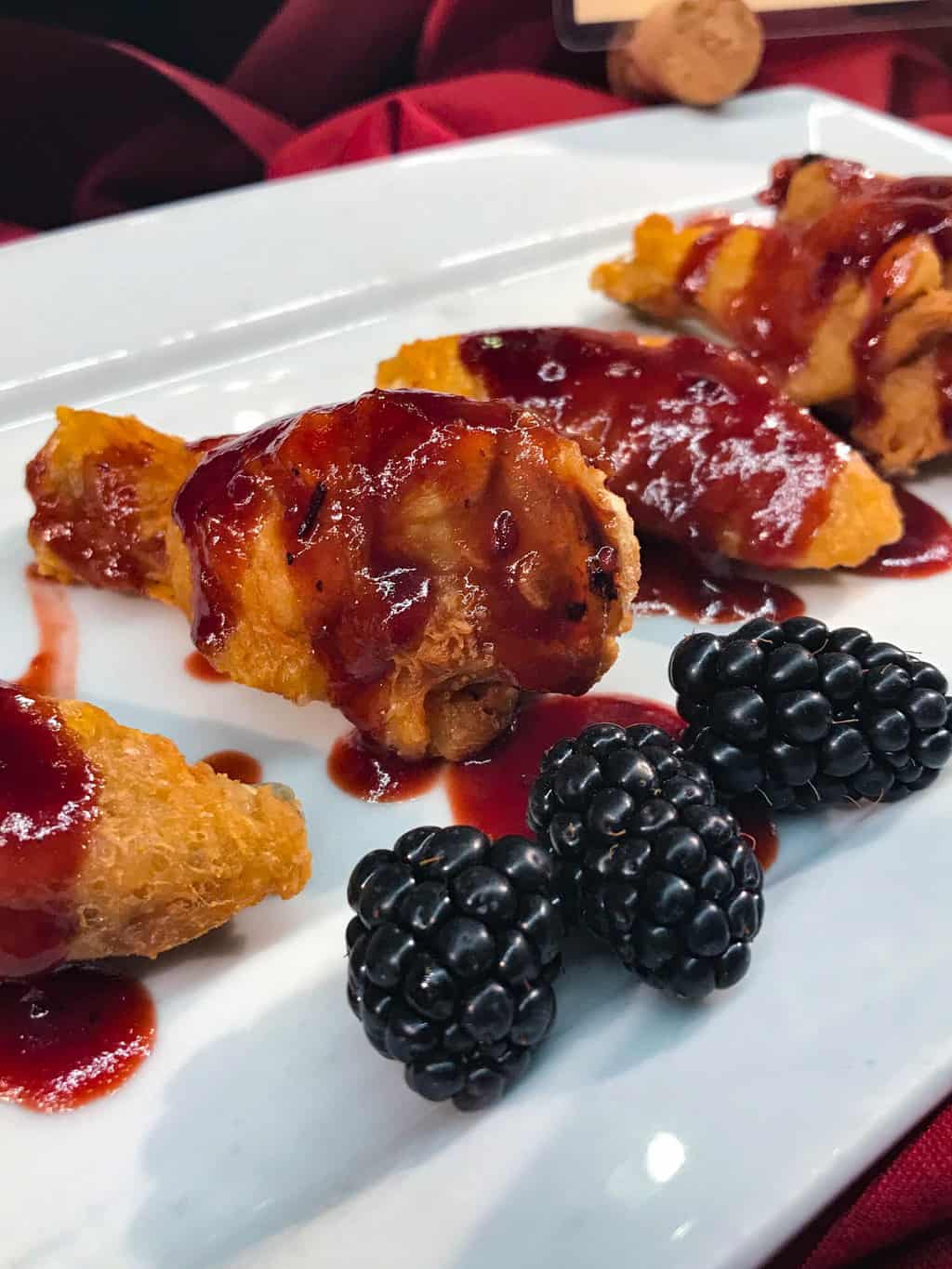 Boysenberry Coconut Macaroon 
(Location: Ghost Town Bakery)
Dipped in chocolate ganache
Boysenberry Elote 
(Location: Across from Gold Trails Hotel)
Corn on the cob, boysenberry mayonnaise, boysenberry butter
Boysenberry Hummus with Grilled Pita Bread 
(Location: North of Sutter's Grill)
Vegetarian
Boysenberry Cheese Quesadilla 
(Location: Outside Ghost Town Candy)
Mozzarella cheese, cotija cheese, boysenberry salsa, boysenberry sour cream
Boysenberry Sausage on a Bun 
(Location: Outside Wilderness Dance Hall)
Freshly baked roll, boysenberry ketchup, relish, mustard
The Knott's Boysenberry Festival Tasting Card can be purchased online or at various purchase stations throughout the park.  Guests may enjoy all eight items or mix-and-match up to eight tastings.  In my opinion, one card is sufficient enough to feed two people.  Unless of course, you are a boysenberry connoisseur, then you will need more!
Other must-try boysenberry food items are the Boysenberry Cake, the Boysenberry Funnel Cake served with Boysenberry Ice Cream and the Boysenberry Cheesecake on a Stick.  You can't go wrong with any of these offerings!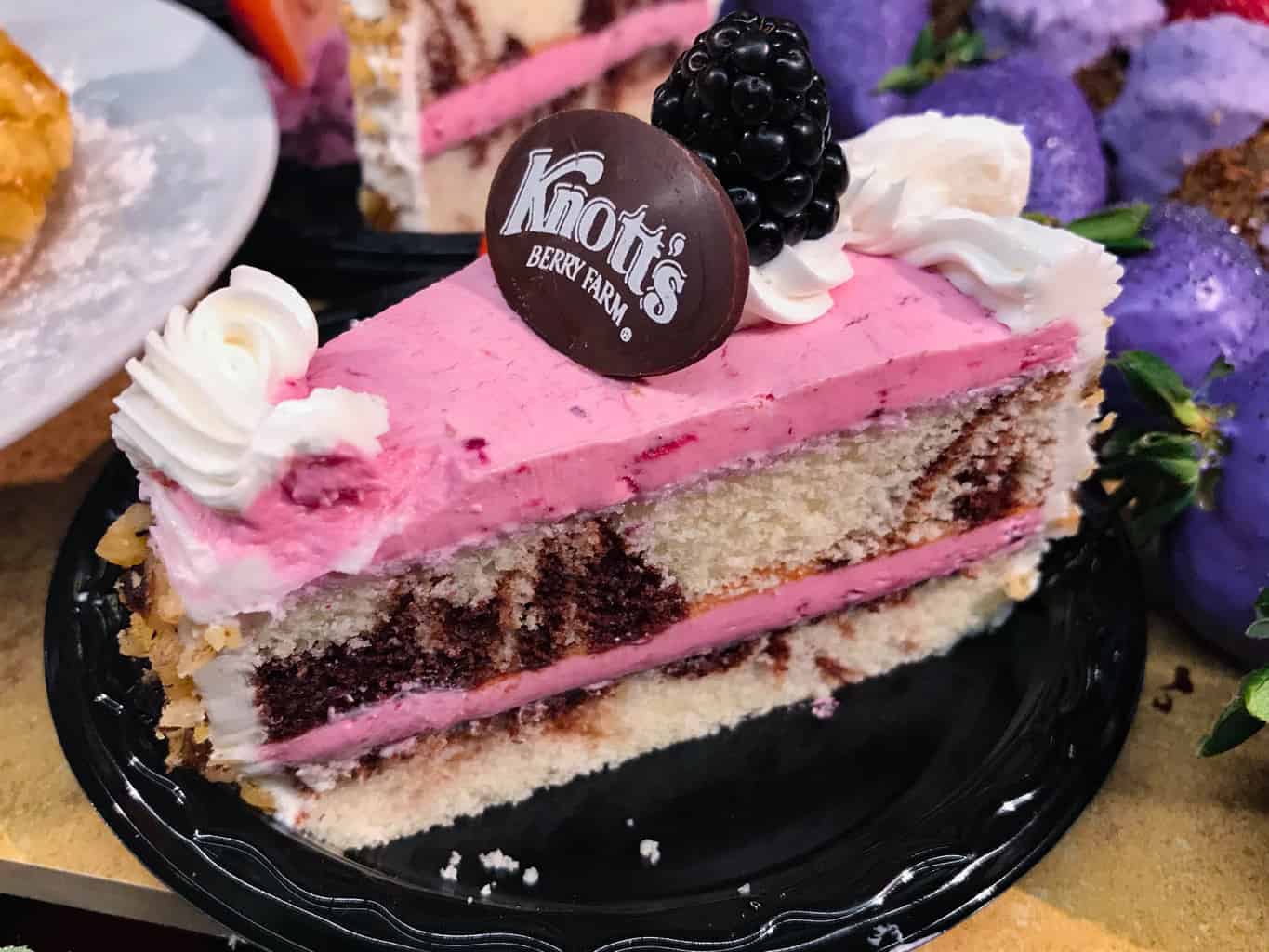 Boysenberry Festival Entertainment
While enjoying your boysenberry delights, don't forget to take in some good old-fashioned hillbilly music in the Calico Saloon, watch the Berry Jamboree at Birdcage Square or see the return of Snoopy's Boysenberry Jamboree show!
Things get crazy when Krazy Kirk and the Hillbillies perform their toe-tappin', knee-slappin', side-splittin' country comedy show that has Knott's audiences clamoring for more.  See them perform at the Calico Saloon.
As a tribute to Knott's past, the Bird Cage Theater will once again be the home of musical comedy melodrama.  Cheer the Hero and Boo the Villain in a special presentation at Knott's Legendary Bird Cage Theatre.  America's Longest Running Melodrama returns with an original, audience interactive, comedy with a surprising Boysenberry twist!
Join Snoopy, Charlie, and the entire Peanuts gang as they present – Snoopy's Boysenberry Jamboree – an audience interactive, musical revue!  It's a show the whole family will love as you sing, dance, and play along with your favorite characters and our talented performers in this funny, high energy celebration.
Knott's Berry Farm Boysenberry Products
Guests who want to take home the exquisite Boysenberry BBQ sauce, Boysenberry Butter, Boysenberry Mustard, Berry Market Jams and more, can stop by the Berry Market located in the MarketPlace and the General Store located in Ghost Town.  I also purchased some Boysenberry Chocolate Bars and Boysenberry Gummie Bears for my hubby in the candy store.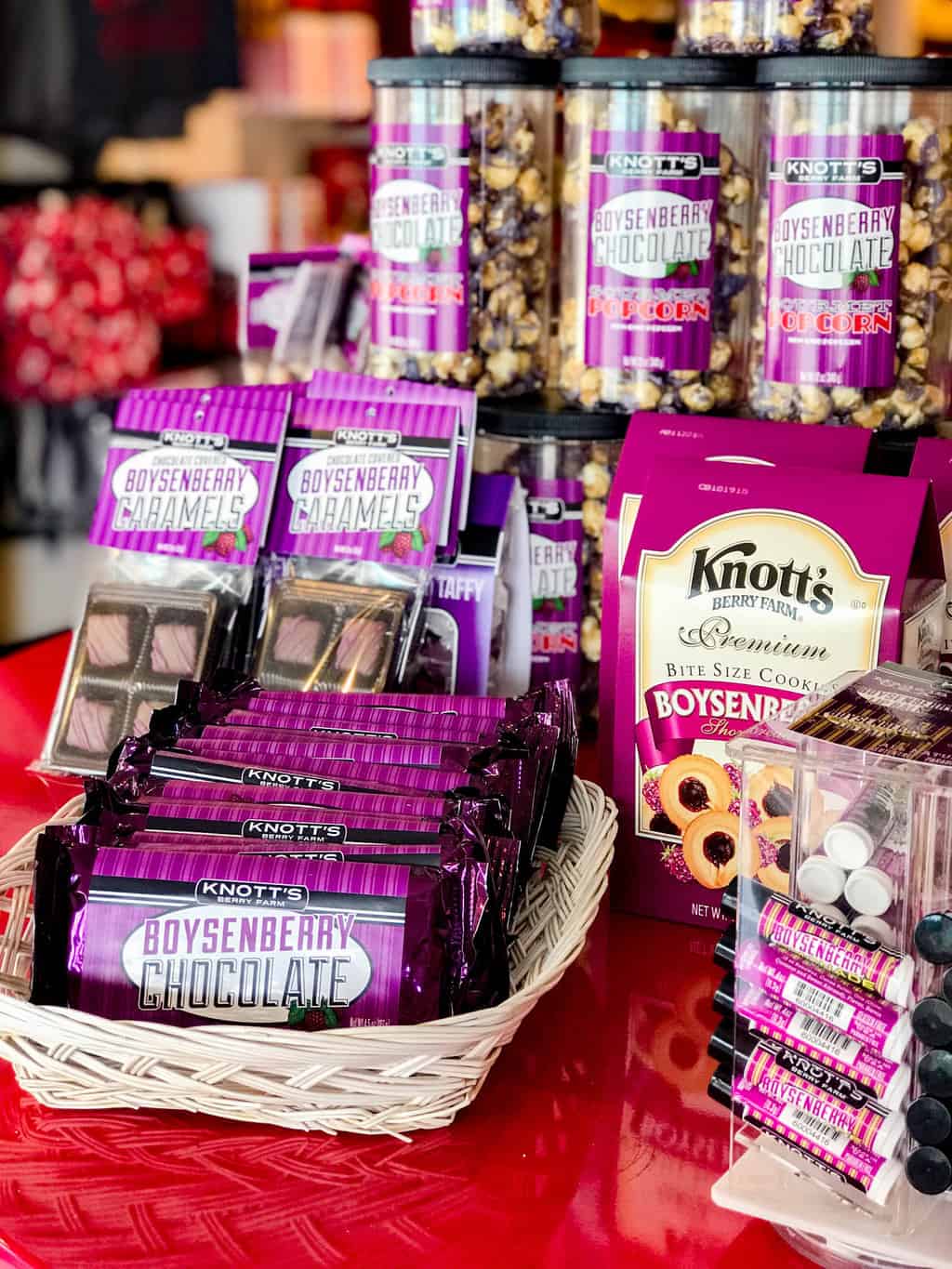 Knott's Boysenberry Pie Eating Contest
Another entertaining part of the festival is the Boysenberry Pie-Eating Championship!  Two years ago, my daughter and I witnessed the winner, Joy Chestnut, eat 14.5 pounds of boysenberry pie in under 8 minutes.  He set a new world record and won $2,000!
This year we watched the children's pie eating contest.  It was just as much fun watching the kids try and eat an entire mini-boysenberry pie in under 5 minutes, as it was the adults.  Of course, napkins were not included!
Knott's Wine and Craft Brew Garden
My mother-in-law's favorite part of the festival is the Wine and Craft Brew Garden, located inside of Ghost Town's Wilderness Dance Hall.  Here you get to choose between tasting 2 different craft brews and over 50 different wines from 36 producers including boysenberry beer and boysenberry wine.  A convenient tasting card is available to purchase for $25, which includes 6 tastings paired with a nice cheese and fruit plate.
Right next door to the Wine and Craft Brew Garden, you can also make and decorate your own miniature boysenberry tart pie for only $5.99!
Knott's Boysenberry Festival Discount Tickets
The Knott's Boysenberry Festival runs from March 16 – April 8, 2018.  Discount tickets to Knott's Boysenberry Festival start at only $42 per person online (plus a small service fee) or are available for purchase at the park.
Knott's Berry Farm is located at 8039 Beach Boulevard, Buena Park, CA 90620.  Parking is $17.
Best Places To Stay in Buena Park California
While at the Boysenberry Festival, you might be interested in booking a hotel that is located close to Knott's Berry Farm.  Here are a few of my top suggestions.
Next to Knott's Berry Farm Amusement Park, this hotel offers free shuttle service to Disneyland Theme Park, 6 miles away. It features a restaurant and spacious rooms with free Wi-Fi.  Every guest room at Knott's Berry Farm Hotel comes with cable TV and coffee maker. All rooms are warmly decorated with carpet floors and include a safe and air conditioning.  Guests of this hotel have free access to recreational activities, including an outdoor pool, a hot tub and a sauna. A sports court for basketball and tennis is available, along with a small gym.  A daily breakfast buffet is available for an additional charge at the Knott's Berry Farm Hotel. Amber Waves Restaurant and Bar serves American cuisine all day and features a daily visit from the character Snoopy.
One of our bestsellers in Buena Park!Located less than 2 miles from Knott's Berry Farm Amusement Park, this hotel offers comfortable accommodation, friendly service, and is located between motorway I-5 and I-9.  The Good Nite Inn Buena Park ideally places guests moments from many popular points of interest. Disneyland, Soak City Water Park and the Pirates Dinner Theater are a short drive away.  Guests at the Buena Park Good Nite can start the morning with coffee or tea at the lobby area or visit the hotel's concierge desk to find information about the surrounding area.
Fairfield Inn & Suites Anaheim North/Buena Park
Only 1 miles from Knott's Berry Farm and Soak City, this Buena Park hotel features an outdoor pool and free Wi-Fi. Disneyland Theme Park and California Adventure Park are 6 miles away.  A flat-screen TV, microwave, fridge and coffee maker are provided in all rooms at the Fairfield Inn & Suites Anaheim Buena Park/Disney North. Each room is decorated in bold colors and includes a work desk and sitting area.  Free access to the fitness room and the outdoor hot tub is provided to all guests. The front desk staff is available 24/7.  The Anaheim Buena Park/Disney North Fairfield Inn & Suites have a continental breakfast each morning.  Knott's Berry Farm theme park is just over one mile from this hotel, and La Mirada Golf Course is 4 miles away. The John Wayne Airport is a 20-minute drive from the hotel.
Featuring free shuttles to Disneyland theme parks and only minutes from Knott's Berry Farm amusement park, this hotel provides on-site dining options and spacious rooms with free wireless internet.  Every stay at the Holiday Inn Buena Park is sure to be enjoyable with amenities such as a spacious outdoor pool and modern fitness facilities. In addition to in-room coffeemakers, the hotel also serves breakfast, lunch and dinner at Ventanas restaurant.  With on-site car rental services, guests at the Buena Park Holiday Inn can easily discover nearby attractions such as Soak City water park, the Anaheim Convention Center and beautiful beaches.  The completely non-smoking hotel also offers free shuttle service within a 5 miles radius.
Located a 5 minute walk from Knott's Berry Farm, this hotel features a year-round sparkling outdoor pool and a daily hot breakfast. Free Wi-Fi and free guest parking are also provided.  A 40-inch flat-screen cable satellite TV with DirecTV channels is provided in each air-conditioned guest room at Best Host Inn. For convenience, rooms include a microwave, a small refrigerator and a coffee machine.  A 24-hour front desk greets guests at the Best Host. Offering Disneyland tickets, a virtual tour desk is on site. A guest laundromat is available. Free shuttle services to Disneyland and the Anaheim Convention Center are available.  Soak City Water Park is a 4-minute walk from this hotel. Disneyland is 8 miles away.
Happy Field Tripping!
Jilleen
More Things To Do In Buena Park California
A Knott's Berry Farm Passes Offers No Black Out Dates
A Field Trip to Medieval Times in Buena Park
Catch An Extraordinary Show at Pirate's Dinner Adventure
20+ Water Parks in Southern California