This post may contain an affiliate link.
Over spring break, my family and I had the privilege of attending the Knott's Boysenberry Festival in Buena Park, California. Knott's Berry Farm was completely decked out in 100% boysenberry fashion! From endless boysenberry food pairings to boysenberry photo ops to a highly contentious boysenberry pie-eating contest, there was something for every boysenberry fan!
The boysenberry is Knott's founding fruit. The Boysenberry Festival celebrates this precious fruit, which is a cross between a blackberry, raspberry, and loganberry. It was originally created by Walter Knott and Rudolph Boysen. During the festival, taking place March 29 – April 28, the highly acclaimed purple berry is put up on a pedestal and showcased in unimaginable ways!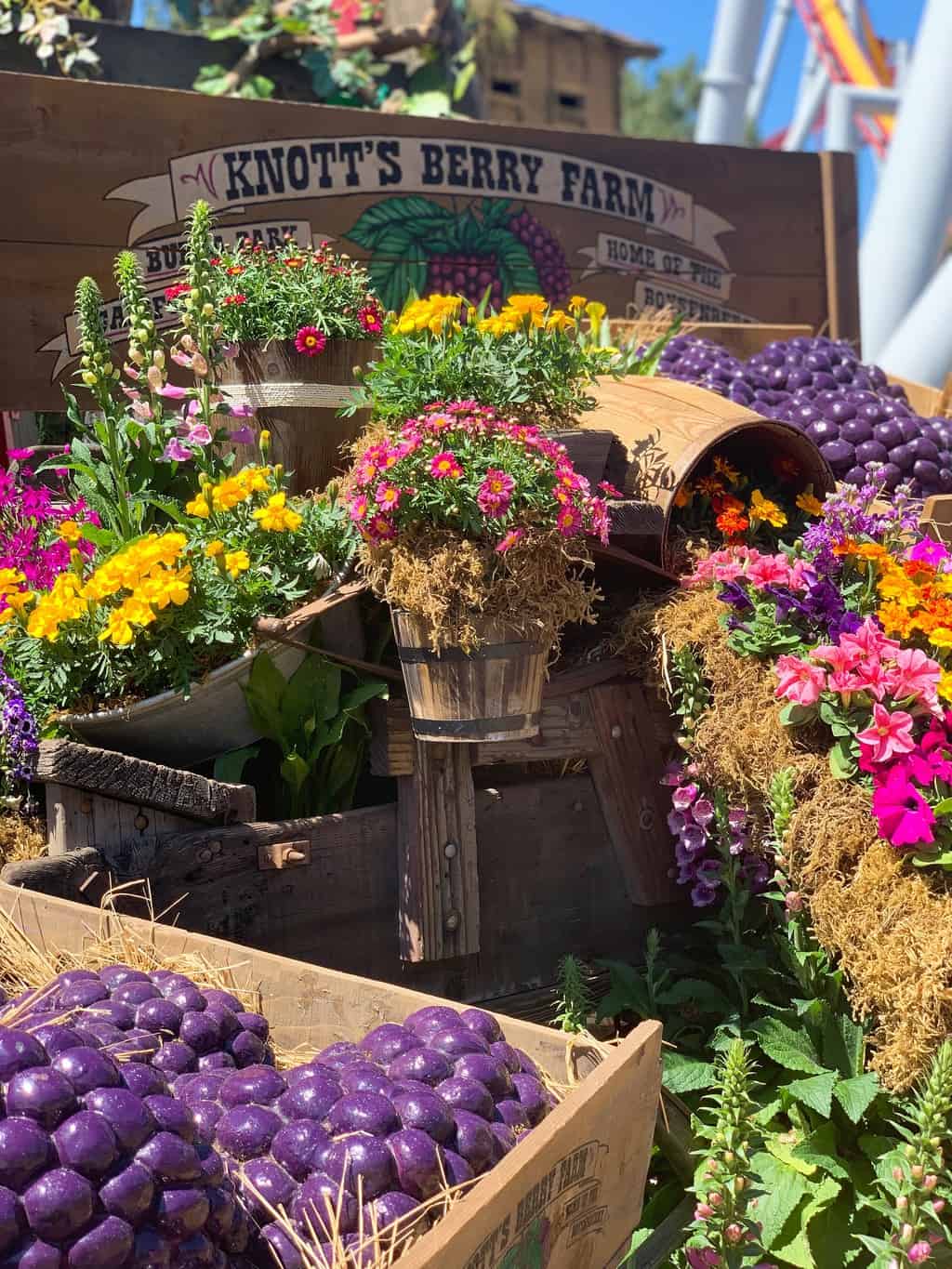 Knott's Boysenberry Festival Food Bites
First, let's talk about the amazing boysenberry food tastings. During the Boysenberry Festival over 70 unique boysenberry inspired food and drinks selections are offered throughout Ghost Town. Most of the selections are sweet and savory including the boysenberry chicken wings, delectable spare ribs and other BBQ dishes flavored with Knott's very own Boysenberry BBQ Sauce.
Knott's Boysenberry Bites Tasting Card
To make choosing what to taste easier, I highly recommend that you purchase a Boysenberry Bites Tasting Card for only $35. The tasting card allows guests to sample generous portions of eight boysenberry inspired treats including: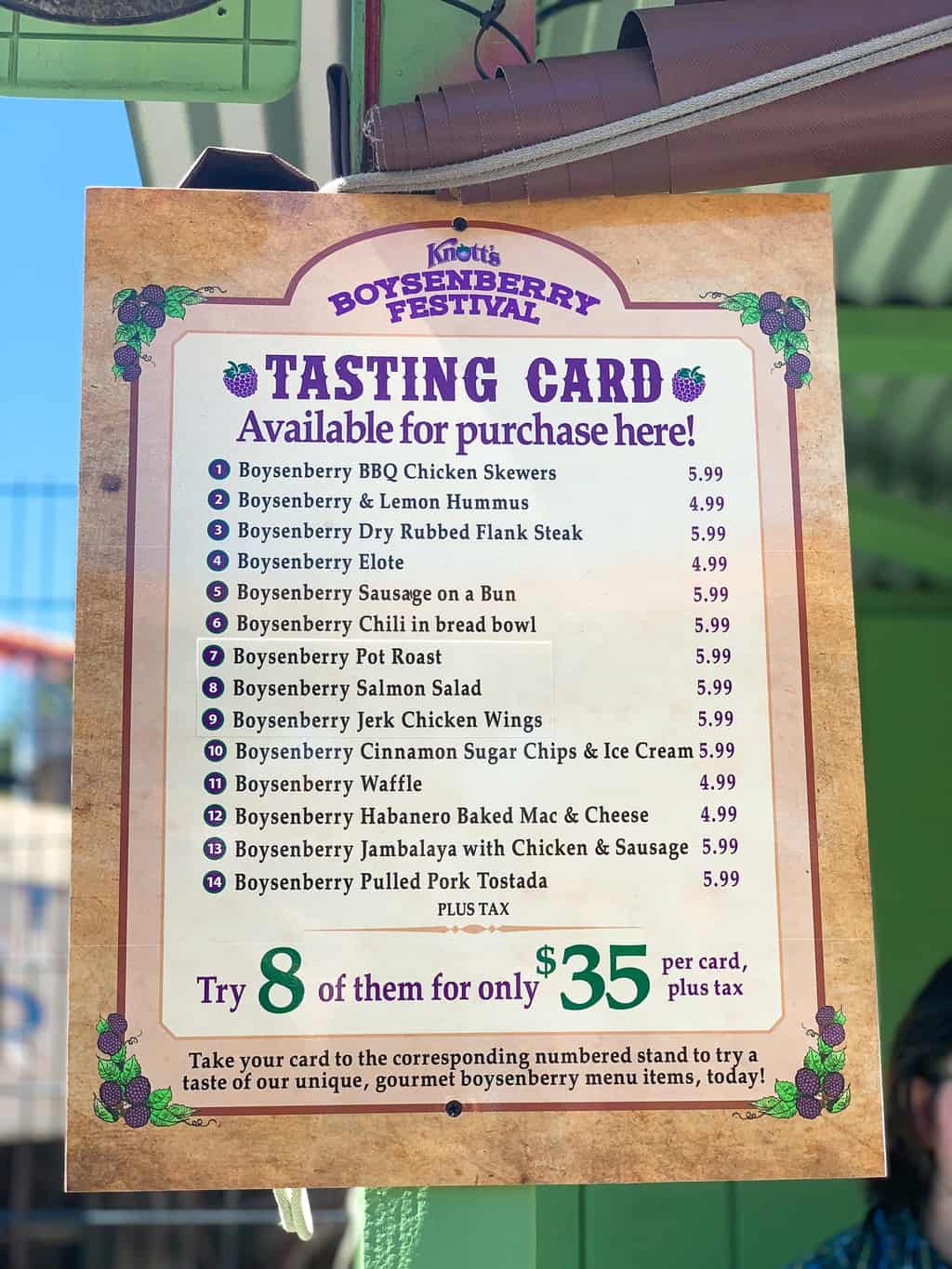 Boysenberry Glazed Salmon with Mixed Greens and Boysenberry Vinaigrette (Location: Inside Spurs Chophouse)
Boysenberry Chili in a Boysenberry Bread Bowl (Location: Wilderness Dance Hall Stand)

Boysenberry Jerk Chicken Wings (Location: Spurs Chophouse Stand)
Boysenberry Elote Corn (Location: Ghost Town Bank Stand)
Boysenberry and Lemon Hummus with Pita Bread (Location: Sutter Food Stands)
Boysenberry Sausage on a Bun with Boysenberry ketchup (Location: Wilderness Dance Hall)
The Knott's Boysenberry Festival Tasting Card may be purchased at various purchase stations throughout the park. Guests may enjoy all eight items or mix-and-match up to eight tastings. In my opinion, one card is sufficient enough to feed two people. Unless of course, you are a boysenberry connoisseur, then you will need more!
Other must-try boysenberry treats are the Boysenberry Cake, Boysenberry Funnel Cake served with Boysenberry Ice Cream, Boysenberry Cheesecake on a Stick and of course, the Boysenberry Sugar Cookies. You can't go wrong with any of these offerings!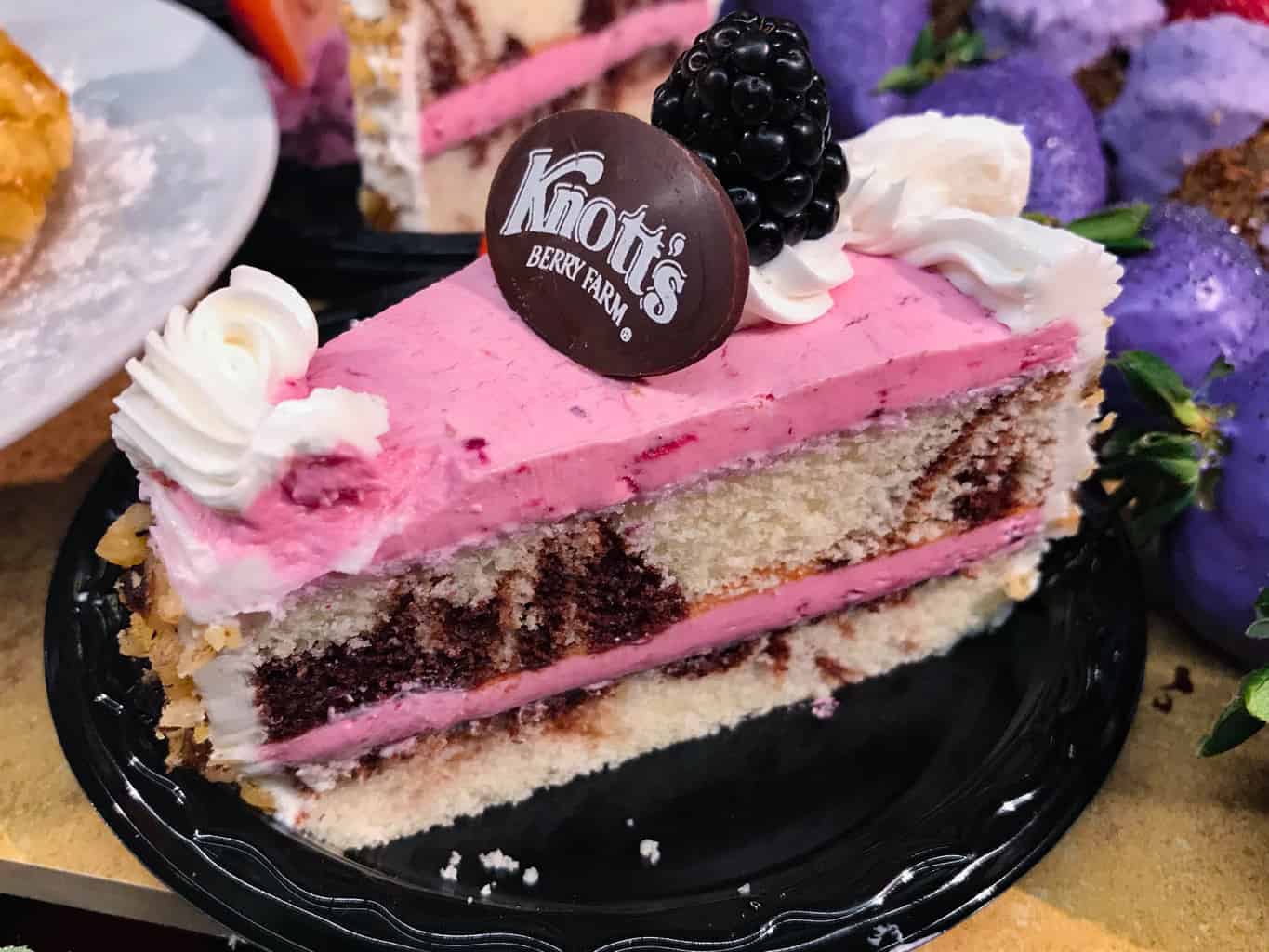 Boysenberry Festival Entertainment
While enjoying your boysenberry delights, don't forget to take in some good old-fashioned hillbilly music in the Calico Saloon, watch the Berry Jamboree at Birdcage Square, blastoff with the Peantus Gang in Camp Snoopy or see the return of Snoopy's Boysenberry Jamboree show!
Things get crazy when Krazy Kirk and the Hillbillies perform their toe-tappin', knee-slappin', side-splittin' country comedy show that has Knott's audiences clamoring for more. See them perform at the Calico Saloon.
As a tribute to Knott's past, the Bird Cage Theater will once again be the home of musical comedy melodrama. Cheer the Hero and Boo the Villain in a special presentation at Knott's Legendary Bird Cage Theatre. America's Longest Running Melodrama returns with an original, audience interactive, comedy with a surprising Boysenberry twist!
Join Snoopy, Charlie, and the entire Peanuts gang as they present – Snoopy's Boysenberry Jamboree – an audience interactive, musical revue! It's a show the whole family will love as you sing, dance, and play along with your favorite characters and our talented performers in this funny, high energy celebration.
Blast off with Charlie Brown, Lucy, and Snoopy as the most famous beagle becomes the first dog on the moon. It is an out of this world adventure held in Camp Snoppy!
Knott's Berry Farm Boysenberry Products
Guests who want to take home the exquisite Boysenberry BBQ sauce, Boysenberry Butter, Boysenberry Mustard, Berry Market Jams and more, can stop by the Berry Market located in the MarketPlace and the General Store located in Ghost Town. I personaly purchased some Boysenberry Chocolate Bars and Boysenberry Gummie Bears for my husband in the candy store.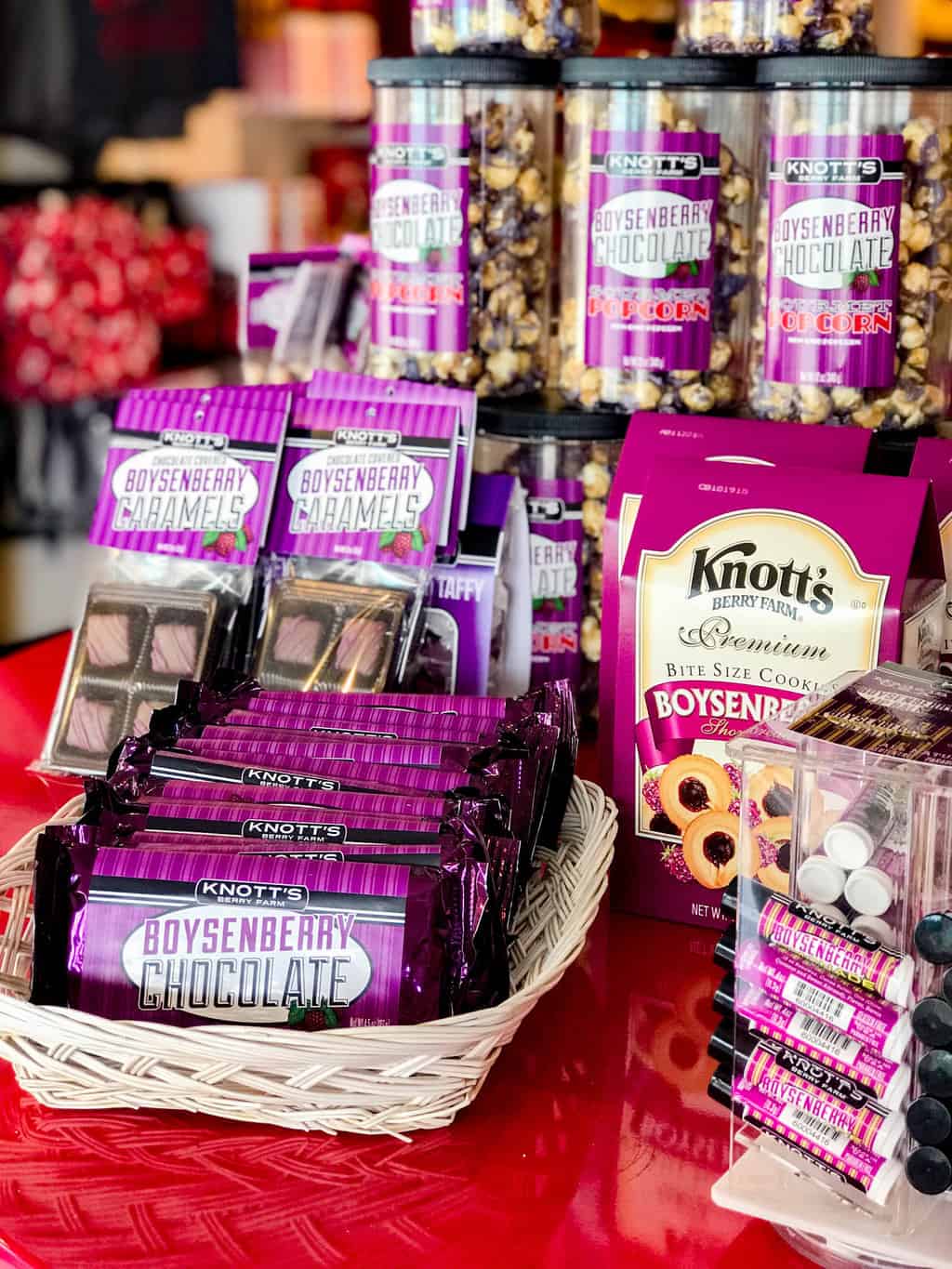 Knott's Boysenberry Pie Eating Contest
Another entertaining part of the festival is the Boysenberry Pie-Eating Championship! Two years ago, my daughter and I witnessed the winner, Joy Chestnut, eat 14.5 pounds of boysenberry pie in under 8 minutes. He set a new world record and won $2,000! This year we watched the children's pie eating contest. It was just as much fun watching the kids try and eat an entire mini-boysenberry pie in under 5 minutes, as it was the adults. Of course, napkins were not included!
Knott's Wine and Craft Brew Garden
My mother-in-law's favorite part of the festival is the Wine and Craft Brew Garden, located inside of Ghost Town's Wilderness Dance Hall. Here you get to choose between tasting 2 different craft brews and over 50 different wines from 36 producers including boysenberry beer and boysenberry wine. A convenient tasting card is available to purchase, which includes 6 tastings paired with a nice cheese and fruit plate.
Right next door to the Wine and Craft Brew Garden, you can also make and decorate your own miniature boysenberry tart pie for only $5.99!
Knott's Boysenberry Festival Discount Tickets
The Knott's Boysenberry Festival runs from March 28 – April 28, 2019. Discount tickets to Knott's Boysenberry Festival start at only $44 per person online or are available for purchase at the park.
Knott's Berry Farm is located at 8039 Beach Boulevard, Buena Park, CA 90620. Parking is $17.
Happy Field Tripping!
Jilleen
More Things To Do In Buena Park California
A Knott's Berry Farm Passes Offers No Black Out Dates
A Field Trip to Medieval Times in Buena Park
Catch An Extraordinary Show at Pirate's Dinner Adventure
20+ Water Parks in Southern California