Written by guest contributor Fran Swayer
On Saturday, my son and I had the opportunity to attend a Halloween kid-friendly art event sponsored by Oranguframe at the Vonderland Studios in Burbank, California. I decided to take along my 6-year-old son Vincent, because he loves painting.
When we first arrived, David, the founder of Vonderland Studios, showed us how to put the blank OranguFrame together. OranguFrame is the brainchild of David VonDerLinn, artist and owner of Vonderland Studios, which is an interactive design firm in the Southern California area.
OranguFrames are inexpensive, lightweight, and easy to assemble frames that are the coolest way to display your child's artwork. Printed with high-quality inks and made from sturdy chipboard, they are available in a variety of fun designs, or blank for customizing. The frame designs vary from whimsical to hip and modern, and include an old barnwood-look, a Mondrian-inspired color block, rainbows, hearts, and a vintage comic superhero.
We learned that OranguFrames assemble in minutes and can be hung up in any direction with just a simple thumbtack. Currently, the frames are only available in an 8 x 10. However, in the future, VonDerLinn plans to release a 8.5 x 11 size to accommodate larger school projects.
After a brief introduction to the OranguFrame, the children got down to some serious art making business! David had prepared a couple of fun Halloween projects ahead of time – monsters hands, pumpkins and more. But instead the kids decided to venture out on their own and created all sorts of cool looking art projects. When the creativity flows, you just let them go!
Vincent painted a bat, while another child drew Twilight from the cartoon series My Little Pony.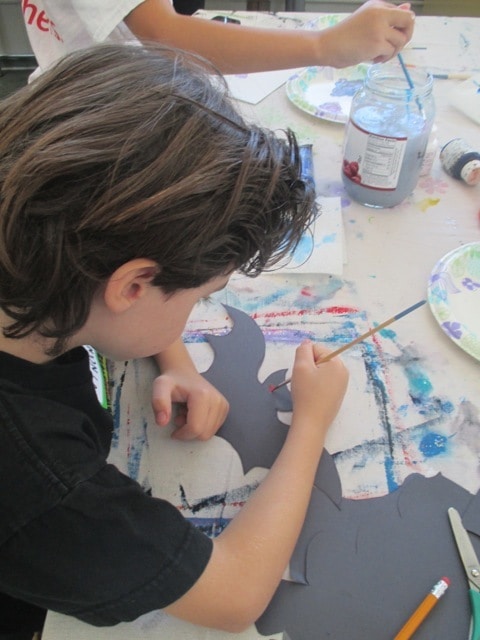 Some children even used washi and decorative tape on their frames to add a new dimension to their art projects. Afterwards, the kids framed their artwork in an OranguFrame and hung it up on the wall almost instantaneous!
Did you know that you can change the artwork inside an OranguFrame? One girl made two drawings to put in her frame to demonstrate this fact! Furthermore, the canvases inside the OranguFrame can easily be swapped out, or stacked – another great way to save your little Picasso's masterpieces for the future!
OrangeuFrame is a multipurpose picture frame that will serve your family's artistic creations for years to come. The estimated retail price for a OranguFrame is $10. Better yet…OranguFrame is able to drop the retail price to as low as $4 when you buy a pack of 24 frames. This is a great price point for art classes and homeschool cops.
Right now OrangeuFrame is accepting pre-orders and expect shipping out to customers by early December – just in time for the holiday season and gift giving.
Happy Crafting with OranguFrame!
Fran
Disclosure: We were invited to Vonderland Studios' OrangeuFrame event as a member of the media. All points of view and opinions are our own.