I am kind of a history buff. Not necessarily a reader of history, but more of a connoisseur. I enjoy traveling to historical sites and seeing first hand how history has changed the lives of individuals. In particular, during college, I had the privilege of traveling to three different continents in four years.
In 1994, I visited Japan for the first time. Here I toured the Hiroshima Peace Memorial in Hiroshima, Japan. The ruin serves as a memorial to the people who were killed in the atomic bombing of Hiroshima on August 6, 1945, when the United States Army Air Forces (USAAF) dropped a nuclear bomb on the city near the end of World War II. Over 70,000 people were killed instantly, and another 70,000 suffered fatal injuries from the radiation. I still remember the life-like models of the victims and thousands of origami cranes created in memory of them. It was a powerful testimony to living history.
In 1995, I visited Pearl Harbor in Hawaii. The attack on Pearl Harbor was a surprise military strike by the Imperial Japanese Navy against the United States naval base at Pearl Harbor on December 7, 1941. The attack led to the United States' entry into World War II. To walk across the memorial, and gaze upon the USS Arizona that has been buried at sea, is a very humbling experience. It gave me a new found appreciation for our country's service men and women.
Finally in 1996, I toured the Nazi concentration camp of Dachau in Germany. Dachau was a death camp where countless thousands of Jews died from malnutrition, disease and overwork or were executed. This is the most disturbing historical site I have seen to date. One I will never forget.
While in Germany, I also toured East Berlin and saw remits of the Berlin Wall, a barrier constructed by the German Democratic Republic that divided Berlin from 1961 to 1989. The Wall attempted to prevent the massive emigration and defection that marked East Germany and the communist Eastern Bloc during the post-World War II period.
Post-World War II is the time period in which the new movie Bridge of Spies takes place. A dramatic thriller set against the backdrop of a series of historic events, DreamWorks Pictures/Fox 2000 Pictures' "Bridge of Spies" is the story of James Donovan (played by Tom Hanks), a Brooklyn insurance claims lawyer who finds himself thrust into the center of the Cold War when the CIA sends him on the near-impossible task to negotiate the release of a captured American U-2 pilot.
In the 1950s, during the early stages of the Cold War, tensions are rife between the U.S. and U.S.S.R., so when the FBI arrests Rudolf Abel (Mark Rylance), a Soviet agent living in New York, the fear and paranoia only escalate. Charged with sending coded messages back to Russia, Abel is questioned by the FBI but refuses to cooperate, declining their offer to turn on his country, and is detained in federal prison pending trial.
The government, in need of an independent attorney to take on Abel's defense, approaches James Donovan, an insurance lawyer from Brooklyn. As Donovan prepares his defense strategy, a bond begins to develop between the two men, one built on mutual respect and understanding. Donovan admires Abel's strength and loyalty and mounts an impassioned plea, arguing that his actions were that of a good soldier following instructions on his country's behalf, but to no avail.
Sometime later, an American U-2 spy plane is shot down over Soviet airspace while on a reconnaissance mission, and the pilot, Francis Gary Powers (Austin Stowell), is convicted and sentenced to 10 years in prison in the U.S.S.R. The CIA, while categorically denying any knowledge of the mission, is fearful that Powers may be coerced into revealing classified information Having witnessed Donovan's impressive skills in the courtroom, CIA operative Hoffman (Scott Shepherd) secretly reaches out to recruit him for a national security mission of great importance.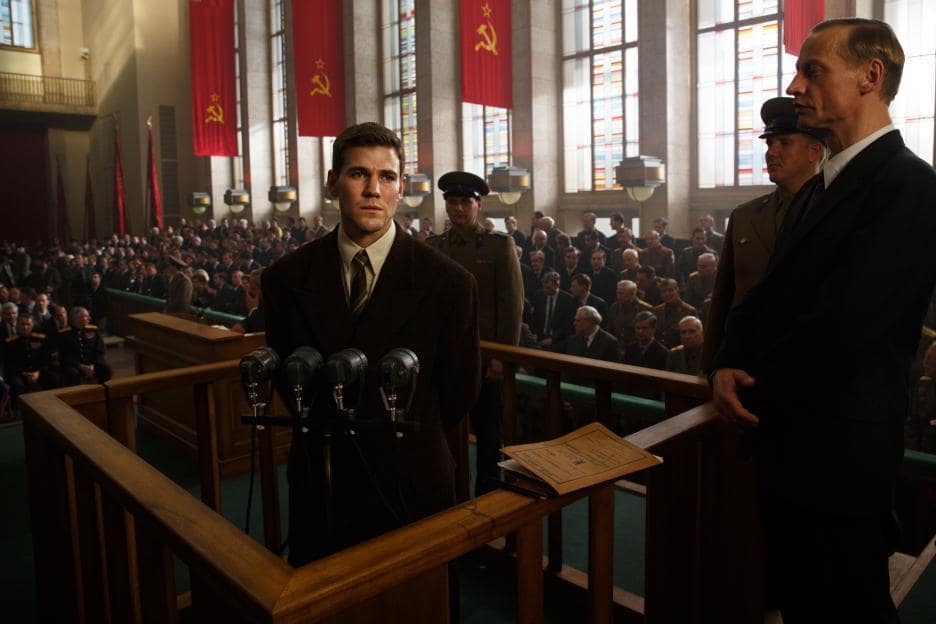 Fueled by a love for his country, unwavering belief in his convictions and a tremendous amount of courage, Donovan is soon on a plane to Berlin to negotiate a prisoner exchange between the U.S. and the Soviet Union.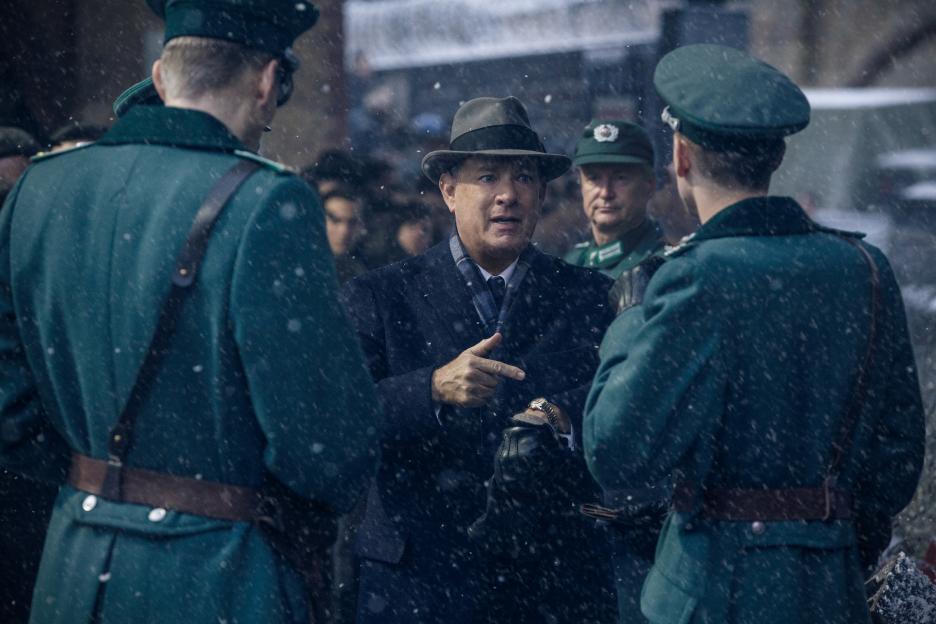 The Director of Bridge of Spies, Steven Spielberg, was captivated by the story line of the movie script. The true events contained elements of a legal drama, a thriller and a historical epic, but it was the character of James Donovan at the heart of the story, which he found most appealing.
I have always been a fan of Spielberg's work. From ET to Schindler's List to War Horse, he truly knows how to capture human emotion and bring it to the big screen. When my husband and I attended a movie premier of Bridge of Spies, I was on the edge of my seat the entire time. One moment I was rooting for Rudolf Abel to receive a fair trail. The next moment I wanted him sentenced to life in prison.
Then when the government sent Mr. Donovan to East Berlin to negotiate a prisoner swap, I was almost in tears. For one man to put his entire career, life and family on the line to save two American prisoners that he had no relation to, is an American hero in my book.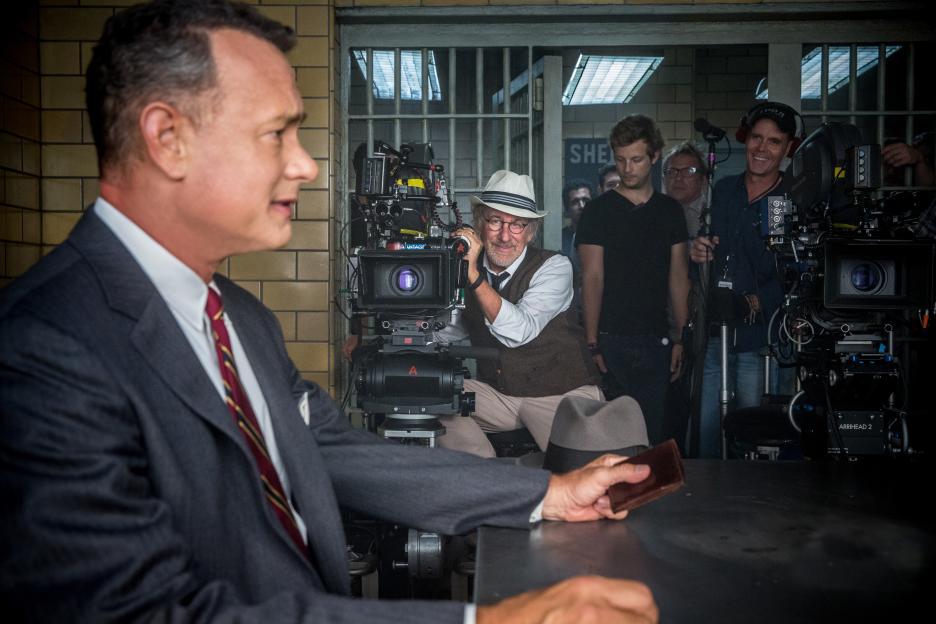 Bridge of Spies opens in theaters nationwide on October 16, 2015. It's a new captivating spy thriller you don't want to miss!
Disclosure: We were invited to a movie premier of Bridge of Spies to help facilitate this post. All points of view are my own. Historical information for this post was researched on Wikipedia.