This blog post is part of a paid Megan Media and Sony Pictures blogging program.
The opinions and ideas expressed here are my own. #MiraclesFromHeaven
Miracles from Heaven is the remarkable true story of faith and blessings. Annabel Beam (Kylie Rogers), age 11, spent most of her childhood in and out of hospitals with a rare and incurable digestive disorder that prevented her from ever living a normal life. One day when she was outside with her sisters, she fell three stories headfirst inside an old, hollowed-out tree, a fall that should have ended her life. Instead, she survived without a scratch. After being released from the hospital, she stunned her doctors and was inexplicably cured of her chronic ailment. Now that's a miracle!
I had the opportunity to see Miracles From Heaven today as part of a Sony Pictures/Megan Media VIP event, and the movie hit close to home. Two years ago, my own daughter was diagnosed with a neurological disorder that I knew would change the course of her life forever. At first, I was in shock and denial. I pulled the comforter up over my head for about a week and cried non-stop. Then I decided enough was enough: it was time to get down to business to help my daughter. So the phone calls and the doctor visits began. As the denial letters from my health insurance rolled in, my appeal letters went out.
Over the course of a year and a half, my daughter received 25 hours a week of intensive speech, occupational, and behavioral therapy. Managing her therapy schedule, while attempting to keep our life as "normal" as possible and working part time and maintaining our home, was difficult to say the least. Some days, I just wanted to throw up my hands and say "I am done Lord! Why me? Why my daughter?"
Those were the days when the little miracles from heaven would appear. For example, when my daughter's speech therapist would tell me that my daughter identified a new word and used it appropriately in a sentence. Or when a friend came over to clean my house. The biggest miracle of all came 18 months later when our local school district agreed to provide my daughter with a fair and appropriate education.
The fact that I had the strength and determination to advocate for my daughter for so long is a miracle in and of itself. As 2 Timothy 1:7 says, "For God has not given us a spirit of timidity, but of power and love and discipline." This is the type of strength that Christy Beam (Jennifer Garner) displays in Miracles from Heaven.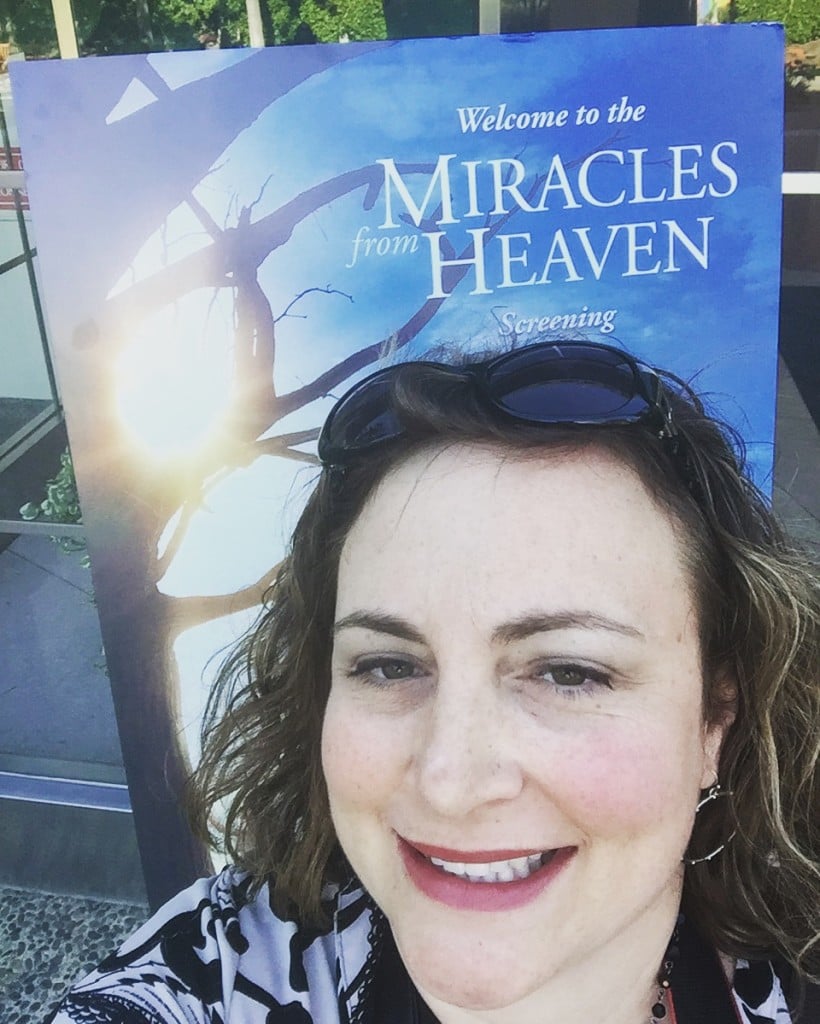 Christy Beam, in my world of heroes, is a "warrior mom". This is a compliment: a warrior mom is the one hanging by her fingertips while clinging to keep her family, job, friendships and sanity together. And she does this while displaying a sense of intelligence, grace, and rugged tenacity. That's Christy Beam.
Jennifer Garner does a spot-on job portraying Christy Beam in Miracles from Heaven. After the screening, there was a Q & A session with producer Devon Franklin at Sony Pictures. There, I learned how Jennifer Garner was selected to play Christy Beam. Devon said that when he first sent Garner the script, she stayed up all night reading it. She felt she had such a strong connection with the Beam family, especially with Christy and Annabel, that the decision to take the role was an easy one.
Another spirited woman with great character in the film is Angela, portrayed by Queen Latifah. Angela, a waitress, befriends Christy and her daughter during their visits to Boston Children's Hospital. Angela provides comfort and a helping hand when they need it the most.
Miracles from Heaven, directed by Patricia Riggens and starring Jennifer Garner, Martin Henderson and Queen Latifah, opens in the theaters nationwide on March 16, 2016. Advance tickets are available now through Fadango!
Leave a comment on this Miracles from Heaven article, and tell me about a miracle in your life for a chance to win! See here for official rules.
Go see Miracles from Heaven…we all need a little miracle sometimes!
Jilleen