LEGO fans unite! LEGOLAND® California Resort announced earlier this week the addition of a new NINJAGO™ land coming in the Spring 2016! Introducing NINJAGO™ – The Ride.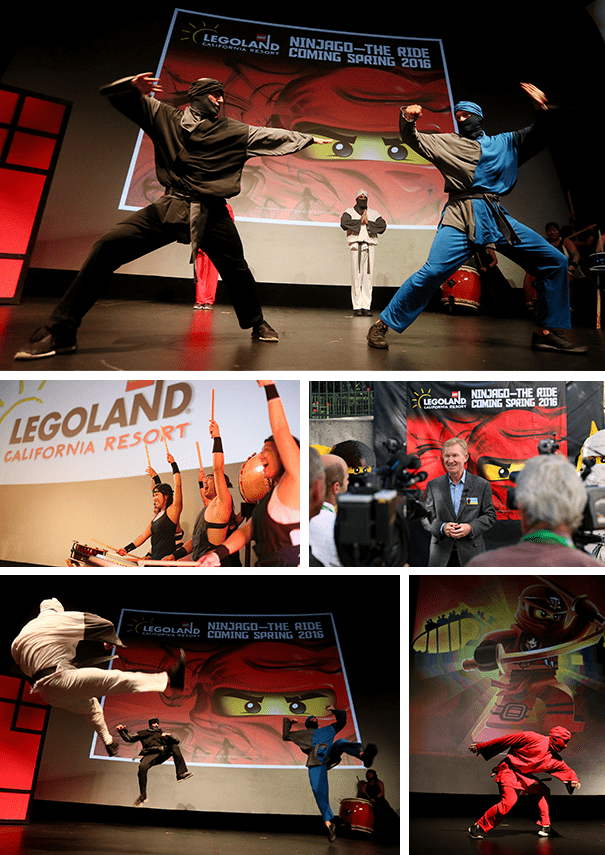 photo credit: LEGOLAND® California Resort
During the press conference, Taiko drummers, ninja warriors and a Spinjitzu Master filled the theater with energy. Afterwards, General Manager Peter Ronchetti offered details of the exciting new land and unmasked the new ride which features technology guests have never experienced at any other theme park.
Guests will enter the new NINJAGO land through a giant archway behind Imagination Zone leading them into a courtyard where they begin their ninja training. The new land will feature LEGO® building stations, a game to test reflexes, spinners to test balance, Asian cuisine and a new shopping venue. Interactive experiences will test guests' physical skills, balance and agility before they can prep for their ultimate training session: NINJAGO – The Ride.
Through 3D imagery, high-tech sensors and the use of hand movements in a striking motion, up to four riders per car, representing the four main NINJAGO characters, can blast animated fireballs, lightning, shockwaves and ice as they travel through dojos to master their skills before heading into battle. Riders collect points for their training and battle efforts throughout the ride and scores are displayed when their quest is completed. 4D effects such as heat, smoke and wind are also incorporated throughout the adventure, giving guests the ultimate interactive experience.
NINJAGO –The Ride will be the ultimate experience providing interactive fun for all! I know Field Trip Boy definitely can't wait to go on it!
NINJAGO – The Ride will be included in the cost of admission to LEGOLAND California Resort. We will be sharing more information about the ride and when it opens as it becomes available.
Happy Field Tripping!
Jilleen
Disclosure: This post is for informational purposes only. All points of view are my own.