Spring is my favorite time of year to go on a hike with my family, visit a local botanical garden in LA and explore the various wildflowers near Los Angeles. Now through May is prime time for flower fans like myself. And 2023 we are suppose to have another superbloom!
In preparation for the season, I've created a list of over 20+ places in Los Angeles where you can see wildflowers. From Antelope Valley all the way down to the coastal shores of Malibu, you can see several species of wildflowers including the California Poppy, Giant Coreopsis and Hummingbird Sage.
Just remember to enjoy them and please don't pick them!
Happy Field Tripping!
Jilleen
Where To See Wildflowers in Los Angeles
Antelope Valley California Poppy Reserve, North Los Angeles County
Each spring, the Antelope Valley California Poppy Reserve comes alive with the seasonal surprises of the Mojave Desert Grassland habitat. The duration and intensity of colors and scents vary from year to year. The wildflower season generally lasts from as early as mid-February through May, with a variety of wildflowers including California Poppies, creating a mosaic of color that changes daily. The peak viewing period is usually late March or early April.
Private group tours for 10 or more may be reserved for weekdays (M-F). Tours must be reserved a minimum of 2 weeks in advance by emailing [email protected]. Tours are free for not-for-profit organizations and clubs, and school groups. For-profit groups and tour companies will be charged $5 per person in advance, in addition to the parking fees which are paid on arrival.
Arthur B. Ripley Desert Woodland State Park, Lancaster
The 566-acre Ripley Desert Woodland is located a few miles west of the Poppy Reserve on Lancaster Road at 210th Street West. The park protects and preserves an impressive stand of native Joshuas and junipers which once grew in great abundance throughout the valley. In early spring months, creamy white blossoms begin to grow on the ends of the branches of the Joshua. The blooms last for several months, growing larger and larger as the weeks go by. Set in a bed of wildflowers, the Joshua becomes a site of stately beauty.
Catalina Island, Los Angeles County
Catalina, right off the southern California coast from Long Beach, ignites with wildflowers in early spring. March is generally a good time to catch many of Santa Catalina Island's 400 native plants in bloom, as well as its 180 or so non-native species. The color palette includes giant coreopsis, shooting star, Catalina wild apple blossom and island snapdragon. To see the color, you'll want to book an inland bus or jeep trip through the Santa Catalina Island Company, your personal guide to the preserved areas of the island.
Channel Islands, Ventura
The Channel Islands is a National Park made up of 5 islands – Anacapa Island, Eastern Santa Cruz, Prisoners Harbor (Santa Cruz Island), Santa Rosa Island and Nidever Canyon. The park is home to over 800 plant species (including subspecies, varieties, and forms). During a normal year of rainfall, the islands are green and wildflowers reach peak bloom around late winter and spring. Generally, the blooming begins and ends earlier the farther east and south the islands are located. The brilliant yellow coreopsis flowers usually peak between late January through March. The best viewing of these flowers occurs on Santa Barbara, Anacapa, and San Miguel Islands.
Charmlee Wilderness Park, Malibu
Charmless Wilderness Park consists of 590 acres of the best of the Santa Monica Mountains Coastal Slope environment. The park includes shady picnic areas, majestic ocean views, eight miles of hiking trails, and an amphitheater. The wildflower Catalina Mariposa can be found at the park along with the delicate, pink-flowered wild cyclamen called padre's shooting star. Charmlee is also a good place to find prickly phlox, bush lupin and hummingbird sage — flowers that are fragrant in addition to being beautiful.
Circle X Ranch, Malibu
Tucked in the canyons above Malibu and nestled below majestic Boney Mountain, you will find Circle X Ranch. This former Boy Scout camp offers many opportunities for exploration and leisure. Hike one of the many trails that wind through this rare coastal Mediterranean ecosystem. Experience the ranch's chaparral plant community and look for red shank chamise, a tree-like shrub with reddish-brown bark, clusters of thread-like leaves and small bunches of white flowers that bloom in July and August. The ranch also has a cave and waterfalls in its Grotto trail.
Corral Canyon, Malibu
A coastal canyon of the Santa Monica Mountains where the creek flows directly to the ocean shore, Corral Canyon Park rests on a 100 acres of land and includes various hiking trails with gorgeous views. The Sara Wan Trailhead is a popular spot with a 2.5 mile hiking loop, and easy access to parking and picnicking facilities. The brilliant yellow flowers of non-native mustard dominate the open hillsides at Corral, along with the California peony, Indian paintbrush and gold-backed fern.
Eaton Canyon Nature Center, Los Angeles
Around Eaton Canyon Nature Center you'll find plenty of blooming bush sunflowers and phacelias as you make your way into the canyon. And if it's warm enough, you can dip in the waterfall at the end of the trail.
Flower Fields of Gorman Hills, Gorman
Not too far from the famous Antelope Valley poppy meadows there is another well-known location where in spring-time often there can be observed magnificent florescence of celebrated Californian flowers, the Flower Fields of Gorman Hills. Most common flower species here are the yellow California tickseeds, blue Bentham lupines, blue bluehead gilias and lacy phacelias. Orange accents are added by the beautiful California poppies in many places forming larger golden colored meadows. Public organisations have called for creation of preserve north from Gorman Post Road in order to protect the beautiful wildflower fields.
Hungry Valley State Vehicular Recreation Area, Gorman
At Hungry Valley State Vehicular Recreation Area, you can catch a glimpse of the California poppies, goldfields, lupine, and tidy tips in Tejon Pass. There is a self-guided tour route and rangers are on hand weekends during the height of the season to provide two-hour tours.
Huntington Gardens, Pasadena
In 1903 Henry Huntington purchased the San Marino Ranch, a working ranch with citrus groves, nut and fruit orchards, alfalfa crops, a small herd of cows, and poultry. Today, the estate is home to more than a dozen spectacular gardens spread across 120 acres. Head to Pasadena to see the camellias in the gardens in early spring.
Malibu Bluffs Park Open Space, Malibu
The green meadows at the Malibu Bluffs Park Open Space consists of blue dicks, yellow and orange deerweed, morning glories, pale orange monkey flower, the delicate tassels of purple needle grass and wild radish and mustard. The real star of the show at Bluffs is the Catalina Mariposa, a bluff-dwelling white and pink lily that is arguably one of the most beautiful local natives.
Malibu Creek State Park, Malibu
At Malibu Creek State Park the best wildflowers are found in the oak woodlands south of Mulholland Drive in the northwest area of the park, along the road to the lake, and along Las Virgenes Creek in the northern Liberty Canyon area. From the campground, visitors will find easy access to oak woodlands over Tapia Spur Trail For a real challenge, visitors can try the Bulldog-Mesa Peak Loop. The Tapia Park section is a preserve of old oaks with a beautiful view of rocky peaks to the west, with wildflowers along the stream and under the trees. A trail that connects Tapia to Malibu Creek State Park has a variety of flowers and shrubs.
Palos Verdes Peninsula, Palos Verdes
On the Palos Verdes Peninsula, wildflowers bloom year-round thanks to its coastal location, but like most Southern California locations, March and April are peak months. In the summer, you'll see buckwheats with soft white blooms, cactus, native milkweed, cliff aster and California aster.
In the spring, you can head to any number of the nature preserves—the Palos Verdes Nature Preserve, Linden H. Chandler Preserve, George F. Canyon and White Point Nature Preserve—to catch blooms. You'll see fiddlenecks on the east side of the Chandler Preserve, where monarch butterflies hang out, as well as deerweed, poppies and more. Lupines can be seen at White Point Nature Preserve, while hiking the Mariposa, Flying Mane and Basalt trails in Palos Verdes Nature Preserve will lead you to red paintbrush. You'll also find blooms of California bush sunflower, mariposa lilies and blue dicks across the peninsula. (Excerpt from timeout.com)
Paramount Ranch, Agora Hills
When Paramount Pictures leased the ranch in 1923, they began an era of film production that continues today. The ranch offers several miles of easy to moderate scenic hikes through chaparral, riparian, and valley oak savannah plant communities. You can easily see goldfields along the paths that are also visible from the parking lot.
Point Dume State Beach, Malibu
One of the most spectacular displays of spring wildflowers can be found at Point Dume State Beach, where the Point Dume Headlands and the bluffs along Westward Beach are golden with a mix of giant coreopsis — a flower found along the coast and nowhere else in the world — bush sunflower and California poppies. Patches of low-growing pale-purple sand verbena, wishbone flower, morning glories and evening primrose also grow along the trails. Visitors have a good chance of seeing sea lions, dolphins and whales, in addition to wildflowers.
Point Mugu State Park, Point Mugu
The popular La Jolla Canyon Trail gets dotted with giant coreopsis, floppy yellow daisy-like flowers. Purple lupine and mariposa lilies sprout on the hillsides and meadows, and mustard adds yellow streaks. You can also see golden poppies, blue lupin and purple phacelia in bloom in many areas. Hikers willing to trek up seven-mile Ray Miller trail at Point Mugu State Park to La Jolla Valley may be rewarded with a sea of lupin, in addition to spectacular ocean views.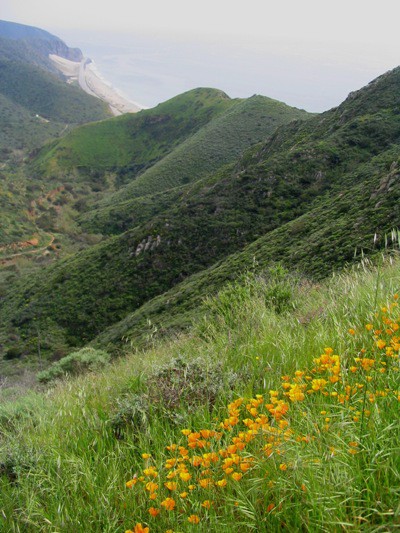 Saddleback Butte State Park, Lancaster
Saddleback Butte State Park is located 17 miles east of Lancaster, so it's a bit of a trek from L.A., but you're rewarded with lush fields of little yellow flowers. The state park surrounds the Saddleback Butte, a granite mountaintop 3,651 feet above sea level, on the western edge of the Mojave Desert. The best time to visit is in the springtime, February through May, when wildflowers are apt to put on a beautiful display of color.
Solstice Canyon, Calabasas
Solstice Canyon features several options for easy, moderate, or strenuous hikes through coastal sage scrub and riparian plant communities. Visitors can enjoy a picnic, a shady stroll along the Solstice Canyon Trail, or a more challenging climb up the Rising Sun Trail. Their perennial waterfall is a popular hiking destination, and along the way you might encounter acorn woodpeckers, alligator lizards, fence lizards, or a red-tailed hawk soaring overhead. The brilliant yellow flowers of non-native mustard dominate the open hillsides at Corral, along with the California peony, Indian paintbrush and gold-backed fern.
Tejon Ranch, Tejon
Tejon Ranch is uniquely situated about halfway between Bakersfield and Los Angeles, east of the I-5 freeway. More than 200 species of birds have been spotted, a third of the state's native oaks are represented, and more than 60 at-risk plant and animal species are protected here. The Community Hike program is Tejon Ranch Conservancy's primary means of providing access to the general public. Hikes typically take place in the Spring months with an emphasis on wildflower viewing and birding.
Theodore Payne Foundation, Sun Valley
A gorgeous native plant nursery and garden in the northern San Fernando Valley. Browse the selections, talk to the helpful staff, and take a stroll along the Wild Flower Hill Nature Trail for some inspiration during peak bloom. Wild Flower Hill offers a ¾-mile trail just northeast of the retail nursery. The trail is open between 8:30 am to 4:00 pm on business days. It is an excellent place for hiking, birdwatching and picnicking. Common plants along the trail include Artemisia californica (California Sagebrush), Malosma laurina (Laurel Sumac), Eriogonum fasciculatum (Wild Buckwheat) and Salvia mellifera (Black Sage). Colorful spring-flowering species include Dichelostemma capitatum (Blue Dicks) and Delphinium cardinale (Scarlet Larkspur).
The Theodore Payne Foundation also offers field trips for K-12 students with hands-on activities that teach students about California native plants and the natural world.
Zuman Canyon Park, Malibu
Zuma! It is derived from the Chumash word for "abundance." Certainly, Zuma and neighboring Trancas Canyons satisfy this description. The perennial streams running through these canyons give rise to an abundance of animal and plant life. Walk carefully along the trails and discover tracks of deer, rabbit and coyote and marvel at the profusion of springtime wildflowers. The brilliant yellow flowers of non-native mustard dominate the open hillsides at Zuma, along with the California peony, Indian paintbrush and gold-backed fern. Another member of the lily family, the chocolate lily, can be found in unusually large numbers in Zuma Canyon, along the trail accessed from the Bonsall Canyon trailhead.
Happy Field Tripping!
Jilleen
More Places in Southern California To See Wildflowers
Best Places To See Wildflowers in The California Desert
Best Places To See Wildflowers in San Diego
Best Places To See Wildflowers in the Inland Empire