This post may contain an affiliate link.
Reading every night before bedtime has been a tradition in our family since my children were born. Every evening my children pick two books for mom and dad to read to them while we snuggle up together in bed. However, in the summer, I like to up the ante and encourage my children participate in one or more Free Summer Reading Programs for Kids. Some programs are local, while others are nationwide.
Did you know that on average students lose 2 months of reading skills over the summer? So to combat this trend, there are several Free Summer Reading Programs for Kids that you can sign your children up for right now. In addition to this list of 19 free summer reading programs, many local libraries also host summer reading programs for kids. I encourage you to stop by and sign your children up. In the past, my children have won prizes to such places as BarnesandNoble.com or Amazon.com.
Free Summer Reading Programs for Kids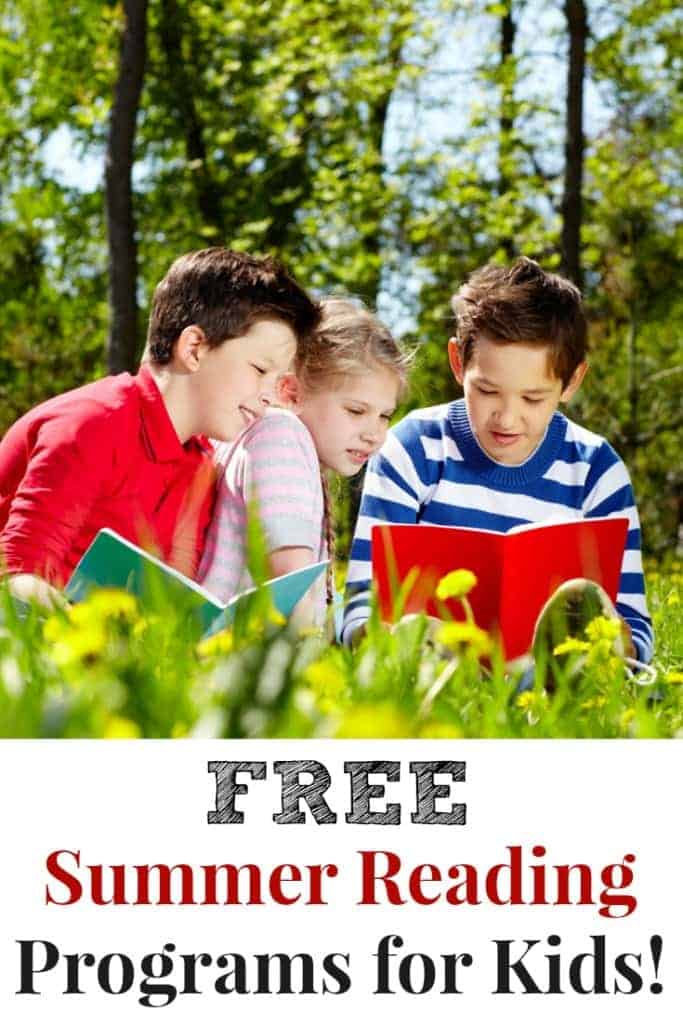 Sylvan's Learning Book Adventure
Using Sylvan's Learning Book Adventure, readers in grades K-8 not only receive the satisfaction of reading a book from cover to cover, they also earn rewards for taking online quizzes to demonstrate their comprehension of the books they've read. This motivational approach to learning is proven to help build a love of reading that lasts a lifetime!
To set up an account for your child, visit here. Kids earn prizes online and then redeem them via snail mail for prizes from the Balloon HQ, Gripper Products, Highlights Magazine, IGOR™, Patch Products, Quiz Hub, The Reading Stage in concert with Playbooks, Inc., Rocky Mountain Chocolate Factory and Whitney Worldwide.
Pizza Hut's Book It Summer Reading Challenge
With the Pizza Hut Summer Reading Challenge, children can beat the "summer slide" by downloading and printing Pizza Hut's summer activities that keep kids reading throughout the summer months. Parents and teachers can choose from book lists to book reviews to story starters. Pizza Hut also partnered with Candlewick Press to bring children a great list of summer reading activities. Don't forget to also sign up for Pizza Hut's Book It Homeschooling Program too.
New York Times Summer Reading Contest
The 11th annual New York Times Summer Reading contest is for students ages 13-19. Students are able to tell the NYTimes why they loved or disliked a particular piece and each week they publish the best comments. The NYTimes.com has a digital subscription system in which gives readers free access to 20 articles each month.