Written by guest blog contributor Fran Sawyer. This post may contain affiliate links.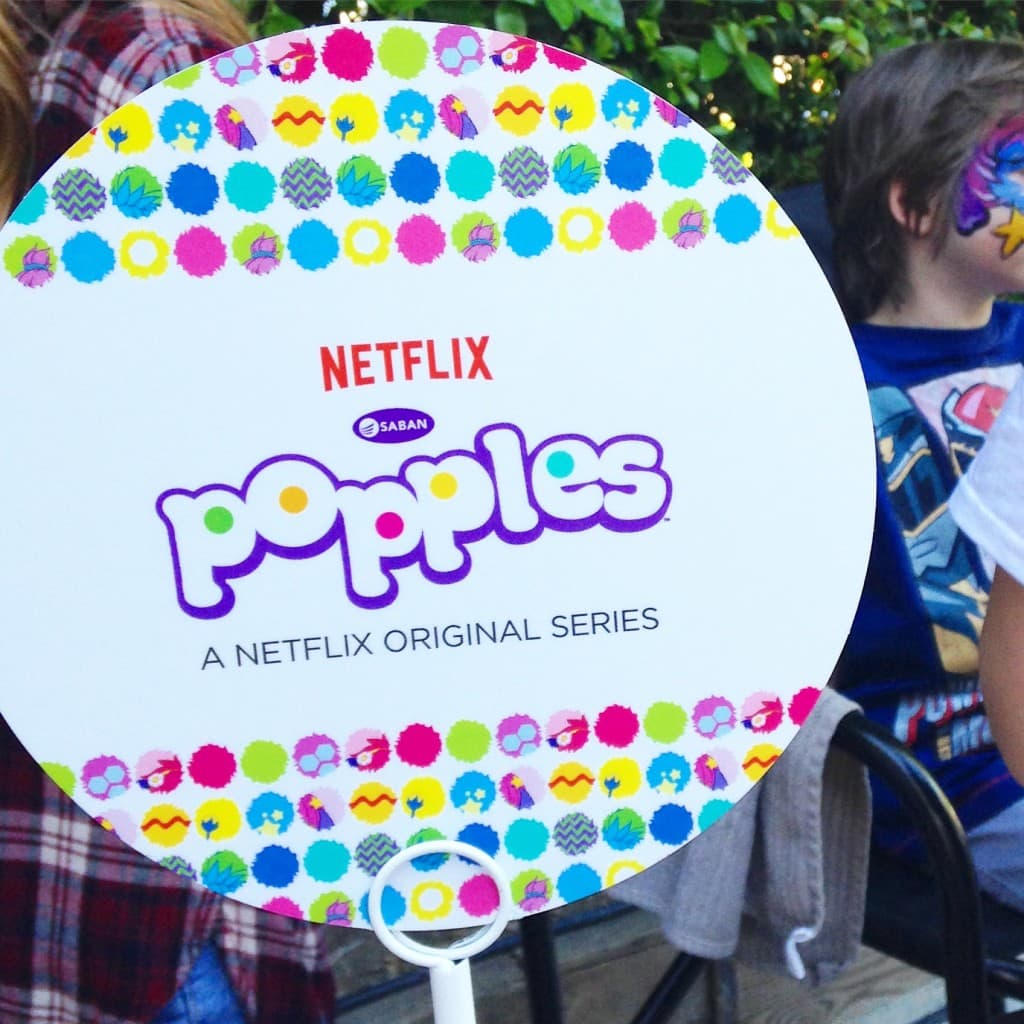 Last Tuesday, SoCal Field Trips attended Popplopolis, a star-studded color-popping party at the Lombardi House in Hollywood! We were kindly invited to celebrate the release of the second season of Popples, premiering on Netflix on March 11.
During the party, face painters were on hand to transform the children into their favorite Popples characters. The girls enjoyed having the pinkalicious Lulu painted on their cheeks, while the boys picked got to choose a Yikes mask.
My daughter was a little too young to sit for so long, but so instead she picked out a few Lulu-inspired hearts for her design. They did a fantastic job!
After throwing the ball and winning cool Plopples plush prizes, we cooled down from the California sun inside where more fun things were waiting for us. While Popples was playing on the large TV screen, we headed toward the cake-pop decorating tables and our kids kept true to their Popples spirits and decorated Yikes and Lulu treats.
There were also numerous celebrities in the house! Molly Sims helped her son decorate cake pops, while Soleil Moon Frye (Punky Brewster!) was there hugging her favorite Popple. We also met Jamie-Lynn Sigler and YouTube sensation Megan Nicole, as cute as a button with her polka-dot dress. Nicole is lending her singing talent and voice to the second season of Popples as the character Squeaky Pop.
And, of course, one of the Popples was in attendance: a life-size version of the character Bubbles! My 2-year-old daughter had the funniest "oh-my-gosh-expression" on her face when she saw her favorite plush character come to life.
Needless to say my kids were exhausted after having so much fun and excitement at the Popplopolis party! And parents…if the name Popples rings a bell, that's because it was a popular line of toys and a cartoon back in the '80s. I also remember having one of the plush toys as a kid, but I think the new modernized line of toys is much cuter!
So don't miss the second season of Popples now playing on Netflix! Season 1 is currently steaming and Season 2 premieres on March 11th.
Happy Movie Watching!
Fran