This post may contain an affiliate link.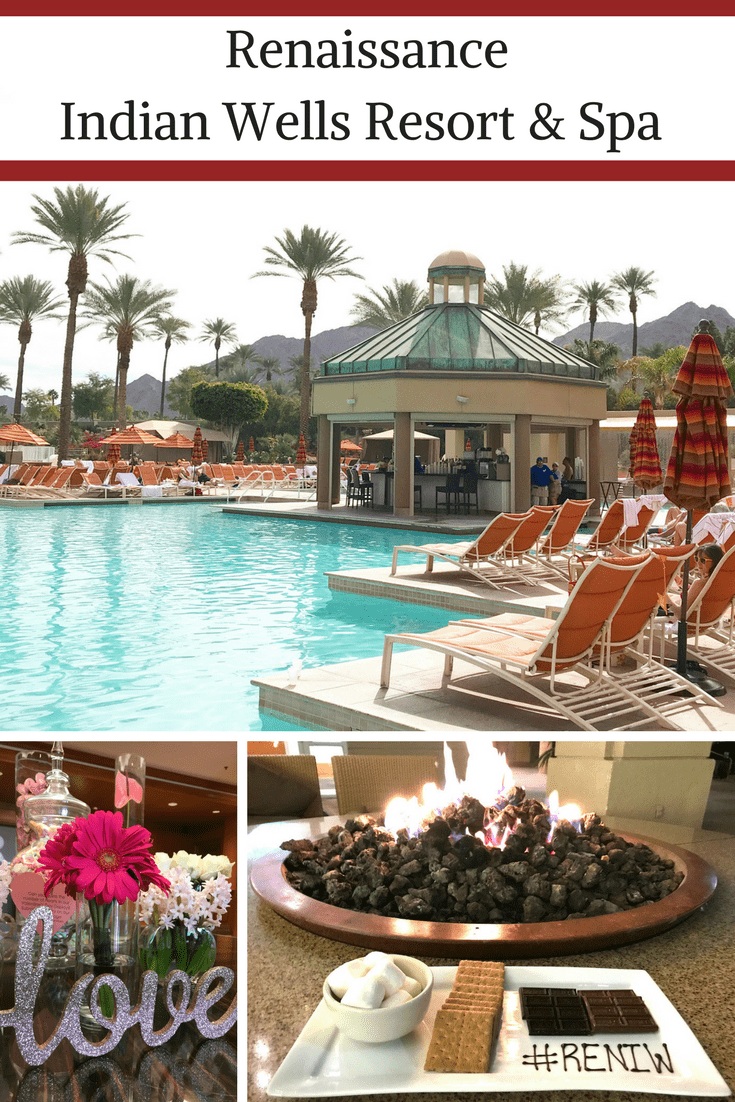 In February, my wife surprised me with the best birthday present ever!  We went on a three day, two-night excursion to the Renaissance Indian Wells Resort & Spa in Indian Wells, California.
I looked forward to spending a relaxing weekend away in the desert with my wife, while our kids were entertained elsewhere; my son went to winter camp and my daughter stayed with her grandma and grandpa.
On Friday night, we set out from Orange County and surprisingly met little resistance in the way of traffic arriving at the Renaissance Indian Wells Resort & Spa in under two hours.   On our way to the desert, my wife and I discussed our plans for the weekend and decided on what local hot spots we wanted to visit.
We arrived at the Renaissance Indian Wells Resort & Spa at 8:30 pm that Friday night to a wonderfully clear and star-filled desert sky.   When I pulled up to the front of the resort, we were graciously welcomed by the valet crew who immediately whisked our suitcases off to the concierge.  My wife also commented on how lovely the lobby appeared with the display of Valentine's flowers and complete marble from floor to ceiling.
After we checked in, we made our way to the "Star Suite".  The "Star Suite" is a mid-century modern furnished suite replete with a large L-shaped couch, along with an ottoman that you can rest your feet on or use as a make-shift dining table.
The suite also comes appointed with a study desk, a sizable TV, and of course to go along with the theme, a picture of the beautiful Hollywood actress Lucile Ball.  Most importantly though, our suite came with a Keurig coffee maker for coffee addicts like me and a small fridge tucked away underneath the bar.
Once we unpacked, we opened up the curtains and saw an impressive array of the pools, a world-renowned golf course and a partial moat that skirted the resort.
The Greater Palm Springs Convention Bureau also graciously welcomed us and gave us a gift tote complete with a box of dates and a hefty bag of freshly roasted coffee, both of which came from a local vendor.
After munching on the treats, we decided to take an evening walk around the Renaissance Indian Wells Resort & Spa to enjoy the cool evening breeze, ultimately finding our way to an open-air fire pit.
On Saturday morning, we awoke to an astonishingly beautiful sunrise and enjoyed a fresh cup of coffee in our room.  Then, while my wife went down to the fresh juice bar, I went to check out the highly acclaimed gym facilities.
The gym of Renaissance Indian Wells Resort & Spa is top notch, loaded with weight machines, a free weight section, ellipticals, treadmills and a relaxing sauna in the men's room.  The gym facility also provides snacks and fruits for guests.  After a robust workout and a quick shower, I made my way back to our room.
Now it was time to get our day started!  My wife and I met with the concierge at the front desk who gave us some great ideas of things to do in the area, including eating breakfast at Shield's Date Farm and taking the Palm Springs Aerial Tramway up to San Jacinto Mountain.  We decided to do both activities.
Later on, that evening, after we got back from our daytime adventure, we dined at one of the two restaurants on site, named Cava.  I ordered the scrumptiously delicious rib-eye served with fresh asparagus, mushrooms, and fingerling potatoes.  When paired with a Cab, I was on cloud nine!
After dinner, my wife and I went outside to make s'mores around the fire and sit by the alluring pool.  The Renaissance Indian Wells Resort & Spa gave us a lovely plate of chocolate, graham crackers, marshmallows, and skewers.  The s'mores were divine!  It was a wonderful way to end a romantic weekend with my wife.
So, the next time you're in the Palm Springs area, book a room at The Renaissance Indian Wells Resort & Spa.  This family-friendly resort has everything you need for a relaxing weekend, plus some.
Happy Field Tripping!
Mr. SoCal Field Trips