This post may contain an affiliate link.
Spring is in full bloom at Great Wolf Lodge Southern California in Garden Grove, California from March 9 until April 15. SoCal Field Trips dived into the Spring-a-Palooza extravaganza at the popular waterpark and resort to experience the fun and celebrate National Craft Day.
Great Wolf Lodge Paw Pass
Upon arriving at Great Wolf Lodge Southern California, we received a pair of special spring-edition wolf ears in yellow, green, pink and white tie-dye and our Paw Pass to "spring" into the adventure. The Paw Pass can be purchased by guests to have access to the best attractions at the resort. For only $79.99, your child will receive the following Paw Pass perks.
1 – MagiQuest Game

1 – Classic or Color Wand that comes with either a standard topper or Magi belt

1- Creation Station Animal with a Clubhouse Crew Adventure

1 – 12 oz. Candy Cup

1 – Pair of Great Wolf Lodge Goggles

1 – Glitz Glitter Tattoo

1 – Leather Treaty Wristband

1 – $5 Paw Points Arcade Card
Great Wolf Lodge Creation Station
We started off our day by creating new Great Wolf plush friends at the Creation Station. My kids decided to bring the Red Dragon and Violet, the girl wolf friend of Wiley, to life by stepping on the flush machine and filling their bodies with cotton. Sammy The Squirrel, with his large bushy tail, is also a wonderful choice for a critter friend.
After making our plush friends, we went over to the cute booth next door to make our customized leather bracelets. Great Wolf Lodge Southern California has numerous sizes and styles of bracelets for both girls and boys of all ages. You can also have your name or anything else you want engraved on the bracelet as long as it fits within the space provided.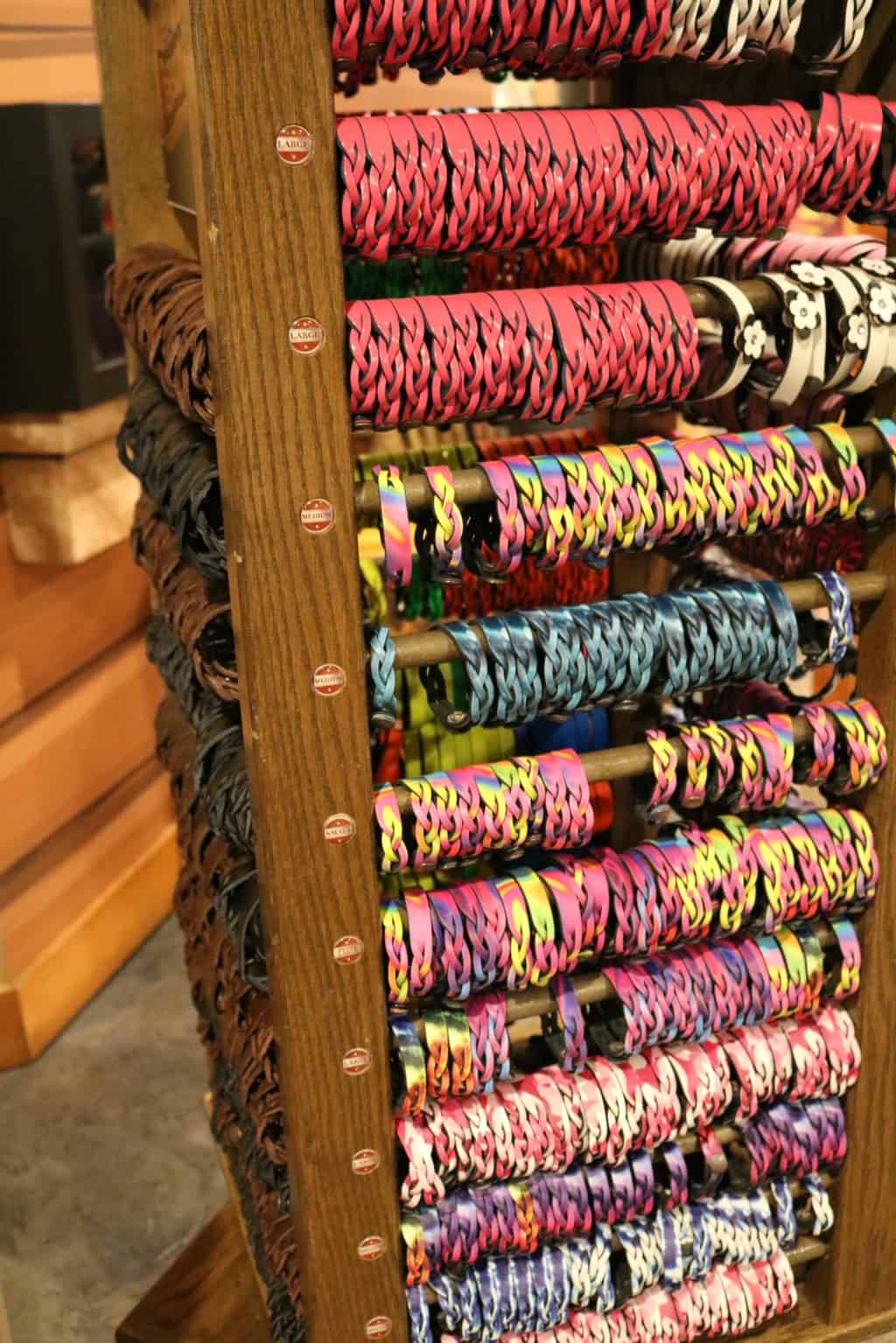 In my opinion, the sweetest part of the Paw Pass is the opportunity to visit the Candy Company. My kids enjoyed pursuing wall after wall of jelly beans and yummy gummies. The shark gummies were especially terrifyingly delicious!
Great Wolf Lodge Meal Plans
After exhausting our Paw Pass attractions, it was time for lunch. Great Wolf Lodge Southern California generously invited us to taste the new spring menu in the Loose Moose Family Kitchen. Chef Hany proudly introduced us to a vast array of culinary masterpieces including:
Brussels Sprouts with Goat Cheese and Balsamic Glaze
Cheese Tortellini Primavera
24-Hour Braised Short Ribs
Roasted Tri-Color Baby Carrots
Salmon with Lemon Caper Sauce
And for the younger guests, the resort had corn dogs, mac and cheese and chicken nuggets readily available, along with a variety of delectable delights. Everything was fresh and finely prepared. For your convenience, Great Wolf Lodge Southern California can also accommodate any food allergies or restrictions.
If you spend the night, you can also have breakfast with your favorite characters in the morning. While we were there, Wiley, our favorite Great Wolf Lodge mascot, stopped by to greet us!
National Craft Day at Great Wolf Lodge
For National Craft Day, blogger Amy Tangerine brought her own line of crafting supplies to the resort and prepared a fun activity for guests; a personalized photo album of our day at Great Wolf Lodge Southern California. Amy took Polaroid pictures of the children that they got to glue into the book and then used stickers, washi tape, and embellishments to decorate their pages.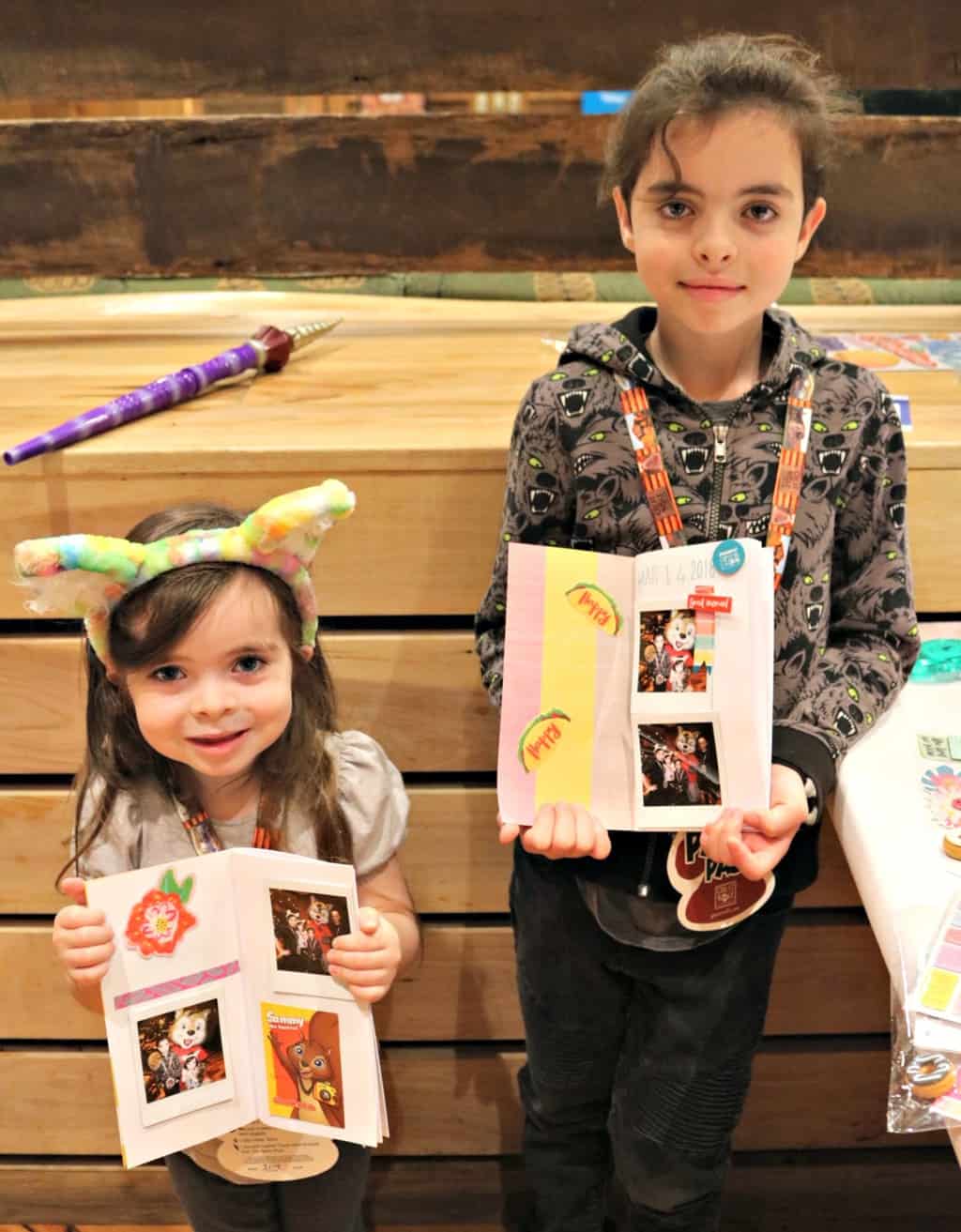 Great Wolf Lodge Room Options
After craft time, our hostess took us on a little walk around the resort where we got to visit the guest rooms. My kids' favorite room was the Wolf Den in the themed suite. Here, children get to watch TV in the comfort of their own woodsy bunk beds.
Great Wolf Lodge Southern California also has a newer family size suite called the Grizzly Bear, which features a king size bed in the master bedroom, two queen beds and an additional sofa sleeper. The larger suite can accommodate up to 8 guests, which is ideal for larger groups or families.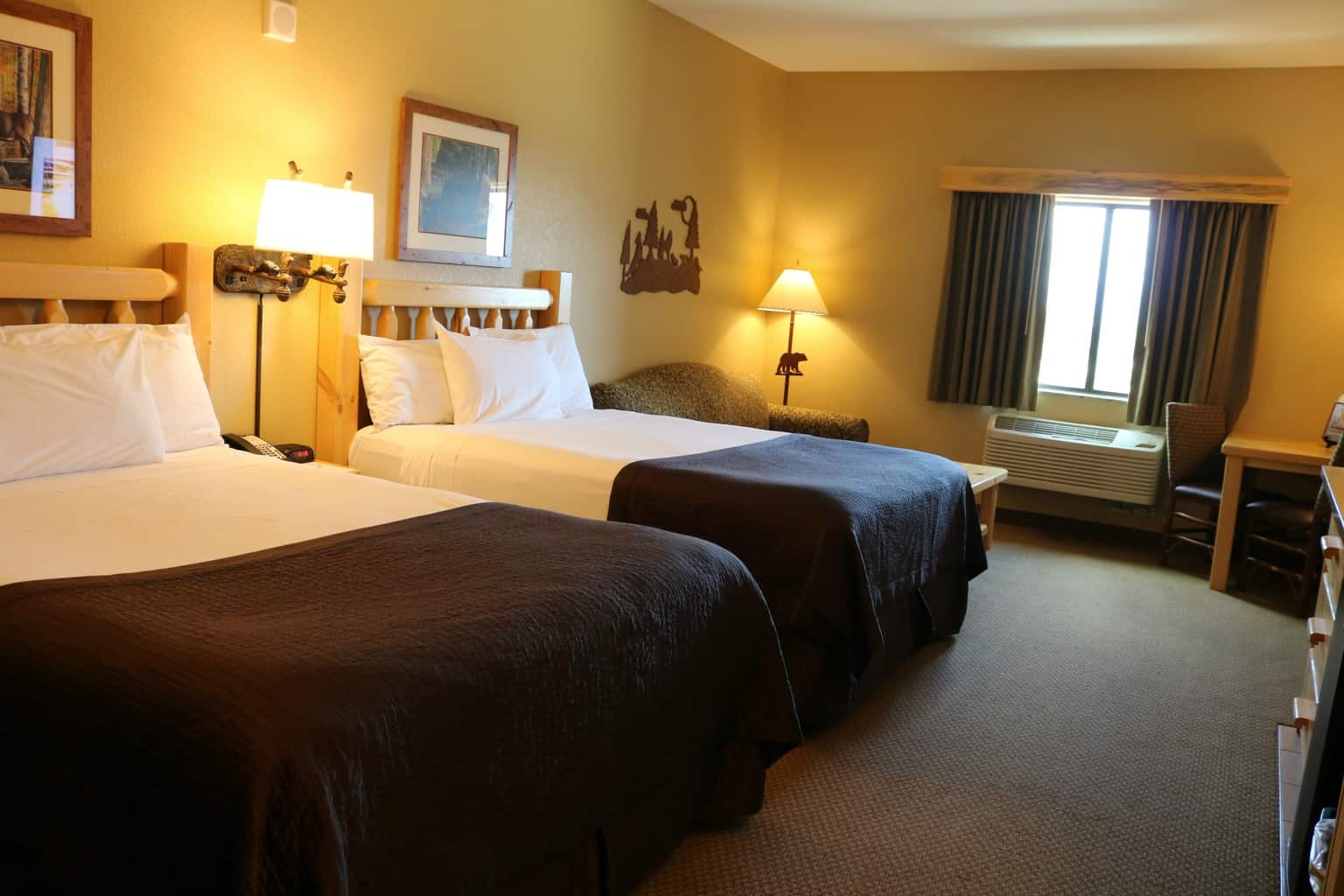 What To Do At Great Wolf Lodge Southern California
However, the jewel of the resort is, of course, the water park. You can splash and slide all-year-round in the water heated at 84 degrees. At Slap Tail pond, the howling wolf warns you of the incoming waves. At Fort MacKenzie, children will enjoy running around and spraying other guests, but watch out for the ginormous bucket of water that fills up slowly and can drop water on your head at any point in time.
If you like boogie-boarding and surfing, the indoor surf simulator is perfect for you. A favorite of my son's and everyone is the lazy river. If you feel adventurous, you can try crossing the moving lilypad, clenched onto a net above you. There is also a quiet and shallow pool for the little kids that offers water games and small slides.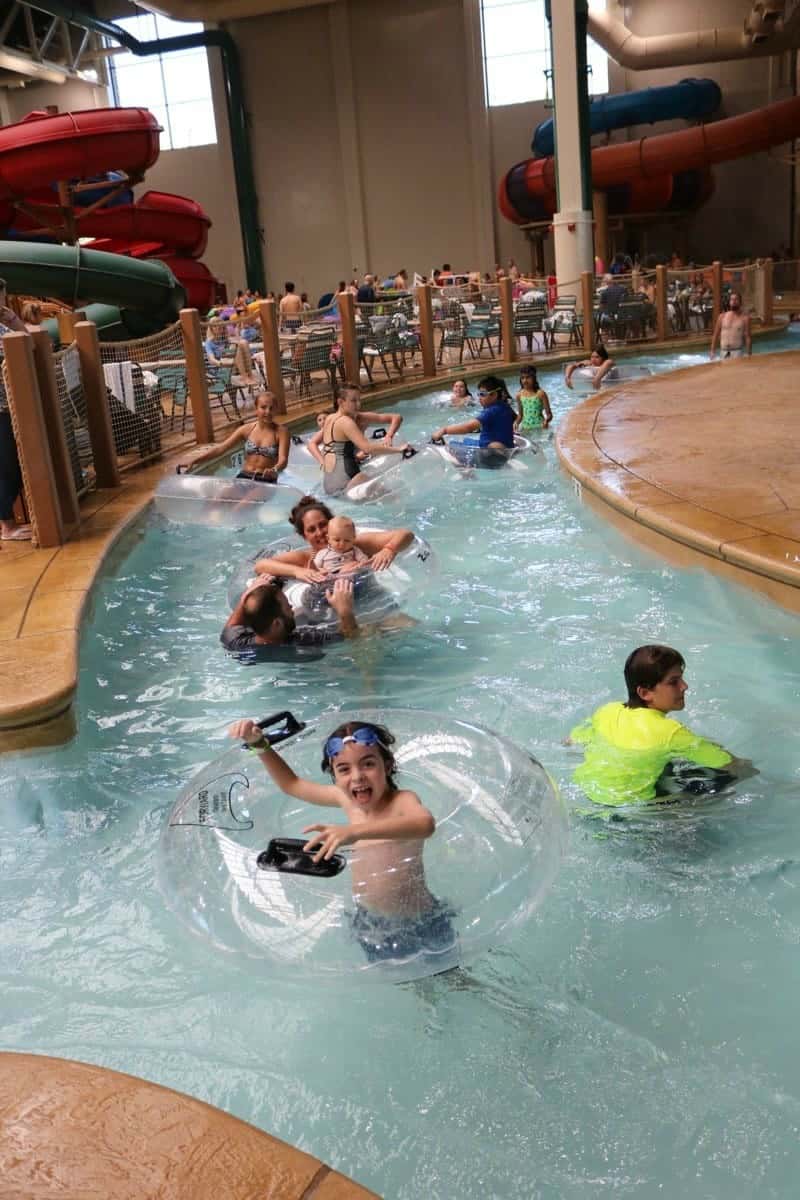 Spring-A-Palooza at Great Wolf Lodge
Spring-A-Palooza at Great Wolf Lodge Southern California in Garden Grove, California runs from March 9 – April 15. The Anaheim-based resort is the ideal place to spend your spring break or go on a family staycation. In addition to two days of play in the water park for each night stayed at Great Wolf Lodge, all of the Spring-a-Palooza activities are included as part of an overnight stay at no extra cost!
Spring-a-Palooza Activities Include:
Spring Cinema: Families can unwind after a fun-filled day and enjoy a family movie in the Grand Lobby.
Spring Picnic: A time-honored spring tradition gets a Great Wolf twist, as guests can grab a blanket, spread it out on the floor and enjoy an afternoon picnic in the Grand Lobby. Guests can sip complimentary Minute Maid beverage available from the Great Wolf Lodge Southern California character-themed Lemonade Stand and play a few rounds of "Take A Wiley Guess" card game.
Jelly Bean Guessing Game: A gigantic jar filled to the brim with jelly bean candies sits in the Grand Lobby and guests are invited to enter a contest guessing how many delicious treats are within the jar. The guests closest will win a gift card!
Bubble Dance Party: This special Spring-a-Palooza event fills the Grand Lobby with cascading bubbles while Great Wolf Lodge Southern California's Ambassadors of Fun keep energy-levels high with a family-friendly dance party.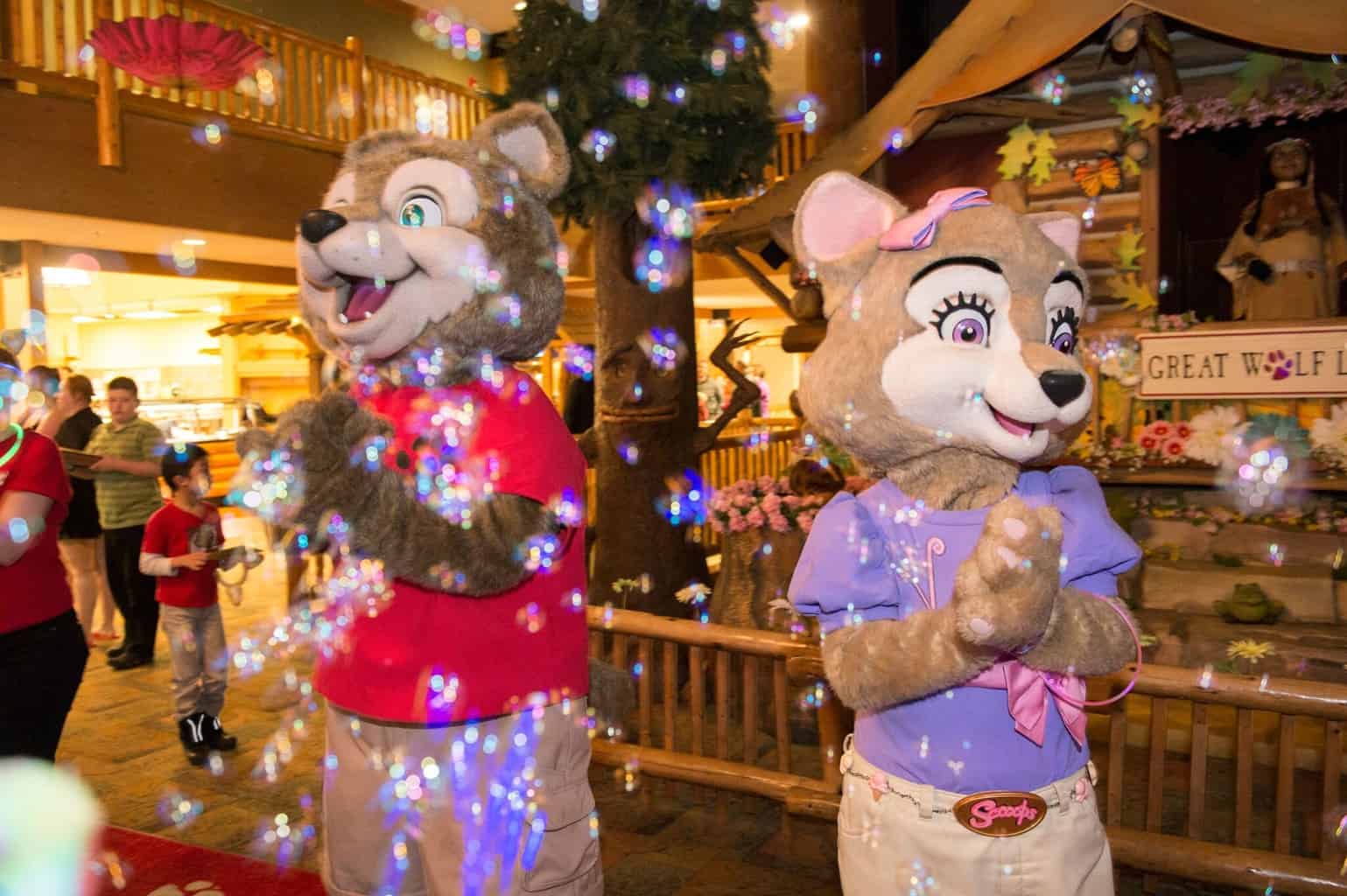 Spring Scavenger Hunts: Great Wolf Lodge Southern California features two self-guided scavenger hunts as part of Spring-a-Palooza.
Character Themed Flower Gardens: A highlight of the Spring-a-Palooza celebration is the colorful springtime gardens found in the Grand Lobby. The gardens are designed and handcrafted by Pack Members from the resort.
Spring-a-Palooza Story Time: Great Wolf Lodge Southern California's nightly Story Time takes on a spring themed tale featuring the Great Wolf Lodge characters called "Natural Wonders." Kids are encouraged to wear their favorite jammies!
Spring Themed Crafts: Enjoy spring-inspired craft making events for kids of all ages. Character-themed crafting projects include Oliver's Crazy About Bugs Jar, Violet's Springtime Noodle Doodle, Brinley's Don't Blow Away Kite and Wiley's Can You Spot It Binoculars.
Great Wolf Lodge Southern California is located at 12681 Harbor Boulevard, Garden Grove, CA 92840.
Happy Field Tripping!
Fran Sawyer
SoCal Field Trips Blog Contributor
More Family-Friendly Activities in Orange County
60+ Places in Orange County To Explore With Kids
Best Places To See Wildflowers in Orange County
The Ultimate Guide to the Bowers Kidseum in Santa Ana
The Best Ice Skating Rinks in Orange County