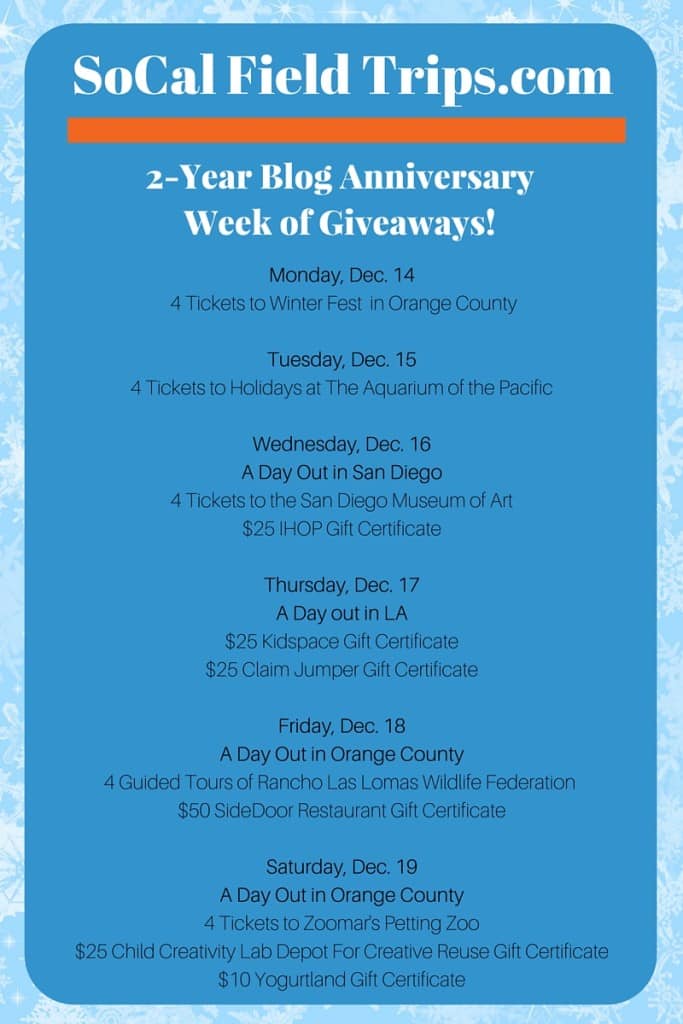 December is SoCal Field Trips 2-Year Blog Anniversary!
It is hard to believe that only 2 short years ago, I started this blog with the idea of sharing all about the fun field trips that my family and I went on.  Over the last 24 months, SoCal Field Trips have grown to be the #1 resource for families throughout Southern California, from Santa Barbara to San Diego, to find new and adventurous activities to do together.  From homeschool field trips to nature exploration to community events, we are honored that you have chosen SoCal Field Trips.com to be your partner in education and family travel.
We continue to believe in our mission statement of…
SoCal Field Trips is a blog dedicated to active families who enjoy adventuring out of the home and into the world of hands-on learning.  "Field Trips" is our middle name!  Whether exploring the beautiful landscape of Newport Beach's Back Bay to learning about the history of the Berlin Wall at The Ronald Reagan Library in Simi Valley, we are dedicated to introducing our children to the vast array of fun and exciting learning opportunities throughout Southern California and beyond.
Over the course of the coming week, we are doing an awesome giveaway every day on the blog:
Monday, Dec. 14
4 Tickets to Winter Fest  in Orange County
Tuesday, Dec. 15
4 Tickets to Holidays at The Aquarium of the Pacific
Wednesday, Dec. 16
A Day Out in San Diego
4 Tickets to the San Diego Museum of Art
$25 IHOP Gift Certificate
Thursday, Dec. 17
A Day out in LA
$25 Kidspace Gift Certificate
$25 Claim Jumper Gift Certificate
Friday, Dec. 18
A Day Out in Orange County
4 Guided Tours of Rancho Las Lomas Wildlife Federation
$50 SideDoor Restaurant Gift Certificate
Saturday, Dec. 19
A Day Out in Orange County
4 Tickets to Zoomar's Petting Zoo
$25 Child Creativity Lab Depot For Creative Reuse Gift Certificate
$10 Yogurtland Gift Certificate
Winter Fest Ticket Giveaway
Up first, today we are giving away 4 tickets to Winter Fest coming to the OC Fair & Event Center on December 18 through January 3!
Winter Fest embodies the spirit of the winter season, bringing fun and merriment to sunny Southern California.  Families and children alike will enjoy activities for guests of all ages.
This year's Winter Fest experience includes:
Ice-skating with a theater-size screen playing holiday films in the background
Ice tubing down a 130-foot, six-lane ice slide
Nightly snowfall and Christmas tree lighting
Roaming holiday characters
Singers and Magicians
Reindeer feedings
More than 30 carnival rides and games
Seasonal foods and craft cocktails
Magical lights
Holiday décor including the world's largest ornament
Visit Mrs. Claus' Bakery for sweets while watching live fudge cutting and cinnamon roll making
This is an affordable holiday experience that ensures a fantastic adventure rain or shine, for seventeen days and nights during the traditional holiday school break.  The best part is that the majority of the main attractions and entertainment are within buildings, essentially making Winter Fest 'El Nino-proof.
Winter Fest Ticket Information
So far the best deal I have found to Winter Fest is through Goldstar.com.  Tickets are only $10.00 for BOTH children and adults!
All tickets are a fantastic value, allowing unlimited access to tube down the 130-foot, six-lane ice slide (available for guests 42" and taller).
Tickets also include one complimentary carnival ride and game in the midway, and access to themed bounce houses for young attendees.  Admission also grants time with the most famous couple in the North Pole, allowing guests to meet Santa Claus, enjoy heartwarming tales from Mrs. Claus during story time, and partake in the elves' arts, crafts, and games in the North Pole building.
Winter lovers seeking a premium experience are welcome to choose from an array of upgrades.  Children of all ages can opt for festive face painting, balloon art, and official photos with Santa.  Guests can also enjoy more than 30 carnival rides and games, reindeer graham cracker feedings, rides on the North Pole LTD trackless train, and ice-skating.  Additional fees apply.
Skating in the Hanger building is available on a first come, first serve basis; $15 per person including skates.  Skate assists are available for $5.
You can find additional ticket pricing for different dates and times (aside from what I found on on Goldstar.com) on Winter Fest's website and a variety of food deals here.
Winter Fest Hours
Winter Fest casts its icy spell over the OC Fair & Event Center from December 18 – January 3.  Hours of operation are 11 a.m. – 10 p.m. Sunday through Thursday, and 11 a.m. – 11 p.m. Friday and Saturday.
Special hours of operation include December 24 (Christmas Eve) 11 a.m. – 5 p.m. and December 25 (Christmas Day) 2 – 11 p.m.
Now enter for your chance to win 4 tickets to Winter Fest!  Good luck!
US Residents Only.  No purchase necessary to enter.  One winner will be randomly selected via RaffleCopter and notified via email.  Winner must respond within 48 hours to claim the prize or a new winner will be chosen via RaffleCopter.  The prize will be fulfilled by the sponsor.
Happy Field Tripping!
Jilleen