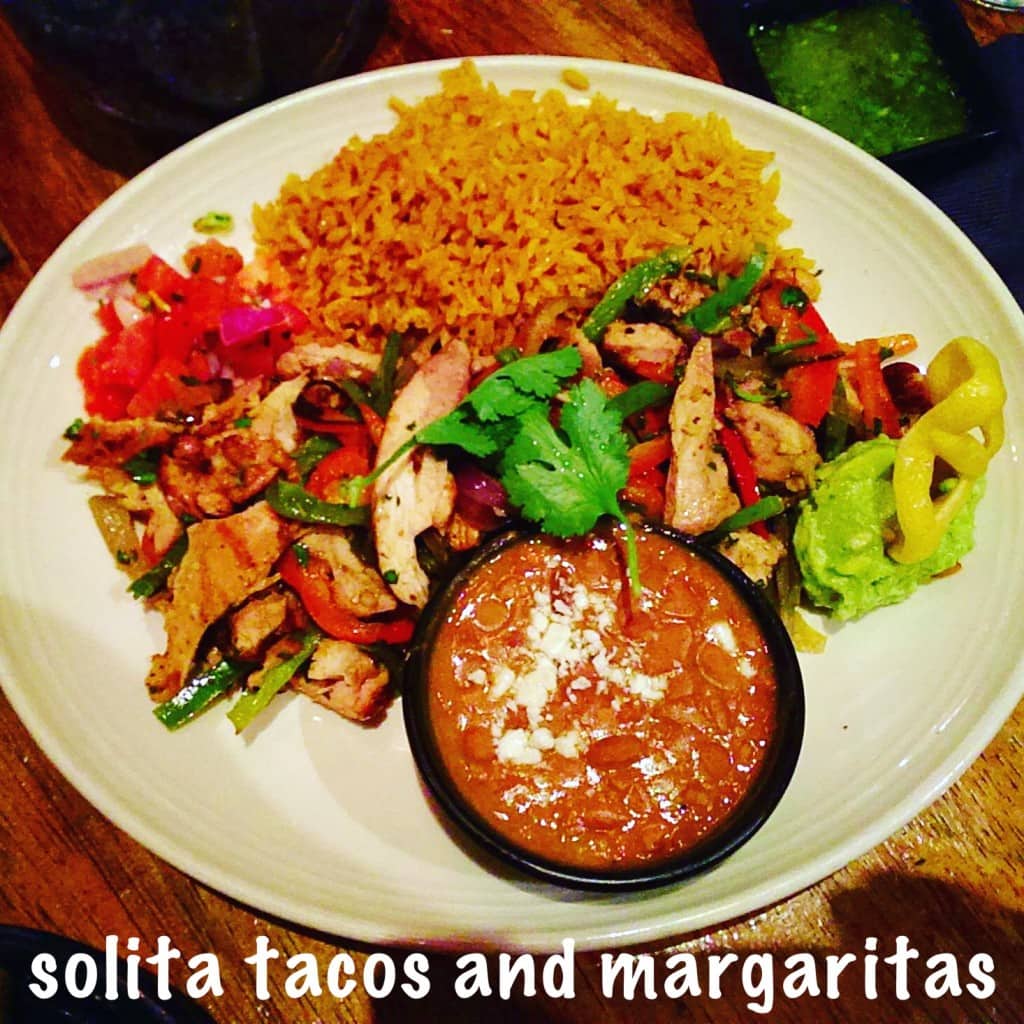 Looking for great Mexican gourmet food that won't break the budget? Look no further! My friend Shawn and I found such a place! solita Tacos and Margaritas, conveniently located in Huntington Beach, right off the 405 freeway in the Bella Terra shopping center.
First of all, the name of the restaurant is true to form, the tacos and margaritas are fantastic! One of the first things you notice when walking into the restaurant is the amazing smoky fragrance of their grill, mixed with the relaxing atmosphere of their artistically appointed indoor/outdoor dinning areas. The covered patio sports a chic fire pit….more like a fire bar!
Before we delve into the menu selection, let's start with a quick rundown of this fine establishment.
solita Tacos and Margaritas is unique in that the concept of this restaurant bases it's menu around well-known simple dishes from Baja California/Mexico…. fresh and healthy dishes that are simply delicious! The key ingredients to their concept is the employment of a wood grill, the freshest of ingredients and the brainchild behind their culinary concoctions, Executive Chef Deborah Schneider, who makes everything from scratch. No pre-packaged, microwave madness going on here! Of course, they pair fine cuisine with a well equipped bar, serving among other things a wonderful selection of various margaritas.
As Shawn and I entered solita Tacos and Margaritas, we were graciously welcomed and then started off the evening with salsa, chips and one of their appetizers, Ceviche Tropical. Here's the breakdown on this cup of fantastic, diced fresh fish tossed with fresh squeezed lime juice, Serrano chiles, cucumbers, bit of tropical fruit and salsa fresca along with avocado.
The other appetizer we enjoyed was Grilled Corn Elote. This was the best grilled corn I've ever had! It was a whole ear of sweet corn off the cob, grilled in butter, chipotle salsa, chilies, cotixa & green onion, totally magnificent! We paired these appetizers with a Solitary Skinny Margarita (but fat on taste!), not as sweet as the house margarita, shaken with fresh lime juice and a touch of agave nectar and soda water. It was like a Club Med experience without leaving your seat!
Next up we were welcomed with a refreshing chicken salad, named Ensalada Ranchera. This salad is jam-packed with all sorts of goodness, such as wood-fire grilled chicken, avocado, black beans, roasted corn, salsa fresca, carrots, cotixa cheese and, of course, topped of with crispy tortilla chips. This salad comes with creamy garlic-herb Ranchera house dressing or Citrusy Pom Vinaigrette. This salad is big on taste and big on healthy!
It's Taco time, how about a flight of gourmet tacos? These street tacos, must come off streets paved in gold, cause you won't find a taco taster better than these bad boys. So, Shawn and I experienced five different types of tacos. Numero uno, Oak-roasted chipotle chicken…it's as moist as pulled, pork and out of this world! Dos, Los Cadillacs, where's the beef? Oh, it's in these puppies, wood grilled carne asada with Solita's house special spice rub, cooked over oak. I suggest a fine Cabernet Sauvignon with this number.
Number three was mushrooms with garlic & Epaztoe. This was the first mushroom taco I've ever had and it was totally rad! This culinary delight comes with mixed exotic mushrooms sautéed with fresh epazoted, red chile and garlic. Number four was another meatless taco, Chile Tofu and likewise equally amazing! This menu item is firm-pressed, pan roasted with ancho chile, garlic & comes with a red chile rub. We thoroughly enjoyed our tacos with Solute's Yucatecan-styled refried black beans.
The grand finale to our wonderful evening was a selection off the specialties section of the menu, Wood-grilled chicken fajitas. When you think it wouldn't get better….it did! The chicken was like that of the tacos, tender and flavorful, packed with that rich oak grilled flavor, along with roasted poblano chiles, tossed with red peppers, red onion along with guacamole and salsa fresca.
Of course, we had to try this with another of Solita's signature margaritas. We were served a watermelon margarita that was out of this world! This refreshing cocktail is done up with Agavales Blanco tequila, crushed watermelon and fresh lime juice and was an exceptional coupling with the fajitas.
Everything at solita Tacos and Margaritas that we were served was exceptional. It is a 5 star casual dining experience and a great place to go on a date night or out with the entire family.
solita Tacos and Margaritas is located at 7631 Edinger Ave #1508, Huntington Beach, CA 92647.
Happy Dining!
Mr. SoCal Field Trips