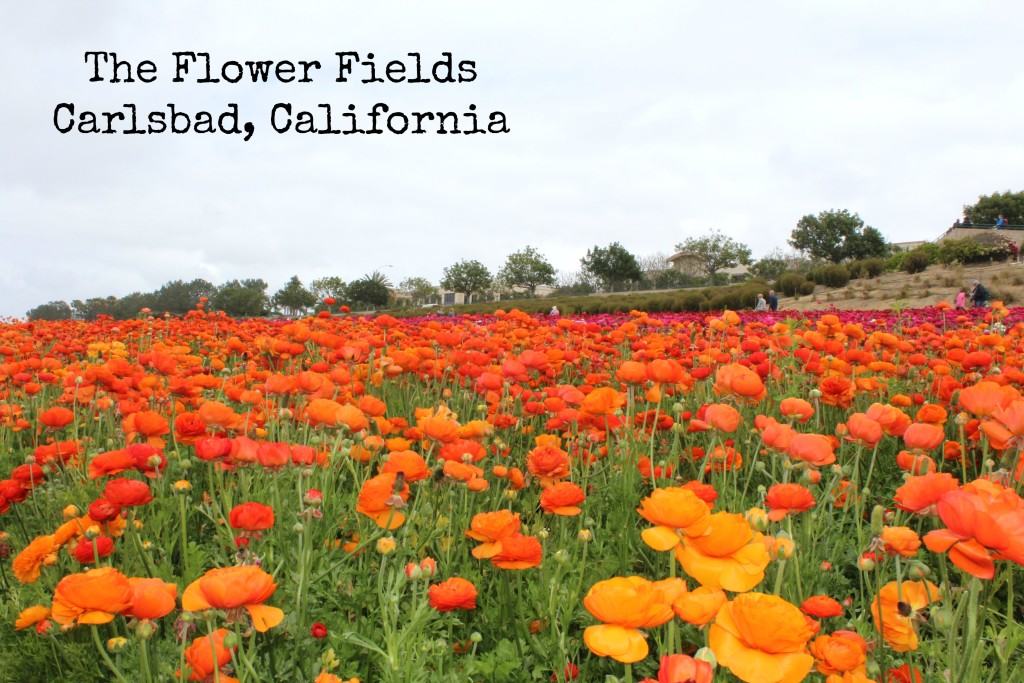 Soon it will be prime time to visit The Flower Fields at Carlsbad Ranch in Carlsbad, California.  The Flower Fields are in 90% bloom around Easter and there are literally flowers everywhere you go.  The dates for the 2019 season are March 1 – May 12, 2019.  My kids and I went to visit and see the flowers for the first time back in 2016.
I was completely enamored with the all beautiful flowers around me.  Pictures simply don't do them justice!
For over sixty years, the rolling hills of north San Diego County have been transformed into one of the most spectacular and coordinated displays of natural color and beauty anywhere in the world.
The nearly fifty acres of Giant Tecolote Ranunculus flowers that make up the Flower Fields are in bloom every year from approximately early March through early May.  The caretakers set side approximately five acres of the fields each year to grow specialty flowers.
It's interesting to note that every year the flowers die back and produce seed for re-planting in the same fields for the next season.  The caretakers told us that it helps to produce a more superior bulb crop.
The gardeners also harvest the Flower Fields bulbs – tuberous roots, corms and rhizomes versions – every year and sell them at the Armstrong Garden Center on site and at other garden centers nationwide.  You cans also find them for sale online at EasytoGrowBulbs.com.
The best time to view the flowers is usually mid-March through Mid-April, with Easter being optimal time.
Attractions at The Flower Fields in Carlsbad
In addition to the 50+ acres of flower fields, there are several other picturesque places for visitors to enjoy.
Antique Tractor Wagon Rides
Guests can take an open-air wagon ride through The Flower Fields in an antique tractor.  The cost is $5.00 per person.  Tickets can be purchased either at the main entrance or near the wagon ride itself.  The wagon makes one stop at the top of the hill where visitors can get out and take pictures or stay on board to go back down the hill.  You can also walk down instead.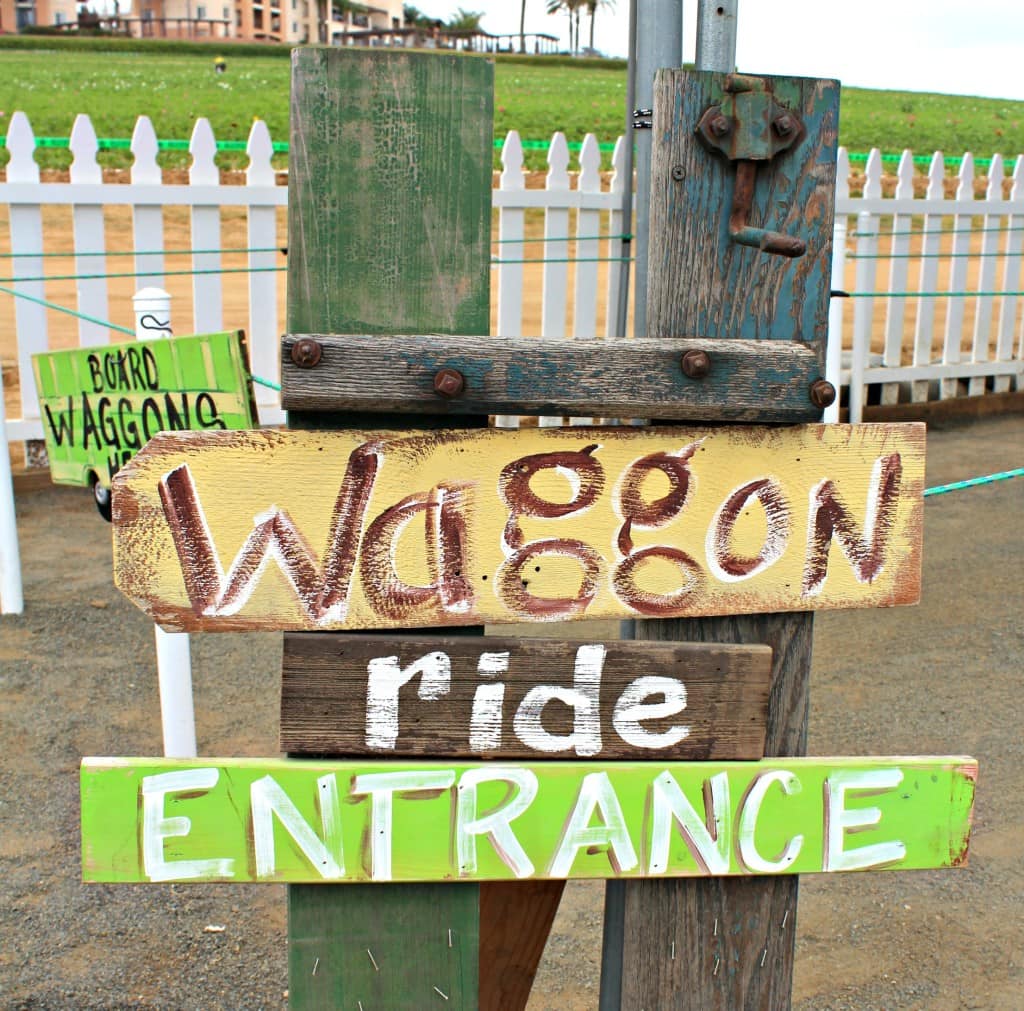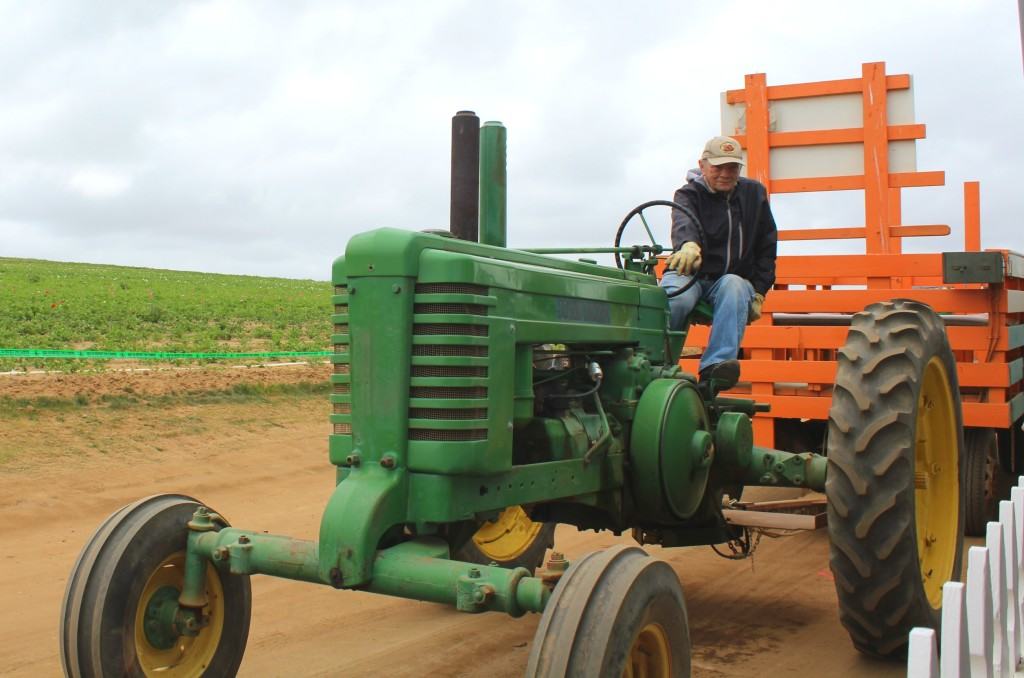 The Artist Gardens
Imagine your favorite painting transposed into a colorful garden using flowers as an art medium.  The displays of flowers are as instructive as they are beautiful.  Each illustrates how color can be used and enjoyed in gardens at home.  There are several varieties of flowers in the garden to survey.
Santa's Playground
Have you heard of the historic Santa's Village in Lake Arrowhead that closed many years ago?  Well, now the Flower Fields is home to the whimsical playhouses and gigantic mushrooms that use to be a part of Santa's Village.  Children can play in the 'Guard Shack', 'Doll House', 'Crooked Treehouse' and colorful mushrooms.
Sweet Pea Maze
My children and I had a blast trying to find our way through the Sweet Pea Maze, a one-of-a-kind living maze!  It is designed by using fragrant and colorful "old fashioned" sweet pea blossoms.  My son found the exit within minutes, while my daughter and I had to go back to the entrance to find our way out!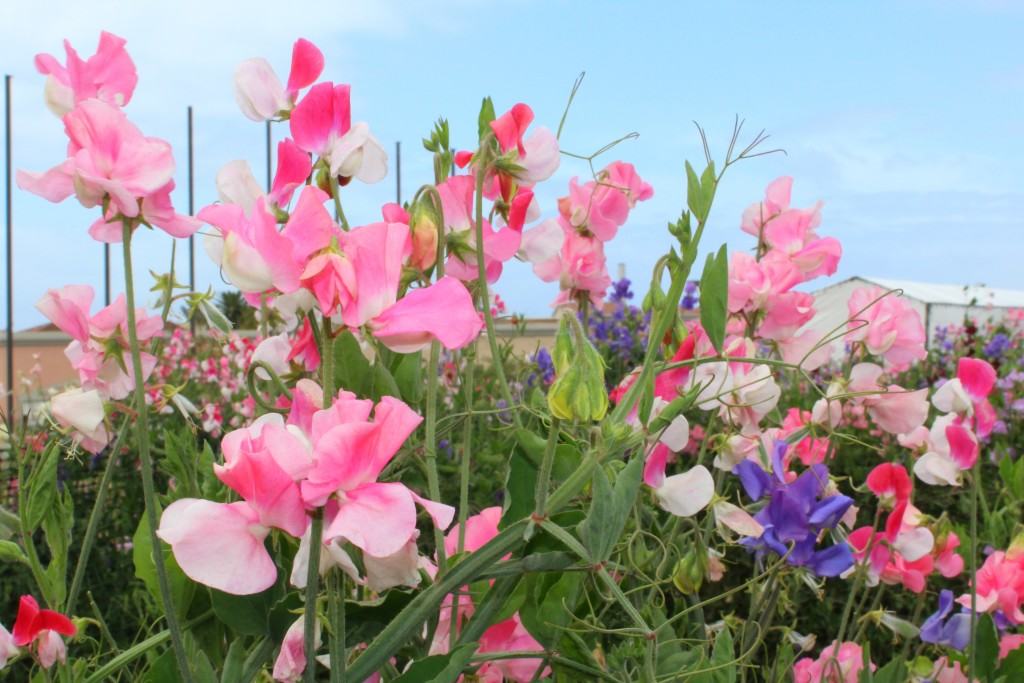 Photo Stations
Within the Flower Fields there are numerous places where visitors can take scenic photos.  Many couples like to take their engagement pictures at the Flower Fields, while other people stop and pose for a once in a lifetime photo.
Field Trips to The Flower Fields in Carlsbad
The Flower Fields Educational Program is a great way for children to learn about growing plants, water conservation and local history.  They offer several programs from Pre-K to 2nd Grade and 3rd to 5th grade every year, from September to April.  The price is $6 to $12 per student.  As a bonus, teachers and chaperones can get in FREE with a few limitations.
Education Programs at The Flower Fields in Carlsbad
Composting Program – Teaches students the principles of recycling, using worms as the "world's greatest recycler."  Each composting session is taught by a Master Composter.  Worms are a fun way for kids to learn about recycling and become more aware of the environment.
Art Program – Students create a special "hands-on" art project to take home.
Music Program – Students will enjoy singing songs like "Dirt Made my Lunch" and "Bees Have Power" that both teach and entertain.
Antique Tractor Wagon Rides – Students will enjoy a ride on an open-air wagon pulled by an antique tractor.
Admission to The Flower Fields in Carlsbad
Prices:  Adults: $16.00  Seniors 60+: $14.00 Children 3-10 yrs.: $8.00  Children 2 yrs. & under: Free
Hours: Starting on March 1, open to the public seven days a week from 9:00 a.m. to 6:00 p.m.
Location: The Flower Fields, 5704 Paseo Del Norte Carlsbad, CA 92008
Happy Field Tripping!
Jilleen
More Things To Do With Kids in San Diego
75 Places To Explore in San Diego with Kids
Register For A Free SeaWorld San Diego Preschool Fun Card
Legoland California Family Travel Guide
Living Coast Discovery Center is one of San Diego's Best Family Attractions