Orange County is known to be a land of entertainment (imagine Disneyland and Knott's Berry Farm) with its vast and diverse range of attractions that draw crowds from all around the world. The zoos here are no exception. From north to south, the cities of the Orange County boast some of the best-known zoos in California.
Orange County zoos are known for their immense contributions to the conservation of species on the brink of extinction and educating the public about these issues.
If you want to be teleported to a distant world full of animals in their naturalistic habitats, here's a list of 7 of the best zoos in Orange County.
What are the best zoos in Orange County, California?
Centennial Farms, OC Fair & Event Center, Costa Mesa
Technically not a zoo, but a cute farm, Centennial Farm is a three-acre working farm at OC Fair & Event Center in Costa Mesa. The farm was created to educate youth about agriculture and its importance to daily life. Centennial Farm is home to fruit and vegetable gardens, livestock, and the Millennium Barn. Children can watch a cow being milked, pigs being fed and ducks waddling around after their mama.
Two youth educational tour programs are offered by reservations only – Discovery Days and Junior Farmer Tours – as well as year-round daily hours so the public can visit the farm.
Admission is free and reservations are not required to visit during daily public hours.
Goods and Goats Market, San Juan Capistrano
Goods and Goats Market is a small farm located in San Juan Capistrano that has a fun petting zoo and offers goat yoga classes to the public. The owners encourage you to come by the farm with your little ones and enjoy its beauty and charm. Cuddle, brush, and sit with the Baby Goats. Dig worms in the wormgarden feed them to the chickens. Play with the bunnies – Pancake & Biscuit and Guinea Pigs- Popcorn & Ninja.
Kids can play in the rocks with their Tonka Truck Collection and ride their old fashion seesaws. The kids zipline is a huge hit! Bird house painting kits are a must.
Field trips, play time passes and farm camps are available for schools, homeschoolers and scout groups.
The Orange County Zoo, The Irvine Regional Park, Irvine
The OC Zoo is home to animals and plants that are native to the Southwestern United States including European Bison black bears, mountain lions, bald eagles, island foxes, ocelots, red-tailed hawks, barn owls, great horned owls, porcupines, Bighorn Sheep coyotes, mule deer, turkey vultures, coatis and bobcats.
The zoo accepts only animals that cannot be released back into the wild. These animals help teach visitors about the animals they may encounter in the hill, canyons, and backyards of the area.
Field trips are available for a set fee. Tour last approximately 1 1/2 hours and include your very own private tour guide. Topics covered include habitats, adaptations, feeding habits, and general information about animals native to the southwestern United States. Tours also include a short small animal presentation and a visit to the Irvine Park Nature Center (which is only available to see while on a tour!) Train rides at Irvine Park Railroad may be added to any tour for an additional school group fee per student.
The Reptile Zoo, Fountain Valley
The Reptile Zoo provides the community a unique educational facility which houses reptiles, amphibians, and arachnids from around the world. These animals each have their own story; some are rescues, many were born at The Reptile Zoo, and others were part of private collections. Here guests can learn about these rare animals first-hand with interactive displays and presentations. Through the guidance of the zoo's handlers, guests learn proper handling techniques, basic facts about each animal, and gain an increased appreciation for what it takes to care for these animals.
Field trips and private animal encounters are available by appointment.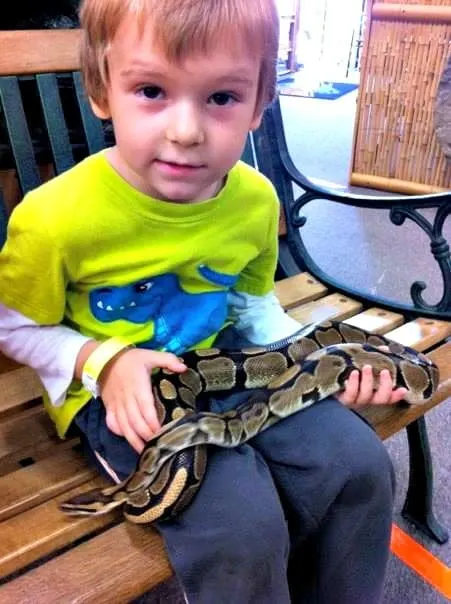 The Santa Ana Zoo at Prentice Park, Santa Ana
Santa Ana Zoo is the best place for kids to see and learn about monkeys. The zoo hosts a huge number of different kinds of monkeys one of which is the tiny pygmy marmoset. This zoo is not only about animals but there are many ways to have fun; from exhibits to carousel rides. One final stop would be the science maze to have an unforgettable experience and buy something from the Treetop Toys gift.
The Santa Ana Zoo offers also self-guided tours. Group reservation rates are available to public or private schools with a minimum of 10 people. Advance reservations are required at least 2 weeks prior to your visit.
Furthermore, the zoo hosts a program called Zoo Explorer for Pre-K through Second Grade. The adventure begins with a live animal spotlight presentation followed by a self-guided exploration of the zoo. In various sections of the zoo, students interact with education volunteers to learn more about the animals and habitats they find.
Zoomars at River Street Ranch, San Juan Capistrano
Zoomars at River Street Ranch is the perfect setting for a good, old-fashioned day! It is a great option for kids, because it allows them to play and have fun with many farm animals including llamas. Not only that as it also offers them the chance to ride trains and gold mine. Keep an eye on its calendar and don't worry about rainy days as the staff in Zoomars is always ready for any these situations.
Reservations are not required but they encourage you to plan your visit in advance and purchase entry and attractions tickets online as well as fill out a waiver ahead of time. Your visit is not limited to your check in time. Last entry to the Ranch is 3:30 pm.
Happy Field Tripping!
Jilleen