Top 10 Educational Toys for Boys this Holiday Season (ages 4-10)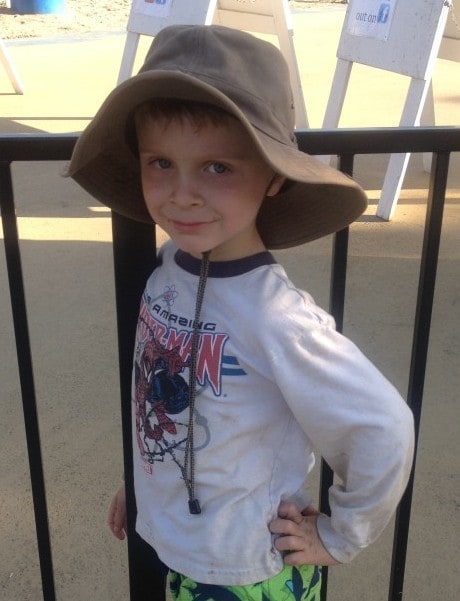 this post contains affiliate links
A few weeks ago, I did a post on the Top 5 Educational Toys for Girls This Holiday Season (ages 4-8). It was a huge success and several SoCal Field Trips Readers asked me if I would do a list of some of my favorite educational toys for boys too.
So here it is! These are the Top 10 Educational Toys for Boys This Holiday Season (ages 4-10) that we have either given or plan to give Field Trip Boy for Christmas.
1. Snap Circuits – We got Field Trip Boy this set of 750 Snap Circuits for Christmas last year. Well, actually Santa Claus did! Field Trip Boy likes to play Snap Circuits with his dad. For your information, they are a bit tricky to put together if your child is 8 or younger. Hence, why Field Trip Boy needs help from his dad. But if your child is enthralled with science, circuitry, or technology, or all three of them, then this is the perfect gift for them. Snap Circuits are multipurpose and come in all different sizes including the Elenco Electronic Snap Circuits, Jr. Kit, Snap Circuits Alternative Energy Kit, Green, Snap Circuits PRO SC-500 and Elenco Snap Circuits Lights.
2. No Stress Chess – We got Field Trip Boy this chess game when he was 5 years old. After a few months of playing it, which gives you step by step instructions on how to play, we signed Field Trip Boy up for chess club at his school.
3. Legos – Our family loves Legos! When Field Trip Boy was 2, he was given a family set of Duplo Legos that his uncle, who is now 24, use to play with when he was a kid. When he turned 6, Field Trip Boy received another set of traditional Legos from his uncle. Since then, we have added to the family collection and have given Field Trip Boy several Lego sets for Christmas and for his birthday. I also believe in more bang for your buck so I really like the Lego Creator Series. Here are a few Lego sets that I recommend.
4. Lucentee Silly Candy Molds & Ice Cube Trays – Lego Building Bricks and Figures – Okay, so a Lego ice tray is technically not an educational gift but it sure is fun! I bought a set of these for Christmas for Field Trip Boy's best friend this year.
5. Build The Human Body Book & Puzzle – I picked up this human anatomy puzzle at Pretend City Children's Museum in Irvine last summer. I know Field Trip Boy enjoys puzzles, so I think this present will be a hit for him this Christmas.
6. BluTrack Starter Set With Vehicles Toy Racetrack Set – Two years ago I ordered this race car track off of Amazon for Field Trip Boy after a friend of mine referred it to me. Several of the previous plastic car tracks that we had kept breaking so I wanted something more durable for him. The BlueTrack Starter Set does the trick! The stunts Field Trip Boy comes up with are pretty amazing, because the track is very long and comes with an adaptable hanger system. Plus if you want your child to have all the cool bells and whistles (AKA the ramps), then you can purchase this upgraded version.
7. LeapFrog Leapster Explorer Learning Game System, Green – We got Field Trip Boy his first Leapster when he was 4 years old. He still likes to play with it from time to time at age 7, but only if he's on restriction from playing his DS! Field Trip Girl actually plays with it more often now. We have a variety of learning games that go along with the Leapster including LeapFrog Pet Pals 2 Learning Game, LeapFrog Explorer Scholastic The Magic School Bus Dinosaurs and LeapFrog Leapster Learning Game Go Diego Go!
8. Smithsonian Science Kits – I purchased a set of these Smithsonian Science Kits from Costco a few years ago when I was in the store. Field Trip Boy has enjoyed all of these to date.
Smithsonian Diggin' Up Dinosaurs T-Rex

Smithsonian Rock and Gem Dig

NSI Smithsonian Giant Volcano Kit

9. Fire HD 6, 6″ HD Display, Wi-Fi, 8 GB – Includes Special Offers, Black – This is the latest version of Amazon's Kindle Fire. Field Trip Boy received an older Kindle from his grandmother after she decided to upgrade. What a lucky boy he is! We let Field Trip Boy use it to choose and read books from Kindle's online library of 700,000 titles. Of course we help him select which books are age appropriate.
10. C.R. Gibson Thank You Notes, 10 Boxed, Alligator – What would any Christmas or holiday be like without a beautifully hand written thank you note from your child to the gift giver? When I was young, my mother taught me the importance of writing a thank you note whenever someone gave me a present. Therefore, I try my best to remember to have Field Trip Boy write a thank you note when he receives a present too. Plus as an added bonus it is good handwriting practice!
Happy Holiday Shopping for your little boy!
Jilleen
Disclosure: This post contains affiliate links and is for informational purposes only. All opinions are my own.