We attended as a member of the media.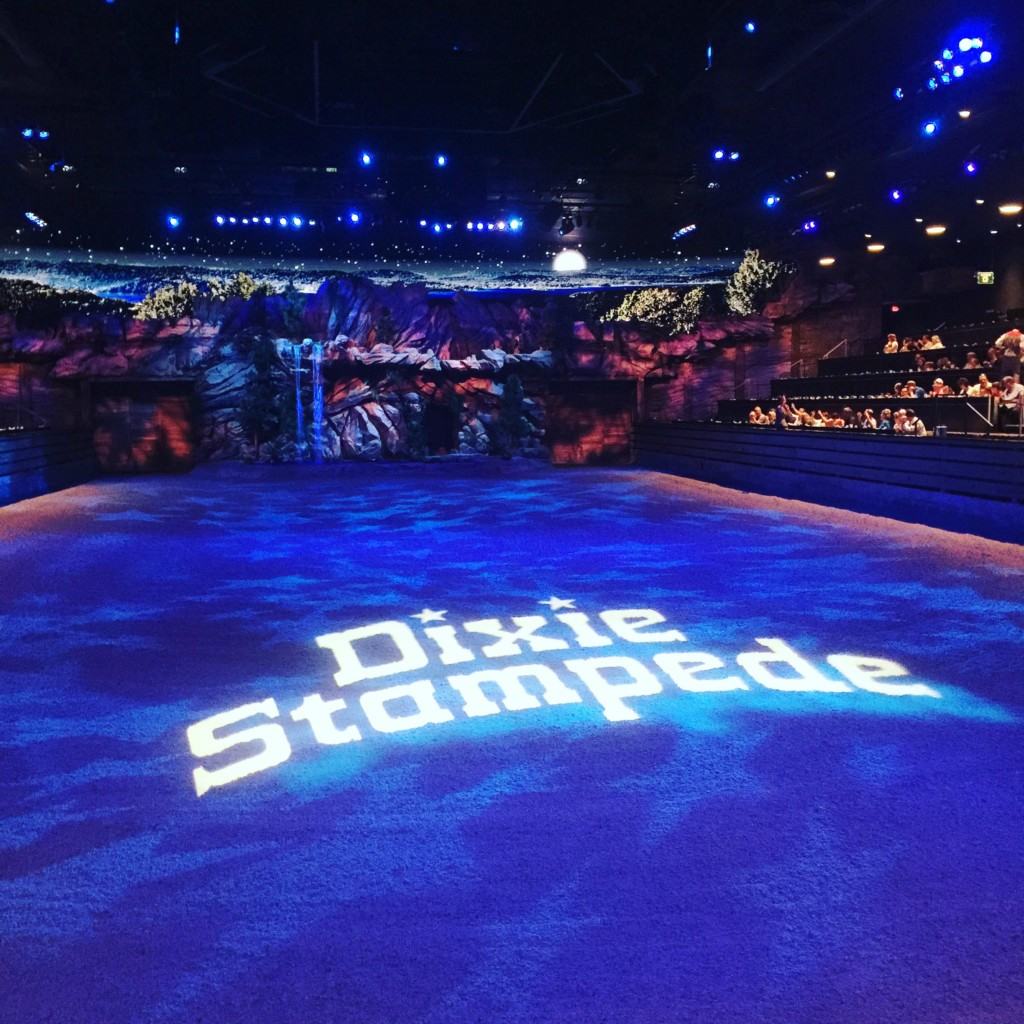 On your next vacation to Branson, one stop that you can't miss is a dinner theater experience, put together by one of America's top icons, Dolly Parton. Sure, there's a lot of options when it comes to family-friendly entertainment in Branson – their shows are just as good or even better than in Vegas. However, if I had to choose the top show to see, it would be Dolly Parton's Dixie Stampede Dinner Show!
At the Dixie Stampede, you will experience a wonderful evening with your family and create memories for years to come. It is an extraordinary show with 32 magnificent horses and a cast of top-notch riders. The performers thrilled us with daring feats of trick riding and competition, pitting North against South in a friendly and fun rivalry. We also enjoyed a barrel full of music, dancing, special effects and family friendly comedy.
Before you the show, we were invited to visit the show horses in their stables out in front of the building. Written on the horse stables were the names of the horses and their unique stories. We even got to watch the caretakers groom and feed the horses like royalty!
We started the evening off with a delicious fountain drink from the bar in the Carriage Room. Of course I had to go with the traditional Shirley Temple! We then took a seat and watched an amazing performance by a man that was able to balance a stool and an 8 foot tall ladder on his chin, along with spinning up to 8 to 10 plates on multiple poles at one time. It was simply incredible! The Carriage Room Opening Act begins 50 minutes prior to main dinner show.
After the preshow, we were guided into the auditorium, replete with great music and amazing lighting. We were then broken into two teams – one side of the auditorium was the Northerners, while the other side were the Southerners. The games were about to begin! This is when the riders came out in synchronized fashion to represent each team.
Dolly Parton's Dixie Stampede Menu
At this point, we were a served a delicious meal consisting of rotisserie chicken, cream of vegetable soup, along with a side of corn on the cob. Vegetarian meals are also available upon request.
During dinner, not only were we dazzled by the amazing feats of the horseback riders, but were also surprised to see a display of Native Americans descending from the ceiling playing drums and other instruments.
In general, Dolly Parton's Dixie Stampede takes you back to the times of the early pioneers and the wild, wild west. It is a tale of conquest, but also one of survival, persistence, and the merging of peoples and cultures that gave birth and continuing life to America.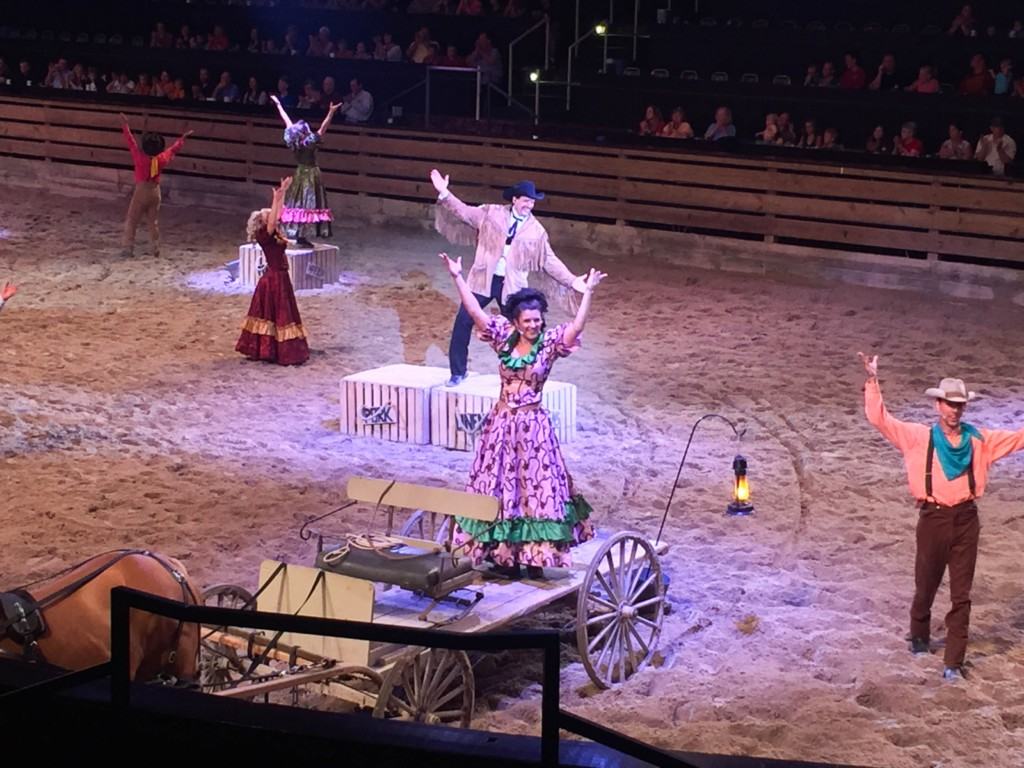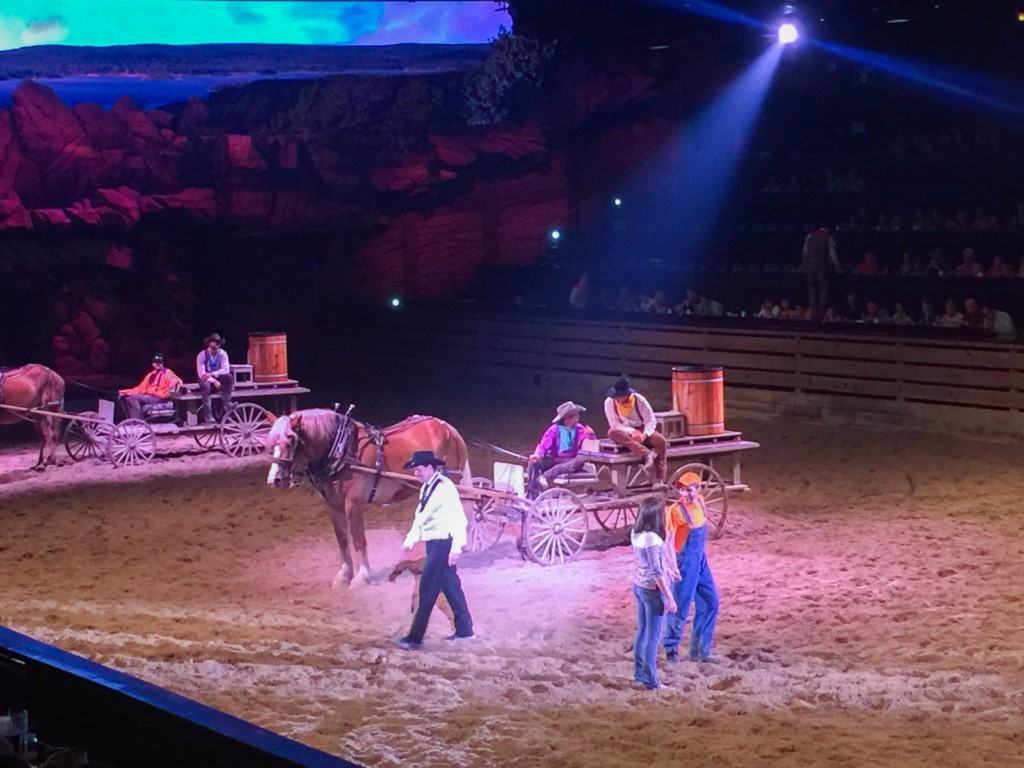 The stunts in the show included a horseback rider jumping through a hoop of fire, another rider hanging precariously from the side of a horse and two stuntman jumping back-and-forth on a horse in full gallop.
Dolly Parton's Dixie Stampede Ticket Prices
Dolly Parton's Dixie Stampede Dinner Show ticket prices begin at $44.99 (plus tax) for Adults and $24.99 for Children ages 4-11. Children under the age of 3 are FREE if they sit in a parent's lap and eat from their plate. However, if you wish for your child to receive a seat or a meal, a regular children's admission will apply.
Dolly Parton's Dixie Stampede Locations
Dixie Stampede Branson, MO, 1525 West Highway 76, Branson, MO 65616
Dixie Stampede Pigeon Forge, TN – 3849 Parkway, Pigeon Forge, TN 37863
I hope you and your family have a fantastic time at the Dixie Stampede, also known as the "most visited dinner theater in America!"
Happy Field Tripping!
Jilleen
Things To Do With Kids in Branson, Missouri: