We attended as a member of the media.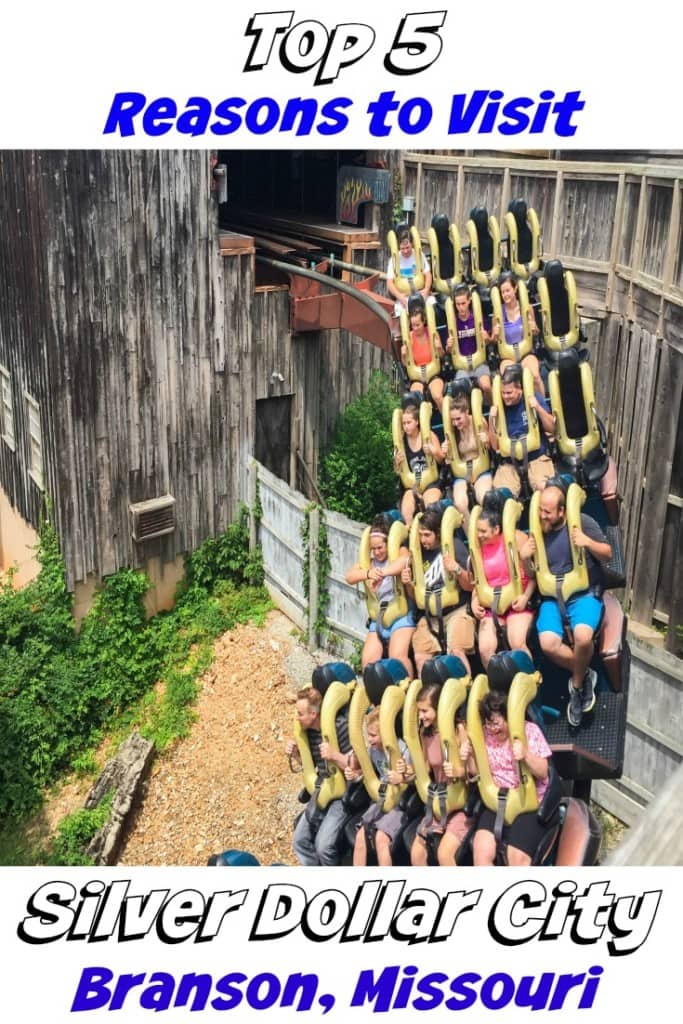 Over the summer, my family and I took a vacation to Branson, Missouri for some much needed R&R. Branson is known as the vacation hub of the south, where families from neighboring states like Illinois and Arkansas, go to get away and celebrate such events as family reunions and birthday milestones. Branson has it all – family-friendly Broadway shows, theme parks, water slides, lakes and more.
One day during our vacation, we visited Silver Dollar City in Branson. Silver Dollar City is a 1880s-style theme park that features over 40 thrilling rides & attractions, live shows & concerts, 100 resident craftsmen demonstrating America's heritage crafts, 60 unique shops and more – all sitting atop of one of Missouri's deepest caves.

Top 5 Reasons to Visit Silver Dollar City in Branson
We have a fantastic time at Silver Dollar City and here's why!
1. Short Lines
Over the years, my family and I have been to many amusement parks. We enjoy riding the roller coasters, going around and around on the ferris wheel and bumping into each other while driving the bumper cars. However, we don't like wait in line. But who does?!! The goods news is that at Silver Dollar City, the average wait time for us to get on a ride was approximately 20 minutes. Not having to stand in line for long periods of time while it was 90 degrees outside was a blessing in disguise!
2. Fireman's Landing for Young Children
Field Trip Girl especially enjoyed the kids rides at Fireman's Landing within Silver Dollar City! Centered around the headquarters of Station No. 3, Fireman's Landing is designed with the atmosphere and theming of an old-time volunteer firefighter recruitment fair with activities set up to test the skills of even the youngest recruits.
Set on nearly 2 acres of land, Fireman's Landing consists of six family rides and four interactive play zones. Field Trip Girl played in this area for well over an hour. And when it finally began to thunder (a very common occurrence in Missouri, I later learned!), we went indoors and played in the ball pit.
There are also numerous other rides and activities for kids at Silver Dollar City including Ladybugs, Half Dollar Holler, Grandfather's Mansion, Racing Regatta and more.
3. Free Parking
Now a days, you have to pay for parking almost anywhere you go. But not at Silver Dollar City! Instead, they offer free parking for guests and free tram rides to and from the main gate. The tram runs all day long visitors.
4. Outstanding Artistry
During your time at Silver Dollar City, make sure to watch at least one of the live craft demonstrations that took place throughout the park during the day. For instance, you can watch a woodworker carve life-like wooden figures or see a glassblower create delicate works of art or a candy maker craft incredible edibles right before your eyes. It was actually an eye-opening moment for my children when they realized that glass pitchers, cutting boards, and other ceramic items don't only come from Target!
5. Thrilling, Heart-Stopping Roller Coasters
If you're the type of person that likes to be "on the edge of your seat" the entire time while visiting a theme park, then Silver Dollar City will not disappoint. Here's a run down of what's in store for you!
Electro Spin – Silver Dollar City's spinning disk takes you 50 feet into the air on either side of the track.
WildFire – Silver Dollar City's WildFire®, the high-flying, multi-looping, cobra-rolling coaster that travels up to speeds of 66 mph.
Fire In The Hole – This signature Silver Dollar City indoor roller coaster is a family favorite, offering high-speed drops and thrilling surprises around every corner.
FireFall – Enjoy this high-thrill attraction as you drop 8 stories above Fire Station No. 3.
Thunderation – A classic wooden Silver Dollar City roller coaster that travels up to 48 mph.
Lost River of the Ozarks – Silver Dollar City's whitewater rapid ride, Lost River of the Ozarks.
Mighty Galleon – Silver Dollar City's Spanish ship soaring 40 feet in the air on a giant pendulum.
American Plunge – Silver Dollar City's float trip with a soaking 5 story splash down at 35 mph.
The Giant Barn Swing – Swing 7 stories high at 45 mph on back-to-back giant pendulum arms.
PowderKeg – This signature Silver Dollar City roller coaster will launch you 0 to 53 mph in 2.8 seconds!
Silver Dollar City Ticket Information
To book your next family vacation or reunion at Silver Dollar City or to learn more about their season passes, visit http://www.silverdollarcity.com/
Happy Field Tripping!
Jilleen
Things To Do With Kids in Branson: