This post is sponsored by Savings.com.
Guess where we're going? We are headed to Florida in February for our first ever Disney Cruise! We are taking a three-night, four-day cruise 0n board the Disney Dream to the Bahamas. Our itinerary entails casting off from Port Canaveral, Florida to historic Nassau in The Bahamas. Then we will continue onto Castaway Cay, Disney's private island paradise, and enjoy some recreation and fun as a family. After a very busy 2019, we need some family time alone without the distractions of day-to-day life.
But first, I have to go shopping! There is so much to buy according to my Disney expert friends – matching Disney outfits, Mickey Mouse ears, new bathing suits, a fish hook extender for a "secret Santa" exchange with other families on the ship, cute magnets to decorate our cruise door and so on. It can be a bit overwhelming to be honest. I just thought we were getting on the ship and off we go.
Nope! Instead, I need to purchase my daughter an outfit for Pirates Night on the cruise and a fancy dress or two for dinner. Thank goodness for the current 50% off kids' dresses & dresswear sale at Macys.com. Now I can shop from the comfort of my own home and save money at the same time. That's a win-win in my book when planning for a vacation.
One night during the cruise we will attend a pirate-themed dinner followed by a "Pirates in the Caribbean" show and deck party. Guests like to go all out for this event including wearing eye patches, pirates costumes and more. For my daughter, I want her to wear a black and white dress. This Little Girls Pleated Trapeze Dress by Bonnie Jean would be perfect! It's black and white and the pleats are adorable. I could image her wearing a party bandana tied on for a little extra pirate flair!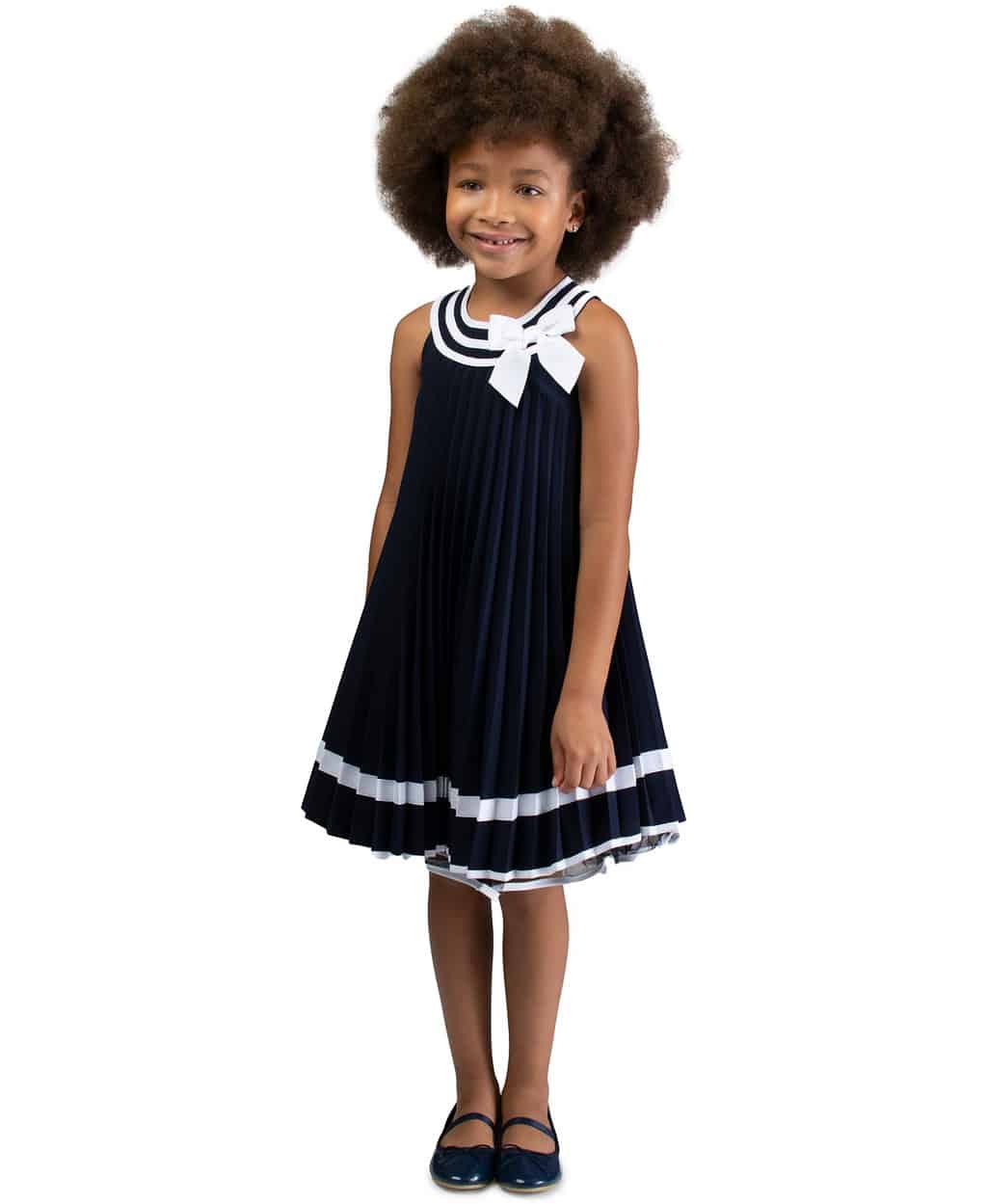 Another cute option is this Big Girls Embroidered-Collar Striped Dress by Monteau. The cotton-blend dress would not wrinkl in a suitcase and the bold stripes, embroidered collar and flutter sleeves would look great in family photos.
When I imagine dining on board the Disney Dream, I think of magnificent themed restaurants with distinctly Disney touches. During the cruise, we will rotate through three different restaurants for dinner. First, will be Animator's Palate, a restaurant that features the magic of Disney animation. We love watching Disney movies and have been to the Disney Animation Studio on a field trip before, so this is the perfect opportunity to learn and see more.
Here are few Minnie Mouse themed dresses I am considering purchasing for the occasion. Which one is your favorite?
Little Girls Minnie Mouse Velvet & Mesh Dress by Disney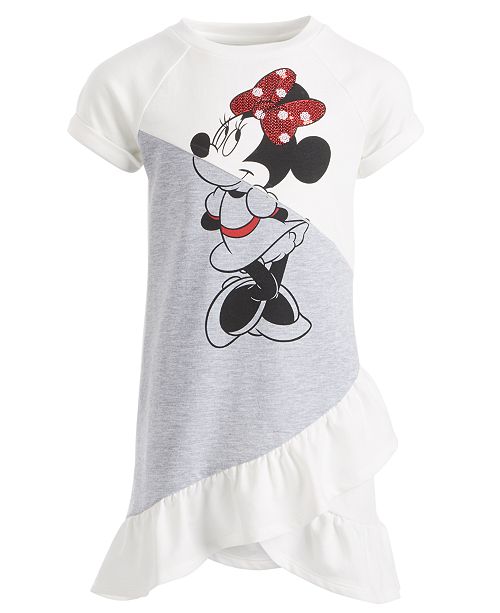 Little Girls Ruffled Minnie Mouse Dress by Disney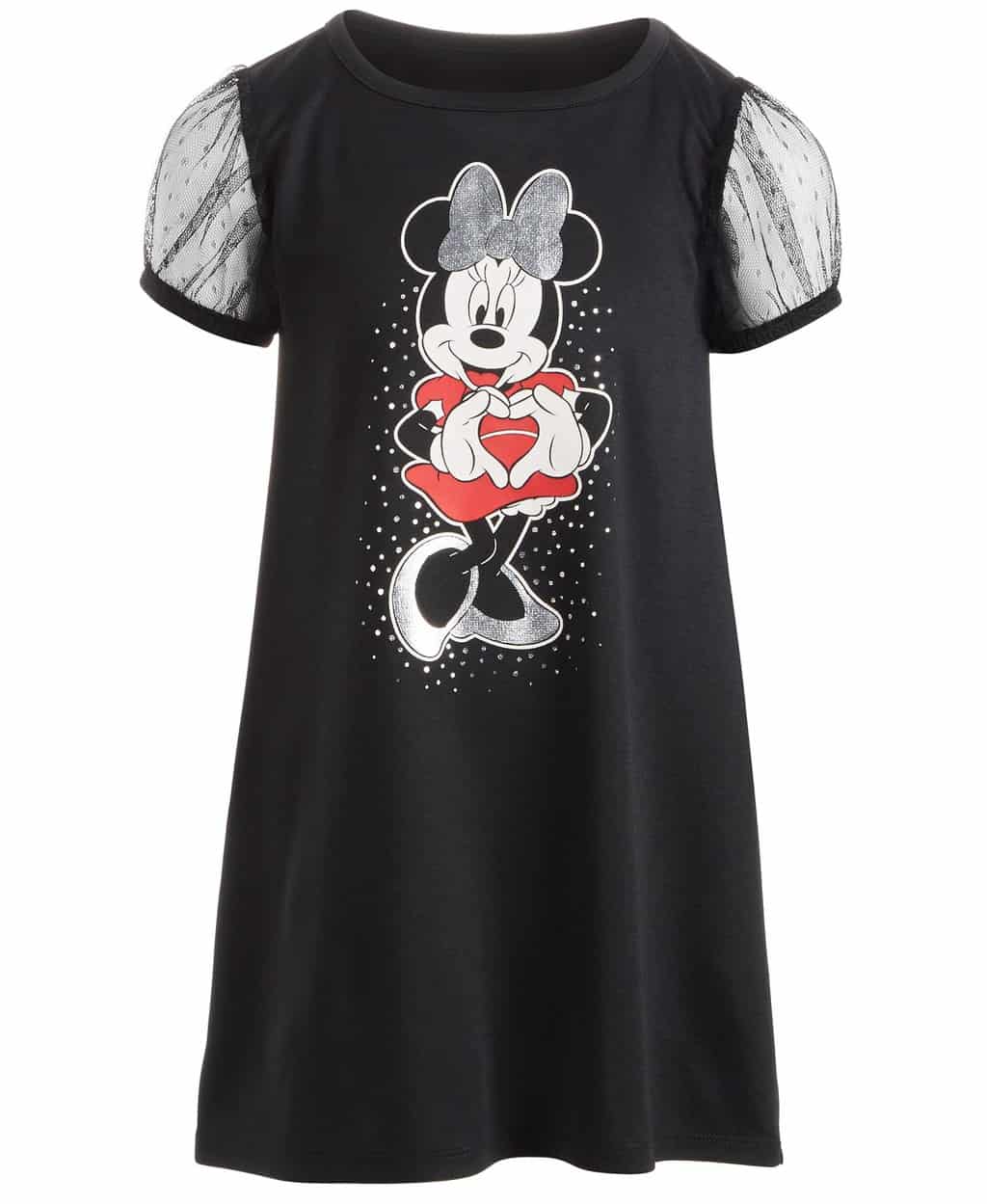 Little Girls Minnie Mouse Dress by Disney
The second place to dine on board is the Royal Palace, an elegant restaurant inspired by the classic Disney films Cinderella, Snow White and the Seven Dwarfs, Beauty and the Beast and Sleeping Beauty. This is the restaurant I am most looking forward to dining in! I grew up loving Beauty and the Beast and have seen the broadway show three times.
Since the Royal Palace is a formal dining experience, I want to dress my daughter to the hilt. Get ready for puffed sleeves, lots of bling and tulle overload! These are the dresses I am considering buying. Which one do you like the best?
Big Girls Cold-Shoulder Neon Mesh Dress by Rare Editions
Big Girls Embellished Metallic & Satin Dress by Rare Editions
Finally, the Enchanted Garden on board the Disney Dream is a whimsical, casual restaurant inspired by the gardens of Versailles. It features a dining environment that magically transforms from day to night. Since this is less formal restaurant, I thought a light and airy dress would be best.
So, I plan on purchasing my daughter this Big Girls Glitter Ombré Tiered-Tulle Dress by BCX. The cupcake style dress pairs a nice glittery bodice with layers of pretty ombré tulle. She can swirl around all night long if she wishes and even wear it on the dance floor with her dad!
Do you have an upcoming special event or vacation planned? Do you need a dress or two for your daughter or a suit for your son? Shop the 50% off kids dresses and dresswear (boys included) at Macys.com now through January 30!
I look forward to sharing with you in the coming days more about our Disney Cruise!
Happy Sailing!
Jilleen