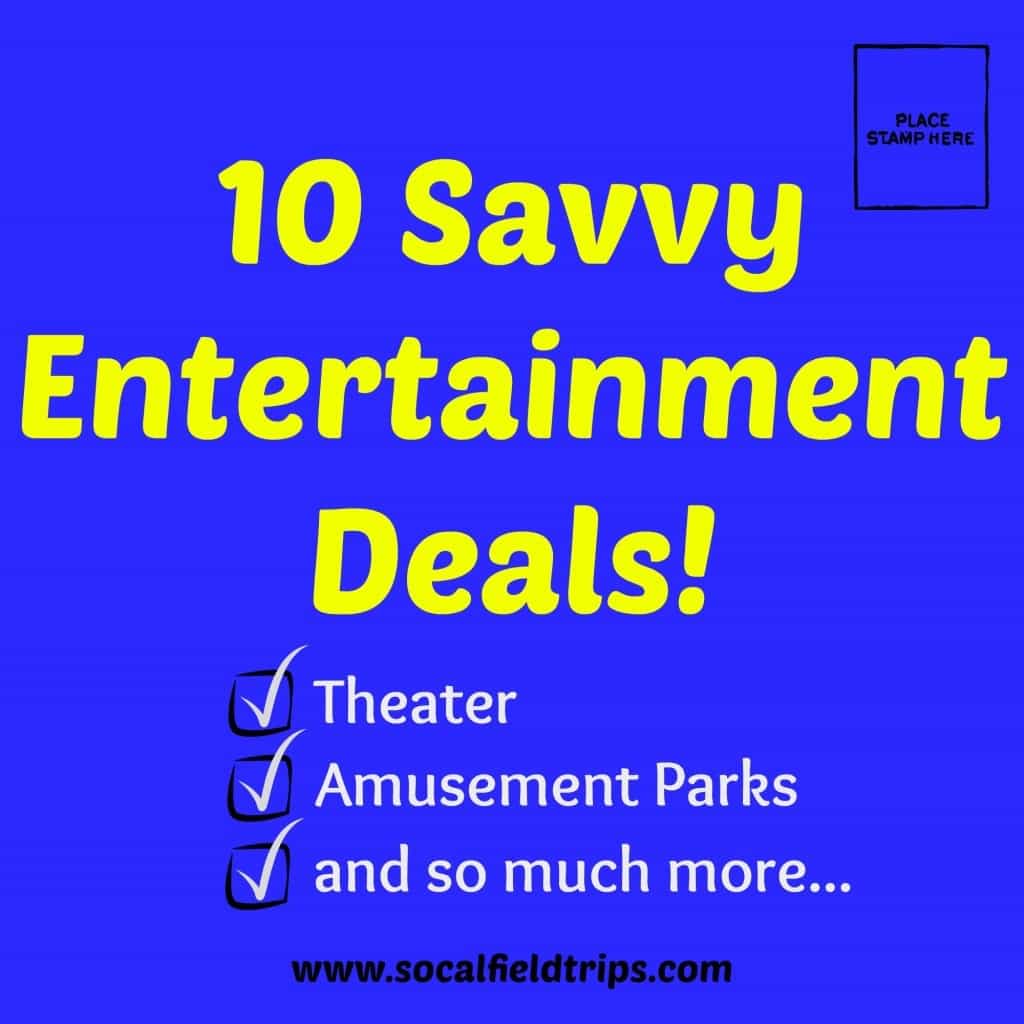 This post contains affiliate links.
How do you like SoCal Field Trip's new series entitled "10 Savvy Entertainment Deals" so far? What have you enjoyed? What type of events do you want to see more of? Please share your thoughts with us in the comment section below, because our goal is to tailor this series to what YOU, our readers, want to see! Thank you for your insight.
Over the weekend, several new entertainment deals came through my inbox. Here are a few of the events that I would personally enjoy doing with my family.
Before you peruse though, know that right now on Living Social you can get $5 off a purchase of $15 or more when you use the code ACADEMY. This offer is valid February 23rd between 12:00 p.m ET and 11:59 p.m. ET in the US only.
1. $18 Ticket to see "Seussical the Musical", Fullerton or Redondo Beach ~ The Cat in the Hat, Horton the Elephant, Gertrude McFuzz, and Mayzie La Bird, along with other favorite Dr. Seuss characters unite for a production of storybook proportions in "Seussical the Musical." This musical is all about the power of friendship, loyalty, and family, and community.
2. $14 to go Whale Watching with Ocean Explorer Cruises, Newport Beach ~ December to May marks the start of Gray Whale Migration, meaning there's no better time to spot majestic creatures like blue whales, finback whales, humpback whales, dolphins, and sea lions. $25 ($72 value) for a whale-watching cruise for two OR $14 ($36 value) for a whale-watching cruise for one.
3. $13 Ticket to "Arlequin" by Circus Vargas, San Diego ~ Get ready for the ultimate entertainment extravaganza that thrills and enchants children of all ages, when Circus Vargas presents its 2015 edition — "Arlequin." Steeped in tradition and filled with everything from aerialists, acrobats, and clowns to the nostalgic Americana of circus's past, this show is dedicated to captivating its audiences.
4. $49 Ticket to "Wicked" @ Hollywood Pantages Theater, Los Angeles – Awe-inspiring and spectacular, "WICKED" is the untold story of the witches of Oz. Long before Dorothy dropped in, two other girls meet in the land of Oz. One, born with emerald-green skin, is smart, fiery, and misunderstood. The other is beautiful, ambitious, and very popular. "WICKED" tells the enthralling musical story of two unlikely friends and how they became the Wicked Witch of the West and Glinda the Good.
5. $20 for Five All-Day Bounce Sessions @ Frogg's Bounce House ($50 Value), Fountain Valley ~ We love Frogg's Bounce House! Founded by a mom to give fellow parents a safe, fun place for their kids to play and exercise, Frogg's Bounce House entertains all ages. Apart from its inflatable slides and obstacles, the jump emporium also boasts train tables, books, building blocks, a play house, fun cars, and a toddler gym for wee ones. Older siblings can play air-hockey, race through an obstacle course, or catch a flick in the movie lounge.
6. $32.50 Ticket to see "South Pacific" @ Cal State Long, Long Beach – With its hothouse emotions and lush melodies, this Pulitzer- and Tony Award-winning musical has melted the hearts of audiences for over 60 years. At once a romantic musical and a deeply felt drama, Rodgers & Hammerstein's South Pacific tells the story of Americans stationed in an unfamiliar culture in wartime, a situation as relevant today as when it first thrilled audiences in 1949.
7. $19.50 to Attend The Marvel Experience: Attractions & Action, San Diego ~ Soar with superheroes at The Marvel Experience, a next-generation hyper-reality tour that immerses you in the comic-book universe of Spidey, Iron Man, Hulk and more. Upon entering San Diego's Del Mar Fairgrounds, you'll be designated an official recruit of S.H.I.E.L.D. and sent on a planet-saving mission to battle the agents of Hydra.
8. $42 Family Membership or $6 Admission to Lyon Air Museum, Tustin ~ From military motorcycles — including one that's half tank — to high-flying airplanes from decades ago, Lyon Air Museum houses some of the rarest aircraft you'll find. There are also a few cars and military vehicles, which make for one fascinating stroll through this space.
9. $17 Single-Day Admission or $50 Family Membership to Museum of Tolerance (Up to 50% Off), Los Angeles ~ Since 1993, the Museum of Tolerance has encouraged visitors to contemplate the effects of intolerance with interactive exhibits on the Holocaust as well as present-day discrimination. The guided, 70-minute sound-and-light presentation at the Holocaust exhibit recreates Nazi-occupied Europe, and the Finding Our Families, Finding Ourselves exhibit showcases diversity through the personal histories of several American celebrities, including Billy Crystal and Carlos Santana.
10. $7 – $14 Afternoon Admission to the Aquarium of the Pacific For Any Weekday, Long Beach ~ The Aquarium of the Pacific in Long Beach celebrates the planet's largest and most diverse body of water: the Pacific Ocean, from the frigid waters of the Northern Pacific to the colorful reefs of the Tropical Pacific. Come face-to-face with and touch the ocean's ultimate predators in Shark Lagoon, hand-feed colorful lorikeet birds and watch Magellanic penguins play.
Happy Field Tripping,
Jilleen